Posts Tagged 'Ironman'
As I briefly mentioned earlier, I made the decision to sign up for an Ironman in late June/early July 2013.  I had completed my second half Ironman in early June (Raleigh 70.3 inaugural race) and the thoughts really continued to creep into my mind.  At that time, I was fitter than I had ever been and despite a few aches and pains in my knees, hips and feet, I decided that I was HEALTHY and should take full advantage of this (I feel we often take good health for granted).  So… "which race do I want to do"?  (Easy question with a not so easy answer.)  I decided that I wanted to choose a race venue that we could drive to (super long drive times were not excluded).  The idea of transporting my bike and all the required gear by some other means besides packing it into the 4Runner, was too much to consider at the time.  So quickly, the options were Lake Placid, Wisconsin, Florida, Louisville, in addition to a "yet to be announced Ironman in 2014 in the Southeast".  Louisville was immediately ruled out due to the hot weather and high humidity that is typically associated with that race (Tony, my super-duper supportive hubbie, was very fortunate the year he raced it, with temperatures in the mid to upper 70s).  Florida was also quickly eliminated due to the ocean swim (swim is my weakest leg of the three) and the unpredictability of swimming in the Gulf and the thought of how much salt water I would drink accidently consume, helped make that decision.  The "yet to be announced Ironman" was tempting.  From my research, it was supposed to be announced by WTC (World Triathlon Corporation) by the end of July and was likely to be in September 2014 in the Southeast (possible NC venues were in the mix).  So, down to Wisconsin, Lake Placid and the "TBD" venue.
I read numerous blogs and forums online about Lake Placid and Wisconsin.  I was looking for any and all information on the course and different people's experiences, which would help make my decision.  I talked (exhaustively) with Tony and other Ironman friends for their insight.  I also read anything I could possibly find on the "yet to be announced venue".  So, after weighing all the factors, the decision was Lake Placid in 2014!!
Up next…the true nail biter…registering on July 29!  I had read that registration sells out relatively quickly.  Registration opened at noon and I had already logged into active.com (after ensuring a few days earlier that my registration was up to date) and starting refreshing the registration site at least ten minutes prior to noon.  At this point, my biggest fear was the race selling out before I was able to register, especially after all the consideration I had put into making my decision!  I was really a complete bundle of nerves!  I don't remember that last time I felt that way!  Registration finally opened and within minutes, I WAS REGISTERED!  YIKES!  No turning back now!  At that moment, I knew that in approximately 364 days, I would be giving my all to become an Ironman!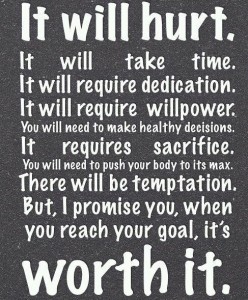 I made the decision to sign up for an Ironman in late June/early July 2013.  I had completed my second half Ironman in early June (Raleigh 70.3 inaugural race) and the thoughts of Ironman really continued to bounce around my mind.  After the process of selecting the race, signing up and being both emotionally and financially committed (all the details on race selection and registration will follow), I decided that I would like to keep a training journal.  This journal would not be used to maintain workouts and stats (I use Garmin Connect for that), but to log my thoughts and experiences from training.  From my triathlon training (from sprints, olympic distances to half Ironmans), I learned that it is a roller coaster ride.  Lots of hard work and feelings that range from "I am going to kick some serious booty in this race" to "there is no way I am going to be able to run 13.1 miles after pushing through 56 on the bike".  There are times when I wish I could go back and remember the details of some of those experiences.  Pushing through tough training days and basking in the glory of "good" training days, allows individual growth in ways that I would have never imagined.
Keeping a journal is something I considered.  However, with knowing all the hours I will be spending in training, I feel I would probably start off well with logging my entries, but then fall off as training picks up.  Then I figured if I blogged about my experiences, instead of just writing it in a journal, I might be a bit more accountable.  So, that is what I am going to do.  Enter "Tri Inspired Life"…
Early last year, I suggested to a friend to write a blog while he trained for the Ironman World Championship.  He thought about it and initially questioned "who will read it"?  Well, he ended up blogging all through his training and I read every post and thoroughly enjoyed tracking his training (even though I saw him regularly and even biked and swam with him on occasion).  I think his family and many other friends also enjoyed his regular updates and being able to support him from wherever they were.  In addition to my friend's blog from last year, I follow many different blogs about triathlon, running and food (both healthy eating and the ones with the cupcakes flowing), and really enjoy reading their experiences and learning new things.  You somehow "get to know" a person through their blog and there are several blogs I try to read on a daily basis, so I don't miss any new stories!
So, here is my attempt at "blogging"!  I welcome any comments, support or advice as I train and live my life to attack this beast called Ironman!