Cary Du Classic Race Report
15
This was my third year in a row at this event.  In 2015, I raced this duathlon for the first time and really enjoyed the "new" format.  The timing was a bit earlier this year, which actually worked out great as it serves as a lead up to IM Chattanooga 70.3.   The timing in the past years was ideal as it served as lead up to IM Raleigh 70.3, which is a few weeks later on the calendar.  They offer a short course and long course, but I has always opted for the long course since the 70.3 distance was close behind.  There were five of us from the Oak City Tri team racing, including my hubbie!
As the case with last year, this event served as the USAT Long Course Duathlon National Championship.  Therefore, the "local" flavor was somewhat replaced since there were lots of participants from out of state.  In fact, in my age group, I was the only one from the Raleigh area (very unusual).  The race was a speedy one for sure!
The race takes place in Cary, which is only about a 35 minute drive.  There was a slight change in venue, but basically it was located just beside the venue from the past couple of years.  It was again a 7:00 am start…however, unlike last years' event where we had a nice cool morning, when we left the house it was already in the low 70s and feeling a bit muggy.  The forecast for the day was to be the warmest day so far of the year.    
We arrived a bit early, but Tony wanted the on-site mechanic to take a look at something relatively minor on the bike before the race.  It would not have been a deal breaker, but we always want things to be as smooth as possible.  Lucky for us, there were two mechanics set up outside of transition, just waiting for someone to help!  He was able to make a small, quick adjustment and we were all set!  I picked up my packet and timing chip and made my way to transition.  I had plenty of time to set things as I wanted and did a short easy run down to the ladies room to get the blood moving a bit.  There was time before the race to pair up with everyone and share a little small talk before the start.  The plan was for two waves of long course men to start at 7:00 and 7:04 and then for all long course women to start at 7:08.  The short course athletes would start at 7:30 (remember this for later…). 
The long course event was a 5 mile run/31 mile bike/5 mile run.  With the slight change in venue, a new course was on tap for this year.  The run was 2 loops of 2.5 miles each (so yes….4 loops total for the race).  Most of the run took place in the park and the neighboring USA baseball complex.  It included sidewalks, parking lots and very little on the actual road.  The bike course included fast, flat, rolling and climbing sections and multiple views of Lake Jordan.
The run started and it was I planned to just see how I felt early on to decide how much to push.  I did not know what to expect exactly from the run course.  Since we started out on a sidewalk, it was rather crowded, so initially, it was more of finding your personal path.  That was ok.  There were plenty of course monitors to direct us on the course which involved a lot of turns.
As I was nearing the completion of the first loop, I noticed the large group of people ahead that just so happened to be the short course folks starting.  Lucky me I was now behind ALL of them, so even more of a crowd of navigate around than when I started!  I will admit, I was kind of frustrated with this format!
With starting loop two, I now knew that the run course included a few hills, one short steep hill, but plenty of flat as well.  The best part in the format was seeing Tony and my other teammates on the course.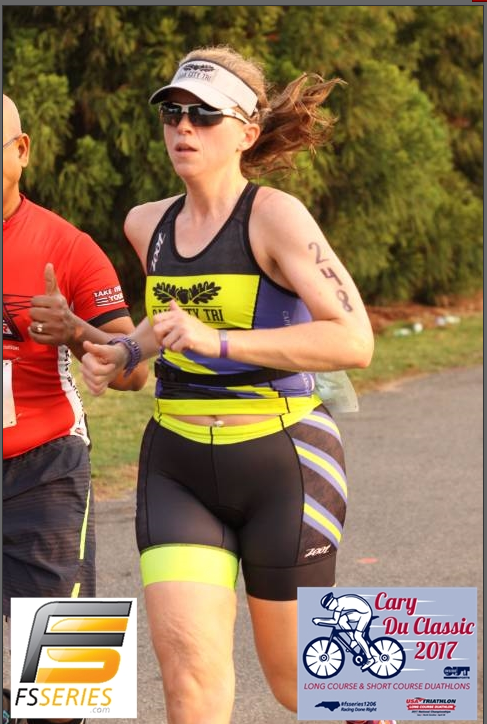 Onto the bike.  Once again, I did not know specifically what to expect with the new course.  I knew it would be a rolling format that is typical for our area.  I was actually happy to get on the bike as it had started feeling hot and I knew there would be relief from riding.  
There was one thing I was rather nervous about and that was my leg.  I had been having some pain in my right glute/hamstring while on the bike (not on the run at all).  I thought it may have been due to some slight bike fit adjustments that I had done due to a new saddle. Things had been not so good the week leading into the race, that I had some tweaks done just two days prior to the race.  I had been so uncomfortable that I figured it could only improve.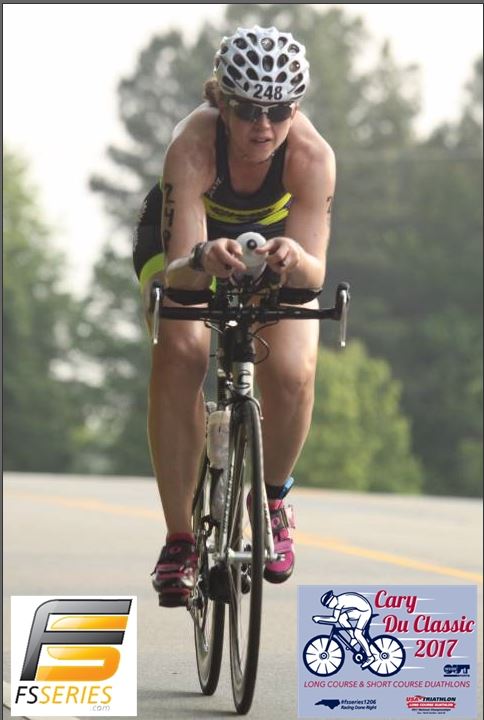 The course ended up being pretty much what I expected.  There was some climbing early on and then we hit a flat, fast section, that was a lot of fun.  Unfortunately, about 30 minutes in I was starting to feel uncomfortable due to my leg.  Not to the extent that I had a few days prior, but definitely not what I was happy with.  I tried to focus on aero and staying strong, but I was definitely ready to get off the bike.
Overall, I liked the bike course and can't really remember anything major I would suggest changing.  I just wish I could have enjoyed it more without the distraction of my leg.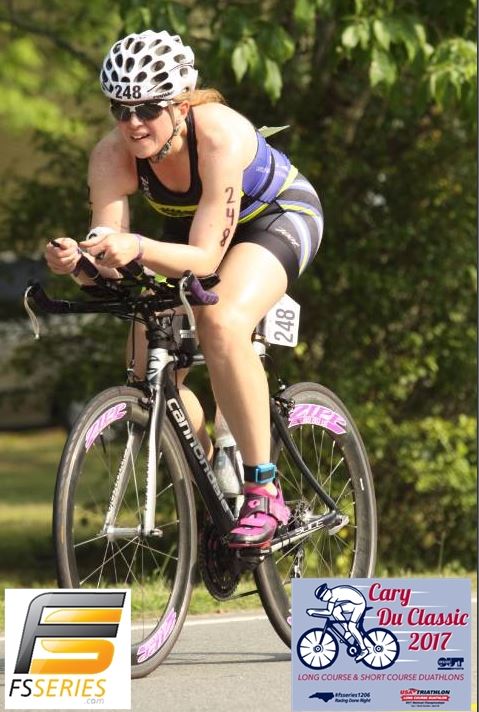 The one positive is as soon as I was off the bike and on my feet, my leg did not bother me at all.  Back to the run….two loops down and two to go!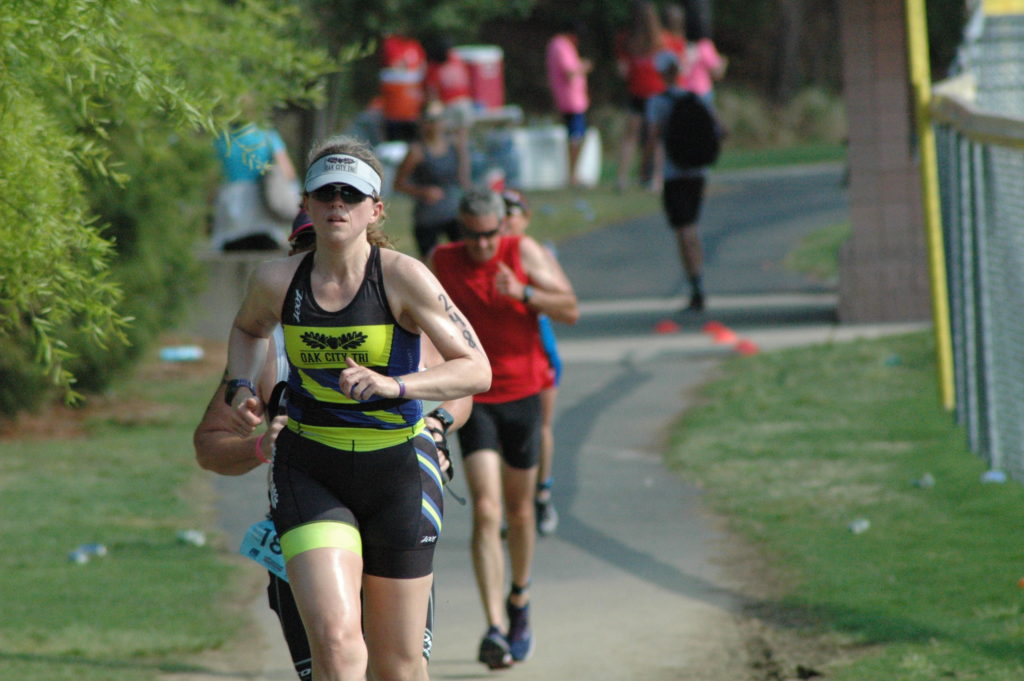 On the third loop, I saw one of my teammates still racing and one that had come out to cheer (since he had finished), but I didn't get to see Tony.  Racing with friends is really the best!
As I continued my run, I focused on being smart with my pace.  This day, while still morning, was already feeling hot and I didn't want to fade just because it was….but also didn't want to push too much considering.  In hindsight, I think my training took over as my pace didn't waiver a whole lot.  That is one of the things I am most pleased about.  I really wanted to maintain a sub 9-minute mile for the second loop and I was able to do that.
Also, I was able to really test my hydration/nutrition in a race environment.  This season I have switched to Infinit and while it has worked great in training I wanted to give it a go prior to Chattanooga.  Overall it worked great and I am excited to have this locked down prior to Choo!
Post-race there was plenty of socializing and hanging out.  There were good choices for food, and while I had a bit, we all had planned lunch out post-race, so I knew a good burger was in store for me.  I was a little disappointed with the event overall.  It had really become one of my favorites and with the new run course, it just didn't excite me as much anymore.  It was still fun to race a duathlon again and it also served as a great lead up to Chattanooga 70.3.