Beaverdam Olympic Triathlon Race Report
09
As I mentioned in my last post, I was uncertain if my race season would start on April 30 with the Beaverdam Olympic Tri.  I was hoping that it would, but since I am highly impartial to cold water swims, I had to determine if the water would seem to warm up enough for my liking.  Generally, I think I am NOT ok with less than 70 degrees.  That makes me whatever that makes me, but I am a Southern girl and cold and I are not besties! 
We were able to have some warm days (in the 80s) and that translated to the lake temperature rising.  I signed up on the Monday prior to the Saturday race (most of the week had temperatures forecasted in the 80s) and I knew of a few people that had already ventured out for their first OWS, so I was taking their word that "it was not that bad"!
In preparation for race day, a group of us did complete an early morning OWS on the Wednesday prior.  I was ready to get this first lake swim under my belt for the season.  My wetsuit is sleeveless (this I what I am most comfortable in) and I believe the water temperature was around 68 /69 degrees.   Honestly, it was not horrible, but it was still cool enough that I never felt like I warmed up.  We did an out and back which totaled a bit over a mile and at the turn around, I was still chilled.  I seem to have trouble getting deep breaths when I swim in cool water.  I definitely experienced that and had a less than stellar OWS season opener.  I am very glad that I did it and it was awesome to have a good group of teammates to meet for the swim.
So, the Beaverdam Olympic Tri takes place in Wake Forest (just one town over from Raleigh) and the event is held at one of the Falls Lake Recreational areas.  It is where I prefer to do most of my OWS training, so I am very familiar with the area.  I have never done this race, but it was one that I had been wanting to do and since it occurred a week or two later this year, I was able to give it a go.  The gates did not even open to the park until 7:15 with a start time of 9:00.  There was also a sprint distance that started at 9:30.  This later start was nice in that the alarm did not have to be set crazy early!! 
When we left home Saturday morning there was light rain, but nothing on the radar, so I was hopeful that it would clear very soon (which it did).  We arrived at the race venue around 7:40 (about a 25 minute drive from home) and parking was very easy and convenient.  It was just a short walk to transition to set up.  There was a good number of folks from the tri team racing which always provides an extra bit of excitement to the day.  Everything was well marked and easy to navigate….my only suggestion for improvement would be to add more space between the bike racks as it was a tight squeeze.   
After getting body marked, my chip and transition set up, the crew started coming together for pre-race conversations.  It was in the upper 50s and it seemed like it was going to be a good day to race.  Even better, it was announced that the water temperature was 73 degrees!  YAY!! 
Because my Wednesday OWS was not a good one, I had decided that I would get in a warm up swim.  Even though I knew it was warmer, I wanted to get as comfortable as I could before it was go time.  Well, I was super glad that I did.  The water felt so much better… what a pleasant surprise!
As the time approached, it was great to have some female teammates to hang with as we prepared for our swim time (the guys were divided into two separate groups before us).  Before we knew it, it was go time!  I felt like I got a great start and pretty much continued with the momentum.  There was one point for a very short time that I wondered if I went out too hard (not typical), but the feeling passed.  With only one OWS so far, I have not had sighting practice this year (which continues to be one of my weaknesses), but I felt like with only a few exceptions, I was on conservative path for my swim (and not swimming to much off course).  Overall, the 1500 meter swim was good, I found my rhythm, swam until my hand hit and sandy bottom I got it done!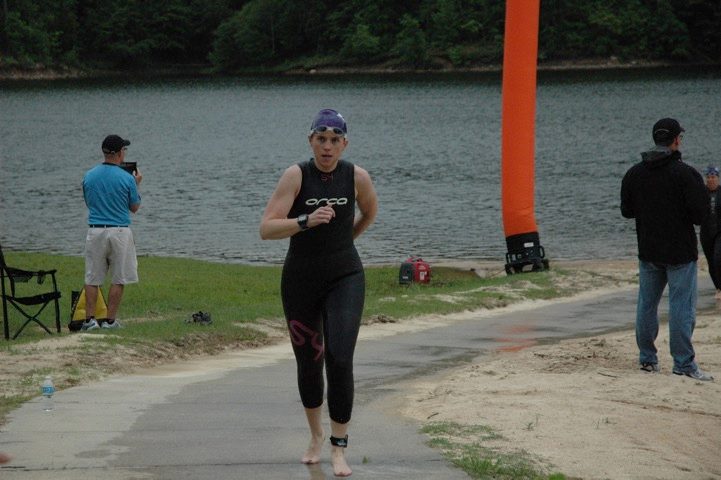 The run up to T1 was a bit uphill and Tony ran with my the entire way (it was a smaller race, so this was not a problem nor did it interfere with anyone else).  My bike was racked on the end next to the fencing, so he was able to stand outside of transition and talk to me while I did my thing.  My transition time was good.
The bike course exits the park and proceeds out through the county.  As per the race description…." The course will feature fast flats, small climbs, and rolling terrain".  A majority of the route I had ridden before so it was familiar.
The first few miles on the bike I was feeling my quads, but I focused on getting some good hydration early on and settling in…which I did.  Traffic was not too bad.  There was only one intersection where I had to pause longer than I would have liked, but the officer quickly told me "YOU DON'T STOP"!  It was just more congested that I would have liked and wanted to make sure I made a safe decision.  The sheriff deputies at this event were really great (there was one that even clapped for me)!!!!  I feel like I rode the 24-mile course fairly well and it was about what I expected.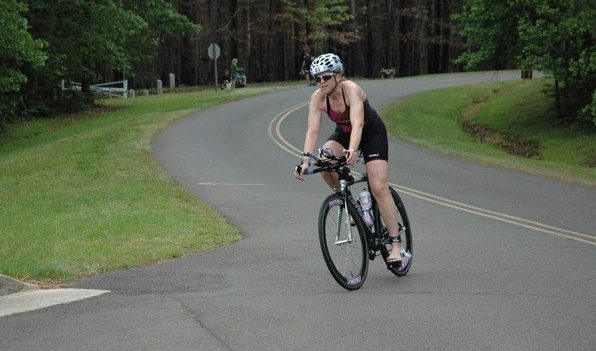 T2 was ok.  I had to stop for a few seconds as I was about to go down my row to re-rack my bike because there was a little traffic jam (that's why I mentioned the racks were too close together).  I always take time to put on socks in T2 which add a little more time, but it is a necessity for me.  I grabbed my visor and race belt and put those on as I was running out of T2.  Once again, Tony was just by the fence talking to me while I transitioned.  He always pushes me to work toward a faster T time.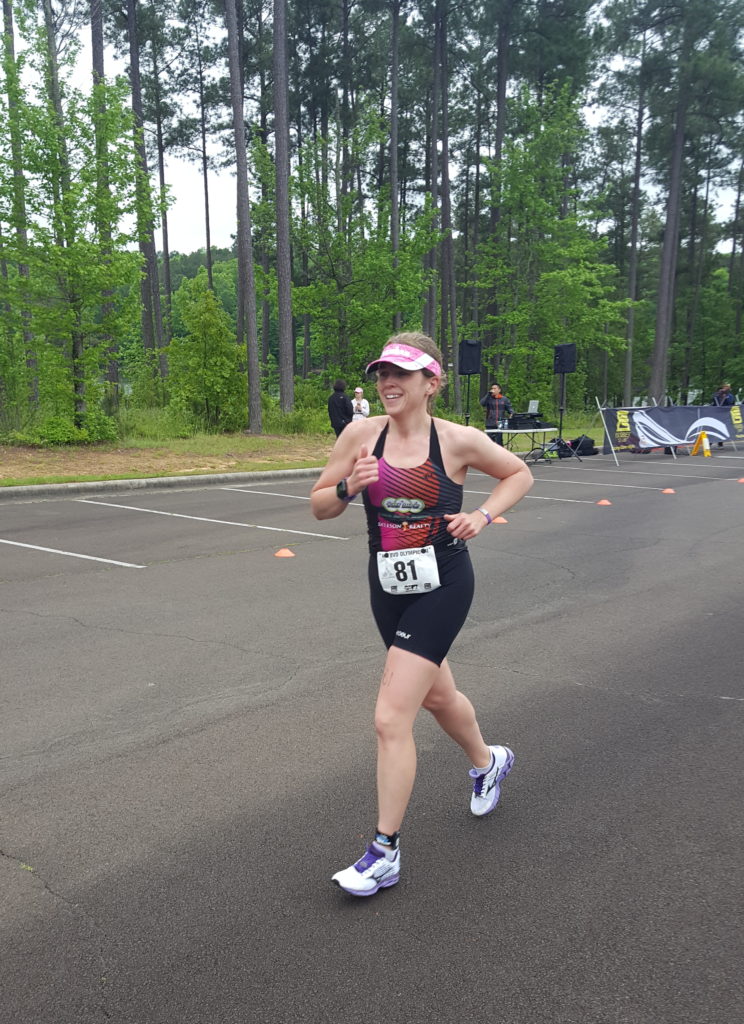 As per the race description for the 6.2-mile run…" The run course will be totally contained in the Beaverdam Recreation Area.  The course will be a 2 lap out and back.  The run will have a rolling design with 2 aid stations.  The first aid station will be at the 1st lap turnaround and the 2nd aid station will be at the out turnaround."  This was a perfect description!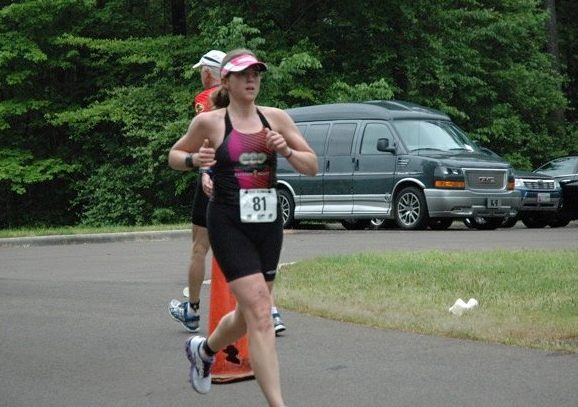 As is typical for me, my first mile ended up being my slowest, but when I saw the lap time during the run, I was happy with how I started.  Throughout the run, my legs were definitely feeling the "rolling design", but I pushed on the downhills and flats.  Because of the course design and there were lots of teammates there, I saw lots of friendly faces the entire time.  Our team cheerleaders were at the turn around which is always a boost!  Overall I pushed on the run…maybe too hard, but I just figured I would put it all out there.    
Since this was a last minute sign up, I really didn't consider specific goals that I wanted to aim for.  That is unusual for me, since I typically set out specific goals when I race.  When I was pushing on the run, it was not because I was gunning for a specific time.  I knew my swim time, I knew my bike average speed and knew each of my run lap times, but I didn't know overall run time.  I didn't have an overall goal, but I pushed to finish strong.  I ended up sprinting to the finish line because there was another girl right there.  I didn't think she was in my age group and I guessed she was doing the sprint, but I didn't know any of that for sure, so I wanted to hit the line before her, just in case.  Crossing the finish line is always so wonderful.  My biggest supporter was right there to watch me finish and he knew as well that I had a good day.  I started to look at my Garmin for overall time….I realized that I lapped my Garmin when I finished, but I hadn't stopped it.  I had about 51 seconds more to my Garmin time.  However, since Tony timed me, he was able to tell me right away that my time was 2hours 47minutes!  REALLY?!?!?  I was thrilled!!!   
This was only my third Olympic distance (odd that before this race I had done more 70.3s than Olys).  My first Oly was back in 2011 when I was over the 3-hour mark.  Last September I raced my second and had a huge new PR of 2:52:04 and  placed first in my age group out of 19.  This race I was able to secure yet another new PR by 4.5 minutes.  You can see how my results fell overall in my age group.    This race had some stellar competition…especially the runners!
Gamin Times:  Obviously "unofficial", but it is important to me because it always gives me a better gauge of my true swim time.  Most races the swim "time" captures some part of transition, based on where the timing mats are placed.  I am always very diligent about lapping my Garmin as soon as I stand up being done with the swim.  This has proven to be a better tool for my swim analysis.
All in all it was a great day.  We had several from the team that took a podium spot in their age group.  I am glad I raced!!
Many of us joined together for a post-race lunch which was a lot of fun.  The afternoon consisted of a GREAT nap and a quiet evening with dinner in (except for a quick trip out for my typical race day treat of a milkshake)!  This was a great way to kick of the tri season and it was even better to share it with great teammates!