The September Throwdown
11
The Sunday of Labor Day weekend was the September edition of "Throwdown".  If you missed my previous report of Throwdown, I will quickly re-summarize.  Throwdown is an event, open to all, that is produced by the owner of my local Tri Shop, Trilife.  It is a "mock race" that is a sprint distance triathlon.  This month's event grew to 20 participants from 16 in August.  If it had not been a long holiday weekend, I know there would have been an even greater participation increase.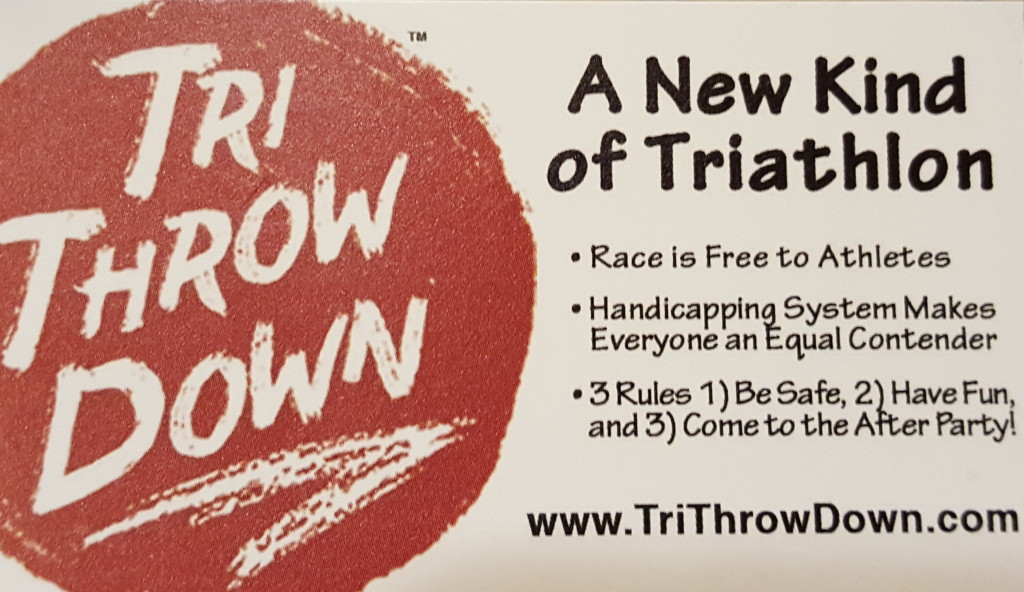 Last month when the event was held, we all started the swim together.  The idea for a while, has been that they would develop a handicap system whereas past race results dictate your start time and hypothetically anyone can cross the finish line first (not necessarily the fastest of the day, but cross first).  So, with this system, the fastest racer actually started last.  In this case, we are fortunate to have the Men's Age Group 30-34 National Sprint Champion in Raleigh and he has a large presence at Trilife.  It was a given that he would have the fastest time of the day, so most of us were racing to try to cross the finish before he did.  Given the prior weekend was my last race (and I pushed hard) and the coming up weekend was my next race, I decided not to go all out and push too hard.  I still wanted to have a good effort, but keep everything at an appropriate level. 
 This swim course had improved as they added a site buoy and a turnaround buoy.  There were also THREE kayakers on the lake and at some points, this meant more serving as safety patrol than actual swimmers!  I started around 39 minutes after the first swimmer (don't remember exactly).  Tony decided to not participate this month due to how he was feeling after his long run the day before, so he was monitoring the time in order to get each swimmer started correctly.  The sighting was decent and I felt good during the swim.  The swim was on a different section of the lake than the prior month and the run into T1 was a bit unfavorable to the feet.  Most of us ended up leaving our flip flops out to put on after coming out of the water.  I really didn't want to get something stuck in my foot.     
I felt good on the bike.  I stayed with the plan and did not push too hard and found a good pace to maintain throughout.  I was lucky that I did not miss one of the turnarounds, like one of my training buds did.  The cone that had been placed was gone, but I did see the pavement markings.  T2 was weird.  I say this because I was the only person in transition and the "crowd" watched.  I don't love T2, because putting on socks is always a struggle, but I definitely felt all eyes on me.  Everyone was cool and supportive, but I did feel a little pressure (from myself) for a fast transition.
The run out of transition is the least enjoyable part.   There is a hill that definitely puts you in check and I just took it smooth and steady.  I found my legs and as with the bike, I stuck to my plan on the run…to settle in a good pace.  The fastest guys on the bike came flying in as I was just under a mile in.  They were smokin'!!  I knew it was a matter of (a little bit of) time before I saw them again!  After the turn around, I saw our "speedy Gonzales" and even though I was still hanging on to hope that I would not get passed, it was inevitable.  The one thing about super quick runners, is that they (somehow) make it look so effortless…so smooth and confident.  He passed me at mile 2.75 of the 5K run, but somehow I did not mind because it is cool to watch someone like him run. 
Back down the hill for a strong finish and another fun Throwdown was in the books.  It was cool to have folks waiting to cheer me on and then we all cheered on all the other finishers. 
Luckily I wore my Gamin and was diligent in starting at exactly the right time and stopping at exactly the right time (even though I did not get all my other splits lapped correctly).  There were issues with the time for three of us (still working out a few kinks) and since they were just reporting total time, they used my Gamin as official finish time (1:26:53).  The after party was pizza and beer at a local brewery.  Already looking forward to the October date!