Training Update: Week of April 27
06
After a much needed recovery week, I was ready for another challenging week. I made some choices this week that involved some shifting of scheduled workouts, but it all seemed to fall into place just fine!
Monday:
PM: Here we go. This was the first of two long set sessions in the pool planned for the week.  I had some "good pool feelings" coming off the prior day's end of the training week session, so I knew I could make this a good one.  I had not swum 1000 sets in a long time, but I was ready.  My session consisted of a 500 warm-up, main set of 2 x 1000 and 200 cool down.  I was not overly concerned with time.  I just wanted to get in a couple of solid long sets where I felt good and strong.  I was able to do just that.   My "good pool feelings" were still in play after my swim.  Score!!
Tuesday:
We had a last minute dinner invitation come up Monday evening for Tuesday and it was with some friends that we don't see too often, so I told Tony that I would rearrange my training to make it work.  My original plan was to ride with the TriLife group in the evening, so it was an easy adjustment to plan for the trainer in the morning.  60 minutes on the trainer (5 w/u; 3×15 minutes at an effort to "hang onto the draft", 5 min recovery between).  Tony thought up this session so it was he who told me to maintain an effort as if I were trying to hold onto a pace line.  This obviously equates to a hard effort, but still being able hold the full 15-minute block.  I had a 5-minute recovery between sets.  After the bike, I jumped on the treadmill for a 2 mile brick.  All was good.
Wednesday:
AM: A tempo run was on the plan.  Since my last week prior to recovery I hit the hour mark with the set pace for tempo, it was time to push the pace up again.  I had the same rules to try the new pace…maintain a desired heart rate zone.  Honestly, I was not sure what this would bring.  I was running at a pace on the treadmill that I have not run for tempo efforts.  Therefore, in the end, I was pleased to hit the 30 minute main set goal at this new pace (started with 5 minute warm-up and ended with 5 minute cool down).  It was a challenge, but I was thrilled!
PM:  After Monday's swim, I was still feeling positive, even though I had another long set planned.  This session consisted of a 500 warm-up, main set of 1 x 1500, 1 x 1000 and 200 cool down.  I knew the 1500 would be tough without wanting to go crazy due to the sheer number of non-stop laps, but I would give it my best.  I remember getting to lap #13 and thinking that I was not even to the halfway mark!!!  This set will never end!  UGH!  But once again, I simply focused on solid efforts where I felt in control of my breathing and form.  After the 1500, I was pleased when my Garmin showed my pace and it was better than the 1000 efforts from Monday.  YES!!  The following 1000 set did not feel too bad in length, considering the comparison.  It was a great swim for me and in hindsight, these two longs sets were really needed.
Thursday:
AM: With another evening of plans, I got my workout completed in the morning.  My plan had me to complete the Spinervals 3.0 DVD (also known as "Suffer-o-Rama"), which includes a bunch of high intensity intervals.  It had been a while since I used this workout, so I did not remember exactly how tough (but GOOD) it was.  This is an old school DVD, but it is 50 minutes of bang for my buck!  No wasted time or effort here.
Friday: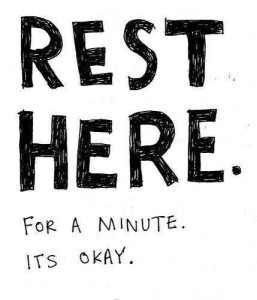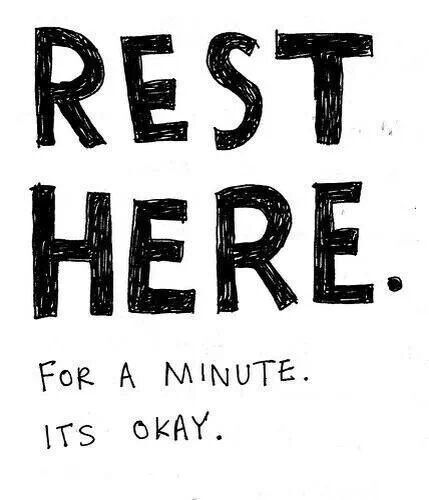 The weekend plans for Saturday and Sunday kept getting shifted back and forth up until late Friday evening. It was a matter of taking advantage of timing and training partners!
Saturday:
14 mile run on the greenway with Tony. We had a beautiful morning as we started around 8:45. The high for the day was forecasted to be in the low 70s, so when we got going, we started with upper 50s.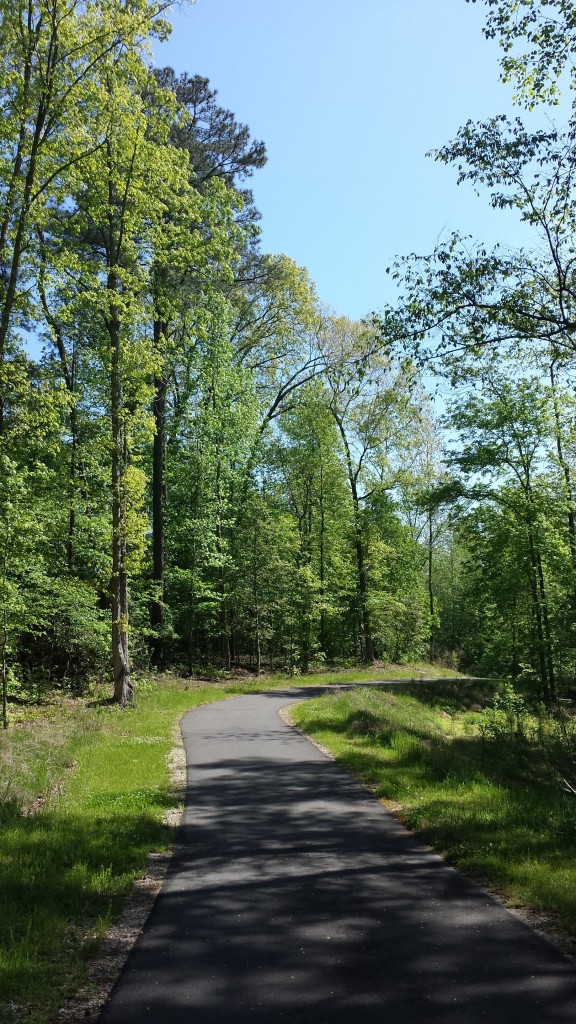 The first part of the run I think I felt better in comparison to my most recent long runs. I was really concentrating on my cadence and trying to maintain as close to 90 as possible. I would allow myself to check my cadence reading on my Garmin, but would try to not look at mileage in between mile splits (when the notification sounds). As we progressed, I started to feel like we would never make it to the turn around point. Then after hitting the half way mark, it was just a matter of ticking the miles off. I would have moments that felt tough and then they would ease up and I felt better. It went back and forth like that for a large part of the second half. The last few miles were just of matter of keeping my head in the game and finishing as strong as possible. Overall, I was pleased with my performance. Ideally, I would have loved a sub 9:00/minute average pace, but 9:02 for 14 miles is solid for me. It keeps me completely on track for the pace I would like to hit come race day.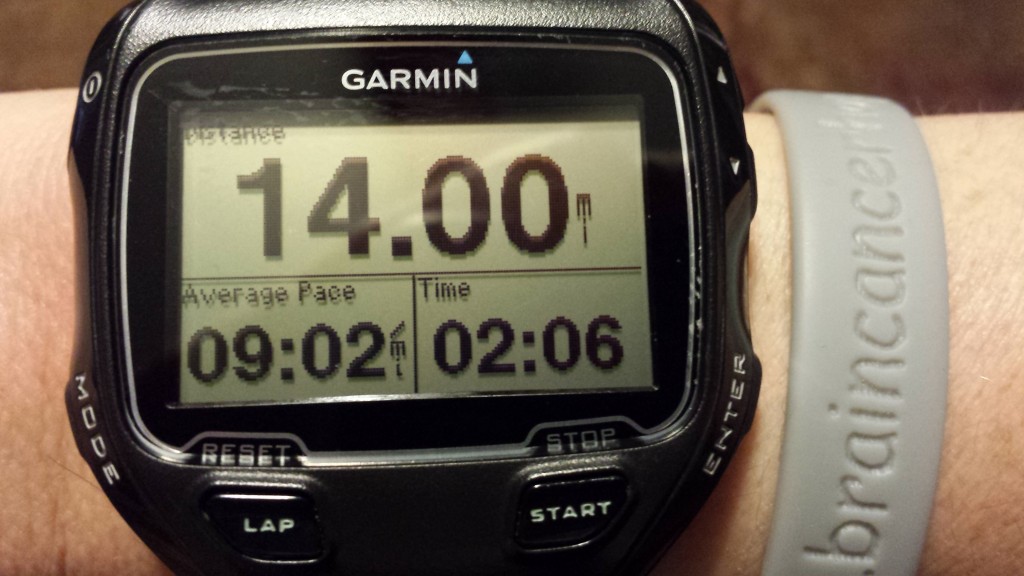 I had an early afternoon family activity and then the remainder of the day/evening, we spent relaxing on the couch, taking a couple of cat naps, watching the Derby, cooking dinner and then watching a movie later on. I also spent a good amount of time on the foam roller and stretching, since I knew that would be important for trying to have a productive training session on Sunday!
Sunday:
I met my riding buddy Susanne early afternoon and we planned to ride part of the Raleigh 70.3 course. The bike route is point to point, so the logistics of riding the course are not easy to maneuver. The route has changed this year so I was especially interested in riding the "new" sections of the route. Since I raced in 2013, I know what to expect as far as the majority of the bike route, but certainly did not know anything about the new section. Once I looked closely at the route map, I was surprised at how much has changed. Initially, when I heard about the change, I was expecting more of a minor adjustment, but much of the middle has a new route. I really wanted to take advantage of the course being local and ride it in training.
We did an out and back at a total of 52 miles. Therefore, 26 of the actual course was covered. I am mixed about the new section. Susanne mentioned that she thought it made the overall route easier, but initially I was thinking just the opposite. She seems to have a better memory than me on a lot of other things, so maybe she is right, Regardless, it contains some rollers, which is the tone of the majority of the original course. Nothing too difficult, but smartly working your gears is important. We had a beautiful day to ride and it ended up being probably the warmest day I have ridden this year, but still not hot. My legs held up better than I really thought they would after Saturday's long run, so bonus there!
Total training time:  9 hours 57 minutes
Swim: 5,900 yards
Bike: 76.66 miles
Run: 20.8 miles
I also incorporate twice daily PT exercises that are meant to strengthen/stretch my glutes, hamstrings and re-align my hips. This probably averages about 25 minutes a day and I have not included that in the above totals. However, this is probably one of the smartest things I am doing daily!