Pre-Race in Lake Placid
04
We hit the road from Raleigh to Lake Placid on Wednesday evening. We had a 13 to 14 hour drive to make, so we decided to break the trip into two legs. With our travel passing through several cities that are notorious for bad traffic (Richmond, Northern Virginia, DC, Baltimore), we planned to by-pass these cities during the typical commute hours. I had reserved a hotel room just north of Baltimore for us to stay Wednesday night. Our drive went well and did not encounter any traffic headaches. I had packed us sandwiches and fruit for dinner (and had tons of other snacks), so we would not have to stop for food.   We arrived at the hotel just before midnight and crashed hard.
We slept well and awoke around 7am-ish. We hit the showers and the complimentary breakfast. I packed a couple of additional sandwiches, so once again we would only have to stop for gas and restrooms. We were on the road around 9am-ish. The drive went fairly well. We hit one traffic slow down, which probably cost us around 30 minutes, but in the scheme of things, not bad. We arrived in Lake Placid around 4:30ish.
My first impressions of Lake Placid were that it was a quaint town. Of course, I immediately saw how pretty it was. We checked into the hotel, which was in a primo location, and immediately went back outside to enjoy the perfect weather.
We made a long walk to dinner (longer than we realized it was going to be) and enjoyed a nice Italian dinner at Cafe Rustica. They were super busy, but we were not in a hurry, so no worries. We found out about the free trolly that goes around town, so we grabbed a ride back to the hotel. It was a nice first evening!
Friday morning we awoke to a very cool morning (around 45 degrees). Tony went to get us coffee while I made oatmeal in our apartment. The apartment I booked was a 2-bedroom with a full kitchen (the kitchen was a must).
After breakfast, we made our way to athlete check-in. There was a bit of a line, but it was not bad and we made it through relatively quickly. I filled out paperwork, signed waivers, was weighed and finally tagged! It felt really official then!
We then made our way to the IM merchandise tent to get the oh-so-popular IM backpack. It was nice!
The plan was to attend the athlete briefing, but we had some time to walk around the expo first. So glad we did! We were able to talk advantage of a product demo that we had seen before, but never tried. There were two available chairs, so we jumped on it! These were NormaTec which are really cool massage boots. We were able to enjoy a 15-minute demo, which was fabulous!
After a bit more browsing, it was time for the athlete meeting. It was relatively short and semi-useful.
Afterwards, we headed back to the apartment as Tim and Nicole had arrived in Lake Placid!
After their arrival, we grabbed lunch…we were all starving! We visited the Dancing Bear where we all had Lobster Rolls. Very tasty!
After lunch we split up as they went shopping and Tony and I drove the bike course. I am very glad we did as I was able to witness first hand all that I had been reading for the past twelve months. It was nice to see where the pavement conditions were good and where it was broken and required caution. It was also nice to visualize the climbs and know what to expect come race day.
After the ride, we headed back to the apartment and I put on my suit and grabbed my wet suit to go hit Mirror Lake for a practice swim. It was good to get out in the water and get a sense of the lake and swim course.
Of course, I immediately headed to the buoy line to catch a glimpse of the "underwater cable". I swam to the third buoy or so, not far, but enough to feel comfortable. One funny story is that after I had put on my wet suit and started getting my feet and arms wet, I commented to Nicole that the water was chilly. I think the water was around 70-72 degrees. (The lake I had been swimming in at home was in the 80s.) Apparently, a random woman heard my comment and found it funny because she asked Nicole if we were from Florida because they (the locals) thought the water was warm!
After the swim, we all headed back to the apartment and got ready for dinner. We had earlier decided on a restaurant called Freestyle and made reservations. The restaurant was eclectic and amongst the group there were mixed reviews.
Saturday morning started out with breakfast at the apartment and then prepping all my gear bags. I had checklists ready to help me ensure I had everything I needed. It took me a bit longer than planned to pull everything together, but I finally got it all done.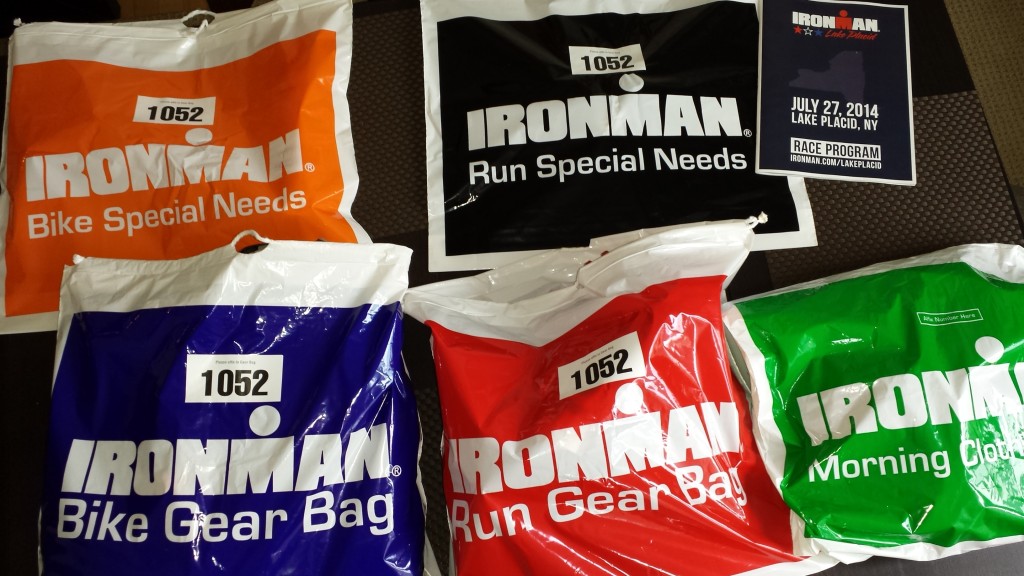 I also took my bike for a short spin to ensure all the gears were shifting smoothly, my breaks were good and all felt ready to go. The bike felt great!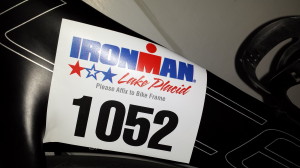 The race wheels on my bike are Tony's wheels.  However, he wanted them to be unique for me and my race.  He had the red decals that are usually on the bike removed and some special decals made for me in my favorite color (purple!!).
We then headed to bike and gear bag check.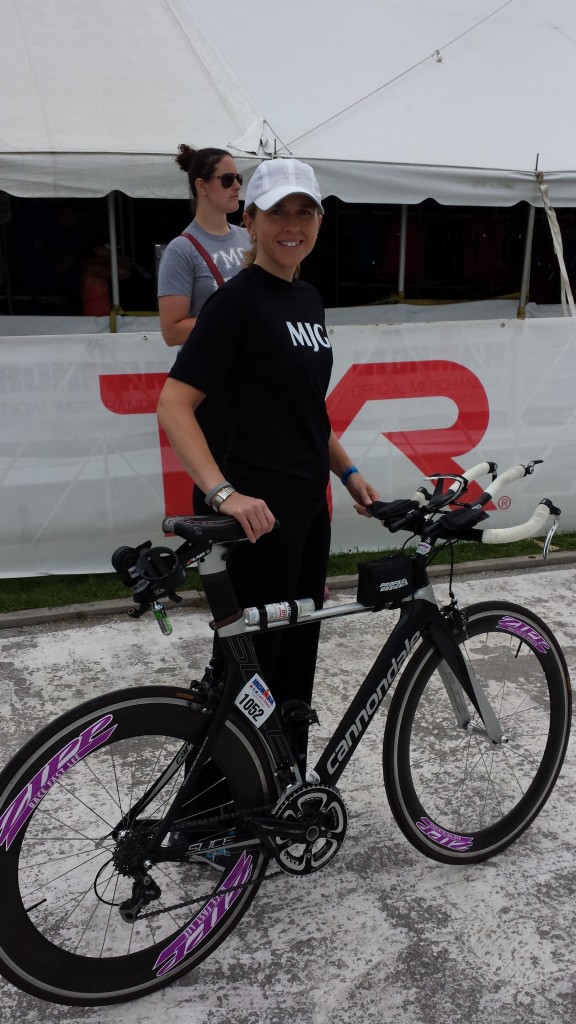 It seemed to be going smoothly…I found the rack and got my bike in place. I then tied plastic bags over the saddle and handlebars because of predicted rain overnight.  I placed my gear bags on the rack. I was set or so I thought. After I got out of transition, I was telling Tony about how I racked the bike. After some quick discussion, we decided that I should probably change some things about the set up.
I went back into transition and made some changes. At that point, I was wishing Tony could have helped me out, but unfortunately he was not allowed in transition.
After we got all that taken care of, we decided to stop for a sandwich on the walk back to the apartment. The line was long, but I had read good things about the shop (Big Mountain Deli). We enjoyed our sandwiches and then the afternoon consisted of me relaxing and staying off my feet.
Dinner that night was cooked in.  Tony and Nicole made pasta and meat sauce for us to all enjoy.  It was the perfect pre-race dinner!!
I went to bed at a good time for me (to try) to get a good night's sleep!  After Nicole and I turned in, Tony and Tim took a little walk up to the transition area and got some photos before all the chaos ensued.
In just a few more hours……..GO TIME!!!