We know that triathlon includes the three legs of swimming, biking and running.  However, the fourth leg of triathlon is truly nutrition.  The nutrition of what you have on race morning and during the race is key, but also important is what you eat during training.  You use training time to figure out which nutrition works while you are out on a long bike or run and it will take a bit of time to "dial in" this piece to know what my plan will be on race day.  I know what has worked for me on half Ironmans, and I can use this as a starting point, but my nutrition plan for Lake Placid will involve so much more.  I will continue to post over the next several months as I try new things for drinking and eating to figure out my plan for race day.
Early on my focus will include what I eat during the day for breakfast, lunch, dinner and snacks.  As my training hours slowly escalate and will often include two training sessions a day, what I eat becomes even more important and will contribute to successful training days.  Over the past number of years as I have become fitter and healthier, I began experimenting more in the kitchen. I enjoy reading various food blogs and browsing Pinterest to get ideas and new recipes to try.  I like to cook and try new recipes and if they are healthy AND taste great, it is a bonus!  Here are some recipes that I made this week…
On Sunday night, I made this Cashew Chicken recipe from How Sweet It Is.  I doubled the recipe and we had the leftovers Monday night.  Tony and I enjoyed this dish (we served ours over brown rice) and I will definitely make it again!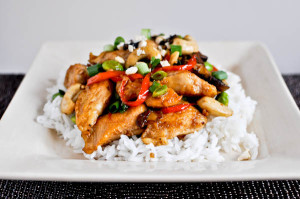 Photo from How Sweet It Is food blog.
During the week, I planned ahead for lunches and made this Vegetarian Quinoa Chili recipe from Two Peas & Their Pod.  Tony was not excited about the idea of this dish since he is not a fan of quinoa.  However, I made it anyway and he has already had it for two lunches!  His comment was that it had lots of flavor and I agree!  I will be making this dish again as well.  (If you are not familiar with quinoa, don't be afraid to give it a try!  It is a grain and it adds a little texture to this dish.  Quinoa is a good source of protein and fiber and is considered to be easy to digest.)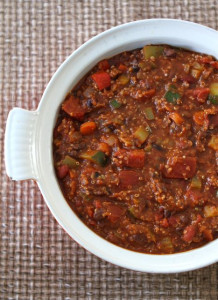 Photo from Two Peas & Their Pod food blog.
Since Friday was Valentine's Day, Tony and I made a special dinner to enjoy.  We had steak (Tony's favorite), baked coconut shrimp, roasted potatoes and asparagus.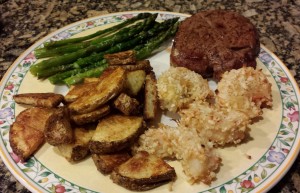 I had made the Coconut Shrimp recipe one time before and I thought it would be a nice compliment to our special dinner.  The recipe is from Skinny Taste food blog.  (Note:  I also made the sauce included in the recipe, but used orange marmalade.)
I encourage you to try one of the recipes I have included.  Since cooking is a big part of my "Tri Inspired Life", I will continue to share tasty recipes that you may enjoy as well!