Weekend Fun and First Outside Ride of 2014
24
After a Saturday morning of training followed by an afternoon of "stuff", ideas for dinner were being driven by my growling stomach!  When I got home a bit after 5:00, Tony and I were discussing dinner ideas which turned into an impromptu sushi night out with our neighbors.  I want to explain a bit about our neighbors.  Usually, neighbors are people that you end up moving in next door to or vice versa.  That happened with this family, initially, but we ended up leaving the neighborhood where we met and moved together to our current neighborhood.  We are so fortunate to have people living next door that you can count on for just about anything…a cup of milk, a dog sitter or someone that you can turn to in the case of an emergency.  We are very lucky to have neighbors that are true friends!
I suggested a restaurant called Shaba Shabu and everyone was game!  We had been there several times and I love sushi with the BOGO option!  Service was slow, but that gave us plenty of time to chat, catch up and share some laughs!
It is funny how someone can live next door and you can go for weeks with just a passing wave while coming and going or a quick chat in the driveway to check in.  It had been too long since we spent some QT with them.  We had a great evening and I was glad all our schedules allowed for this impromptu dinner out!  Plus the sushi was tasty and really hit the spot!!
The plan for Sunday was a bike ride in the forecasted 67 degree weather!  Most of our riding peeps were out of town or unavailable, so Tony and I hit the road together.  We planned to leave for our ride around 11:00, but ended up heading out around 11:45.
It felt nice outside, but we quickly realized that it was rather windy.  We had a headwind that was not too fun, but the couple of times we had the tail wind, it was great!  This training ride was planned for 2 hours and 45 minutes and my goal was getting time on the legs and in the saddle, without a real concern for speed.  It has been a couple of months since I have ridden on the road, so I was glad to have the weather cooperate to allow us to get outside without wearing 2-3 layers!  The course is one we have done many times before, but not exactly this way.  It contains some rollers which keeps things interesting.  Despite a few areas with bad pavement, this course is really a good one.  Tony planned the route to estimate a ride time of 2:45 and I will say that he did a great job planning!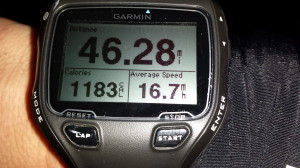 I was happy to have had a warm February day to get in the first outdoor ride of 2014.  I was even happier that Tony rode with me and plans to support me on many rides to come!