Posts Tagged 'racing'
I feel that Ironman 70.3 Chattanooga was a long time coming.  I really wanted to do this race in 2016, but I missed registration and it sold out.  I knew this race would be on my calendar for 2017 and things turned out even better because I had company!
This is only the second race out of state that I have done.  The other being Ironman Lake Placid.  We are very lucky to have a wide variety of races in North Carolina to choose from.  With that being said, the travel logistics took a bit more time planning and even changed fairly last minute. 
There were five of us from the team racing and we were also traveling with other family members, teammates and friends that were going for support.  Most of us had all planned to leave Friday morning to embark on the 7-8 hour drive from Raleigh to Chattanooga.  The last minute detail that changed is that Tony was able to fly the two of us.  He learned that the plane he flies has backseats that recline.  Therefore, with some consolidation of the bikes, we were able to get both bikes and all our gear in the plane.  Needless to say, that saved us a lot of travel time and added extra adventure to the weekend!
We arrived in Chattanooga around lunch time after around 2 hours of flight time.  After unloading the bikes and all the gear and packing the rental car, we were off!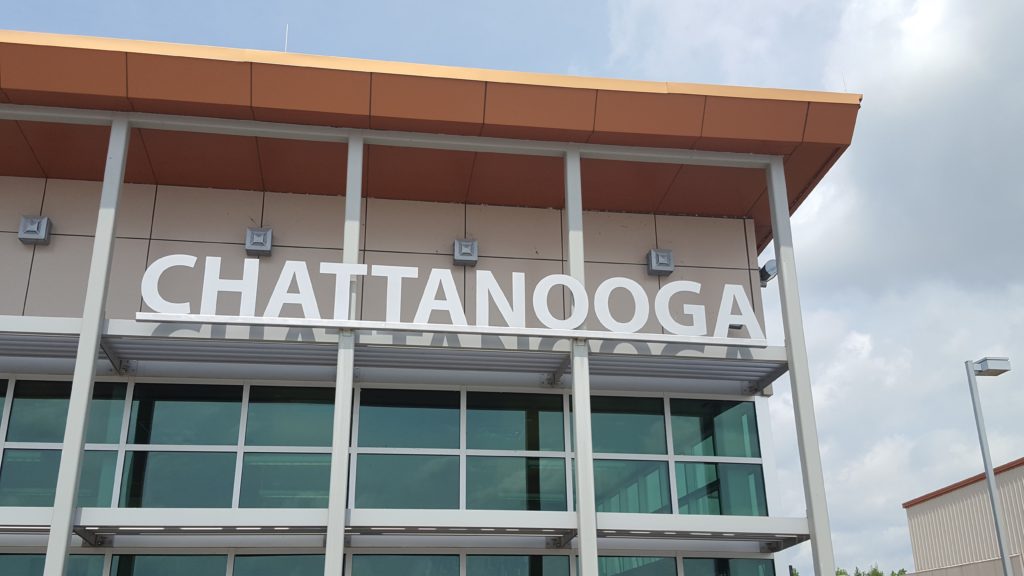 First stop was lunch at Big River Brewery in downtown Chattanooga.  We had a nice lunch and ended up being within walking distance of the Athlete Village for check-in.  We decided to go ahead and get that taken care of and since there was no line at all, it was great timing.  There was some shopping as well and I lucked out and found a great shirt on the clearance rack!!!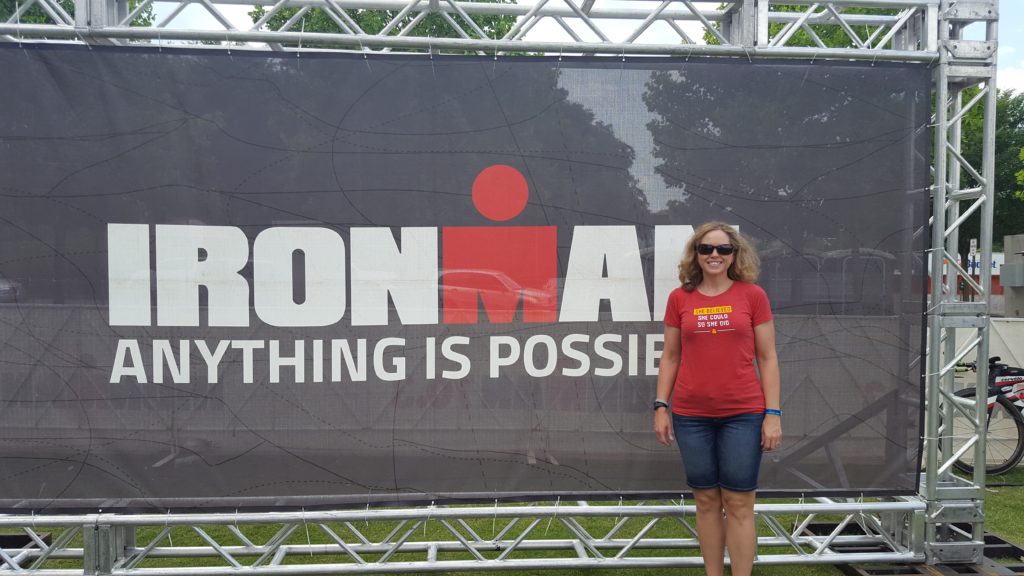 There was a bit of time to kill since we were not able to check into the rental house yet (the team and crew were staying together for the weekend).  We found a coffee shop that the waitress from lunch had recommended.  It is called Rembrandt's and we both had a nice cold brew coffee.  Hit the spot! 
When it was time, Tony and I made our way to the house to get settled in.  It would only be an hour or so before others started arriving so it was good to get in, get unpacked and start relaxing.  Over the next few hours, everyone arrived that was supposed to have a Friday arrival.  
We had a nice evening including dinner outside at a tasty restaurant called Food Works.  It was before crossing the bridge in the downtown area, so we were hoping it would not be crazy busy with all the out of towners.  We had a great table outside and it was a perfect way to officially kick off the weekend!   
I had a great nights' sleep and woke up Saturday to a beautiful morning.  The morning included breakfast, coffee and lots of conversation about race prep and the day ahead.  There was some discussion about getting in a short swim that morning.  Our house was directly on the river so it would have been super convenient.  In the end, no one ended up swimming and I think that was a good decision…at least for me!  The remainder of the morning was spent prepping our bikes because we had bike drop off later that afternoon.  Everyone had done packet pick up on Friday so that was handled.
After bikes were prepped, we all piled into two different cars and drove the bike course.  So glad we made this decision.  I think it helped everyone in different ways, but it was time well spent.  For lunch and we ended up at a place called the Frothy Monkey.  Sandwiches all around and it was a good find.  We headed back to the house to grab our bikes and take them for check in.  With it being hot and also rain in the forecast for overnight (and into race day), we all planned accordingly for leaving our bikes in transition.
With all the errands finally done we were at the house to rest, make final preparations and have a great dinner.  Later on in the evening…..it happened.  The heavy downpours of rain started.  The forecast which had been monitored frequently for days and days and days called for 100% chance of rain (yes….100%, not 99%…., but 100%) and a bit milder temperature (upper 70s I believe) for race day.  That had dropped from being forecasted in the mid to upper 80s from earlier in the week, which we were happy about, but that rain was definitely on our minds.  The consensus was to PLEASE let us get off our bikes safely and then it was free game to rain!  As the rain began Saturday evening, my mood definitely changed.  I had raced in the rain before….heck my biggest race ever included torrential rain…but it was not something I was looking to repeat.  We had also discussed the idea of the swim being cancelled since it was raining so hard, and that was definitely not something we wanted to happen!  When I went to bed that evening, I was not in the best place mentally.  All I could imagine for Sunday was pouring down rain from the time we left the house to the time we returned.
The CRAZY EARLY alarm at 0'dark thirty on Sunday morning and everyone's pre-race ritual starts.  I am not a morning person and certainly not one at 3 something in the morning.  There was some small talk over breakfast, but personally, I know I was just trying to wake up and get my head in the game…this actually took much longer than normal.  The good news is that IT WAS NOT RAINING!  It seemed that the rain had moved through the area much quicker, so YAY to that!!!!!                    
Our house was about 15 minutes from downtown and we headed out by 4:15am.  Since no one in our group had done this race before, we were not familiar with the logistics.  We got downtown, parked, body marked and into transition for final preparations.  We had to catch a shuttle for a very short ride to the swim start (no line to catch the shuttle).  In the end we had plenty of time, but better to be safe.
Once arriving at the swim start, this is where the waiting began along with a bit of frustration.  The Athlete Guide read that it was a self-seeded rolling swim start.  The only other self-seeded swim start I had participated in was at Lake Placid.  They had volunteers with signs of expected swim times and you gather behind the sign that is appropriate.  When we arrived at this swim start, there was just a long line that we joined.  Shortly after arriving, we overhead a volunteer announcing…"If you are a fast swimmer, then you need to go to the front of the line".  [This started the confusion and frustration for a lot of people.  I don't consider myself a "fast swimmer", but what does that mean exactly?  In the end, they did provide a bit more detail regarding "fast" and which light pole we needed to be lined up at for a particular time range, but there were no time signs and it was very unorganized.  In the end, Tony went closer to the front, three of us were more in the "middle" and one decided to head further down the line from the three of us.]
At 6:50 the pro men started and then 6:55 the pro women.  The age groupers were scheduled to start at 7:00.  However, soon after the pro women started, we noticed that there was a boat moving a buoy (also causing lots of wake in the river) which made us start asking questions to one another.  7:00 came and went (without us starting the swim) and eventually there was an announcement made by the race organizers that they were removing the "upstream" portion of the swim thereby shortening it from 1.2 miles to approximately .80 miles.  Apparently, the pros were having some difficulty in the upstream portion (due to the heavy rain) and the decision was made to keep things as safe as possible for the age groupers and change it up.  I was definitely bummed out, but totally understand why this decision was made.  More time passed as the changes were made to the swim course and I am not sure what time the age groupers actually started.  However, I was definitely ready to go by that time!
After the horn was sounded, we slowly made our way to the river.  There was a small dock that we had to go from.  I was watching most people just jump off the dock and I was not wild about this idea.  What if my goggles or seal came loose just enough for water to seep in?  Maybe I will hold them as I jump in….decisions…..  Then I saw someone quickly sit down at the edge of the dock and slide into the water.  That might have taken 2 extra seconds, but when I saw that, I knew that was what I was doing!  I had discussions with my two teammates that I was in line with about how we would get into the water.  Tarina and I decided to take the same approach.  Major props go to Bill who had planned to not do a repeat of his Ironman Louisville swim entry (which was a quasi belly flop) but did exactly that!  It made for a bit of comic relief seconds before my own swim start but lots more post-race!
The official water temperature was 73.6, so wet suit legal!  When I got in it only felt chilly for a few seconds.  I quickly fell into my rhythm and felt like I maintained it throughout.  For at least half the swim I was side by side with Tarina and we even bumped into each other one time…oops!  There were plenty of swimmers but I never felt like it was not crowded, which is great for me.  I tried to keep my head in the swim, which is key, and stay focused on my technique.   I have found that this typically gives me better results overall.  Before I knew it, I was aiming for the ladders surrounded by volunteers to help us out of the river.  SWIM DONE! 
I saw my swim time and distance as soon as I got out of the water (I usually hit the lap button on my Garmin as soon as I stop swimming instead of waiting to cross the timing mat for transition).  I actually saw .82 miles, which seemed pretty close to being on point.  It was hard to gauge my time since it is a swim with the current and shorter than planned.
The run to transition was not a short one but included a brief stop at the wet suit strippers that did a fast and fabulous job!  At that point the weather was still cooperating…it was not raining and very overcast.  I tried to be as efficient in T1 as possible, but I know I need to improve to cut down my time.
Onto the bike!  This is where I am most comfortable.  However, I had a bit of concern in the back of my mind.  The past several weeks leading up to the race, I had some issues in my right glute/hamstring.  It was only when I was on the bike (not on the run) and it had improved the last week or two just before the race.  I had also spent a TON of time on the foam roller; however, I was still going in with my fingers crossed! 
I was very excited about this bike course.  Having driven it I felt prepared and was ready to tackle a new course.  Well, frustration set in within the first few miles.  There were a couple sets of railroad tracks and despite them being covered, the area gave us a rough ride.  Over the first set and immediately I heard my back bottle hit the ground.  CRAP!  I stopped, laid my bike on the ground and ran back (as best I could in bike cleats) and grabbed it.  Ok…big loss of momentum, but back on the bike and into my groove.  Shortly thereafter there was another set of tracks and AGAIN I had a torpedoing bottle.  It actually crossed my mind for one second to keep going.  Since I use Infinit though, all my calories were in the three bottles I was carrying on the bike.  I didn't have a choice.  Same routine with stopping and it felt like the second time took me even longer.  I was so pissed, but what else could I do?  I tried to put it out of my mind and ride the way I know I could.  
Before I knew it I was out of town and this is where the course really gets enjoyable.  Overall I think the course was a bit crowded, but in comparison to Raleigh 70.3 (which I have done three times), I would say not too different.  My guess is that a shorter swim course provided a smaller window of time for people to get more spread out.
I was just doing my thing and stayed of out of the draft zone when I was not sure I was ready to pass, but also did plenty of passing when my legs gave me the go ahead.  It still blows my mind how many people will ride in the middle or to the left of the lane.  The concept is quite easy…STAY TO THE RIGHT…PLEASE!
The biggest advantage I gained from us driving the bike course was the preparation it gave us leading up to the short, STEEP climb on Andrews.  Otherwise upon making that left hand turn, I definitely would have been in the big ring and HATING life at the point!  However, I did know when to expect it and shifted to my small ring and was ready to hit it!  Upon the turn, I immediately saw two people walking their bikes up the hill and one lady that appeared to have dropped her chain.  YIKES!  That is a legit hill! Thankfully it was short and I just gradually shifted my rear gears and spun up.  I was glad to have that one done and ready for the nice recovery section after.
As I was covering the back half of the course, I would do periodic checks with myself and I continued to feel good.  I knew my pace was great but wanted to keep it in the forefront of my mind that "I was not out to win a bike race" (wise words by my training buddy Bill).  Really, I wanted to push when I could but didn't want to leave it all on the bike when I still had a half marathon to run.    
As I entered back into town, I was excited about the ride I had.  I was still mad because I had dropped a bottle twice, but I knew I did the ride I could and really exceeded my expectations.  I just wish my Garmin bike average had carried over to to my official finish time.   
Since my Garmin is set to auto pause (and didn't capture my stops for the dropped bottles), I know my true ride time and distance and a 20+ average would have been crazy exciting to see in my race results.  Still a new PR for that race distance is something to be very proud of!    
As I was coming into T2 I saw my training buddy Bill.  Since seeing Tarina early on the bike, I had not seen any of my teammates or Tony racing.  However, the support crew that was there to cheer on our team was loud and so awesome!  It made me smile every time I saw and heard them!
I tried to be as efficient as possible in T2, but once again, I need to improve on my time here.  I started out on my run and my legs didn't feel that bad.  Maybe I had actually been able to ride that bike course and not crush my legs! 
I expected the course to be relatively hilly, but other than that, not sure what to expect.  Overall I was feeling ok…I did have a slight touch of uneasy stomach, but nothing too concerning.  I planned to take Coke at the aid station to hopefully keep it settled. 
The early part of the 2-loop course was definitely not my favorite.  This section is along a highway stretch with no shade and some long gradual hills as well.  The next section was much better as it was along a river walk and had some breeze and shady areas.  There was also a terrific aid station which was a luau theme and lots of fun volunteers. 
After you emerge from this stretch you hit THE HILL!  I continued to run up it on the first loop until about half way.  Then power walked up to the top which was a much better decision.       
The next section of the run took us over a huge bridge which was pretty cool.  I was excited to be nearing the end of loop one.  I had some tough stretches during that loop.  It was starting to warm- up as the sun was peeking out.   I was ready to get through this.
Loop two I knew I needed to keep my head in the game.  Overall, I think I did a pretty good job.  I minimized any walking to be at the aid stations were I was trying to stay cool and keep my stomach happy.  When I hit THE HILL the last time I did power walk as I learned the first time through that was the best plan.
As I neared the finish line I told myself to let go of the focus and enjoy it.  This is something I don't always make a conscious effort to do, but is was great!  I found myself more emotional than I expected.  With a new PR in the pocket (includes accounting for the shortened swim), I was relieved.  The fifth finish line for a 70.3 is still as sweet as ever!
I immediately found Tony and Bill and we all shared hugs and congratulations.  We met up with our cheering section who were just awesome throughout the day.  Soon after, Tarina and April crossed the finish line and we were all together again.
We knew soon enough after quick conversations that everyone on the team had raced to new PRs!!!  Even estimating the additional time the shortened swim would have added we had met some great goals.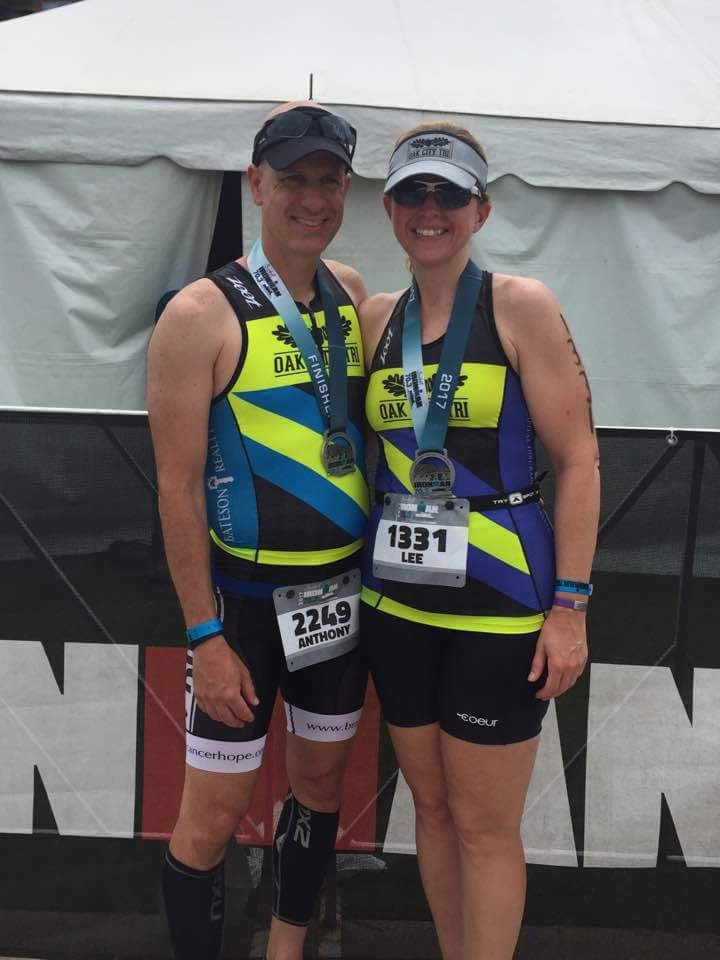 We gathered all our gear and headed back to the house.  Everyone was ready for showers and some serious relaxation!  Hanging out after the race at the house was great.  We took turns in the Norma Techs and shared details of each of our days.  This quality time after the race was truly one of the highlights of having the house that we all shared.  Since no race day is complete without appropriate celebration the entire group went out to dinner at a downtown restaurant called Stir.  It was great ending to our day!
Since I have had time to really reflect on my race, overall I am happy with my day.  My ultimate goal was to lock in a new PR at this distance.  5:53:43 was my long standing PR from Beach to Battleship half in 2012.  I was able to do that.  I felt strong in the swim and only wish it had been safe for us to have the full course.  With the exception of the bottle mishap, I don't think I would change anything about my bike.  I thought I would be able to gut out a faster run, but I gave it all I had, and that's all I can ask of myself.  Another one in the books!