Posts Tagged 'Fun'
Life after Ironman has been great. August was a really fun month!! Don't get me wrong…life before Ironman was great too…just super busy! The first several days after we got home from Lake Placid were easy. I was only back home and at work for two days before I headed off to the Outer Banks of NC for a get-away with two college sorority sisters.
The timing was really perfect. No training to think about. Just enjoying some well-deserved rest and relaxation. It rained almost the entire weekend (yes, I thought I already had my fair share of rain), but we had a good time none the less.
Upon returning home, I had a surprise awaiting me. Tony had gone on a bit of a mission while I was out of town. This is what he had done with my race bib and medal. I love it!!!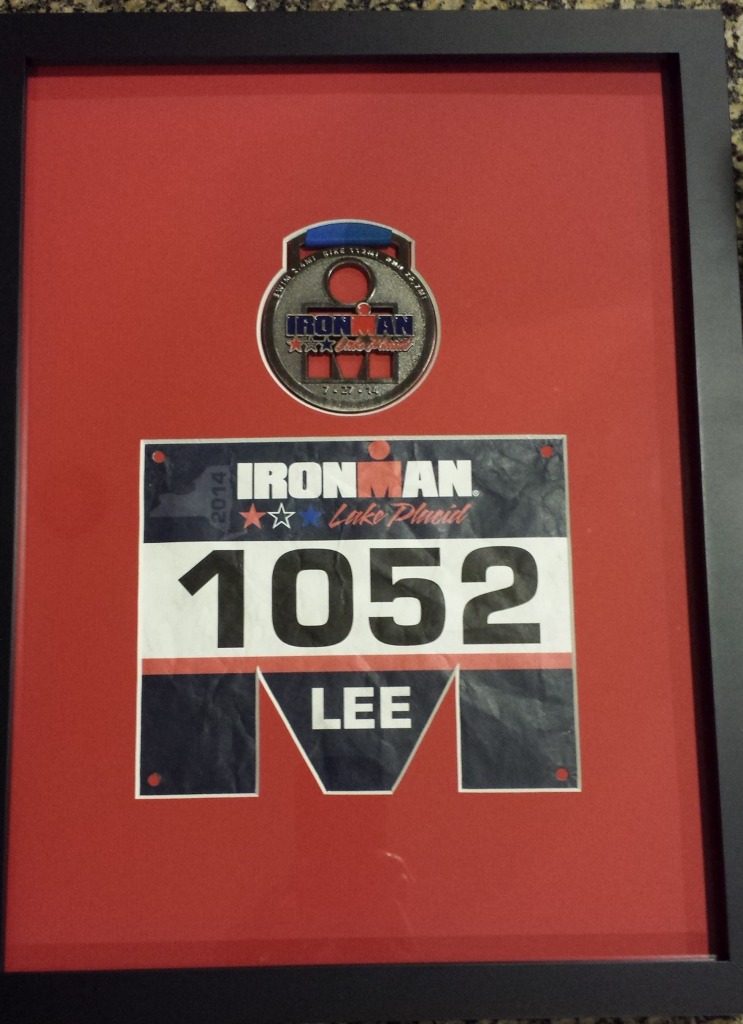 So, after the beach trip, it was back to work. Only a four day work week, but I believe in easing back into things :). It is so very nice to have my morning start at 6:10-6:15am. There were no 4:45am – 5:00am alarms to think about!! I also continued to enjoy my evenings off from training. I did not have a set number of days in mind for recovery…I just wanted to take it easy for while and ease back into activity. Well, so I thought!!
That next weekend we had plans each day of the weekend! The Friday night outing was a cookout with a group of friends…it was a bit of a pre-party for the next evening's 40th birthday celebration for a good friend of ours.
Sunday was a dinner out with a couple friend.  She wanted to hear all about the race, so we had a nice afternoon catching up and chatting!
Rewind a bit to Friday…As we were leaving the cookout, I was talking with two girls that are currently training for their first half-iron distance and iron distance races about the training they were doing the following morning. They had a long run planned and I agreed to tag along. So, my first REAL activity after IM was a 10-mile run…IN THE RAIN!! And yes, AGAIN, I had experienced my fair share of the wet weather, but I wanted to go. I did not necessarily think my first run back would be 10 miles, but I knocked it out, with some achiness.
The following week was another short work week because I took a bit more time off work. That Tuesday afternoon we headed out after lunch for Charlotte. We attended the Linkin Park concert that evening.
Well, the concert was an absolute blast!!! They are my favorite band and I had an awesome night at their concert. My favorite concert to date!
The following day, we spent time at the White Water Training Center. (The Center's 500+ acres offers a wide variety of outdoor activities for all ages and skill levels. Guests can enjoy whitewater rafting and kayaking, flatwater kayaking, stand-up paddle boarding, rock climbing, zip lines, ropes courses, a canopy tour, and mountain biking on our 25+ mile trail system. (Description from their web site.)) We had heard a lot of positive things about the White Water Training Center and it was fun! Our favorite part was the whitewater rafting. Our guide really showed us a great time!!
The next weekend included more fun dinners. Friday evening included a "thank you" dinner. Tony had the idea to show our appreciation to the people that had helped me with my training by having them over for a dinner party. It was a great night with lots of triathlon talk! The following night was a dinner get together with a friend that we had not seen in over a year. It was great to re-connect and catch up on the latest happenings! The Sunday was a dinner with my family. My brother planned the dinner as a congratulations on my Ironman! It is always nice to spend time with family and to snap some fun pics with my niece and nephews!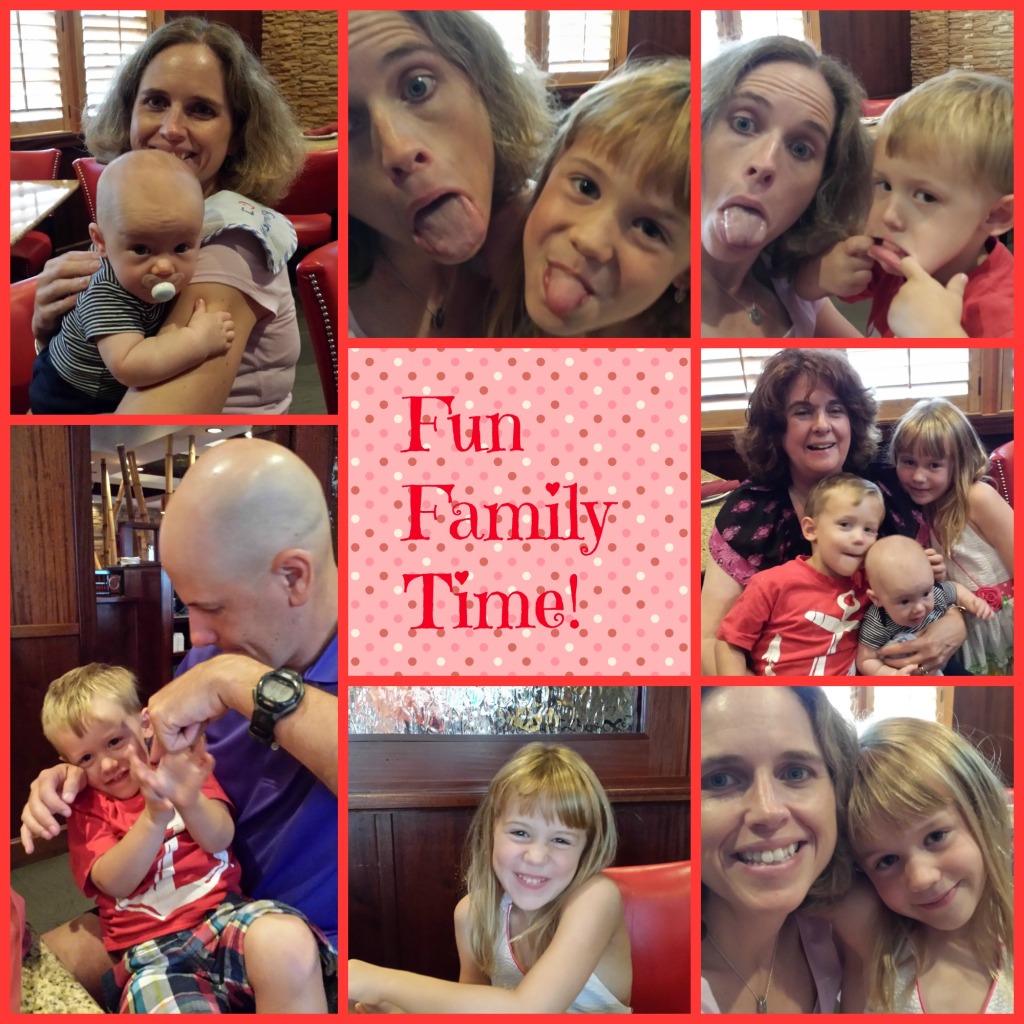 The next two weekends included attending a surprise party for (another) friend's 40th birthday, dinner out to celebrate our friends' (Tim & Nicole…part of the crew from Lake Placid) recent marathon finish, attending the football season opener for NC State and a dinner out to a local "special occasion" steak house to celebrate our good friends' anniversary.

Amongst all our activities, we have enjoyed some down time, watching some new movies and  I actually started reading my first book of the year!  I finally treated myself to my first pedicure of the summer.  I waited until after the race because I was spending so much time in running shoes.  Four days after my pedicure, I lost a toe nail!!  Unbelievable!!  So much for waiting!!
As far as training, I have enjoyed flexibility and doing whatever activity I want to do! There is a group bike ride that leaves from a local Tri store on Tuesdays and Thursdays and due to my IM training, I had been unable to check it out, until recently. We have enjoyed this ride multiple times over the past several weeks in addition to some Saturday rides from our house. I have also tried to start more regular yoga and stretching. I have run a few times here and there. I also took my mountain bike out on a local path for a different kind of ride. All in all, I have been staying busy and enjoying different levels of activity from the endurance training I have focused on for the past months. [I guess it is good that I have maintained some regular level of activity…as I write this recap, I am really noticing that our August included lots of eating!!!]
I think it is only natural to think about what's next? I do not have any races planned for the remainder of the year. I plan to keep active, like I have been the past several weeks since IM recovery, but eventually add some strength training into the regiment. I will get back into the pool soon and try to get in swims, with (SOME) frequency. I have a few races in mind for next year, but am still pondering. I will say that the longest race on the agenda will be a half IM. I plan to have a completely different focus for next year and set some new goals. In the mean time, I will continue to enjoy the flexibility and keep having fun with the activities I choose!