Archive for the 'Triathlon' Category
Going into this season of Ironman training, I was not sure what, if any, races I would participate in for a lead up to race day.  When I raced Lake Placid in 2014, I did not race a half prior to.  I didn't necessarily feel that I was at a disadvantage, but it's never a bad idea to dust off the cobwebs and feel those pre-race nerves once in the season prior to your "A" race.  Having Raleigh 70.3 in your backyard certainly gives one obvious choice for a half IM.  However, having done that race three times (and the brutally hot run), I was not super anxious to give it another go this year.  Unfortunately, the final running of Raleigh 70.3 happened this year and I won't have the opportunity for a fourth go, which I had wanted to do at some point.
I read about a half iron distance race called Mountains to Main Street in Greenville, SC and it peaked my interest.  Timing wise it would fit into the training calendar very well, plus it was two weeks earlier than Raleigh 70.3 which gave some hope that this race would be a bit cooler and wet suit legal.  I was not able to find out a lot about the race (specifically race reports) for several reasons.  It is a much smaller race than any IM 70.3, 2016 was the inaugural year and the 2017 edition was cancelled due to severe weather.   I did learn that the bike course was new for 2018, so the little I did find about the race was not helpful for insight into the bike.  Weighing the pros and cons with my training partner, Bill and I decided to give it a go.  We did know that this bike course would be challenging given the elevation gain published about the route, which would be good training for IMMT.  This was also my sixth 70.3 distance and a new race experience was appealing.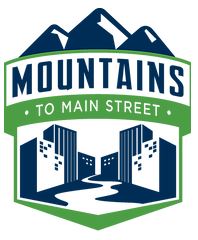 One side note to add is that about 10 days before the race I started having some pain in my right foot.  It was in the area of the inside of the low ankle above the heel.  In the past, now and again, I have had soreness in my Achilles, but I would give it some TLC and within a couple of days, it would subside.  At first I thought this was the same, but I gradually realized that it was not!  The Monday before the race I saw my PT and by this point I was not walking too well.    I was better upon leaving the PT and adhered to his follow up instructions during the week.  I had already decided that there were be no running during the taper week in hopes that I could get back on track.  On the day we traveled, I was still not at the point I wanted to be as far as feeling ready to run.  In some odd fashion, the pain/tenderness and actually crept over to the outside/right side of my foot as well!  I was trying to not stress over it but knew that there was a chance that I would not run on Saturday.
The four of us drove/rode down together from Raleigh early Friday morning.  There was some rain along the way, but we still had our fingers crossed for a drier day Saturday (race day).  With a car full, the drive passed quickly as we chatted the entire drive.  We drove directly to packet pickup which was at a really nice Tri Store (Carolina Triathlon) in Greenville, SC (even though I was really confused with the tag line on the store's sign that said "run, bike, swim"…).

After packet pickup, we grabbed lunch at a really nice spot downtown where we sat outside and enjoyed a nice afternoon as the rain had moved out for a while and we was a really pleasant afternoon.  Post lunch, we checked into the Air BnB house which we were all sharing, dumped our gear and then headed out to drive the bike course.  Since this was a point to point race, we had to drive (about 50 minutes) out to the swim start which was also the bike start.  We were able to get the lay of the land for the swim course, T1, etc.  We also had a chat with a racer that we saw finish up a swim in the lake.  We asked him his opinion on the water temperature as we saw that he swam with a full sleeved wet suit (the water temperature had already been announced as wetsuit legal for the race at 77 degrees so I was on the fence about wearing my new full sleeved suit (which is what I wanted to wear since I had only worn it a few times so far) or my ol' reliable sleeveless since it was on the high side of being wetsuit legal).  The recon for the bike course went well.  So glad we took the time to drive it and there were lots of areas to keep in mind (for safety, strategy, etc).  After the drive, it was back to the house for race prep, out for pasta dinner, finalize last minute gear details and then off to bed with an early alarm on the horizon!
We were fortunate enough to have wonderful Sherpas for race day (Tony and Paige).  This allowed us to drive/ride to the swim start (and not rely on the shuttle) and have our bikes with us on race morning (instead of leaving them in T1 overnight in the rain).  We arrived and had plenty of time to spare, which was awesome because I still felt asleep after arriving to the park despite a longish drive!!  I also had lots of time to get my wetsuit on, which was needed.  Despite a warmer water temperature, I decided to wear my "new this season" full sleeved wetsuit.  I packed my sleeveless, but the main reason I purchased the sleeved was for IMMT and since I was mainly doing this race as training, I wanted to use the same gear.  I have trained a few times in this wetsuit, but it definitely MUCH more difficult to get on (and position correctly) than my sleeveless (which has broken in after several seasons).
The swim took place in Lake Keowee which is located in South Cove County Part in Seneca, SC.  It was a really nice park and the water was very calm for race day.  I lined up on the far left side, which gave me good position for sighting and my best approach to streamline my swim course (and stay as straight as possible).
After I was able to get my swim going and felt warmed up, I was able to get in a very good rhythm and had a smooth swim overall.  Little contact with the other swimmers (bonus for small races) and buoys allowed for plenty of visibility.  Only once do I recall getting off track and that was at one of the turn buoys and I was a bit too aggressive with the turn.
I  was pleased with my swim execution and overall, I think this was my best 70.3 swim as well as the best 70.3 swim venue I have experienced.
Onto the bike.
We were not on course too long before I tucked away my sunglasses and knew rain was going to be a factor.  Throughout the bike, the rain was not crazy intense, but enough to cause slick roads with hazardous descents.  This made the course even more interesting than it would have on a dry day.
When we drove the course on Friday, there were several areas of pavement that we knew were not great.  However, with the bike, the "not great" quickly turned into "poor".  A great majority of the course had poor to terrible road conditions (the race web site describes the road conditions as good to ideal…????  If this was good to ideal in SC, I would hate to see bad!!!).  There were some sections that met the "not great" criteria, but this was in the minority.  I have ridden plenty of crummy roads in training and racing, but you eventually get relief when you turn a corner or just finally get lucky with some smooth pavement.  We did not have too much luck in that department on this ride.
There was also A LOT of climbing on this course (around 3700 feet), which we were expecting.  However, the huge challenge came on the descents.  Any opportunity to gain speed or momentum, was cut short due to slick roads or just the nature of the course being downhill and ending at a stop sign or a turn with no room to gain speed.  I had to break much earlier than normal to feel as if I had a safe stopping distance on most of these downhills.  The course was also long, which we knew it to be advertised at 58 miles (my Garmin actually captured over 59 miles).
The great thing about this course was that since it was a small race over 59 miles, it was not crowded so Tony and Paige were able to make frequent stops, take a lot of pictures, cheer us on, and even stop oncoming traffic at an intersection where there was no police presence!  Needless to say, unlike the swim, this was not my favorite bike course and I was more than ready to wrap it up!
As I started the run, the big question mark of the day remained.  Would I be able to get through 13.1 miles after the soreness I had been experiencing?  I wanted to give it enough of a go to allow my foot to warm up and transition from the bike to the impact of the run before I made the decision.  The first two miles were tough and I was really on the fence (even stopped a couple of times), but it loosened up and I felt good enough to continue.  I found my consistency and only briefly walked at the aid stations (to supplement the Infinit in my hand held with necessary water).  The start of the run was briefly on packed dirt before it transitioned over to a paved greenway/trail system (called the GHS Swamp Rabbit Trail).  It was a two loop run with the turn-around points at miles 3.6, 6.2 & 9.0.
As our luck would have it (or really not), the rain stopped and the sunglasses came back out just in time to start running!  OF COURSE!!  The run did get warm, but it was not horribly intense as some races I have done (not to specifically name Raleigh 70.3, but I can't help myself).  The trail system did provide some shady areas which is always appreciated!
I really liked the run course and will say that it is one of the best for this distance I have experienced.  The trail system is open to pedestrians, but I didn't have a problem with this at all.
The fun part is that Tony retrieved my bike from transition (using the buddy pass) and rode it down on the trail to lend some encouragement and snap a few photos.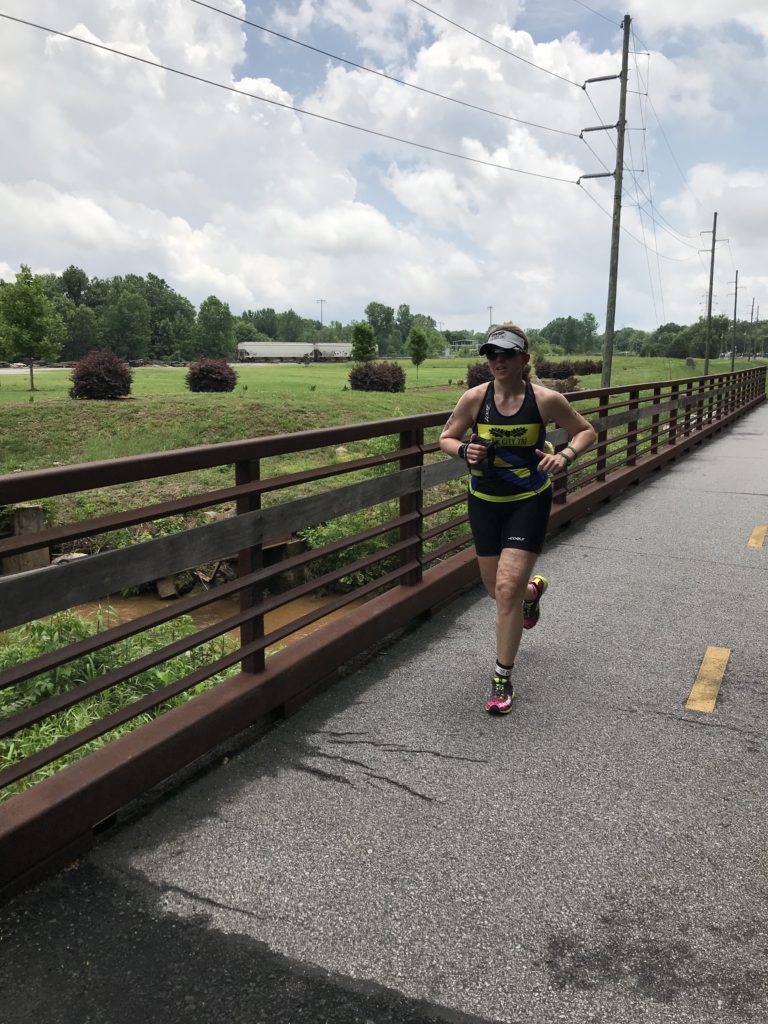 The last couple miles seemed to last forever.After completing the loop section, you veer off, still on the trail, but are headed downtown towards the finish line.  At this point, there were far fewer races and the course was not marked too frequently.
At a couple of points, I wondered if I was still on course!  As I was close to 13.1, I still could not see a finish line, hear music, etc, and I was SO READY to be done.
I finally emerged off the trail, did some looping around, crossed a bridge and the finish line was in sight!  13.28 miles and I was done!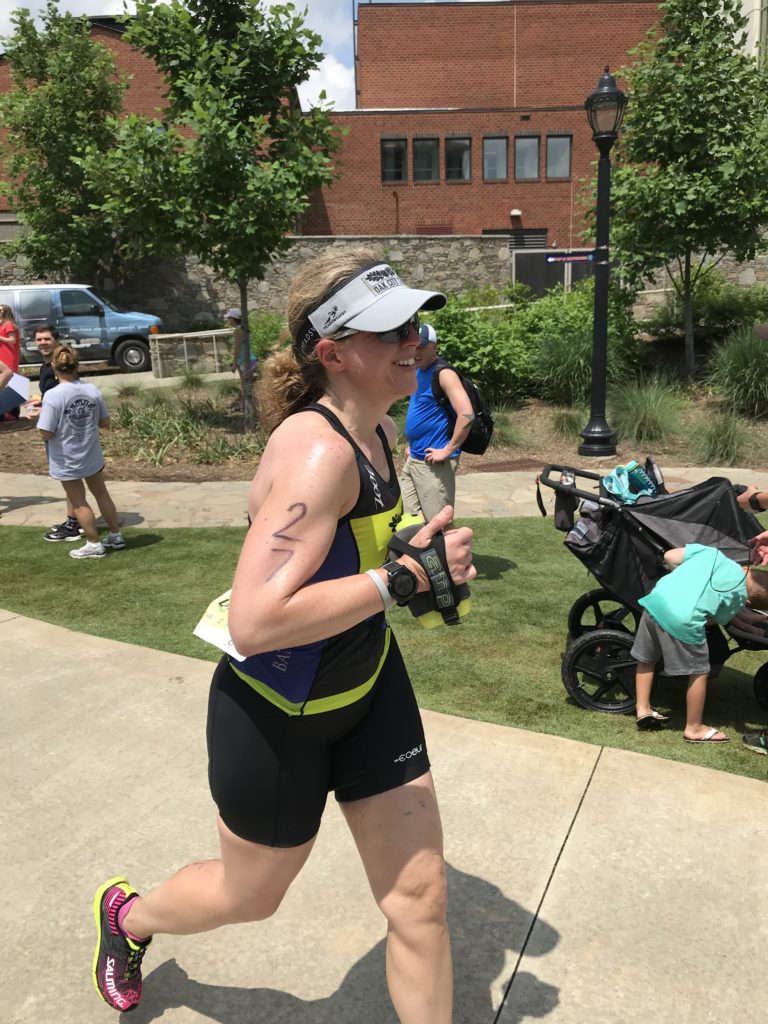 I was excited to learn that I grabbed second in my age group.  This was definitely not a personal best race for me, but it was very beneficial in my Ironman training and experiencing a new course it is great opportunity.
It is so unfortunate that the road conditions are so poor because the swim and run courses are really great.  The climbing was a great challenge and I would jump at the chance to give it another go (and hope for a dry day), but there is no way I would be in for another 59 miles on those roads.  It was nice to support a local race and there are some great benefits, but this one is not one I will be looking to redo.
Post-race was crazy easy!  Tony and Paige had already gathered ALL our gear and all we had to do was walk to the car!  WHAT?!?!?  Yes, BEST SHERPAS EVER!!!   We enjoyed some down time and relaxation before celebrating with dinner, drinks and my customary milkshake!!!