Ironman Mont Tremblant Race Report – The Run
09
In training, I had done so many bricks (runs off the bike). In fact, some of my toughest runs during training were these bricks. I felt that these sessions had really prepared me, both mentally and physically, for the Ironman marathon.
As I completed the bike I began to prepare my mind for the challenge ahead. Transition 2 did not involve too much. Socks, shoes, visor, race belt and my hand held hydration came out of the bag while all my bike gear when in. I hit the bathroom just as I exited the transition area. When I came out, my friend Bill ran by starting on his journey. We exchanged a few words but had to laugh at the interesting timing we had during the day when paths crossed several times.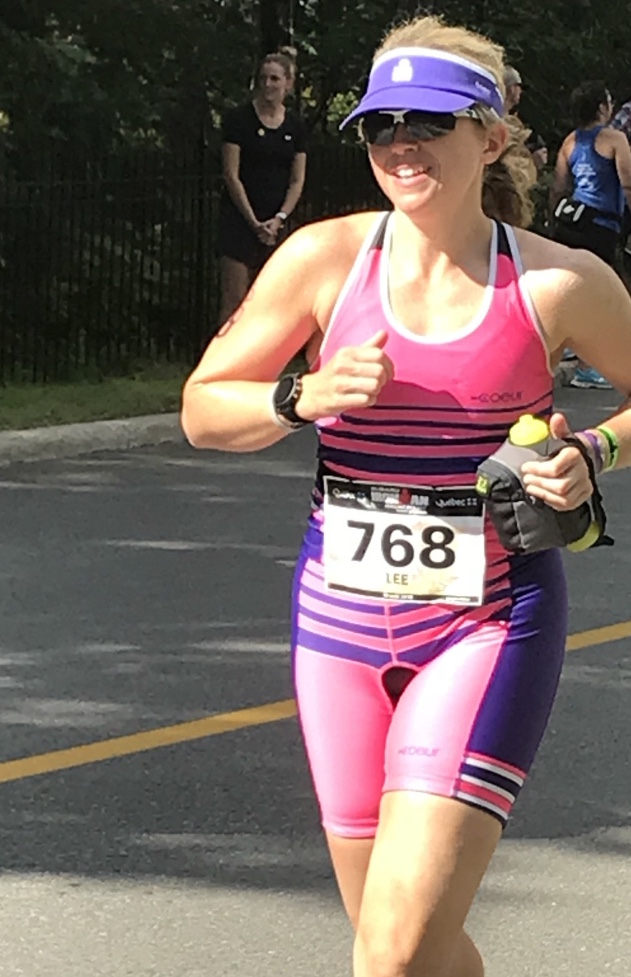 As I ran out of T2, I thought "oh boy"…..as it started out tough. I felt some aches in areas that are not typical, nothing concerning, just curious as to where they came from on that day.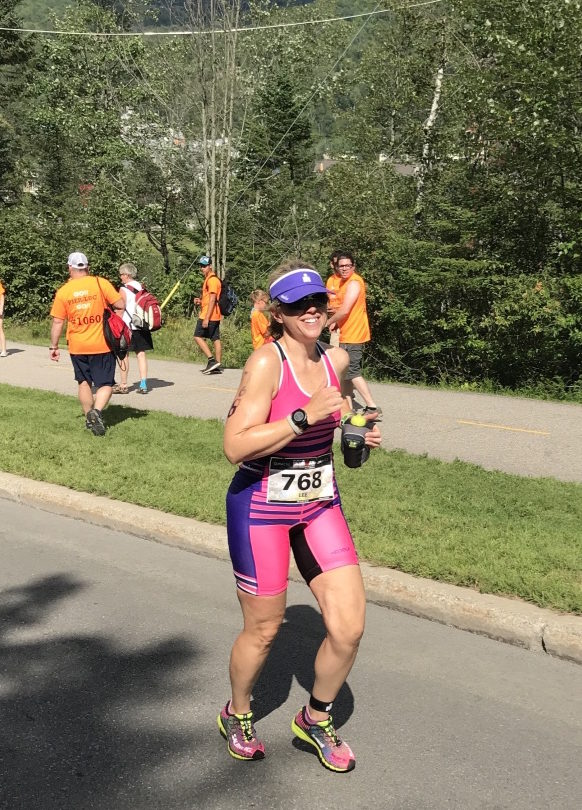 My stomach indicated that selecting coke at the aid stations would start sooner than later. I knew the first few miles of the course were rolling and I needed to run smart. This involved some short sections where power walking would be the way to go for me.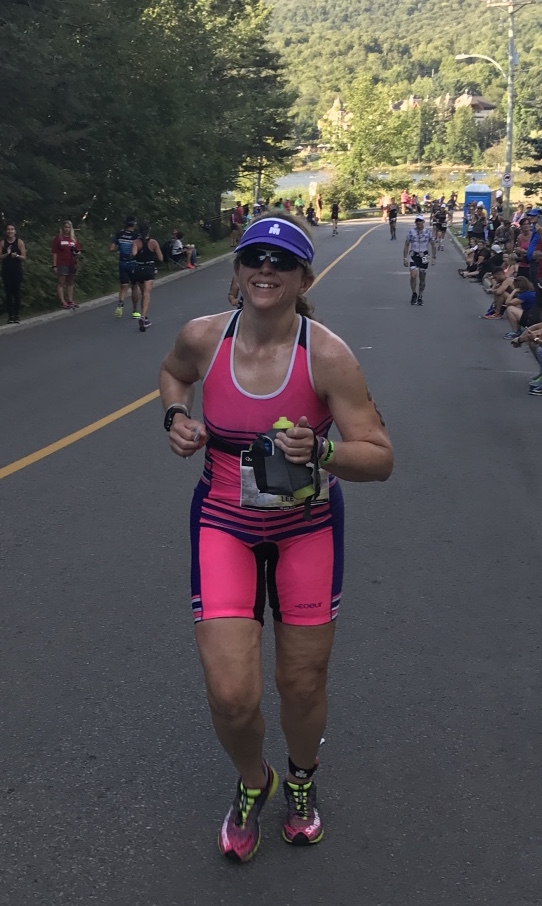 After the initial rolling section, the course made its way onto a trail or what we call at home a greenway. I train a lot on the Raleigh greenways and it's really my favorite place to run. I was excited about the part of the course and I was happy when I made it there.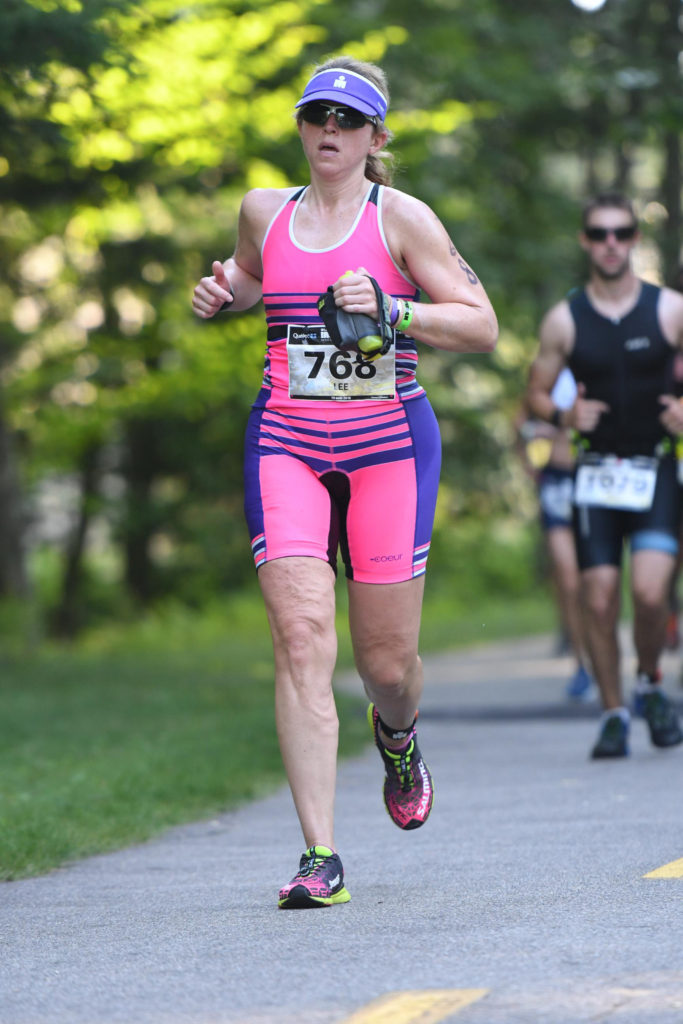 I finally fell into a good rhythm after the initial miles being a bit of a struggle (more so than what I anticipated). I was taking water and coke at the aid stations (I had Infinit hydration which were my calories) in my hand held bottle.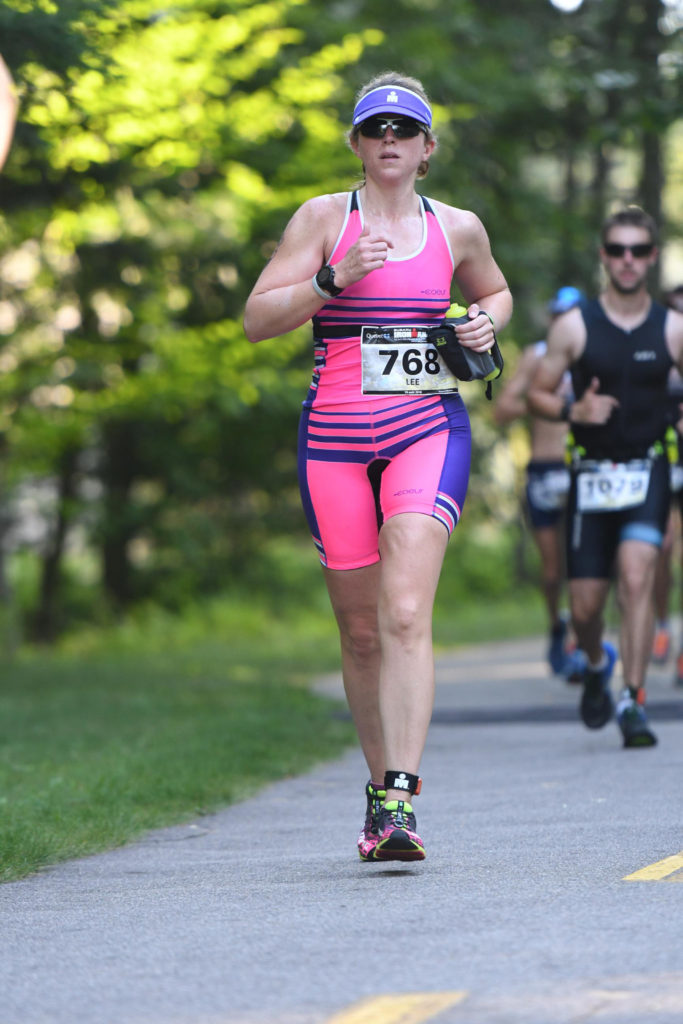 There are some runners that find others out on the course to pair up with and that strategy often proves to be beneficial to get through those miles. For me and especially at this race, I am very internal and tend to find that place in my mind where I can dig deep and maintain my focus.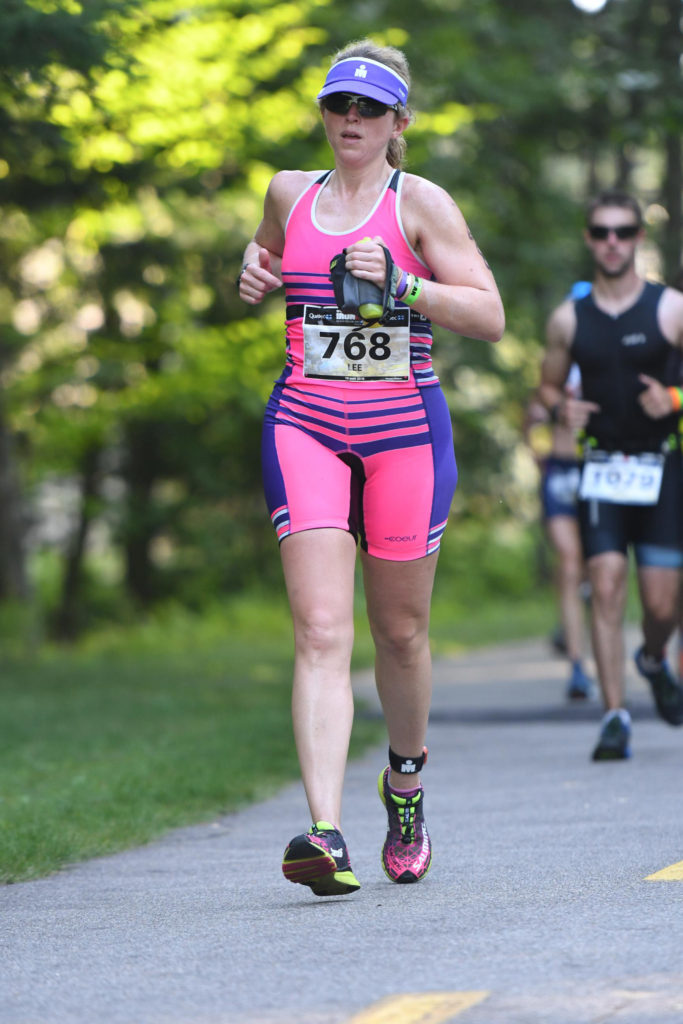 The greenway section contains the turn around for the first loop of the course. Once you hit mile 8 at the turnaround you start gradually heading back into town doing the "back" part of the out and back. Flat sections which were the greenway and then back to the rollers as I got closer to town.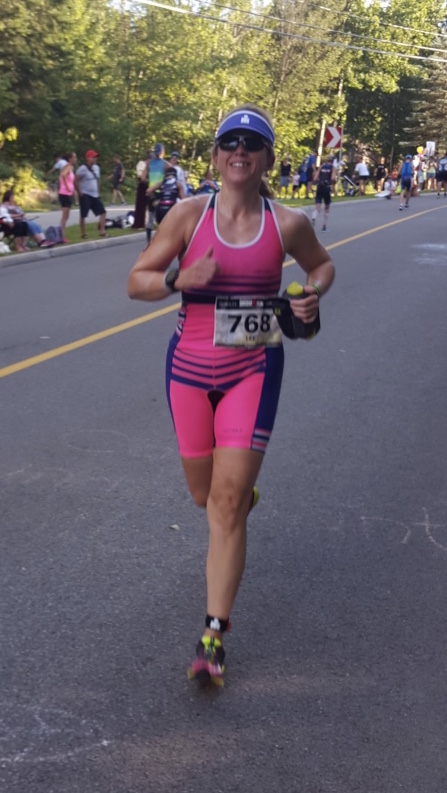 The rolling section was where I saw Tony and Paige which is the perfect section to get a little boost from seeing the support crew! Tony always asks me how I am feeling and I am honest with him, and this is helpful to me. About .5 mile from the completion of the first loop was a huge video screen which allows spectators to make videos which play as their athlete approaches. Tony's video popped up when I ran close and had great words of encouragement. I loved it.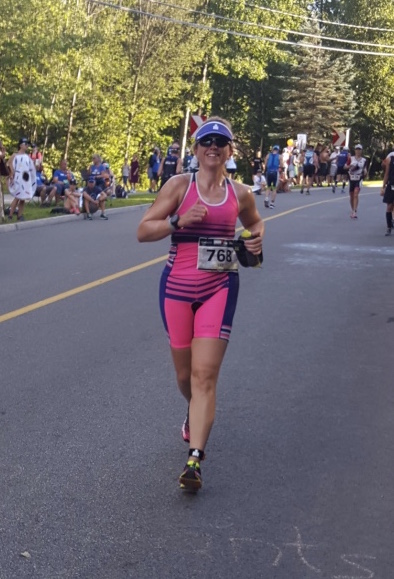 Completing mile 13 put me back into the Village and SO close to the finish line. The energy gave me a little boost and made me so hungry for MY finish! I stopped for just a few seconds at special needs. I grabbed a bag of gold fish crackers and another container of Infinit in order to refill my hand held. I left one container in the bag since I had not consumed as much as I had originally planned. The volunteer there was awesome and I didn't lose any time!
There is nothing tougher that I have done than the second 13.1 miles of an Ironman marathon. The mind has to stay engaged in order to keep the desire high to meet goals. It is so easy to succumb to walking or letting the pace ease up more and more as you get further in, but I had met two goals on my first two legs of the race and I had two more goals that I wanted to knock out more than anything.
I saw Tony and Paige early on the start of the second loop and I knew that was the last time until the finish line. Since there was five of us racing, I saw my teammates pretty frequently which was terrific as well. Even more so on lap 2, the story was aid station to aid station which equated to one mile after another.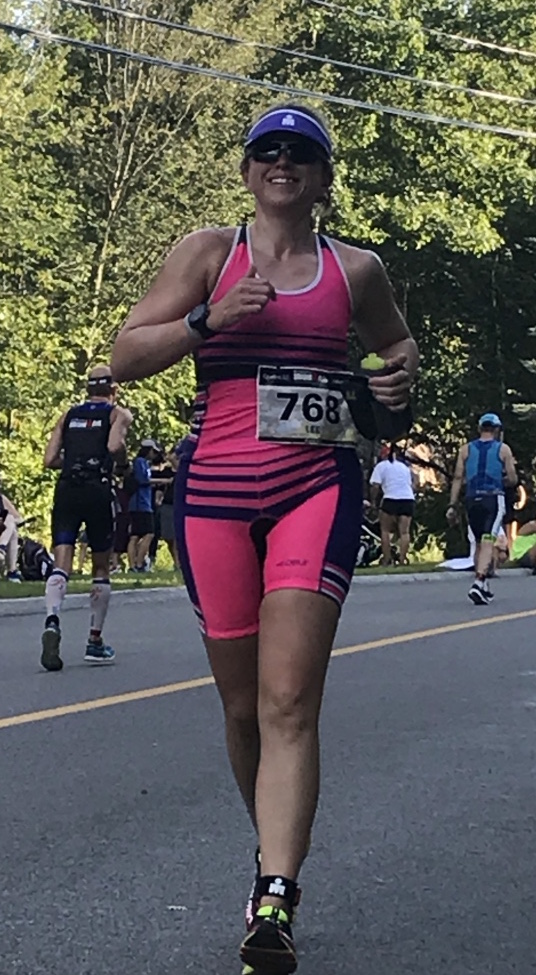 The second time I saw Tony on the "leave inspirational videos to your athlete" screen, I was so excited because the finish line was waiting. I was so close that I could taste it. Before I knew it, I was running into the Village. I took my hand held bottle and stuck it in the back of my shorts so I could celebrate my finish and be without it in the photos.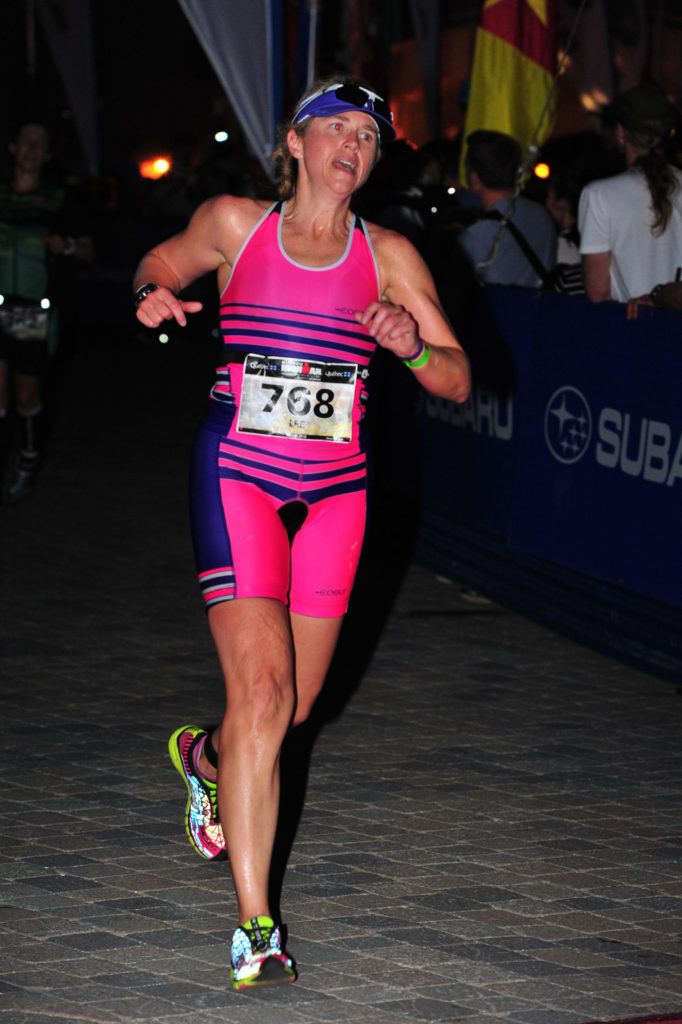 The path to the Village was lined with spectators and the energy was absolutely amazing. I let it so soak in step after step. This was my celebration of hundreds of miles and hours of dedicated training. It was absolutely worth it and my emotions showed just that.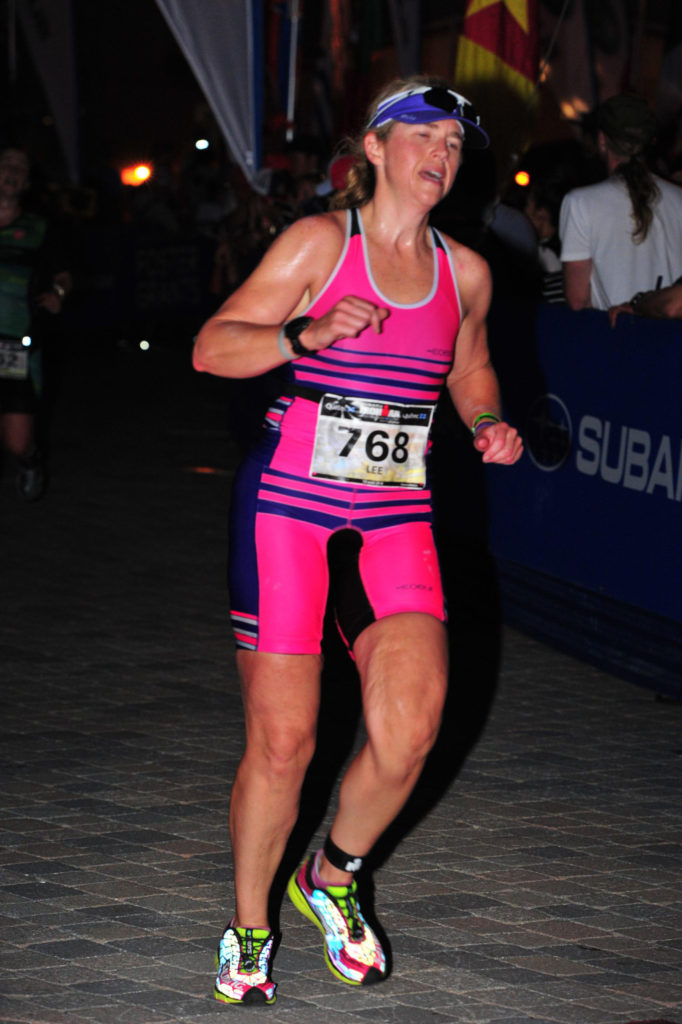 The finish line was awesome and I was stoked to finally put the exclamation mark on this Ironman journey.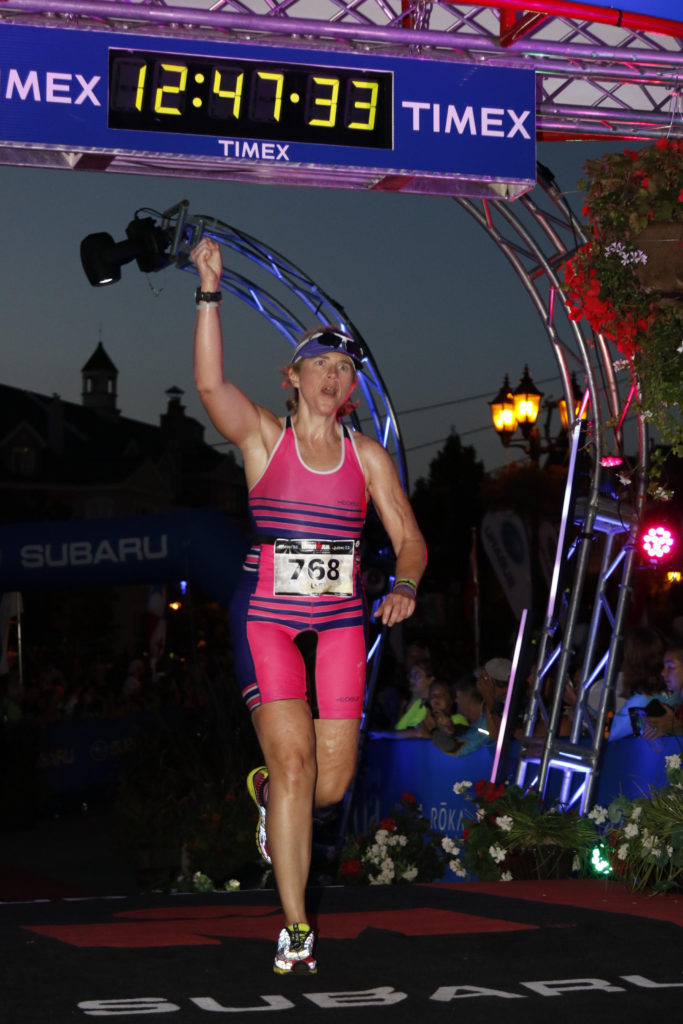 I was super fortunate to have the finish line to myself.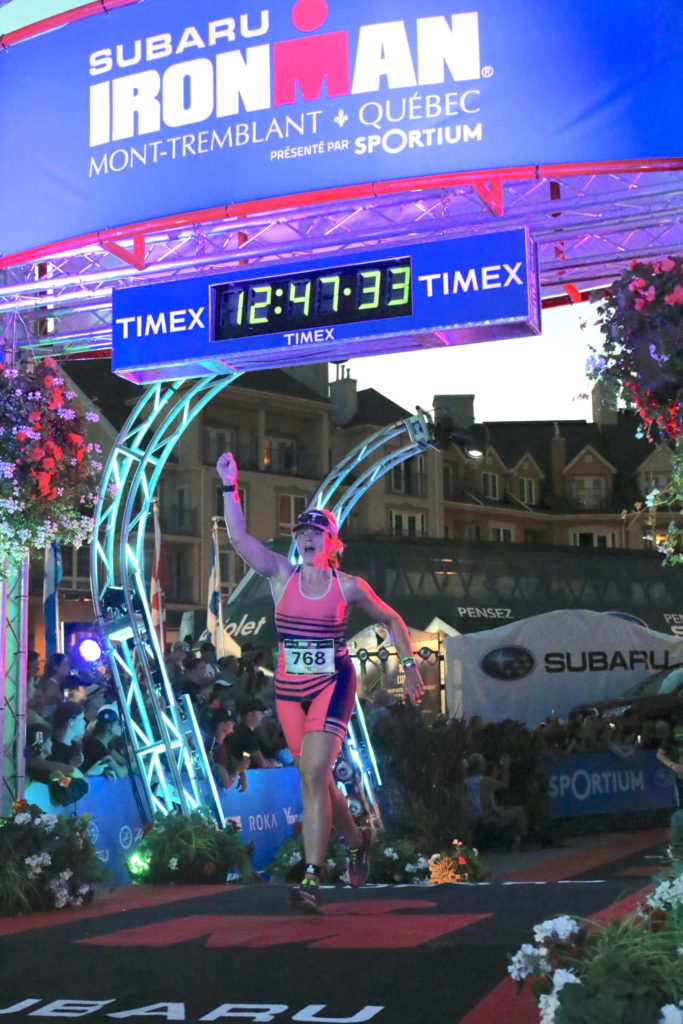 I am also super fortunate to have some great finish line photos that captured my celebration.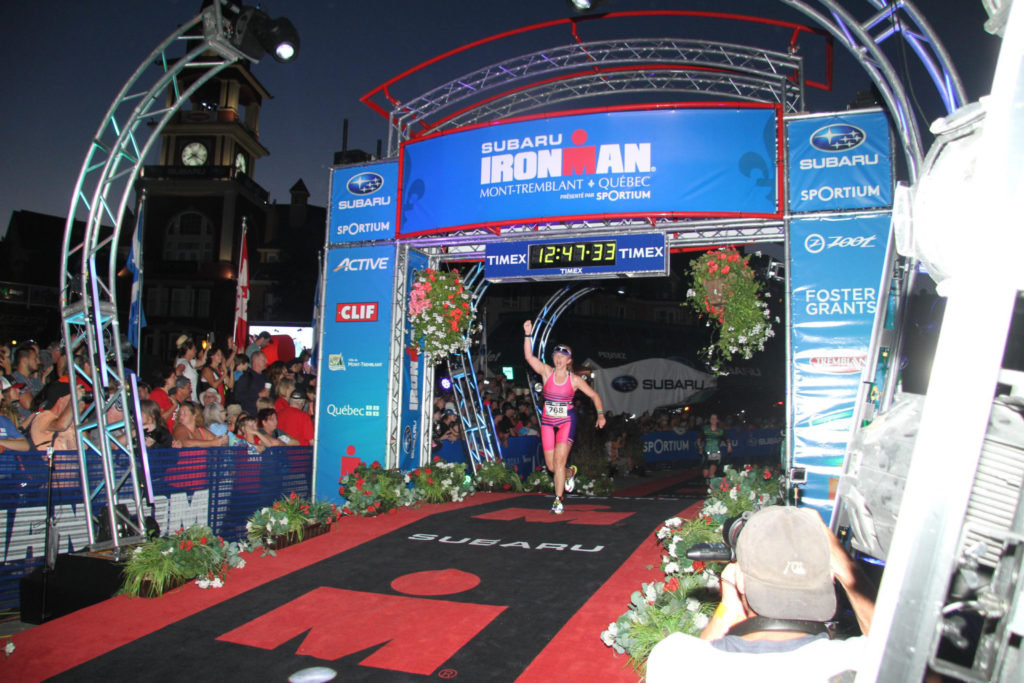 I love this video clip where I get to hear my name announced as a finisher and then Mike Reilly sneaking in my announcement as an Ironman. Perfect!
A little more celebrating! Have to enjoy that finish line!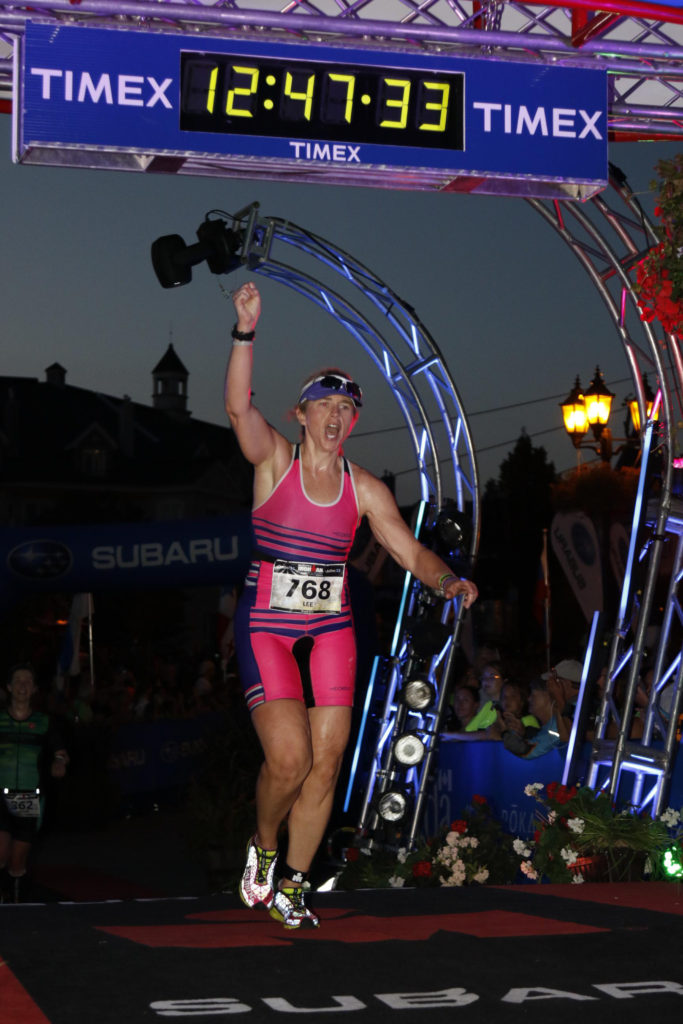 The volunteer that helped me after the finish line was super and he did everything to make sure I was feeling ok, steady on my feet and did not need any medical attention. I grabbed a couple of things for recovery and made my way for the finisher photo.
I was able to find Tony relatively quickly and he told me my finish time since I didn't have my overall time from my Garmin mishap. When I told me 12 hours 25 minutes, I was so excited. I had hoped for a sub-13 hour time, but finishing sub-12.5 hours was the icing on the cake.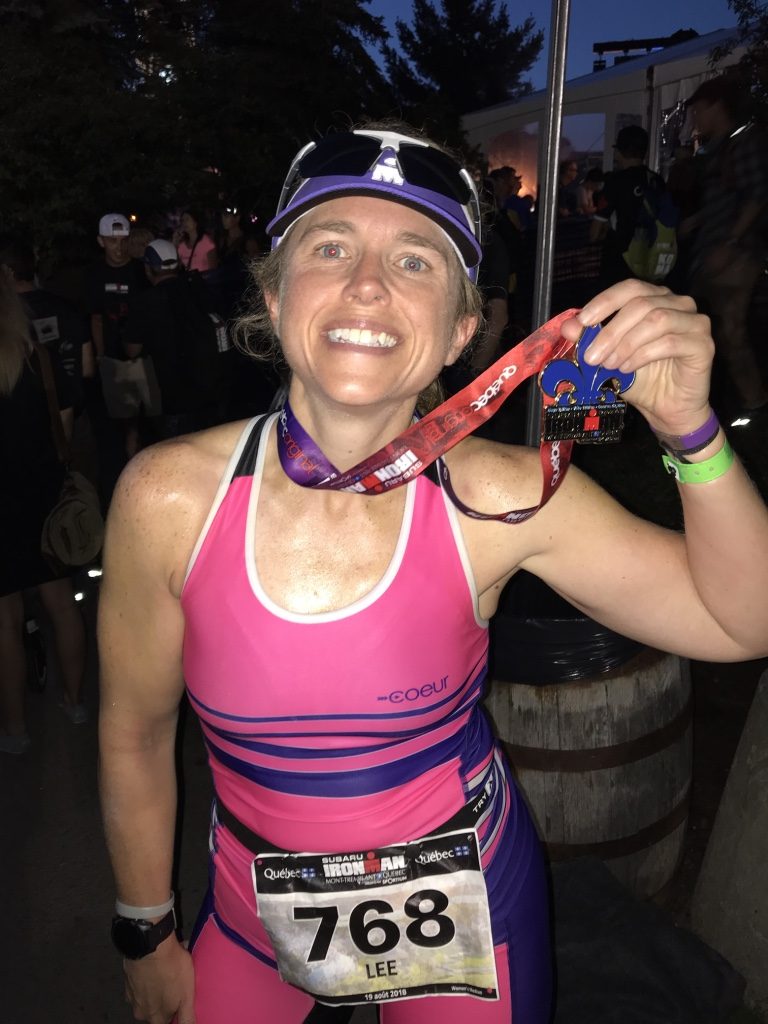 One of the unique things about IM Mount Tremblant is that the finishers are given the local specialty of poutine. While I was only able to have one or two bites, I had to give it a try!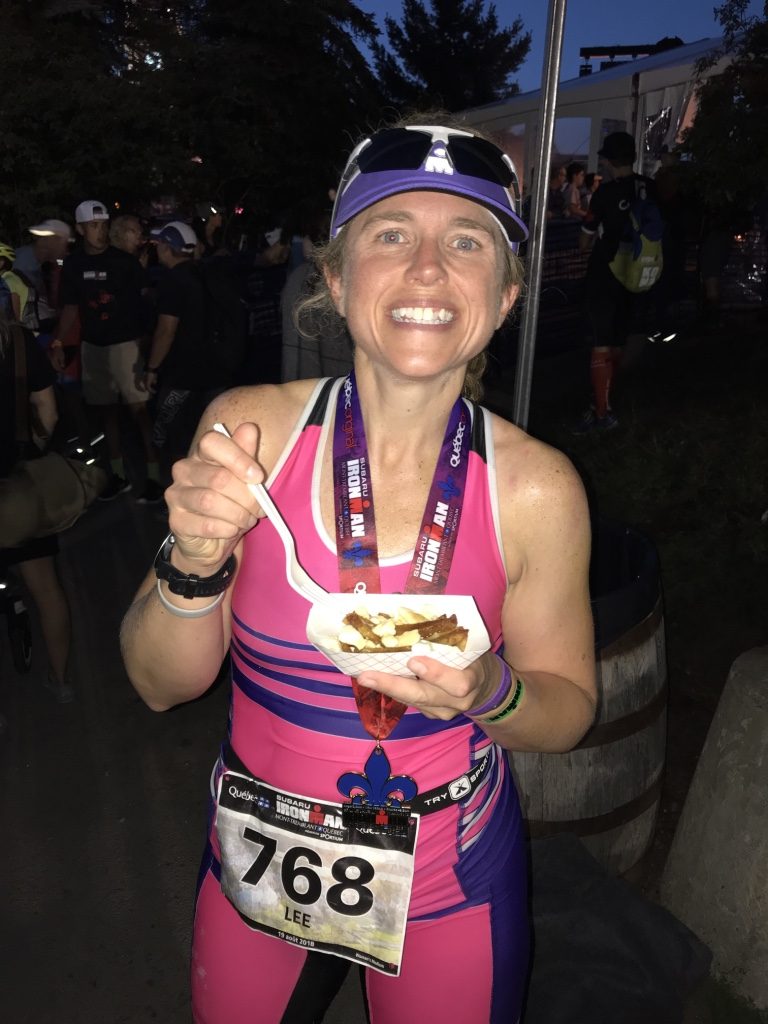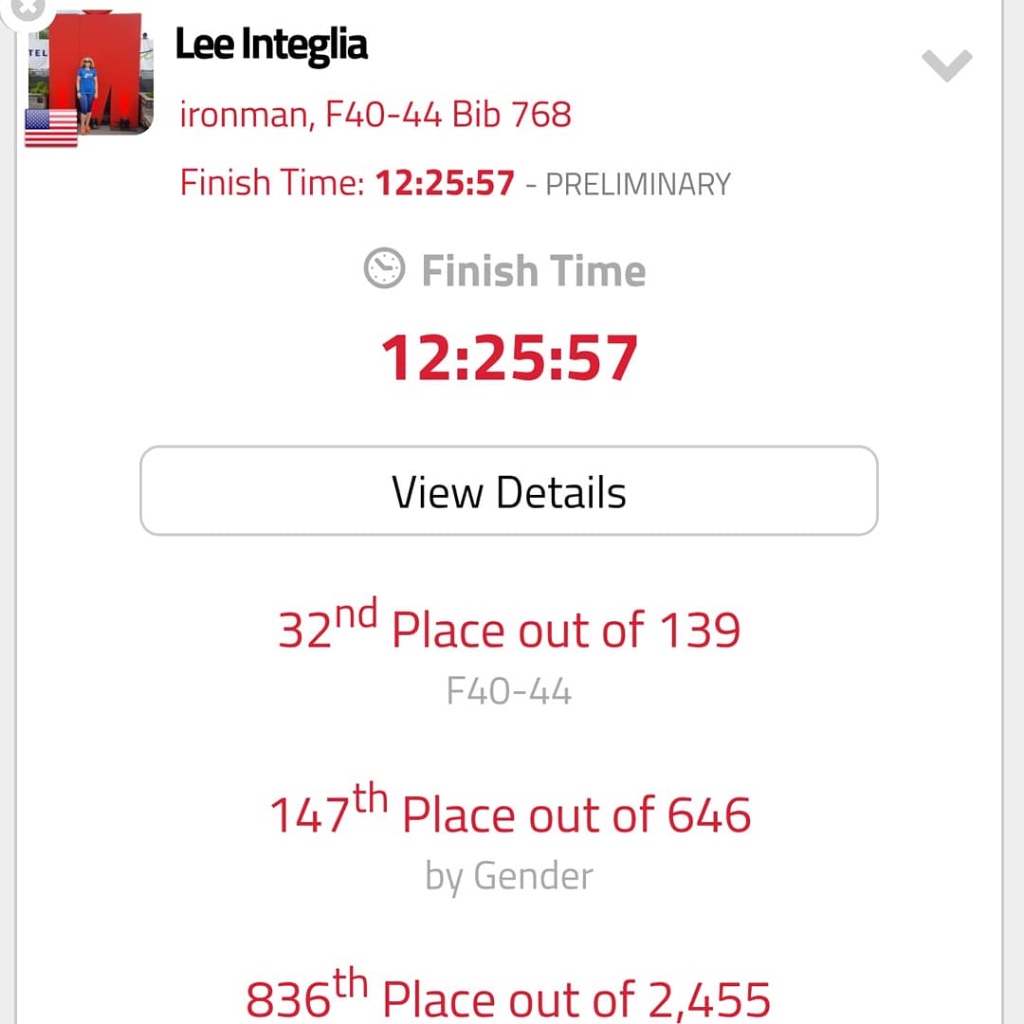 Since a couple of months have passed since this race, I have reflected on this day so often. Even though this was my second Ironman, it certainly was not any less special than the first in 2014. Having Tony by my side supporting me 150% during training is priceless. Obviously having him on race day as my #1 Sherpa makes my day complete. Also, this race included four of my Oak City teammates which was so awesome. My main training partner Bill and I spent countless hours swimming, biking and running together training for this race. I could not have asked for a more fun, consistent and reliable partner in crime to undergo this crazy race preparation and I am happy to say that he met his main race goal as well.
Ironman is a journey unlike any other. I am so fortunate to be healthy enough to have completed two of these special events in my life. I do not take these accomplishments for granted and hope that I have a tremendous amount of tomorrows to keep challenging myself and pushing past limits that I once thought I had.