Ironman Mont Tremblant Race Report – The Swim
08
Race morning!  I actually slept fairly well, but did wake up before my alarm.  I was the first one up, made breakfast and was feeling pretty awake (not a walking zombie like I am sometimes at these crazy early race morning hours).
We headed out on schedule and the plan was to get body marked, drop off special needs bags, visit bike in transition to add bottles, add air to tires and make sure bike was good to go.  All this didn't take too long and then we were headed to the swim start.  A (rather lengthy) detour for the last bathroom break where we (not planned) met up with Merrick and April while we waited in the (long) line.
After we all were set we resumed our walk to the swim start.  We had gotten close, but not actually there and when we saw lots of people in the street putting on their wetsuits and doing the final prep….we realized that the actual swim start was crowded, hence the need to use this space further out.  The time was passing quickly and while we were not late, we didn't have extra time.  Before long, the Canadian military jet "fly over" happened….we heard it, but did not see it.  It was foggy and visibility was low, but we certainly heard their presence.
After arriving to the actual swim start, which was super crowded, we said our goodbyes to our super Sherpas and Merrick, April, Bill and myself found our respective swim corals, which was based on expected total swim time.  Bill and I were in the same time range so we found out spots together.  My general swim time goal was to improve over my Lake Placid time of 90 minutes, but I hoped I would be under 1 hour 25 minutes…possibly around 1hour 23 or 24 minutes.  Still I lined up in the 1:25 coral.
We soon heard of the delay in the swim start.  To hear the formal announcements that were being made was impossible.  It was word of mouth amongst the athletes and volunteers that passed the news.  Initially we thought it would be a short delay, but then the delay switched to one hour. This was due to the thick fog that had settled over the lake.  (I don't know the actual sequence of events or how many delays were actually announced, I only know what I heard.)  Thankfully, Bill and I had each other to keep company.  We did not see Merrick or April during this time and our paths never crossed with Matt pre-race.  Despite wearing a full sleeved wetsuit, I was cold while we waited (it was in the low 50s).  Other than that, I felt calm and the delay did not make me anxious (however, the thought of an extra hour without food did creep into my mind).
Before the hour was up, the fog had lightened up and they announced the swim was going to begin!!!  The fog actually thickened back up before the official start, but at that point, it was "go time" or the swim would be cancelled (which we heard later).
After the pros were started the rolling start for the age groupers began.  The amount of time that they planned to allow to get the swimmers in the water between the corals, quickly decreased, as they wanted to get this thing going and be able to give all athletes the full 17 hours allowed to finish the Ironman.
The water felt nice at 72.5 degrees as I began my swim and the start to my day that I had worked so hard for.  All the months, weeks, days and hours came down to the day ahead of me.  I knew I was ready to give it all I had and that is a great feeling and all I can ask of myself.
As a result of getting swimmers started faster, the swim was VERY CONGESTED.  I don't really get too aggressive in the water and I do try to minimize body contact as much as possible, but it is generally inevitable (there was one particular instance where I was being sandwiched between two male swimmers and that is just not a good situation to be in!).  Overall I found my swim groove early and felt comfortable with my pacing.  The terrible chop that was present during Saturday's practice swim had diminished and while all the swimmers certainly stirred up the water, it was nothing in comparison to the day prior….thank goodness!!!   I had not swum in my wetsuit since May.  I had done ALOT of open water swimming during training, but it was just too warm for me to practice in my wetsuit during that time.  However, I was quickly reminded that my Roka wetsuit is really magical!!  I can't say enough about it and this is the first full sleeved wetsuit that I have liked, let alone loved!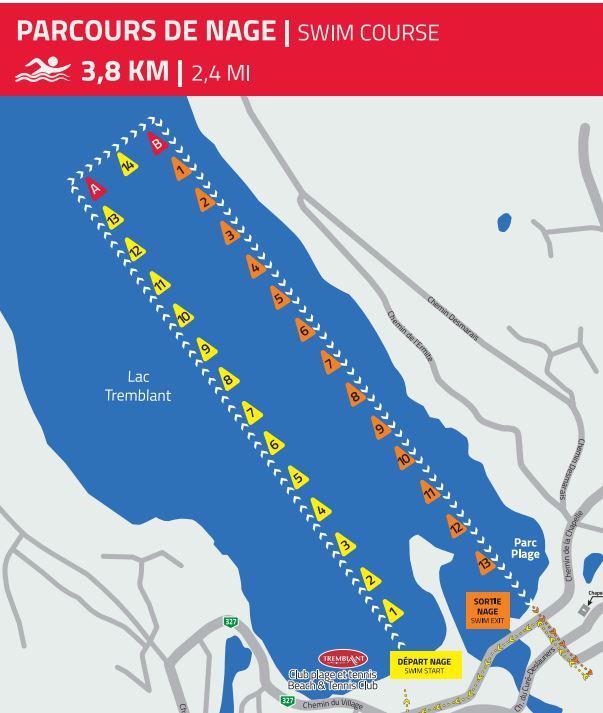 The visibility was really low and when I would pass a buoy it was often a bit of time before I could see the next one.  However, I just sighted to the masses of swim caps and hoped that the majority of them were all swimming as straight as possible to the next buoy. With the yellow sight buoys, we were able to pass on either side, so swimming out I decided to have out them on my left since I have a tendency to pull left in hopes that strategy would keep me a bit straighter.  At the turn buoys, they had to be on the swimmers' right side.  After the first turn, I did get a little confused as I thought there would be two turn buoys (red).  But the first one after the red turn was orange so I kept going.  Then I found the second red one which indicated that I needed to turn again.  (Apparently I did not study the above course map enough!!!)  After the first turn, I noticed that the congestion had started to thin out a bit.  It also seemed that I while there were swimmers passing me, I was also passing some as well.  I felt like I was having a good swim, but no idea of my time!
At that point, I was over half way, which is always a mental boost.  The visibility had improved as well.  I knew that I just had to keep doing what I was doing and thought I would be just fine…each buoy at a time.  For some reason, after the second turn, I never made my way over for the buoys to be back on my left side.  I was consciously aware of this but also felt like I was doing a decent job with my sighting and trying my best to maintain a "straight-ish" line.  There was one instance where I recall really going astray on my line, but overall I kept it in the forefront of my mind and that helps a lot.  There were a couple of times were the congestion arose again, but way better overall than the first 1.2 miles.
At the end of the swim I had gotten to the point to stand and make my way on foot.  Little did I know that the bottom of the lake was very squishy and was not easy to stand.  I immediately stumbled but as I got my footing, I glanced at my Garmin for a time check.  I was not quite ready to hit the lap button, but I saw that my time was 1:20:xx.  Yes!!!!  As I sloshed through the final exit to the stairs, I felt like I had done my job with the swim.  I finally hit my lap button just before climbing the stairs (I was smart and held to the railing with both hands) and my unofficial "official Garmin" time was 1:21:36.
I could not have been happier!  What a great way to start the day!
I quickly made my way to the wetsuit stripper where two volunteers did a fantastic job of quickly getting me out of my wetsuit.  As I was running along the chute to T1, I saw Paige and then Tony.
I am pretty sure I shouted out something to him about a good swim, but he could probably tell from the smile on my face anyway that I was in a happy place.
In T1, I grabbed my bag and started doing what I needed to do.  There was not a volunteer to help me, but I managed ok (I didn't do the best job spraying the sunscreen on my back, but I got most of it).  I was unsure about putting on my arm warmers, since the weather was nice, but I opted to put them on (they are easy on and easy off) since all my training in the heat would make the early time on the bike feel cool.  Overall I would have been fine without them, but I wore them for probably about an hour, so not a bad decision.  Funny thing happened in transition….I had been in the women's tent for two to three minutes when I noticed beside me a guy that had just walked in.  He was SUPER focused and he didn't realize where he was until I mentioned it to him.  He quickly ran out embarrassed!!
As I left the changing tent, there was an empty restroom, so I took full advantage since that does not happen all that frequently and I hate having to wait while the time ticks by.  I also prefer to take the extra time during transition versus on the race course.
I found my bike easily and felt ready to ride.  The sun was out and it looked to be a beautiful day to race!  112 miles, here I come!