Ironman Mont Tremblant Race Report – Pre-Race
15
We had a 7am flight on Thursday morning from RDU where we had a layover in LaGuardia before flying into Montreal.  The whole crew from Raleigh flew out the same morning, but Tony and I shared a flight with my primary training partner Bill and his wife Paige.  This was an easy series of flights and before I knew it we were in Canada (my first time there).  Tony had rented a full size SUV which resulted in us having a Yukon XL (the size of a small boat).  Fortunately, we had plenty of room which we needed with all the gear required for two athletes racing IM as well as four people on a weeks' plus vacation.
Tony drove us from Montreal to Mont Tremblant and it was not a bad drive.  We had planned to stop on the way for lunch but the choices were limited and while there were lots of McDonlads and Tim Hortons, we didn't find anything that overly appealing.  Since snacks are in abundance with two tapering athletes, we were prepared!  In Mont Tremblant we stayed at Sommet des Neiges.
The four of us had booked a two bedroom/two bath condo with kitchen and it totally met our needs.  The bedrooms included one with a king size bed and one with two queens.  The rooms were spacious and allowed us to have space for all our "stuff".  If planning to race this event and considering lodging options, I would recommend this location.  It is located in the Village and close (walking) to everything.  While there are hotels closer to the finish line, this option allowed us to be in the heart of all the activity, but not on top of the commotion.
We were directly off the top of the free cable car which was running every time we needed a ride (not 24 hours, but much of the time).  The walk down (and up) the hill was not bad, but the ride was fun and only took about 90 seconds or so.
After dumping our stuff in the room (and Tony having the adventure of finding and then parking our rental in the underground parking garage which had a abundance of "small" parking spots) we were off to the athlete check-in and bike pick up from Tribike transport.  Somehow the five of us all ended up being at athlete check-in at the same time and we had not even communicated yet that day!
This ended up being a great opportunity for some photo ops since Merrick was the only other one staying in the Village while April and Matt had found VRBO options outside the Village.
After these initial activities, we decided to do a quick grocery store trip and planned to meet some of the others for an early dinner in the Village.
I always enjoying vacationing in places where walking to dinner is the way to go.  It was great to finally get a feel for the Village (that I have read and heard so much about) and all the neat little shops that were calling my name.  It is really as quaint as I was expecting.  It was our core four plus Merrick that met up and had dinner outside (SoCal Restaurant) enjoying the cooler temperatures.
Friday's plan included rain so we wanted to get out and get in our shake out run while it was still dry.
We decided to combine our run with a scope out of the transition area and the flow in and out of transition.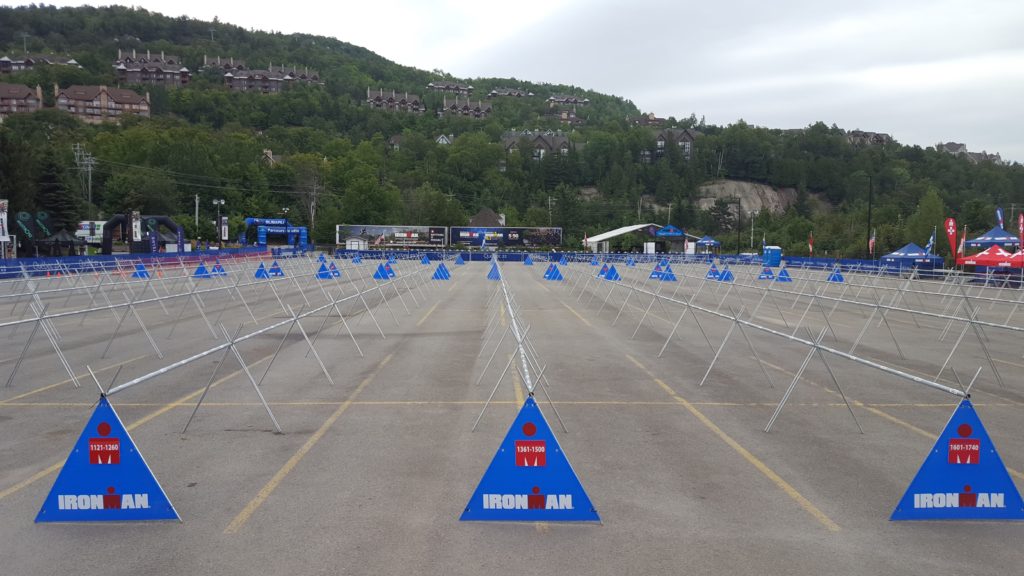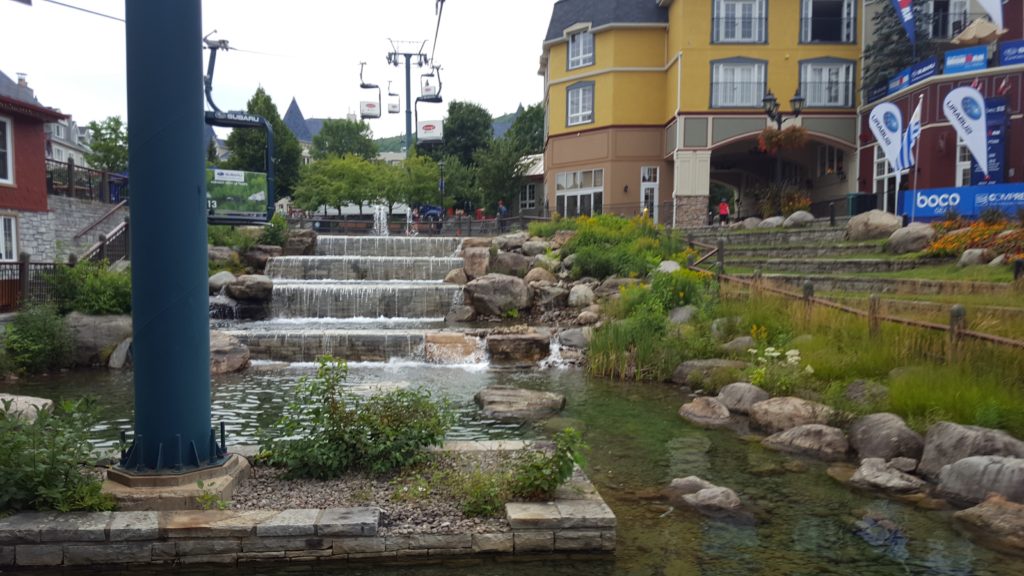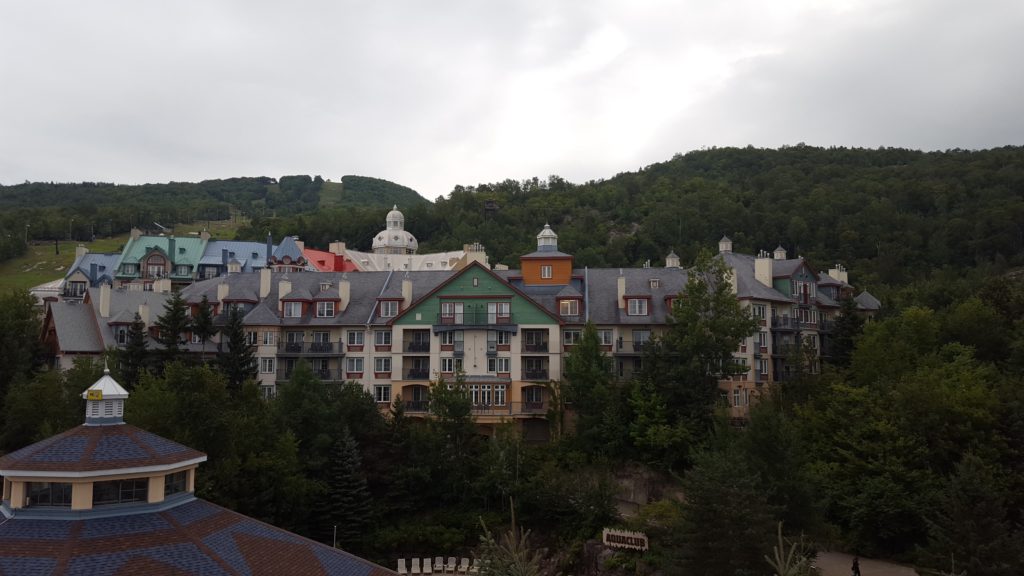 The rest of the morning/afternoon included driving the bike course (with a visit to Saint-Jovite and the Restaurant Le Vieux Four for lunch) and then some shopping at the Ironman store.
We had several hours of down time in the room to keep our legs fresh.  It is easy to get caught up in all the pre-race activities and it is important to make the decision to rest.
Bill and I attended the evening athlete meeting and then met Tony and Paige for dinner in the Village at La Maison de la Crêpe (we decided we would be back during the days after the race to try their sweet crepes).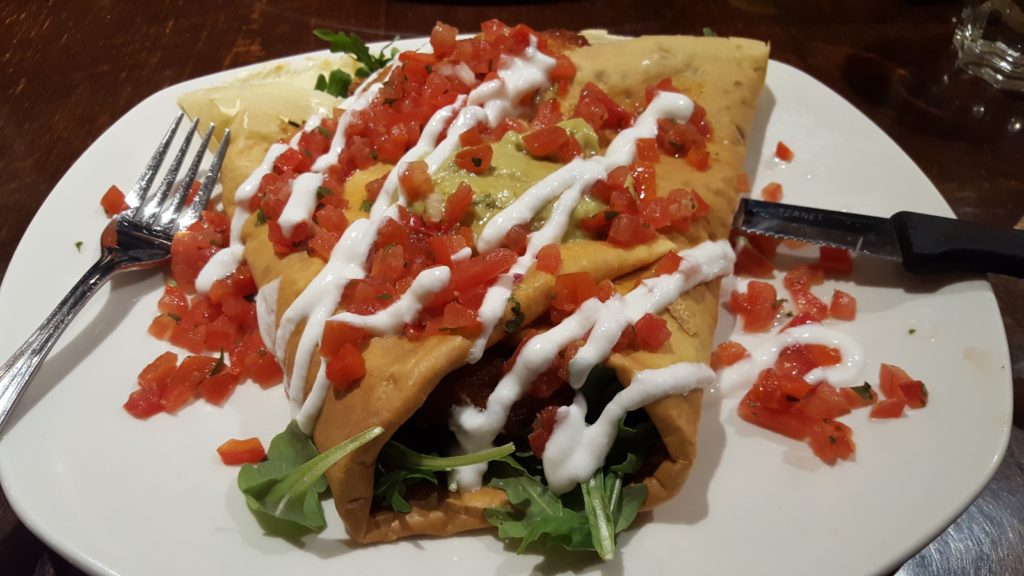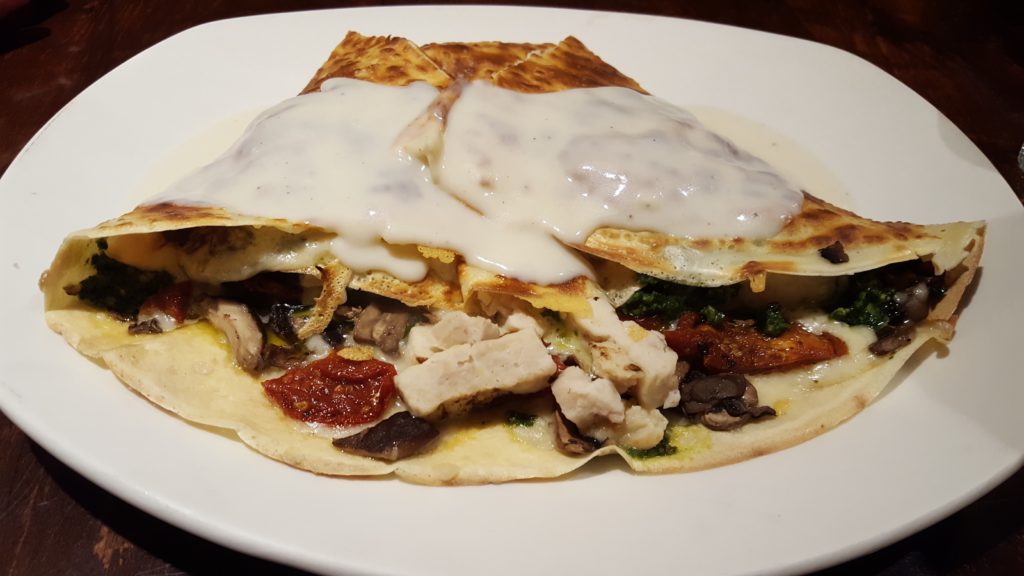 After dinner we were walking in the Village and thoroughly enjoyed the fireworks show!
Saturday was dry and forecasted to be a nice day, so the plan included a short ride and a swim to check out the Lake Tremblant.  While it was a pretty day, it was a bit breezy which resulted in a VERY CHOPPY lake!
We planned a short swim, but it took so much more effort in the chop than "normal" that I became very uninterested in being out there too long.  All I could think about is if we had to deal with those conditions on race day…it would not be pleasant!
The short ride that we did earlier resulted in both Bill and I having to make some minor adjustments on our brakes.  Tony had to be creative and find some tools we did not have to adjust mine, but he delivered me a "ready to race" bike, just as he always does!
After getting everything packed and final check on all the gear, we headed down to rack our bikes and drop off bike and run gear bags.
After all the essentials drop off, Tony and I checked out the fun photo ops around Ironman Village.
We spent the rest of the day resting and staying off our feet.  Dinner was cooked by our wonderful spouses in our room so we could have the exact pre-race meal we wanted and needed.
We called it an early night as the alarm was going to sound before any normal person would want to get up.  We had important business to attend to the next morning….