Ironman Mont Tremblant – Month 6 Recap and IT'S RACE WEEKEND!!
17
When month six of the plan began, I started to feel a little excited, but I also knew that the biggest training sessions were still ahead of me.  It was time to focus on staying present and engaged in the work that remained.
Highlights:
*Twenty mile run done on Tuesday morning of week #21.  The last two long runs of the plan were split, but we decided to get the last one knocked out as a single block.  Of course logistically this is tough to complete on a work day morning, but I decided to take ½ day PTO and then work from home in the afternoon.  This allowed us to get the run in starting at 6:00am (and have enough day light to start) and have enough time to eat, shower and have a little bit of recovery before logging into work in the afternoon.  Once executed, it ended up being a great plan.  As far as the run, it was a tough one for sure!  Bill and I ran on (my favorite) greenway and for hydration purposes, we decided to run one direction for an out and back total of twelve, re-fill bottles at the car and then run the other direction for the remaining eight.  When we stopped after twelve, I was already feeling it.  Man!!  At that time, I knew that either the stop was going to help a bit or really hurt.  I actually changed shoes and socks at the car which I was happy that I had planned since I removed soaking wet socks and shoes from the first twelve miles (it was not raining).  I was fortunate enough that once I started again, after the first little bit to get going, I got the legs moving again and was ok…for a while (plus I had on dry socks and shoes which was a bonus).  I always play mind games in these runs and this one was no different.  When starting the eight, I just told myself that I had four to go before the turnaround.  At then at two miles, I told myself that I was half-way to the turnaround.  After the turnaround, I knew I was on the home stretch.  I got through the first mile and then the last three seemed to last forever.  I had to dig deep on several occasions to get it done.  But once it was done, what a feeling!
After making it back to the car, I was (obviously) feeling tired, but not bad.  I took off my (now) second pair of wet socks and shoes and laid a towel on the ground and put my legs up against the side of the truck.  I am a big fan of this technique and feel that I makes a big difference with recovery.  After resting for a while, Bill and I made plans to grab a bagel around the corner.
All of a sudden I started feeling really bad.  A wave of lightheadedness and nausea struck.  I grabbed a couple of chews thinking my blood sugar had dropped and I think that helped after a few minutes.  I just sat for a while hoping it would pass.  Bill offered to drive me home, but I also knew that I should eat soon and the idea of a Coke sounded great (which I didn't have at home).  At the bagel shop, I grabbed a Coke before anything else, and within a couple of minutes, I felt significantly better.  I rarely drink soft drinks, but this was the best thing ever!  I am not sure what exactly happened to me after that run as it was very different than any post run experience.  I have been using Infinit on my runs for over 18 months without issue.  Plus, I didn't feel bad (other than tired legs) during the run and immediately after.  I guess a twenty mile run can always bring new challenges!!!
*The Saturday of week #21 brought a 119 mile ride, which is the furthest I have ever ridden.  Our ride started out overcast and humid, but ended up sunny and hot!  It was a tough ride for sure as we were able to get in about 6,000 feet of climbing, but this gave me lots of confidence about my preparation for race day!  I am fortunate to have shared this ride with two awesome training partners that I will also share the race course with!
*The weekend of week #22 brought the last weekend of the training plan before taper began.  Saturday we had a 75 mile bike followed by a 11.5 mile run.  Coming into the weekend, the weather was a big question mark, but we decided to roll on Saturday morning, after the chances of rain dropped a bit by Friday evening.  The ride was overcast for the majority and the sun started to peak through the clouds as we were closing in on the last couple miles of the ride.  Thankfully a good portion of the run is on the greenway with some shade which is always appreciated.  I worked to keep my mind in the game on the run and it was a great feeling to finish up, which was the longest brick session of the plan.
*That Sunday we had a big group out at the lake with three support kayaks and I knocked out 2.4 miles for the second time.  This was a great training weekend as we looked to taper to begin!
*The Saturday of week #23 was the last outside ride.  The ironic thing is that this was the only ride out of the hundreds of miles that we all have done that we met and left all together…this was a Kodak moment for sure!
*That afternoon, was bike drop off for the transport to Mont Tremblant.  Leaving my bike was not easy with the expectation that I would see it again in Canada all ready to race!  I definitely felt better after I received the following email…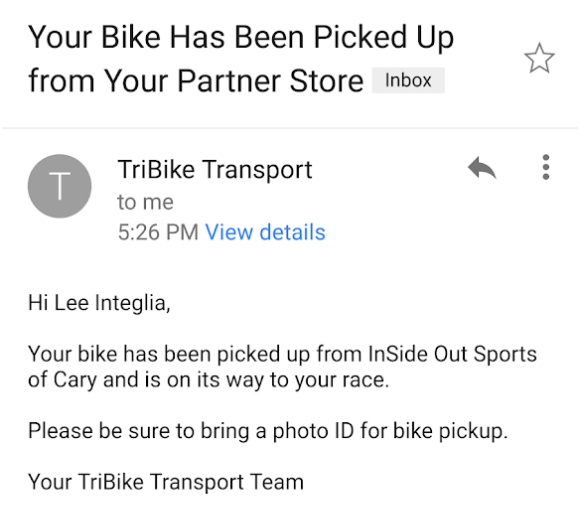 With training complete and my race day in two short days, I can look back and honestly say this has been a great six months.  As expected, there have been great days and some incredibly tough days, but I made it through with the support of some really awesome people in my life, as well as some grit and determination from my side.
I am ready to tackle this challenge and and let all the hard work and tons of sweat equity pay off.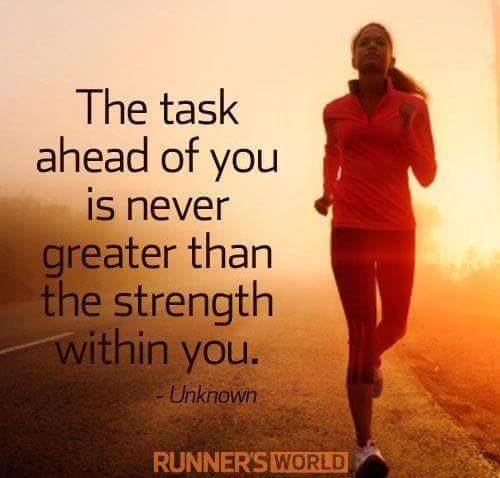 I have the done what I can and now I will put it all out there on Sunday to wrap it all up.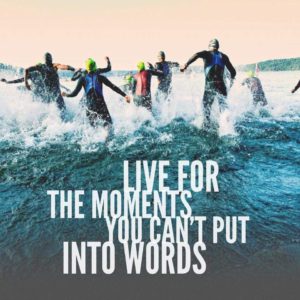 Last but not least…my official race day bib number.