"Double Down" Day 1: Battle at Buckhorn Race Report
09
After Chattanooga 70.3 in May (which was my season "A" race, at least early season), I was not sure what I would tackle for the rest of the season.  Initially my thought would be some local Olympic distance or sprints.  One of my teammates that has also completed Choo, found a challenge that she threw out to the rest of us.  It was called the "Double Down".  It was a collaboration between two local production companies.  The FS Series race called the Battle at Buckhorn (sprint) was on Saturday and the Set-Up Events race called the Sandling 50 (not a standard distance race….a total of 50 miles) was on Sunday.  They were offering a super economical price to race both (the total just a bit over the cost of one stand-alone race).  At first I thought…"nope", but as the time passed through the summer, I thought it might be a cool challenge to go for.  What better way to spend my birthday weekend than racing back to back….right?!?!?!?  In the end, there were five of us that ended up going for the Double Down challenge! 
Saturday's race is one of my favorite sprints.  Well now that I mention it, maybe it IS my favorite sprint since I have completed it four times.  In the days leading up to race weekend, I had thought about how I wanted to handle these races.  The final decision was that I would go for the sprint and give it an effort level like it was my only race for the weekend and then just give whatever I had left in the tank for the race Sunday.
Saturday morning was like a typical race morning.  No drama or hiccups….we left (generally) on time and arrived to race parking at the goal time.  The parking is a short-"ish"walk from transition, just still far enough that you need to plan accordingly.  Most of the team arrived within a few minutes of each other and we made our way together. 
Leading up Saturday, we had warmer days, but a couple of the mornings late in the week had temperatures cool enough that we expected a wet suit legal swim.  Also, temperatures for race weekend were expected to drop and feel very "fall like".  Great racing weather!!!!! 
The swim included three waves….all women started at 8:00, men 39 & under at 8:07 and men 40 & up and 8:10.  They used the "ladies first" format that they started last year and I am glad they have maintained it rather than the mass start with the guys from a couple of years ago.  The water was 76 degrees and I felt good in the water.  I was able to quickly get my rhythm and maintain it throughout the 750 meter swim.  Plus, I felt like my sighting was really good (big win for me).  According to my Garmin, I swam 841 yards (769 meters).  With the wetsuit, I feel I should have averaged a quicker pace, but I will focus on the positives! 
The 17 mile bike course is fairly typical for our area.  A few rollers, a few flats and one memorable hill.  This year the race company threw in a bit of incentive by making the aforementioned "memorable hill" a Strava segment.  They awarded Queen of the Mountain and King of the Mountain for the first time this year.  The overall female winner won QOM, which is not complete surprise, but it was a neat concept to track.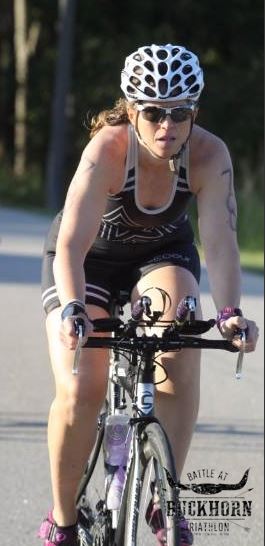 I feel like I rode fairly well overall.  The hill is around mile 12 but it was not until after that where I felt like I could really gain extra momentum.  I rode better than last year, but still my PR on the bike course stands from two years ago (and that was a hotter year….ugh!!).
Onto the run.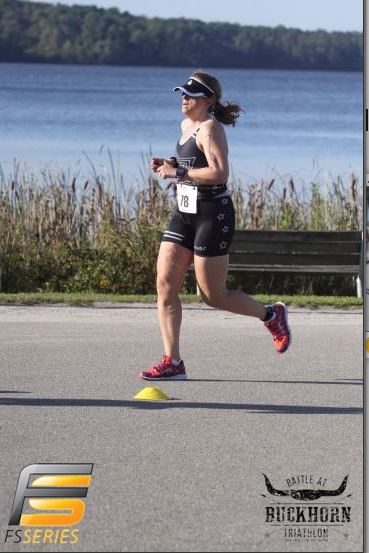 The 5k distance in a sprint is never easy and I wanted to see what I had.  My run splits got progressively faster, which I will take.  I was pushing hard and was hoping to squeak out a sub-8 minute average (which was my Garmin PR from AGAIN 2 years ago), but I was happy with my effort.  I knew there were a couple of other girls in my AG really close and I stayed strong.  Little did I know that Tony was making up serious ground on me and passed me just 50 feet or so from the finish chute!  I was happy for him because I successfully served as his "rabbit" which gave him a super run time!!
We hung around for awards because we had a couple of podium finishers in the group, including Tony nabbing second in his AG. 
I finished fourth overall in my AG, but was pleased with my race effort and delivery. 
The team headed back to Raleigh where we met up for a great brunch (pancakes and French toast everywhere) to discuss our individual experiences and to chat about the longer of the two races the following day.  The rest of the afternoon was all about recovery and being in the best shape we could going into day two!!!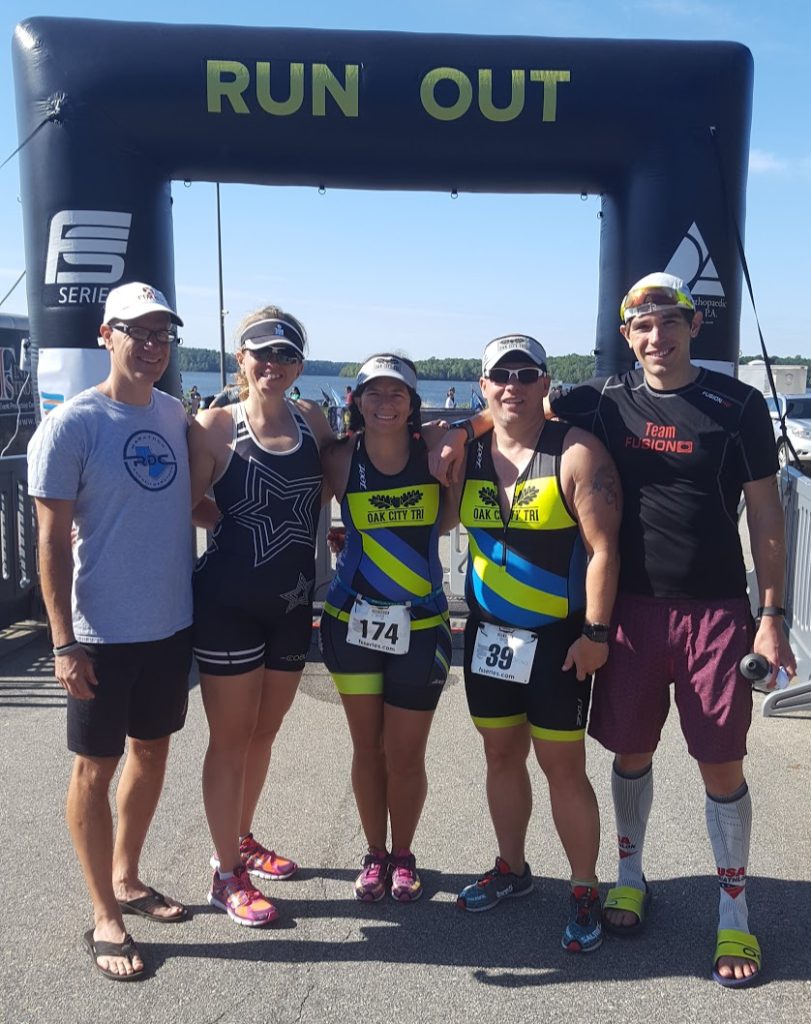 Day two race report, still to come!!