Washington "Olympic Duathlon" Race Report
03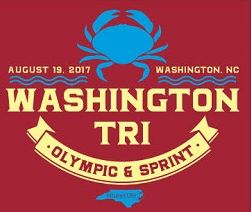 This event is a repeat event for me.  I raced it last year and it was my first Olympic distance in 2011.  Last year there was a lot of uncertainty leading up to the event about the swim.  Due to lack of rain, the water conditions were a concern. In the end we were cleared to have the swim.  Unfortunately, this year was the same, however, it was due to having too much rain.  A email was sent by the race production company on Thursday saying that due to the abundance of rain lately, the results of the water test showed that the conditions were not safe for swimming.  Another test was performed on late Thursday afternoon and we were notified Friday afternoon that the conditions had improved some, but still did not meet the minimum requirements for safety.  The swim was cancelled and would be replaced with a one mile run to start.  Obviously not what we were hoping for, but can only make the best of it!   
The morning began extra early (4:30am) since our drive was around 1 hour 45 minutes.  We left at the time we planned (5:15am) and Tony was sweet enough to act as driver, race sherpa and photographer.  My training partner Bill and his wife, Paige, rode with us, so the drive time passed quickly in the car with lots to chat about.  Race start was 8:00am and we arrived with plenty of time to setup transition and perform all other final preparations for the race (including a running warm-up).  It was overcast and humid with low chances of rain during race hours.  We were all hoping that the clouds would stay in place to help control how hot it would feel as the race progressed.  
Before we knew it, it was go time!  The start began like it would have if we were swimming.  The Olympic distance men (there was also a sprint race) began at 8:00am and the Olympic distance women began at 8:03am.  I didn't have a goal pace in mind, but I wanted to get in a solid start.  It was a simple, flat out and back. 
I tried to get through T1 as quickly as I could and then onto the bike.  We were lucky enough to still have some cloud cover at that point.  I jumped on my bike and headed out of the park area, which included a few speed bumps.  As suspected, I saw Tony on the way out of the park poised to take a few quick photos. 
The bike course was a two-loop of the sprint course on flat roads with minimal turns.  The worst part was coming back into the park area to start lap #2 because you had to cross the speed bumps again (both in and out) and make a sharp turn around, therefore losing your momentum.  The design of the course allows you to spot your teammates frequently, which is always a bonus!
There was a noticeable headwind on the way back in from the turnaround for each of the two loops that was definitely a factor.  Not sure that I felt ANY tailwind on the way out though!  I felt strong on the bike and I was working hard!  I was fairly confident that I knew my positioning in my age group when I entered T2.
I had a hand held water bottle in T2 and I am glad I did.  By the time we started the run, the earlier cloud cover had burned off.  I don't prefer to run with a hand held (I use a fuel belt more in training), but this was the easy go to, and I was really glad to have it!  As the run continued, the heat did as well.  The run is a two-loop design through the downtown waterfront area with hardly any shade.  As with the bike, the course design allowed me to see my teammates and we could all pass along words of encouragement or thumbs up.  This is what makes the team events THE BEST!!  The start of the second loop took us back into the park near transition/finish line (this is the only area where there is a bit of shade) where I saw Tony. 
I just had in my mind that I was half way done and to stay as strong as possible. 
I was focused on trying a maintain a consistent pace, but I know the mile 4 to 5 was my slowest and that was when I reached the last turn around and all I could think of was how tough the heat and sun were.  I tried to think of Tony's approach which is the faster I can go, the sooner I will be done! (Fast was definitely relative, but it kept me from slowing down too much).  As always, it was awesome to cross that finish line where I immediately found some shade.
Garmin Times:  Obviously "unofficial", but it is important to me because it always gives me a better gauge of my true times, since the distances tend to not be "exact".   Also, it gives me a better opportunity for analysis.
I was happy with the first mile run that we started the race with.  I started easy and gradually built as I warmed up even more.  As far as the bike, I was able to hit a new PR…it was just a smidge over last year, but a PR is a PR!   As far as the run, I didn't quite hit the pace I was hoping, even what I was able to do last year, but I know I gave it all I had.  
Overall, I am happy with the day and was pleased that my official results had me at second place in my age group.