Archive for March 2017 | Monthly archive page
Many folks come into triathlon with a running background.  Having done lots of road races, they look for a new challenge and give triathlon a go.  That was not my story and therefore, I don't have a lot of experience at running races.  Actually, I have only done two running races…..a 5K (my first ever race) and an 8K.  That is all.  I have done the half marathon distance plenty….having completed 4 half Ironmans and a full Ironman, I think people are surprised when I say that I had never raced an open half marathon.  I have only done the distance in training or after swimming and biking! 
I have had a goal for quite some time to race one.  I signed up for the Kiawah half marathon in December 2015 and I had to cut off my training at the end of October that year due to injury.  I planned to give that race another go this past December, but decided that it made more sense to start the year with a 13.1 rather than end my 2016 with one.  With a May 70.3 scheduled, it seemed to be a good idea to get some early run fitness and hope that it translated into some gains for Chattanooga 70.3.  My main for Tobacco Road Half Marathon was simple….sub-2 hours.  During the last couple of weeks of training, I added a stretch goal…sub 9-minute/mile average pace.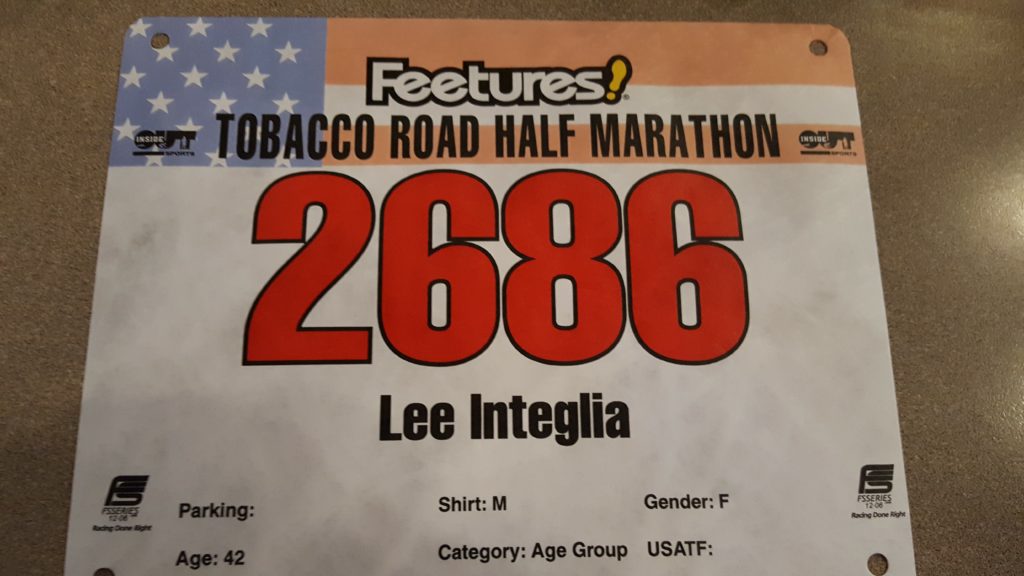 Race morning started like many others….an alarm that goes off way to early, getting into my gear, eating a good breakfast and trying/getting out the door by the planned time.  This race is local and several of my team members were racing as well.  With a large majority of the parking being at a remote lot and having to be shuttled to the race site, we were fortunate to secure a parking pass that allowed on-site parking.  Tony and I met three others so we could carpool and all take advantage of the convenient parking.
Sunday morning ended up being a few degrees warmer than forecasted.  It was supposed to be in the upper 30 and was closer to mid-40s when we left the house around 4:40am.  It changed my attire plans only slightly. 
When we arrived to the race site at 5:30am, we had so much time.  We were close to bathroom facilities as well as the start line so we actually just sat in the car for a while to stay warm and passed the time talking.  Before we knew it, it was time to get moving and get our pre-race done and to the start line. 
This local race has been happening since 2010 and has become very popular over the years.  It hosts a full marathon (1500 participants max) and half marathon (2500 participants max and sold out) and is considered to be a generally flat course.  The majority of the run (8 miles for the half) takes place on the American Tobacco Trail which "is a recreational rail-trail located on an abandoned railroad corridor of the Norfolk Southern Railroad. Constructed in 1906, the original railroad traveled from Duncan to Durham near the New Hope River, transporting tobacco leaf from farming communities in Wake, Chatham and Durham counties for processing at the American Tobacco Company in Durham" (from the race web site).  The trail is mainly compacted dirt surface that is a combination of flat or slight inclines/declines.  The first and last 2.5 miles is on the road with a few rolling hills.   
Due to the crowds and me not claiming a spot early in the lineup, I was further back that I originally planned when we took our spots in line for the 7am gun start.  This did not concern me at all.  I had not planned on running with a pace group and was just going out to do my thing.  It was definitely crowded at the beginning.  Since I have not run a lot of running only races, I am not used to having to account for lots of other runners around me.  In triathlon, by the time you get to the run, there is plenty of space to find.  I planned to go for a solid first mile.  It is key for me to get the legs really moving and start strong.  Of course, the key is finding a good balance of not too slow/not too fast.  Plus mile #1 contained the first hill, so I had to keep that in mind. 
I did a good job of executing my plan of starting strong.  I actually followed my training partner for a first bit as he weaved in and out laid a path.  I knew he would have a strong start, faster than I needed to go, but good to hang on out of the gate.  I felt good and was excited to get going (mile 1 was an 8:39 pace).  As previously mentioned, the first 2.5 miles are on the road with some rollers.  I got into a solid groove early on and didn't feel the impact of these rollers too much.  I was happy for that!!!  Before I knew it, we were taking the turn onto the American Tobacco Trail.  This is an out and back stretch.  I had started farther back than planned and I passed people, and people passed me.  Early on, this was not much of an issue.  However, as we got deeper onto the trail and the first runners had already passed the turn-around point, it became more narrow.  Since we needed to start allowing for two way traffic, it became a bit more difficult to maintain a clear path.  At some points the trail is naturally narrower but then widens in sections.  There was really only one point where I felt that the traffic was really clustered amongst us, but that didn't last too long and was able to get back into my personal groove.  Overall, I was continuing to feel good.  My heart rate was definitely higher than where I had been training my long runs, but this was race day and I felt strong! 
After I passed the turnaround point, there was one pace group just in front of me.  I had made up a lot of ground to them and when I was able to pass them, there was actually a lot more open space on the trail….which was really nice.  Overall, I felt that time has passed relatively quickly.  Between my tunes and all the people "keeping me company", I was not glancing at my Garmin too often.  I also saw my training partners along the course, all except for one.  This is always a nice boost! 
Eventually, my quads started feeling the effects my strong run.  I don't particularly remember which mile, but I am thinking it was around mile 9.  The way they were feeling is not something I was used it.  Typically, I feel my glutes and hammies more during my long runs.   My plan was just to hold on.  Well, mile 10 was an unpleasant surprise.  I am not sure if I had just let up some, lost my concentration, or what, but when my Garmin showed me a lap pace of 9:18, I had a quick talking to myself to keep pushing.  I had goals that I wanted badly and I needed to finish what I had started!
As the route on the trail ended and my time back out on the road started, I knew I had some rollers between me and the finish line.  I kept thinking about what a friend of mine said about one of the early downhill sections going out…."remember that hill you go down in the beginning because it will be the one sucking the life out of you at the end"!  In reality, it was not horrible, but MAN did I feel it!  As the road makes the final turn back into the park, I knew it was downhill from there.  This section was very tough on my quads, but I was just trying to stay strong until that final step over the finish line. 
I knew I had met main goal of sub 2-hours as well as beating my stretch goal of a sub-9 minute/mile pace average.  I was so thrilled!!!!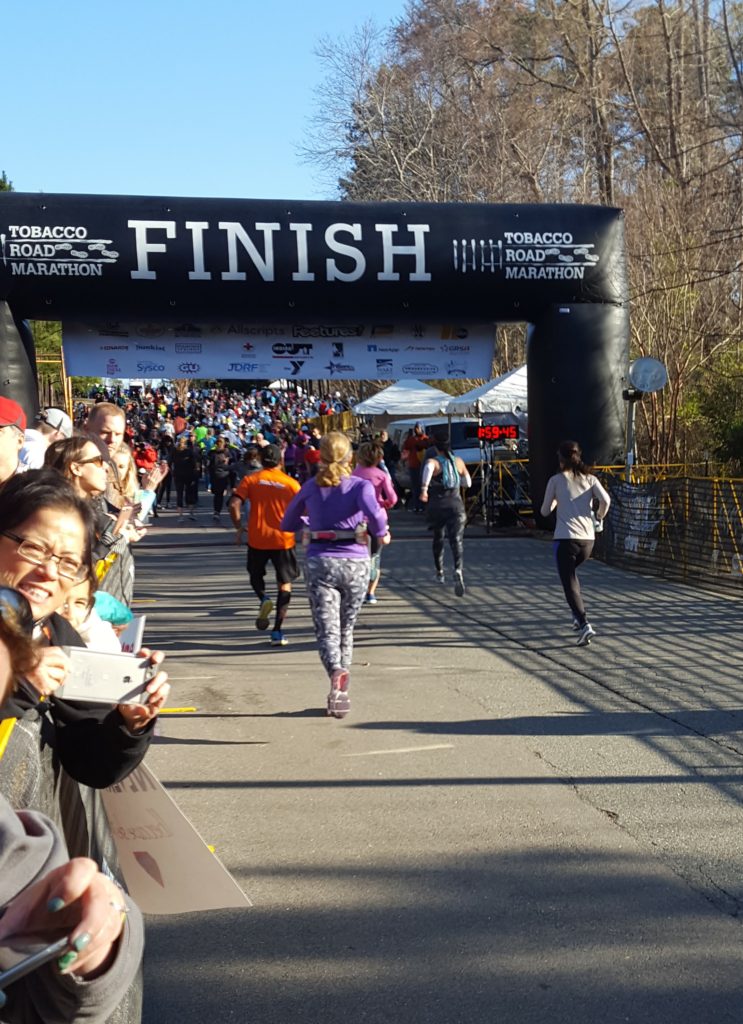 I gathered my medal, rang the PR bell and found Tony to share my excitement.  
The hard work was complete!  What a day!  I pushed hard….I raced!  I raced myself to complete what I had worked so hard for.  While there were thousands of others on the course with me, it was ONLY ME that I was racing against.  The self-pride that I felt was undeniable.
Post-race, we socialized a bit and after everyone finished we met up to head out for our brunch reservation.  We celebrated our accomplishments and had lots of fun sharing our unique race experiences.  What a great day and even better to spend it with awesome people!