Archive for October 2016 | Monthly archive page
How did I spend the morning of my birthday?  Racing of course!  My last triathlon of the season just happened to fall on my birthday (October 1).  The Battle at Buckhorn is a great local sprint distance race and this was the third year I have participated.  Calendar-wise, it fell much later in the season…no complaints about that, because it has been known to be a pretty hot race!  Last year it was in August.  Also, last year, I had a pretty fantastic race with a couple of PRs associated with that.
At the beginning of the week, the water temperature was posted to be 77 degrees.  With cooler morning/afternoon high temperatures, it seemed likely that the swim would be wetsuit legal.  A few of us even did an open water swim Wednesday morning to get in one with the wetsuit prior to Saturday.  It has been several months since my wetsuit was in the lake! 
 The race had an 8:00am start and the venue is about 40 minutes away. Early alarm, but luckily, not crazy early!  The morning was uneventful and Tony and I arrived at the race site about the time I planned.  My teammates April (she was racing) and Bill (acting as support crew since he was in taper mode for IM Louisville) arrived just a few minutes later.  Good timing! 
April and I rode our bikes down into the park since it was a bit of a walk.  Participation wise, it was a bit smaller race this year since there was another triathlon by the other local production company in the area.  I got all the logistics taken care of…packet pick-up, body marking, transition set-up etc fairly quickly.  I was able to get a decent spot on the rack and I did notice that there was more room between the bike racks this year which makes navigating in and out much easier.  The water temperature was announced and unfortunately it had crept up just enough to NOT be wetsuit legal.  It was a cooler morning and predicted to be a nice day, but the morning fog was lingering much longer than expected.  The pre-race announcements including some words of caution since there were some pockets of fog still out on the roadways. 
This year all the women started first for the swim.  YAY!!!  Last year, it was a mass start with the men and I did not prefer that format, especially for this small race. 
As we waded into the water, it felt CHILLY!  A wetsuit would have been great, by my standards!       
The 750 meter swim was a triangular counter clock-wise course.  At go time, there was a little bit of congestion, but only for a short time.  From the start, I felt good and I found my groove…which is always a good thing,  I noticed that the fog was hindering my sighting, but I just aimed to keep an eye on the other pink caps and look for the orange buoy as best I could.
After the first turn as I was beginning to search for the second buoy….it was nowhere to be found.  I could not see it at all!!  The fog had gotten worse since we started.  I sighted more frequently in hopes to get a glimpse, but it was quite a while before I could see the buoy again.  I kept my eyes on the other pink caps and kept my fingers crossed that we were all headed in  the right direction!  As I rounded the last turn to head toward shore (and hoped that the orange buoy would be in my sight path), there was no improvement in the fog situation.  I continued on, as best I could, and was happy when I was able to see the buoy to guide me to shore.  I swam until my fingers hit the bottom and felt good as I ran out of the water.
The run into T1 was short and I made decent time in transition.  Out to the bike course!!!  The 17 mile course is fairly typical for our area.  A few rollers, and few flats and one memorable hill.  As I was settling in I noticed that my sunglasses were definitely hindering my vision.  The fog was still thick.  I slid them down my nose and that helped, but realized that I could not ride the entire way like that.  The small pockets on my tri top would not hold them and my bento box is not large enough.  After a few minutes of trying to figure out what I do, I decided to tuck them down into my top….which worked perfectly!!
The not so good news though, is that my bike legs were not there.  I was working, but just not generating the power and speed that I am able to.  I kept hoping that they would snap out of it and wake up to the fact that I was racing!  Despite my best efforts, I did not deliver the ride that I know I could.  I was nowhere close to my average speed from last year on the course.  I had been riding well lately, so I am not so sure what happened.
Onto the 5K run, where I was actually quite nervous as what I was going to be able to do.  The last two runs leading up to my race were cut extremely short due to some muscle pain in my left inner thigh.  This had started a couple of weeks prior, but I immediately saw my PT and the dry needling helped right away.  I had a session at the beginning of the week which should had been thing to ensure there would be no pain on race day.  I was surprised that I felt pain on the on the taper runs leading up to the race and it made me very anxious as what to expect on Saturday.
As I started out, I thought I would know within the first couple of minutes, generally how things would go.  It started MUCH BETTER than I anticipated.  As I continued on, I was realizing that it seemed that I was in the clear on this run.  I ended up pushing more than I thought I would be able to and was pleased at the outcome.  I did not beat the 5K PR that I clocked last year that this event, but I was faster than even I thought was "best case scenario".  I'll take it!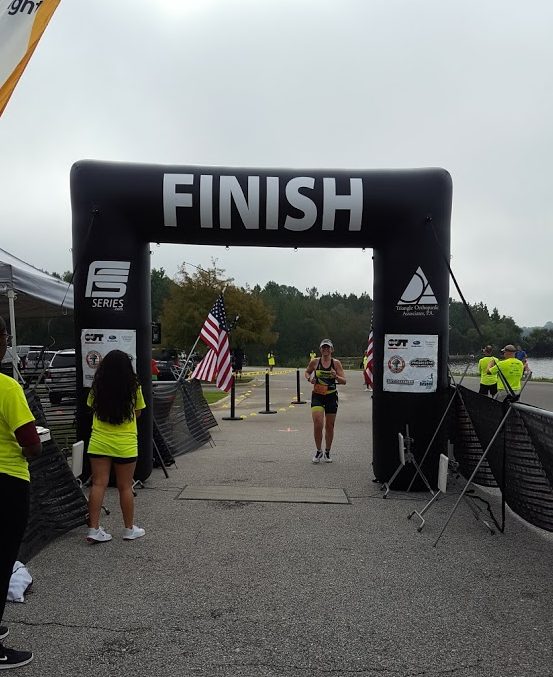 We hung around for the awards because I had placed first place in the 40-44 age group.  Last year at this event, I had placed third with a faster time.  Last year was also my first time to win a belt buckle, which is the unique prize given out to the winners.  I wanted to pick up my second buckle! (The overall male and female winners get a super fancy buckle.)
When we were hanging around, I was SUPER surprised when I heard my name called for first place Masters' female!  I was even more pumped that I won a $75 check for this placement.  Woo hoo!!
Overall, it was a pretty good day, race wise.  Definitely not the bike performance that I am capable of, but I gave all I had that day.  There were some unexpected outcomes which contributed to the excitement (I have NEVER finished first in my AG on the swim!).   We celebrated the day with post-race pancakes (thanks to my teammate April for the treat!!)!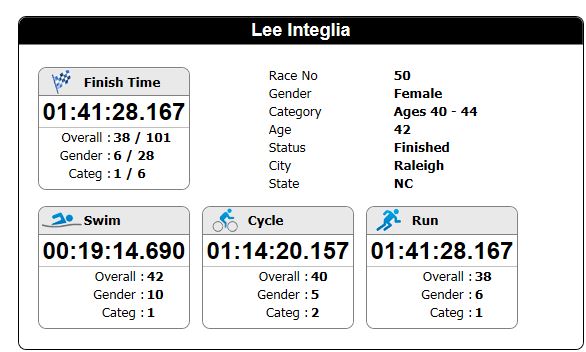 As far as the real birthday celebration, I wanted something very low key.  Tony and I met friends for an Italian dinner and on the way home we all stopped by a local bakery for dessert "to go".  We enjoyed our dessert with a glass of wine while relaxing on our screened in porch on a beautiful evening.  It turned out to be a great birthday!