Archive for August 2016 | Monthly archive page
We departed on June 16 for our vacation.  We had a full itinerary on this trip to parts of the country we have never visited.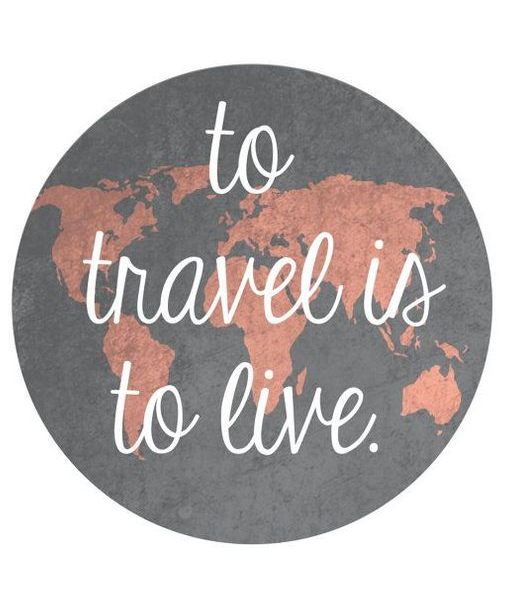 Our first stop was Portland, Oregon.  Our flight took us through Denver which presented some beautiful views from the air!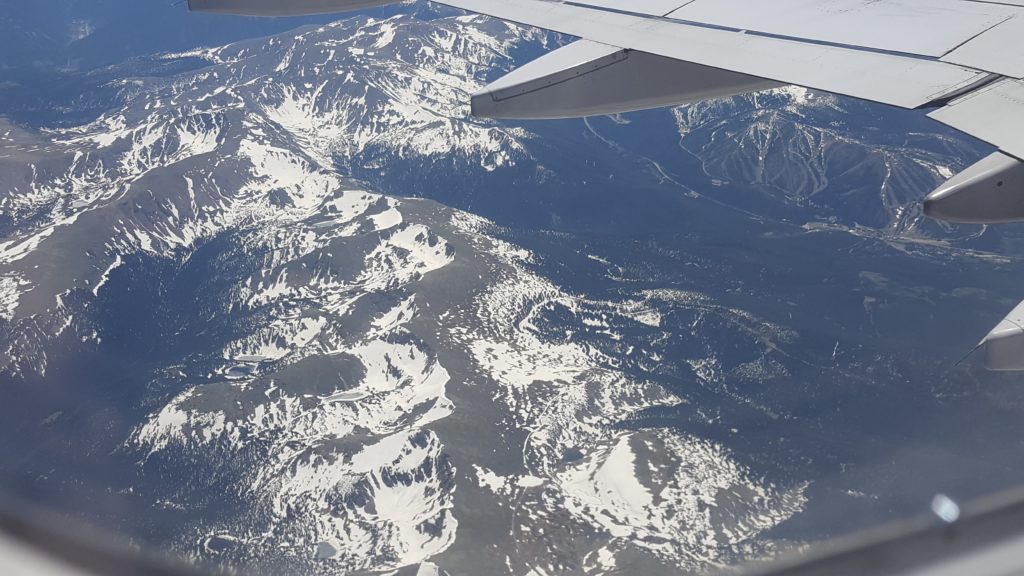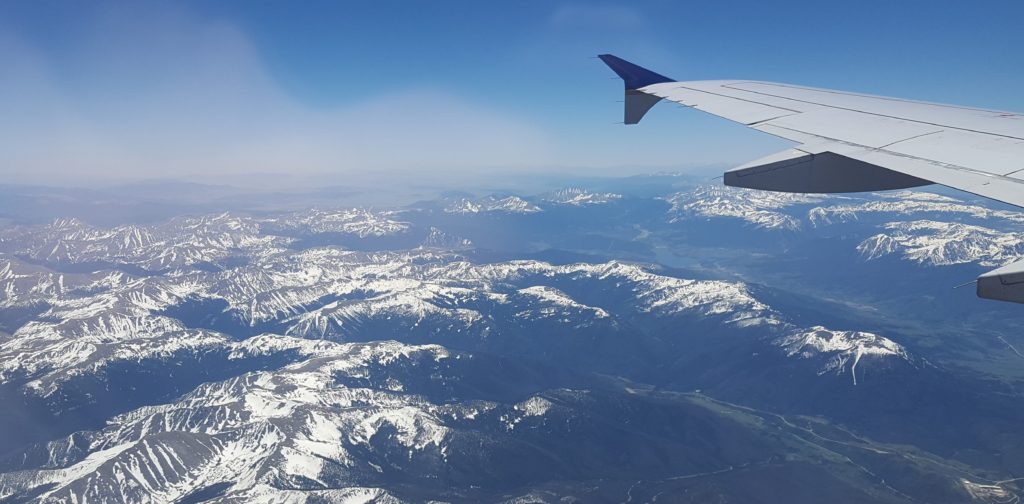 Once arriving in Portland and checking into the Embassy Suites (we had a nice experience) and getting settled, we ventured out to explore a bit.  Even though it was late afternoon and not close to dinnertime, we were hungry, since our internal clocks were on east coast time.  We had a light bite at Pine Street Market (local food hall/court) to tied us over to dinner.  But then, we decided to check off a "Portland must-do"…Voodoo Doughnuts!  We are on vacation…right?!?!?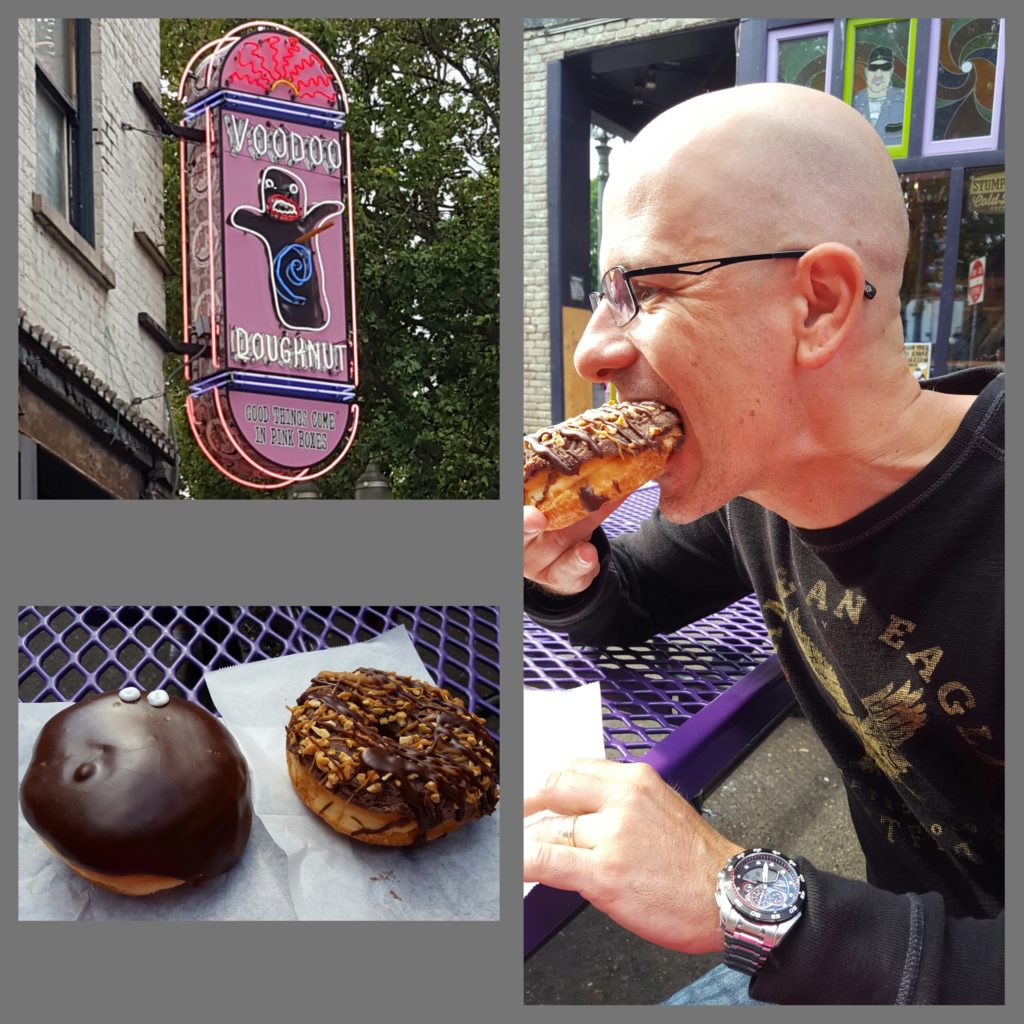 We decided to head back to the room and get cleaned up and rest awhile before grabbing a real dinner.  WELL…..we both fell asleep and slept until morning!  I guess that is one way to get adjusted to west coast time!!
The first full day in Portland started with a morning run.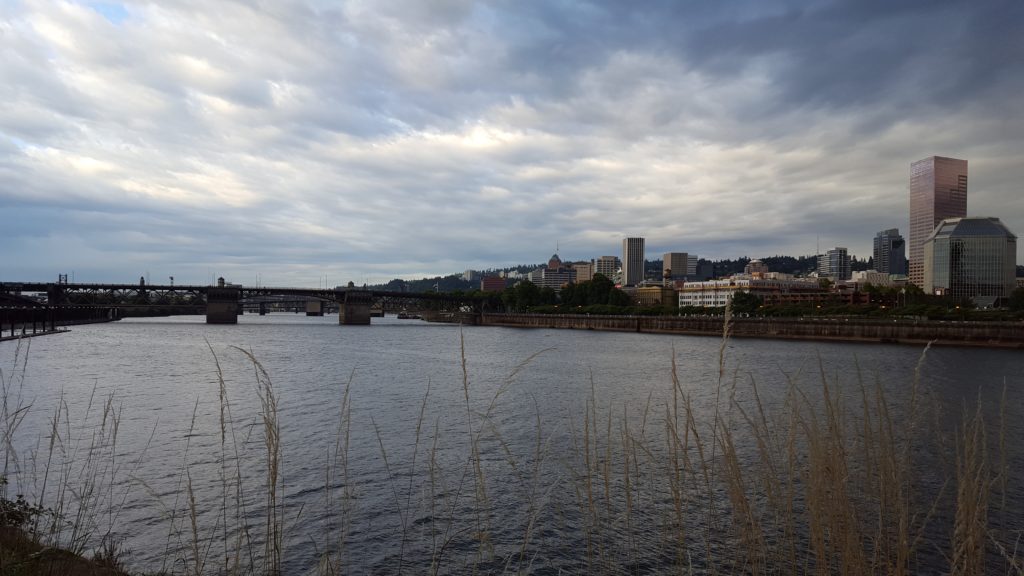 I always love to explore a new place via running!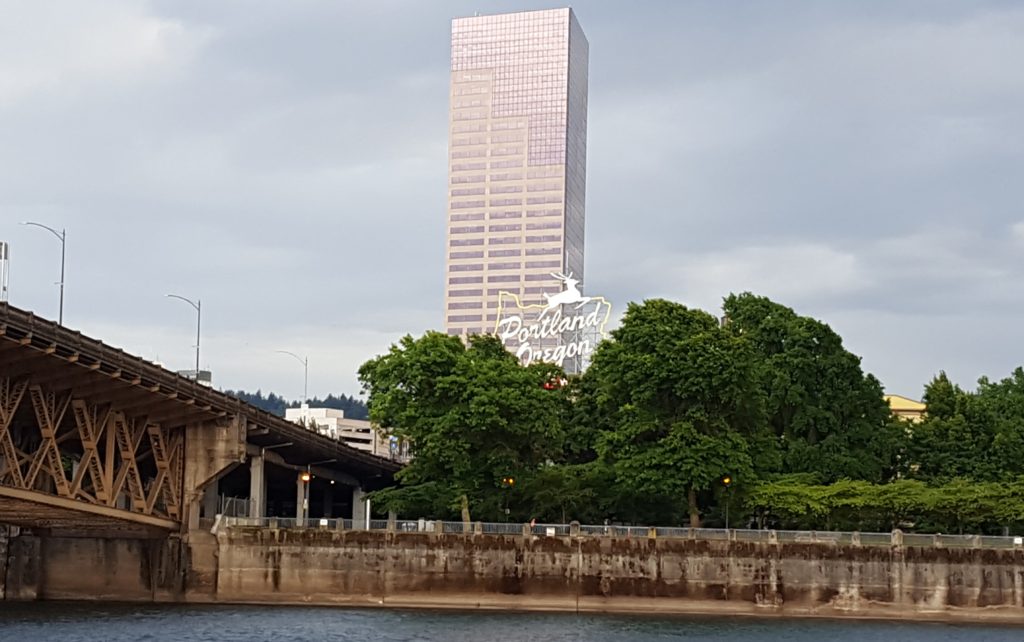 There is a great path encompassing the waterfront and we took advantage.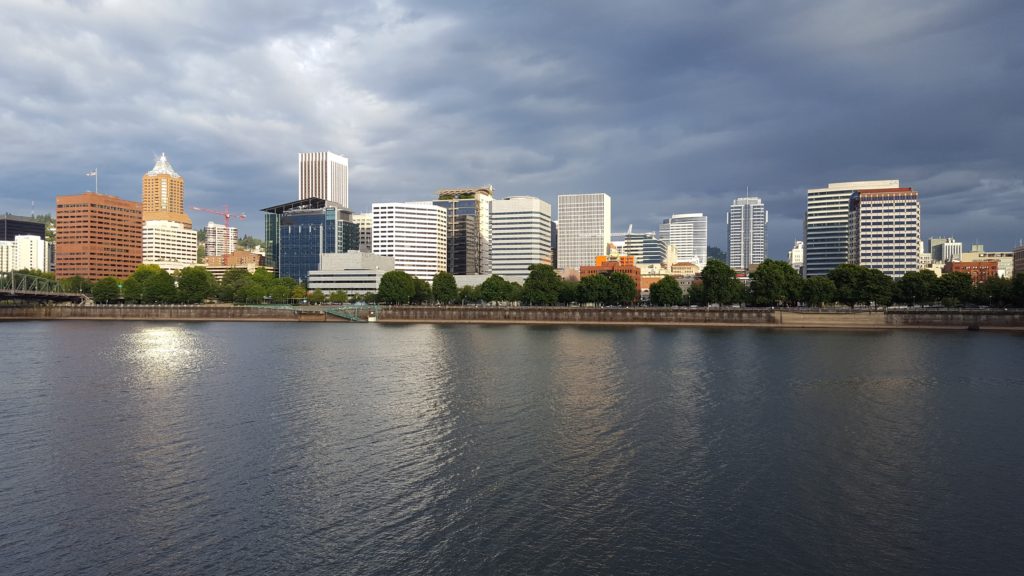 I LOVE running along water and this was great.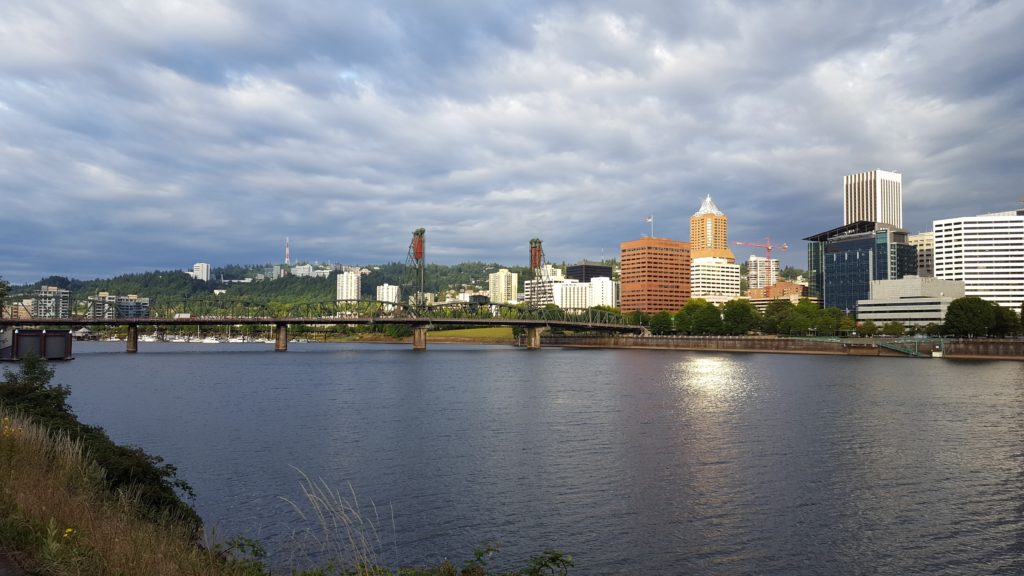 One of my favorite things was all the different bridges throughout.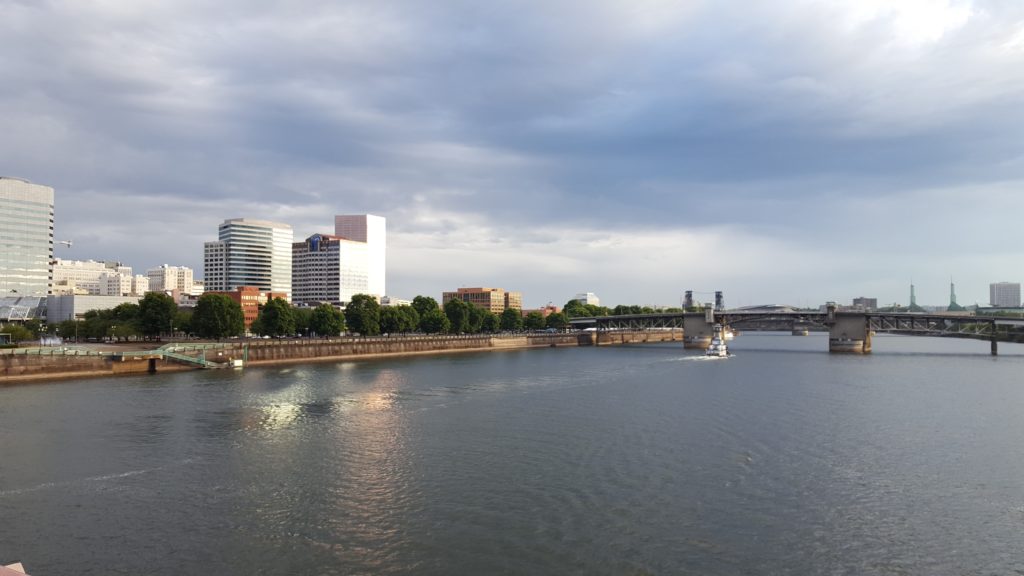 After cleaning up and a great breakfast at the hotel, we decided to explore the city and what other way to do this other than on bikes?!?!?!  We rented two very simple (single speed) cruiser bikes and went everywhere!
The day also included stops at the infamous Powell's Books and Little Big Burger for lunch.  After that we took a detour to the hotel for a break due to a bit of rain.
When we were able to resume, we saw so much more!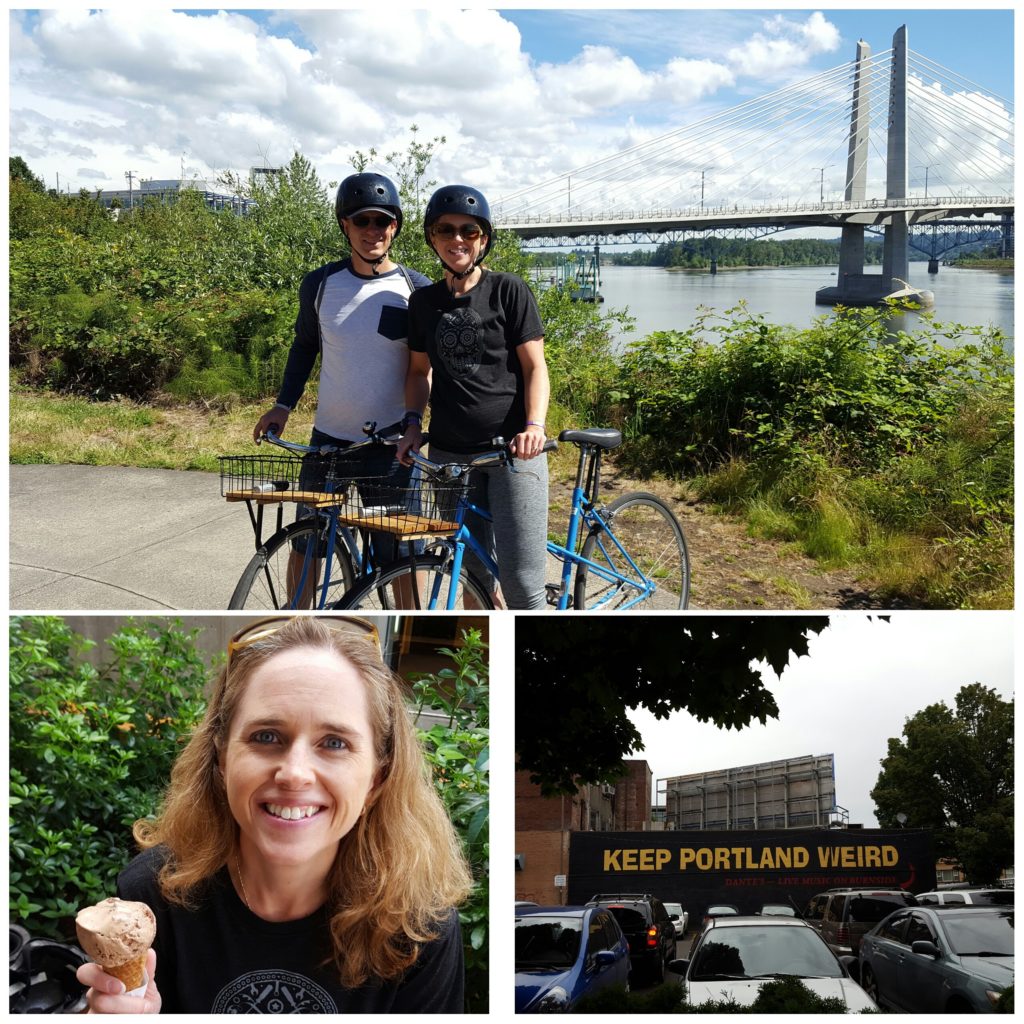 One pit stop included ice cream at Salt n' Straw, which came highly recommended.  It DID not disappoint, as I think one of the best milkshakes Tony has ever had was that day!
This is what our day on the single speed bikes ended up looking like via Garmin….LOL!!!  I could not resist!  This was definitely a much different effort than what I usually have on the bike!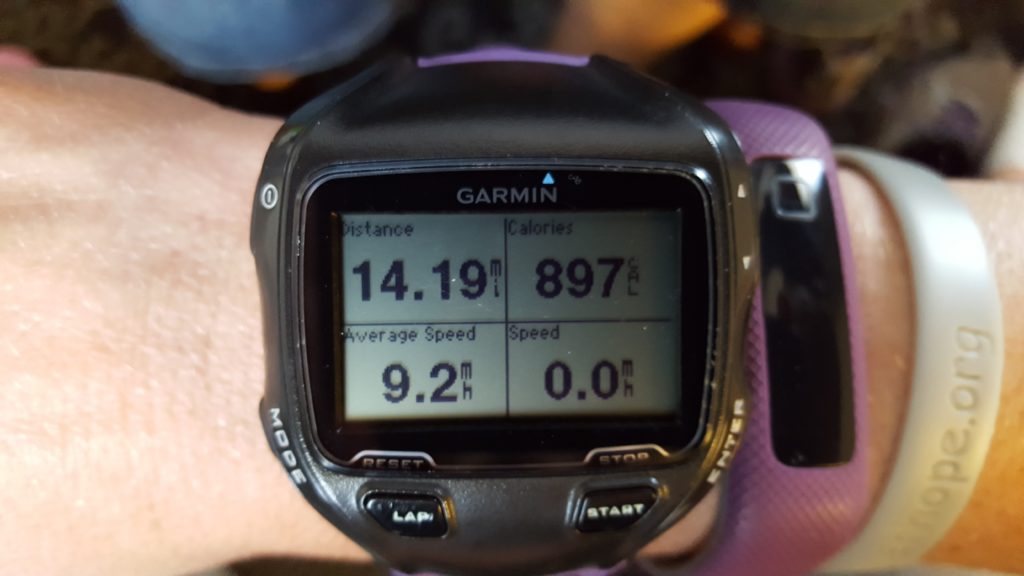 After a full day of activity, we had exciting plans to meet up with Leslie from Triathlete Treats.  Since she and her husband, Dan, live in Portland, I reached out to her while we were planning to get advice on all things Portland.  Luckily, the timing worked that so we could all have an evening out together.  They took us to one of their fave restaurants called, La Bistro Montage, and it was awesome.  Their menu includes a section of a variety of mac n' cheese that you can customize and I went that route.  YUM!!!!  After dinner we went for ice cream at another local spot called Ruby Jewels…I took Leslie's advice and opted for a customized ice cream sandwich.  You know life is good when you have ice cream twice in one day!  #wewereonvacation
Before heading back to the hotel, we received a local's guide to part of the city.  It was cool driving through town and learning more about Portland and their view of home.  It was an awesome night full of great conversation and good times.
The next day was a planned to be a drive down to the Willamette Valley to explore some wineries and do some tastings.  Before picking up the car, we went for another run along the water.  We did a little different route in order to check out a different bridge.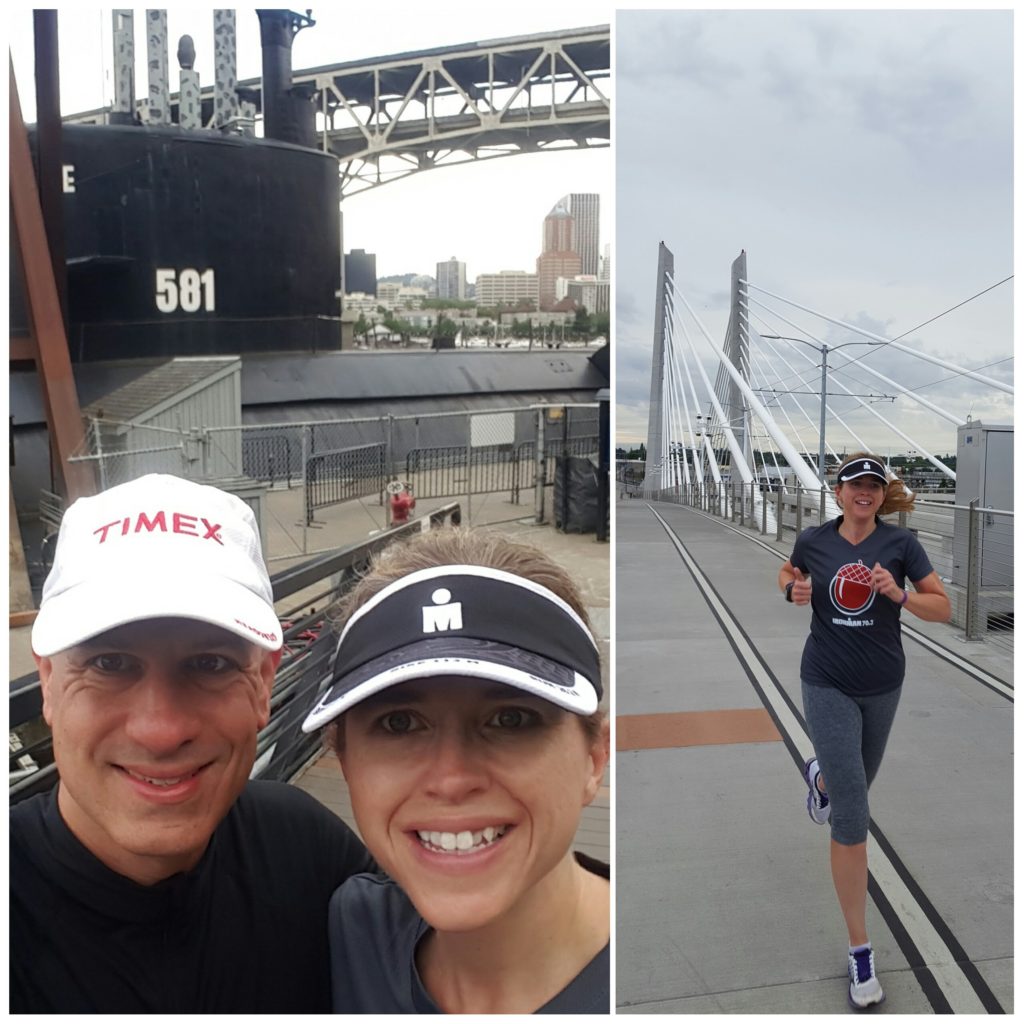 We had received several recommendations for wineries to check out and I was very excited.  We had a bit of rain during the day, but nothing too bad.  Our stops included Four Graces, Sokol Blosser, Armonea and Laurel Ridge, which ended up being our favorite!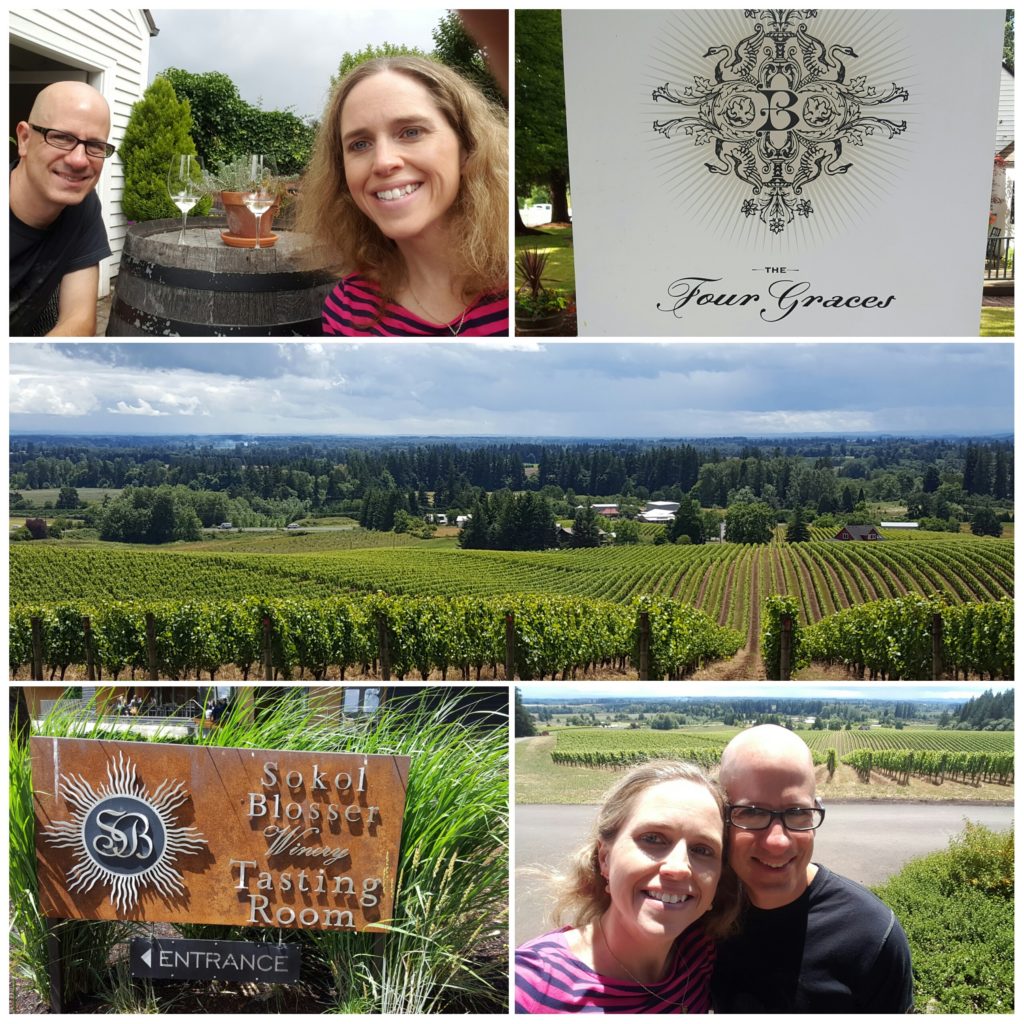 We had a great time learning about this region and the wine was delicious!!!  If you have a love of wine I highly recommend exploring the Willamette Valley.  This day was a real treat and I am so glad we decided to add this day to our itinerary!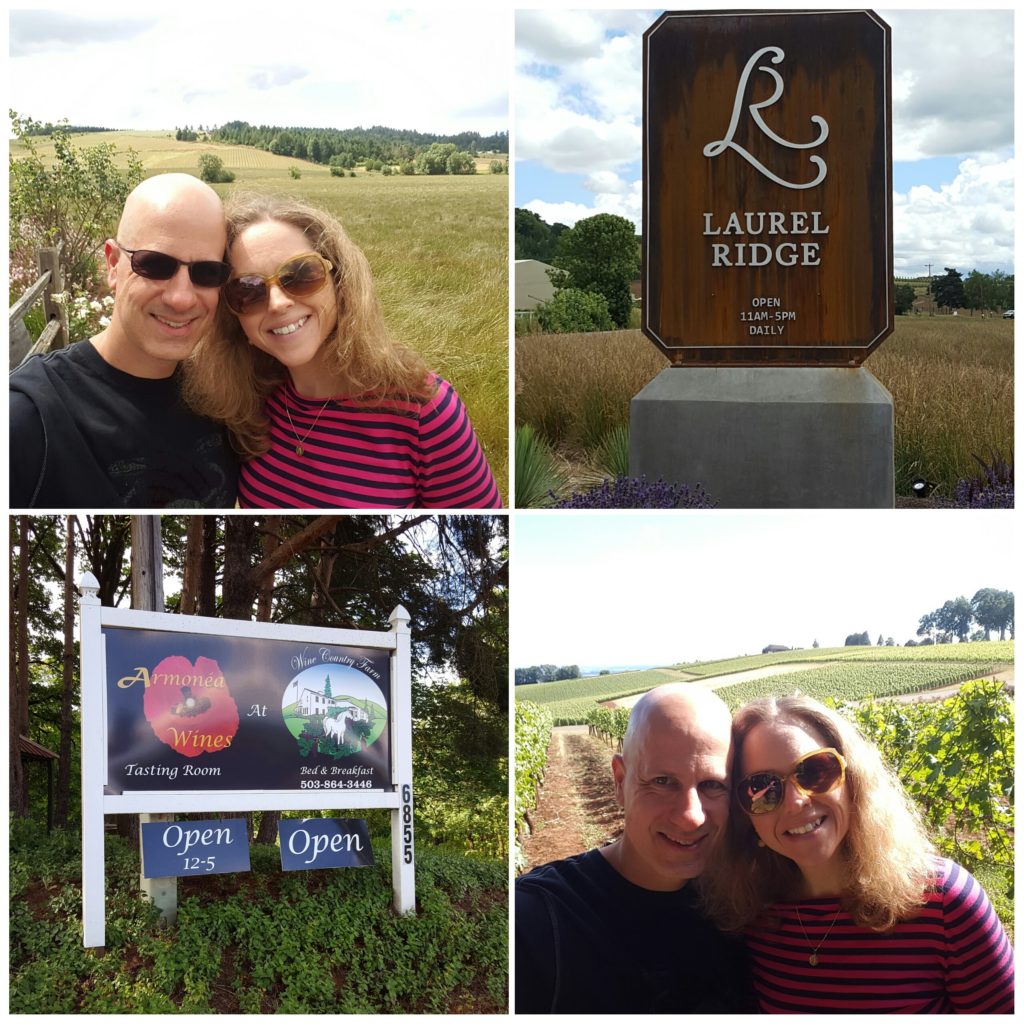 The next day we had a general idea of what we were doing, but we were also open to a day of exploring!  We had planned to drive from Portland through the Columbia River Gorge and Mount Hood National Forest and eventually arrive in Bend!  This was definitely the "SCENIC ROUTE" (speaking literally and figuratively) and I am so glad we decided on this drive!  There were so many highlights and our cameras were definitely working overtime.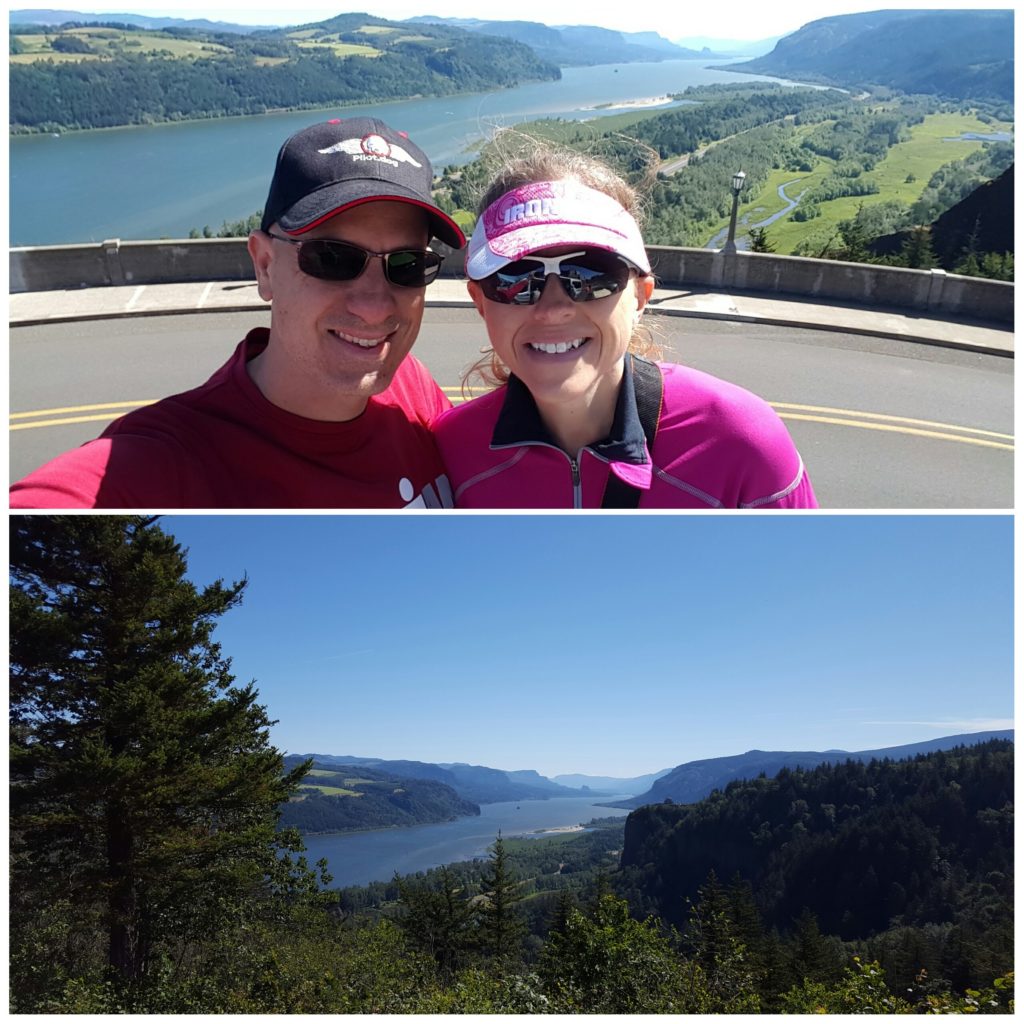 Some hiking and waterfall exploring makes for a great way to break up a long drive.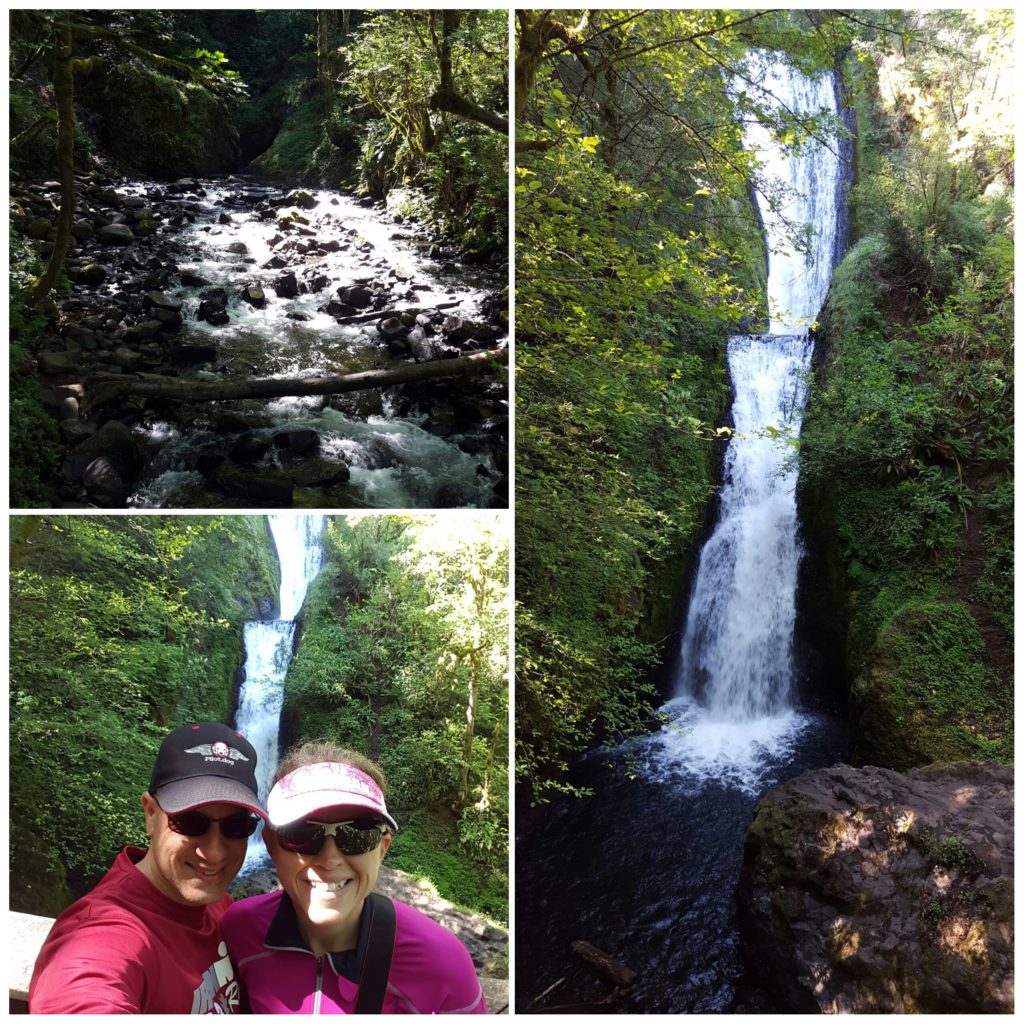 I never tire of waterfall watching.  These were so great!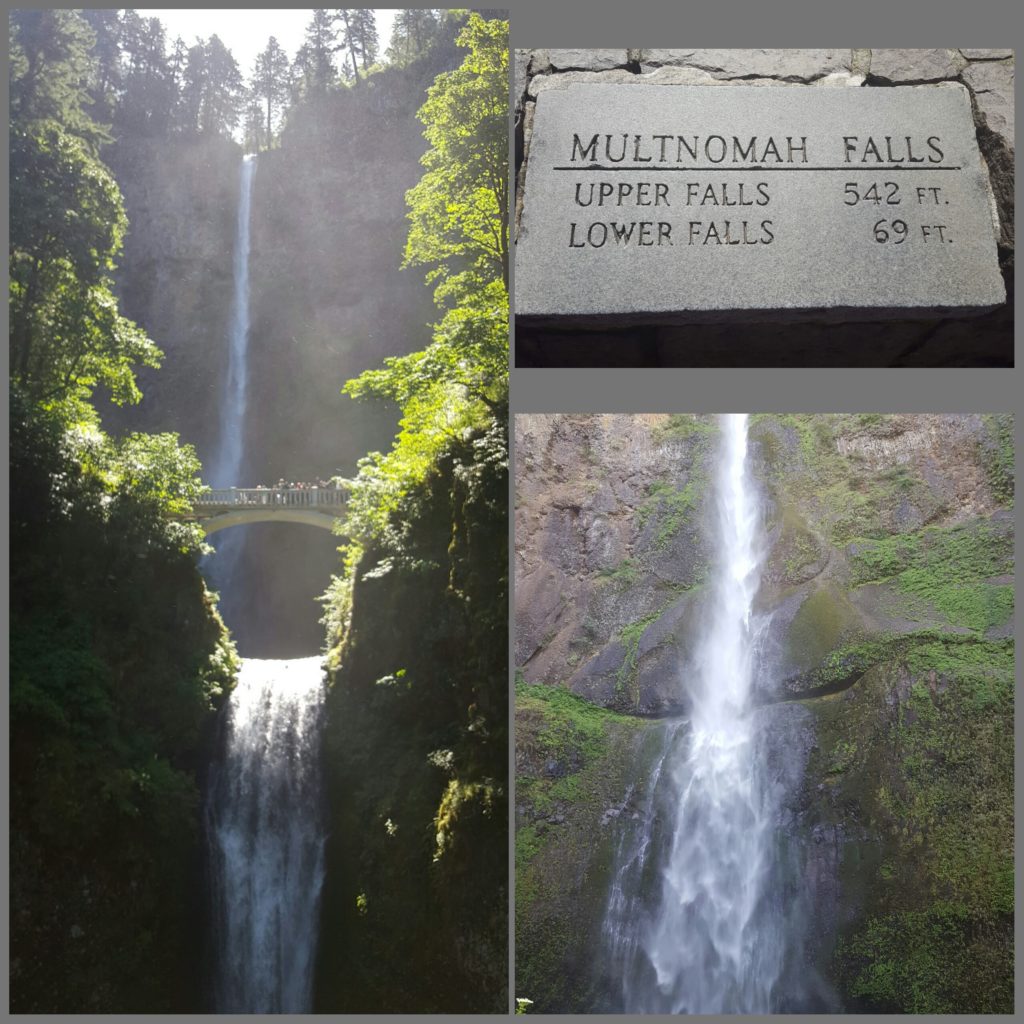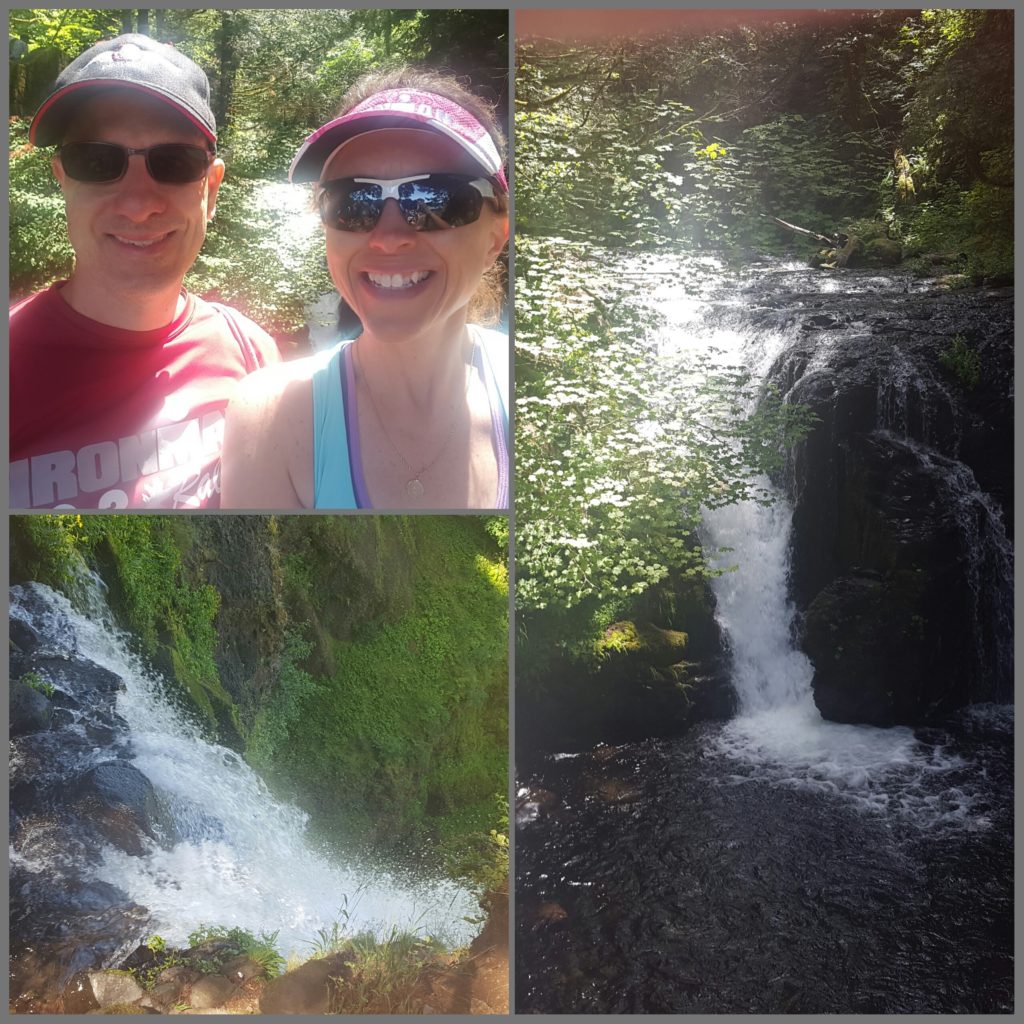 We stopped in Hood River for a late lunch at at Full Sail Brewing Co.  We were famished and this local spot ended up being a great choice.  When we left Hood River to resume our drive, I had no idea what we ahead of us…
When I first got a peek of this mountain top, I knew it was going to be breathtaking!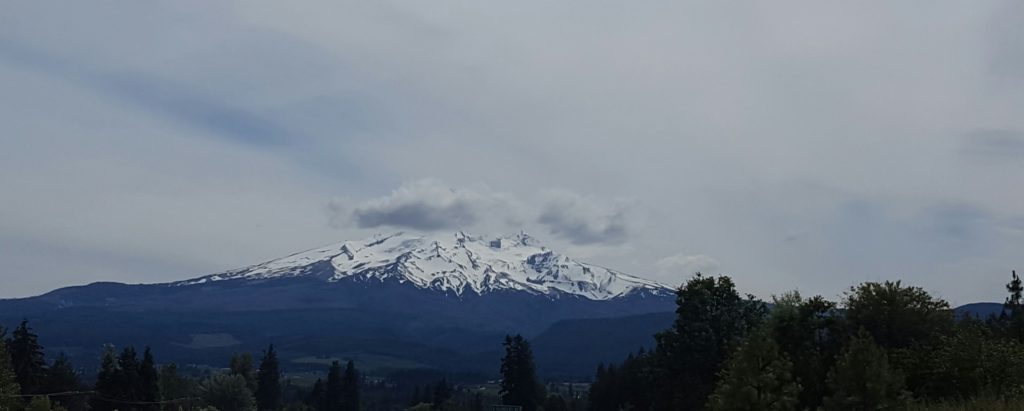 These views did not disappoint!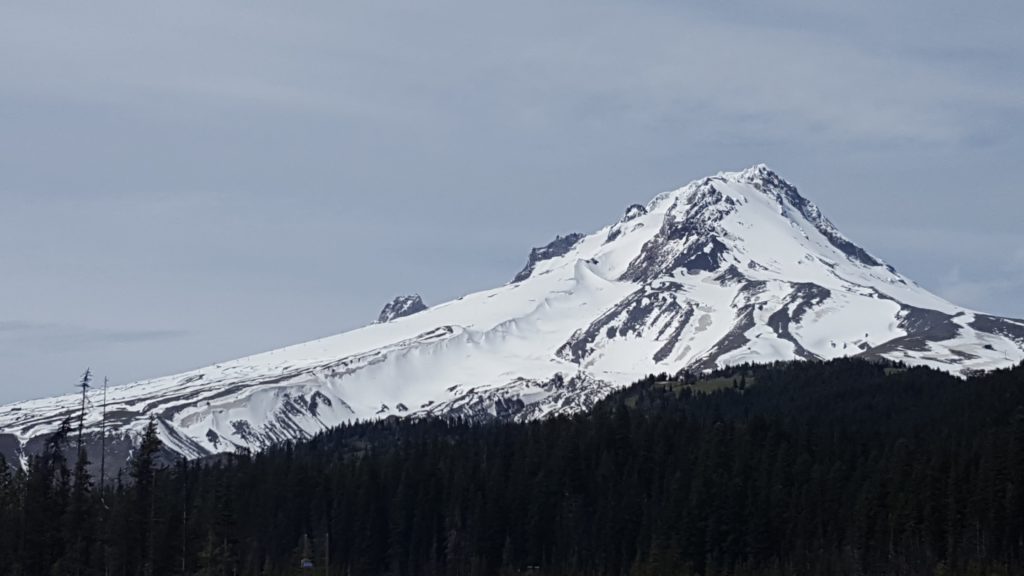 As we continued to drive and see it closer and from different angles, it became more and more beautiful!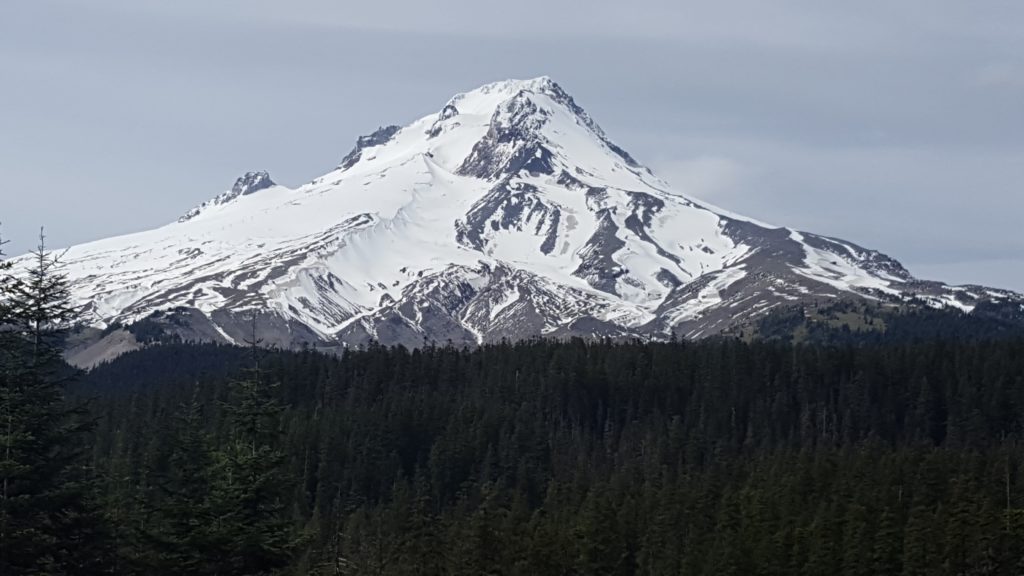 We arrived to Bend very late in the afternoon.  We had a vacation rental which was a one bedroom house that was in a great location.  The bonus to our rental was that it had a washer and dryer.  With all our activity, we definitely had plenty of laundry to do!  We got settled in and cleaned up and ventured out for a light sushi dinner and for our first real drive around town.  We saw very quickly what a charming town Bend is and was excited for the next couple of days!!
Our first full day in Bend was started with a short run around town.  We didn't find the best running route in town, but we still enjoyed the crisp, cool morning air and some pretty views in a local park.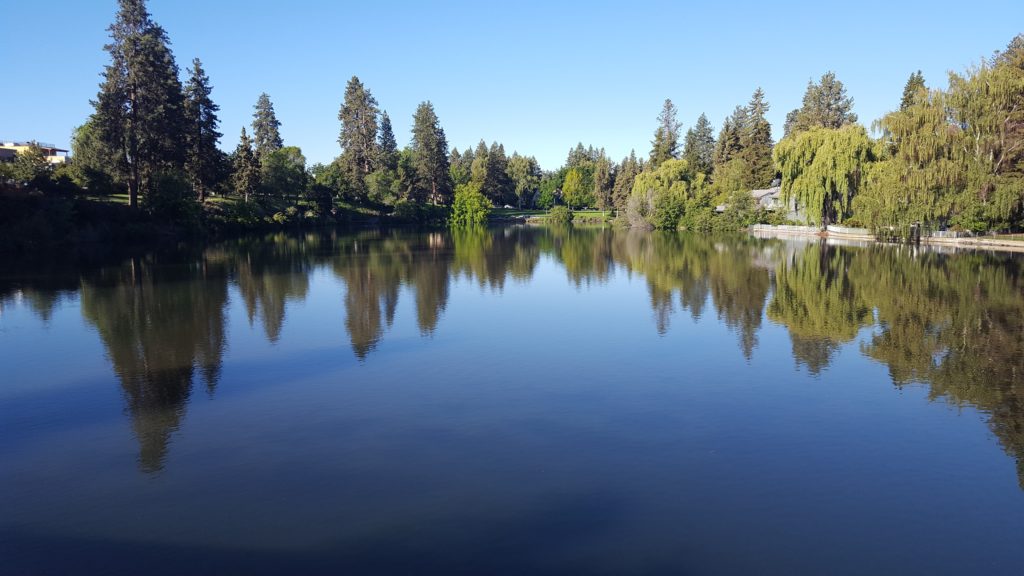 The plans for the day included a hike on the Misery Ridge Trail at Smith Rock State Park.  This trail came highly recommended and boy….IT DID NOT DISAPPOINT!  I will let these beautiful photos tell the story!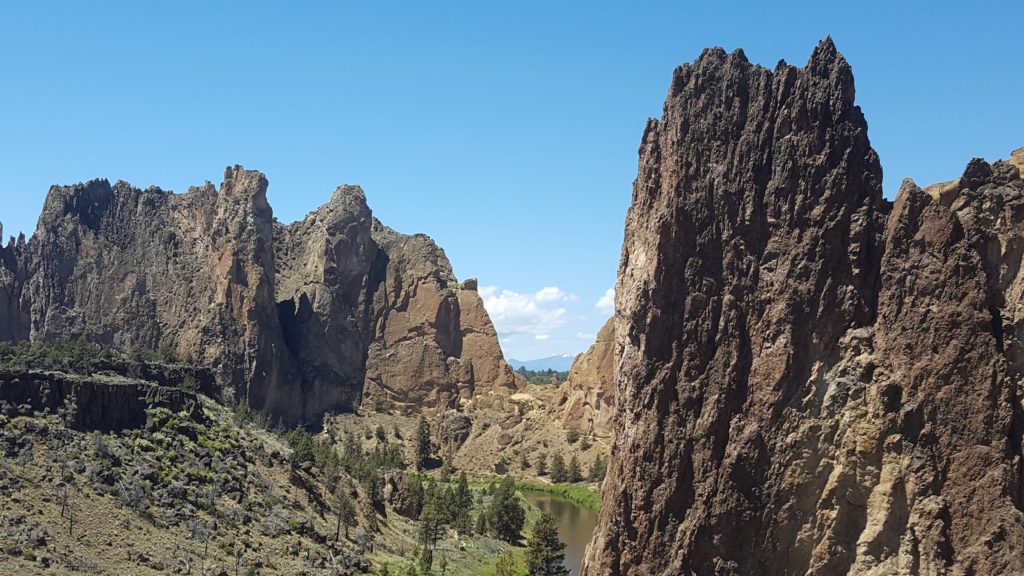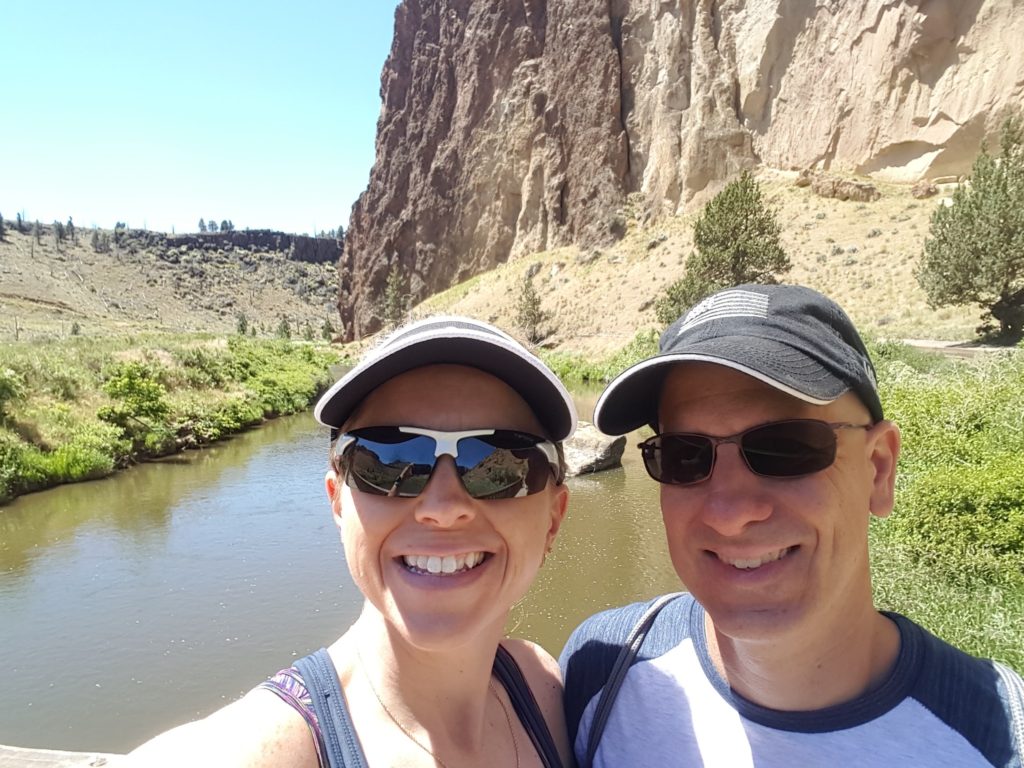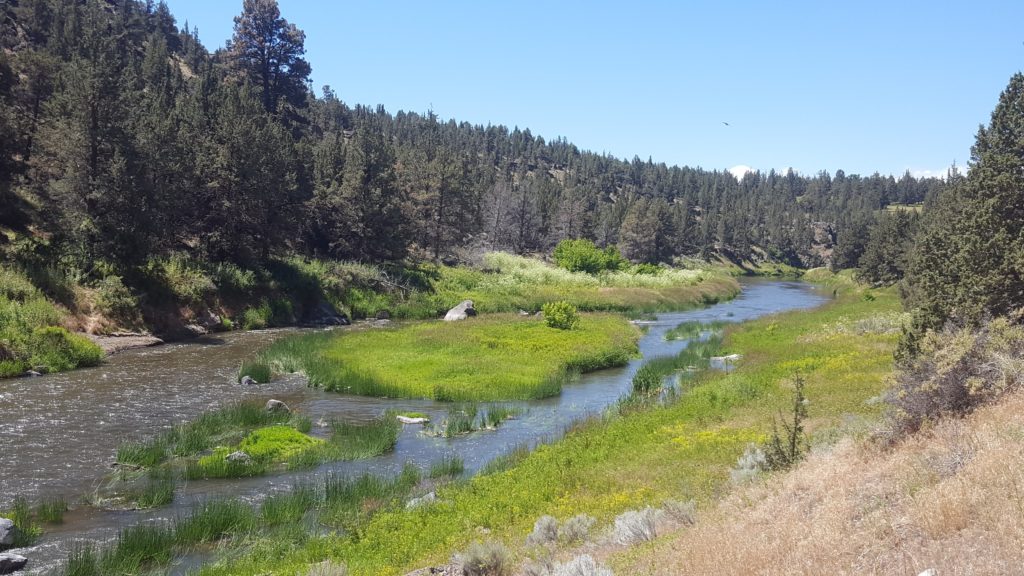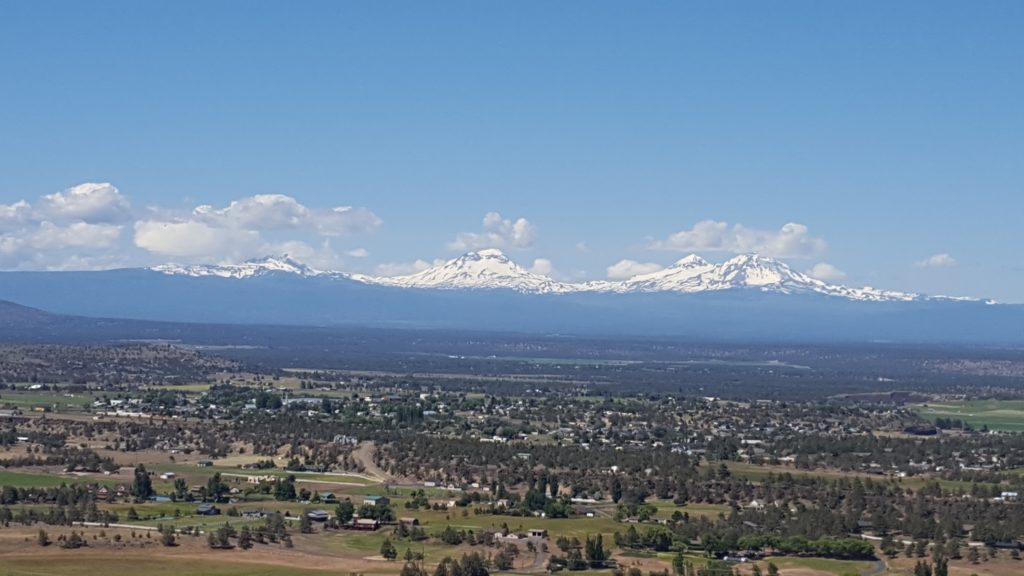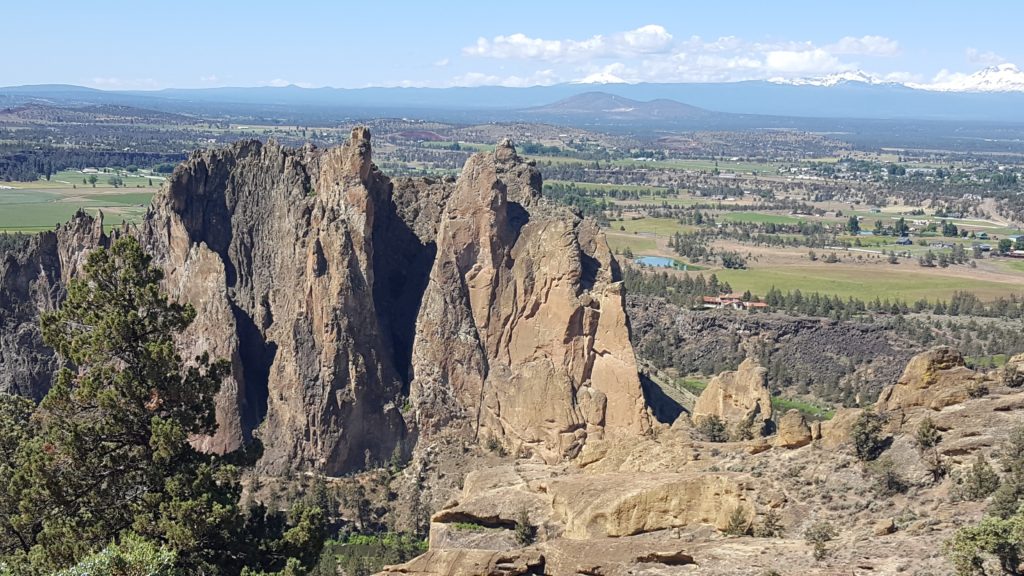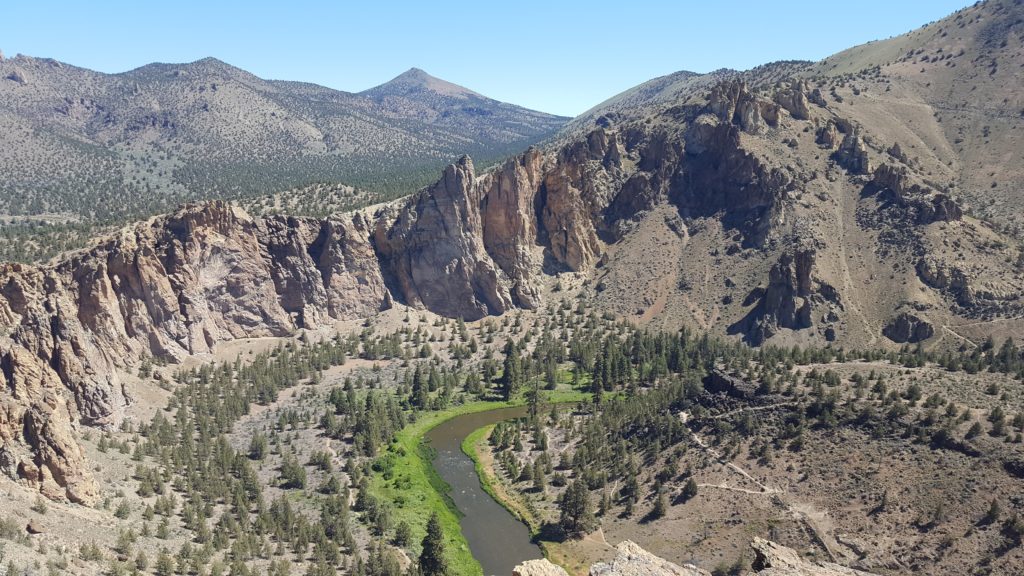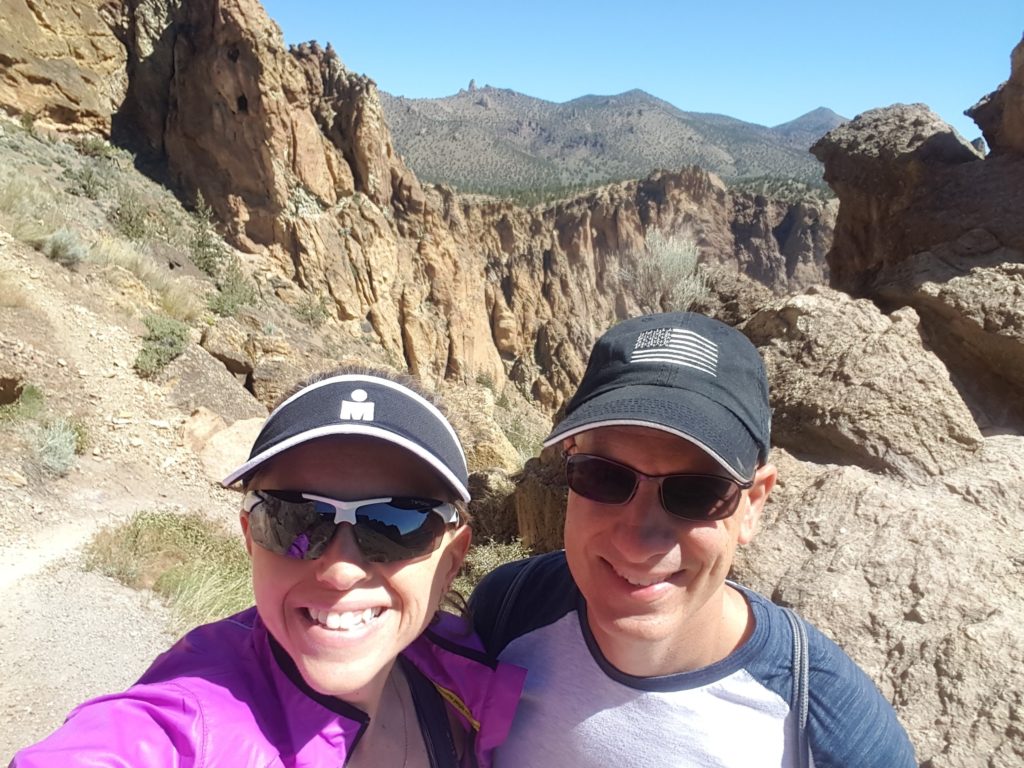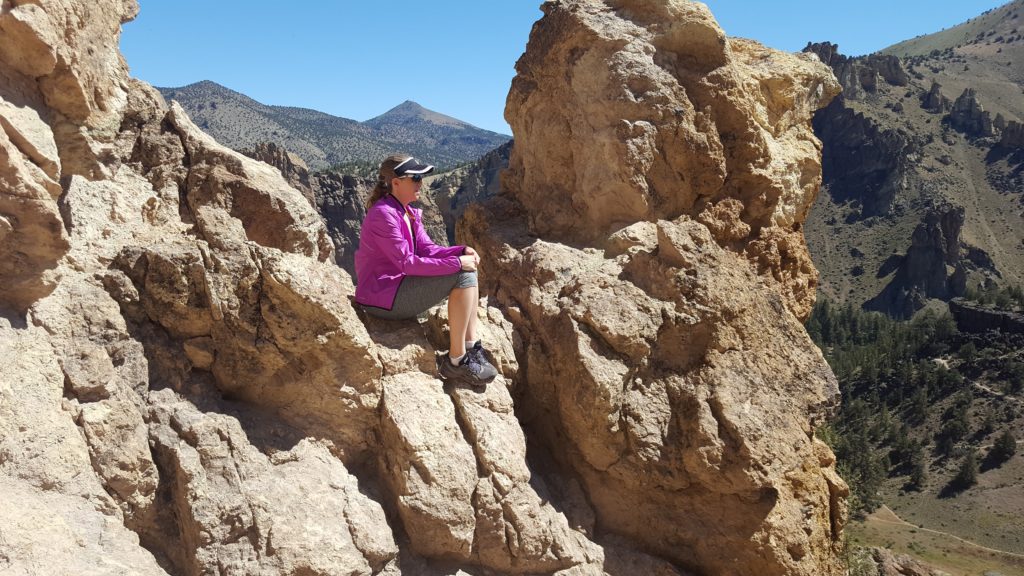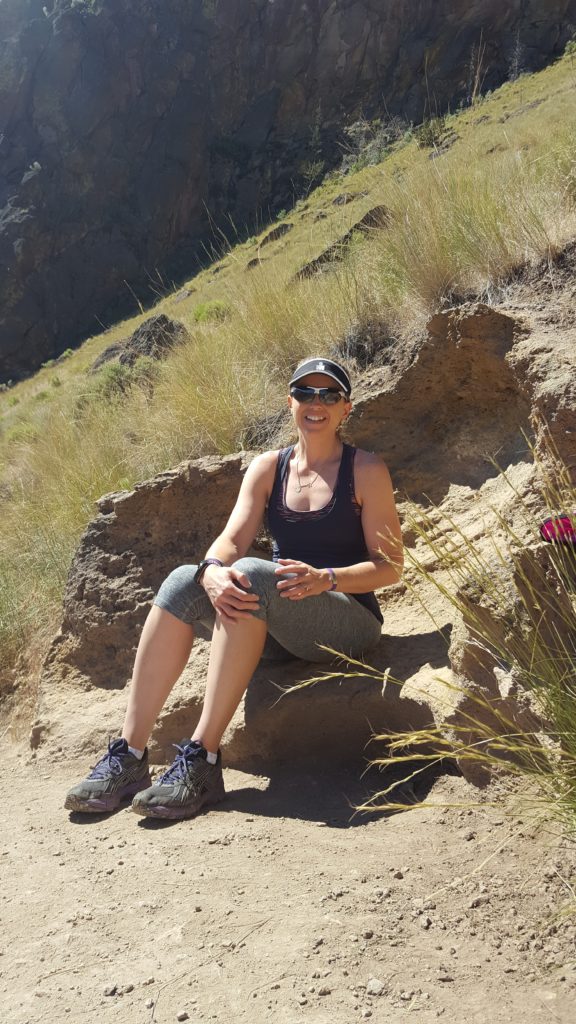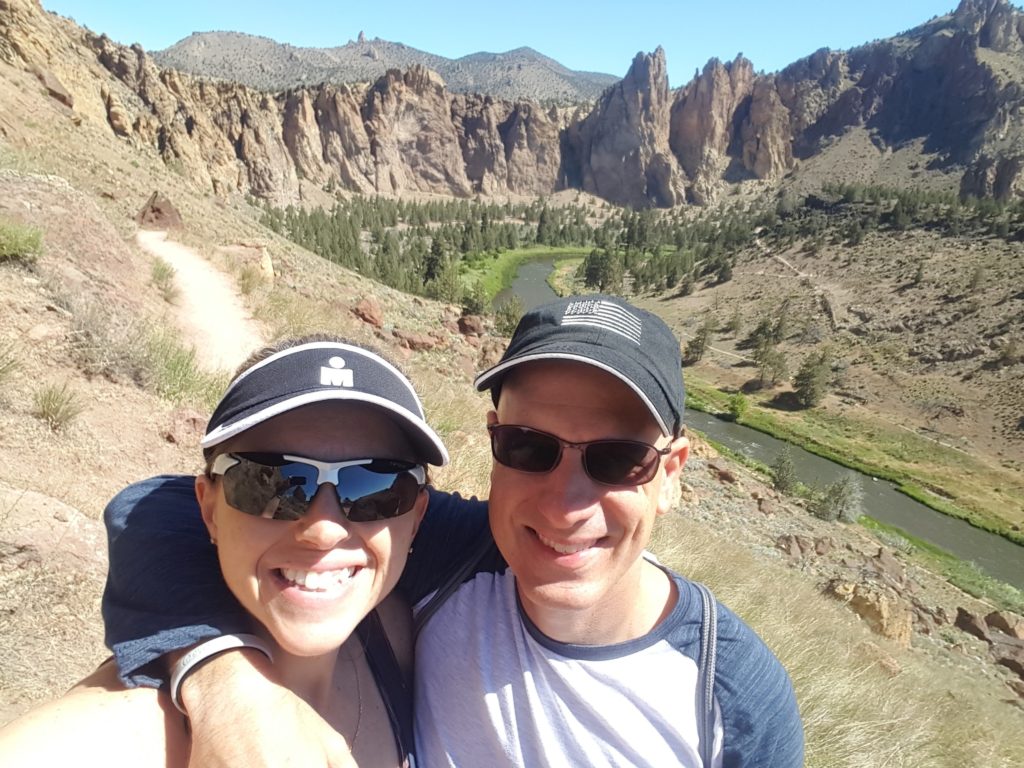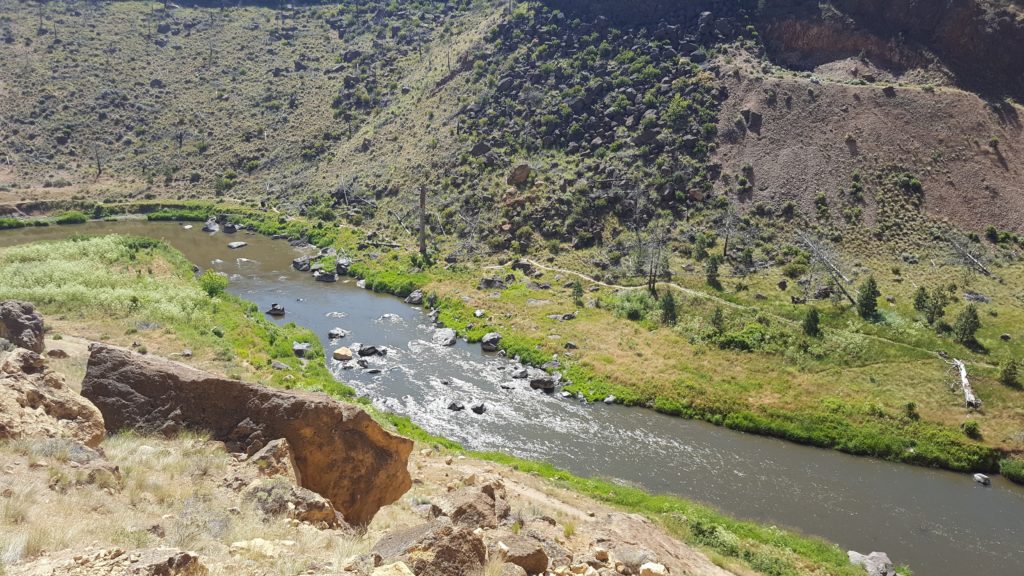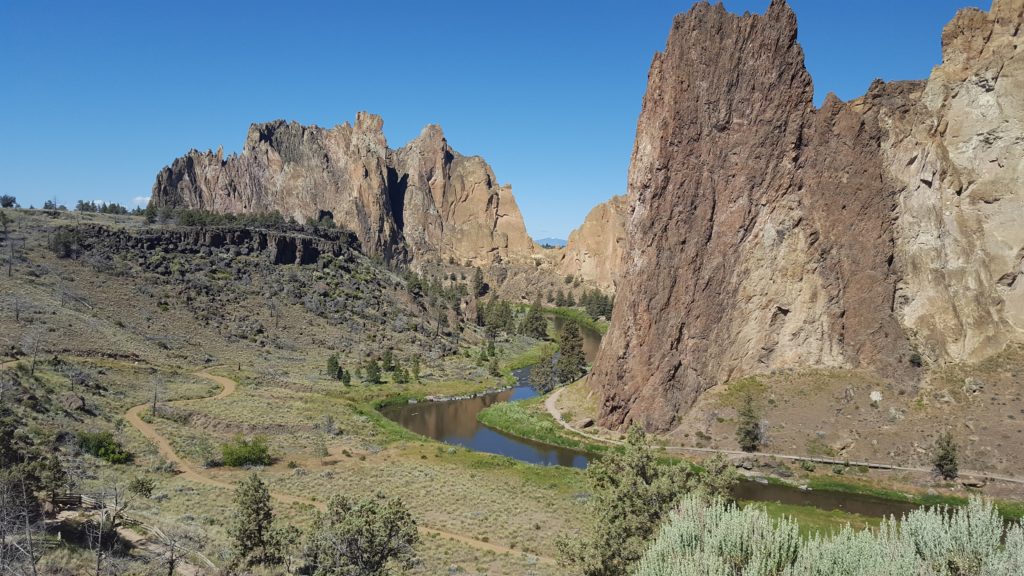 After this wonderful morning, we grabbed lunch and headed back into Bend.  We then decided to take the relatively short drive to Tumalo Falls.  This was a great choice and it is amazing that these beautiful falls can be seen within a fews steps of the parking area.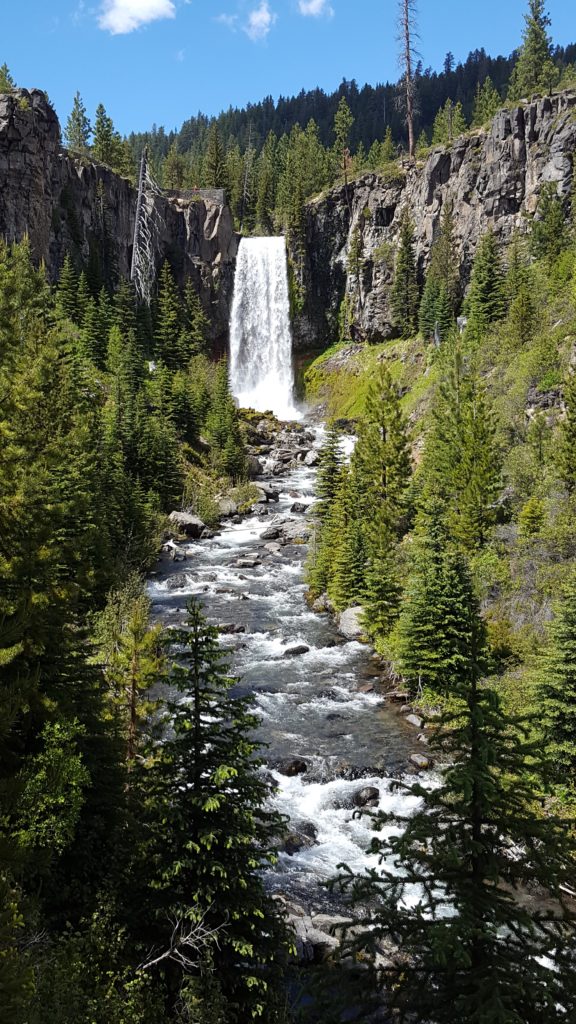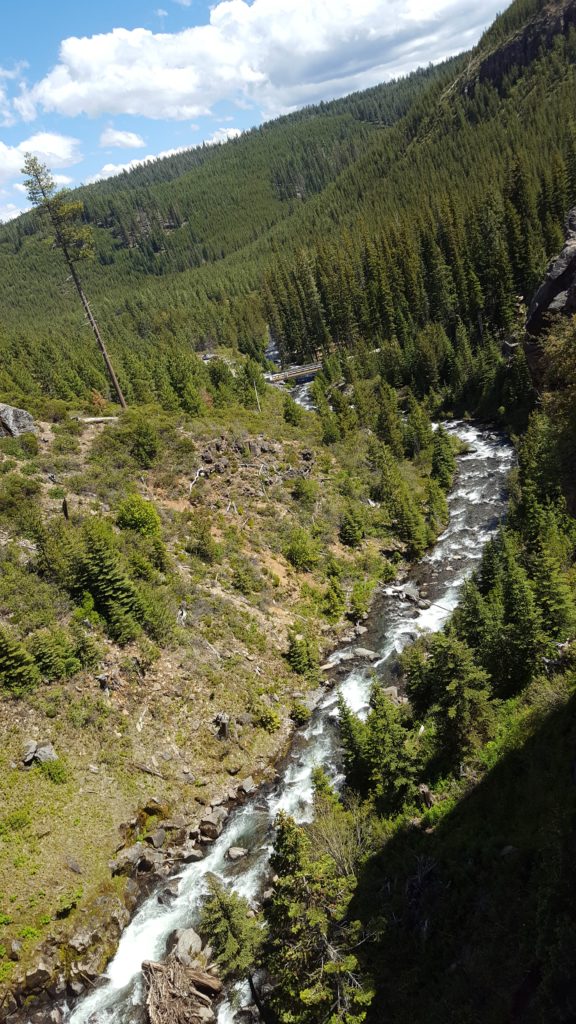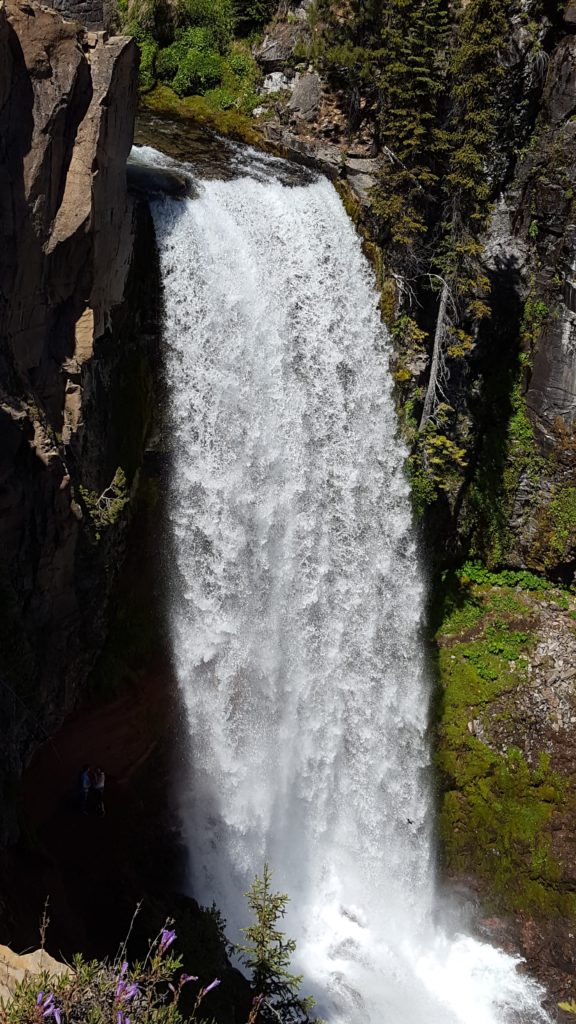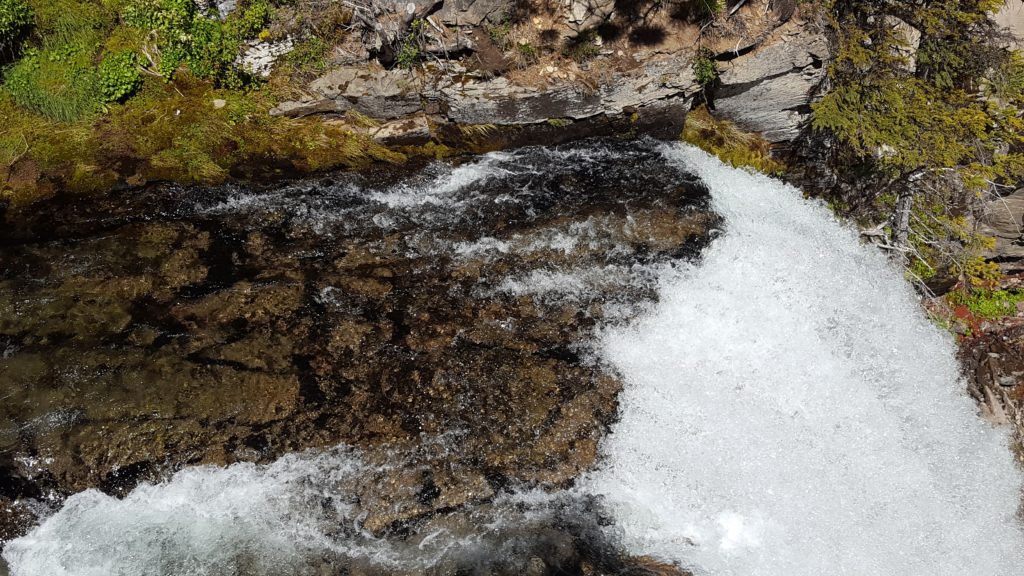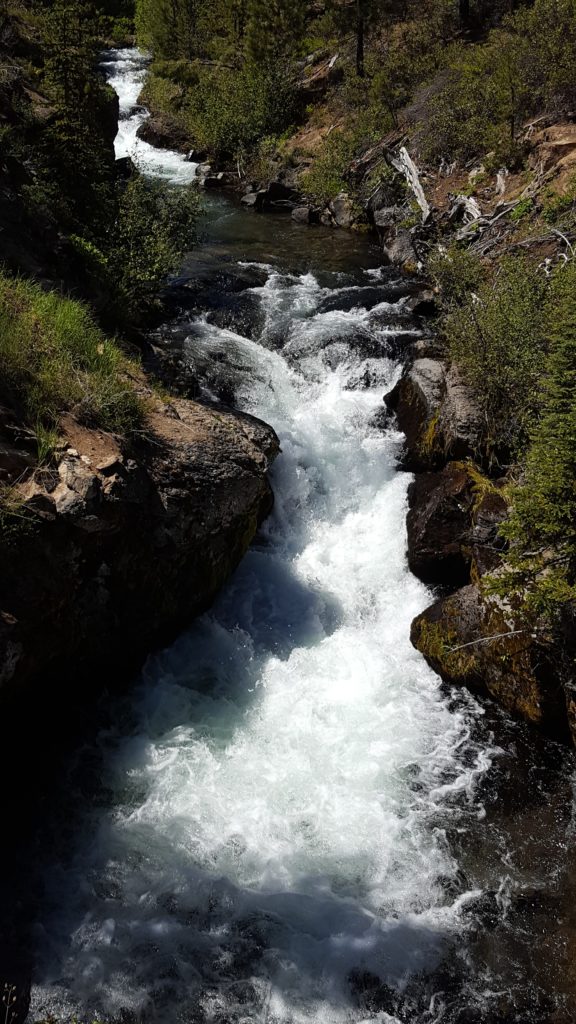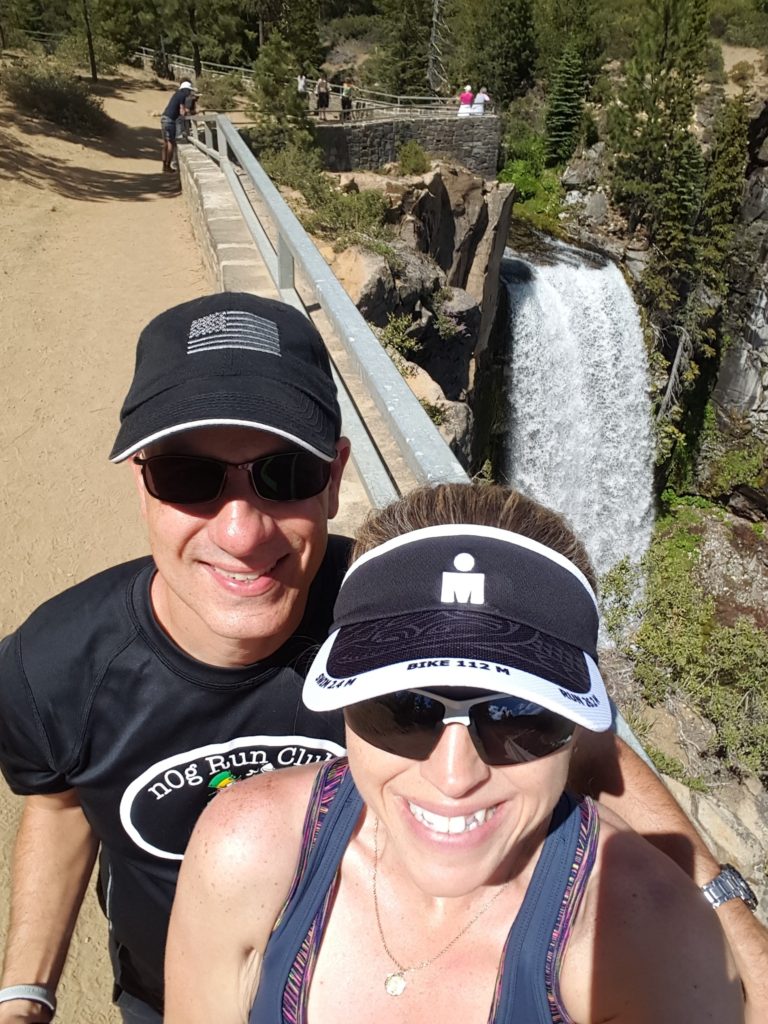 After a great day of exploring we had plans for happy hour at Crux Fermentation Project.   We met up with Kristen from Glitter and Dust along with her husband Justin and precious little one, Axel.  Kristen provided me great tips on how to best enjoy our time in Bend before our arrival.  Crux has a great outdoor area where you can lounge, listen to music and enjoy some drinks.  It was a beautiful evening and it was so fun hanging out with our friends in Bend!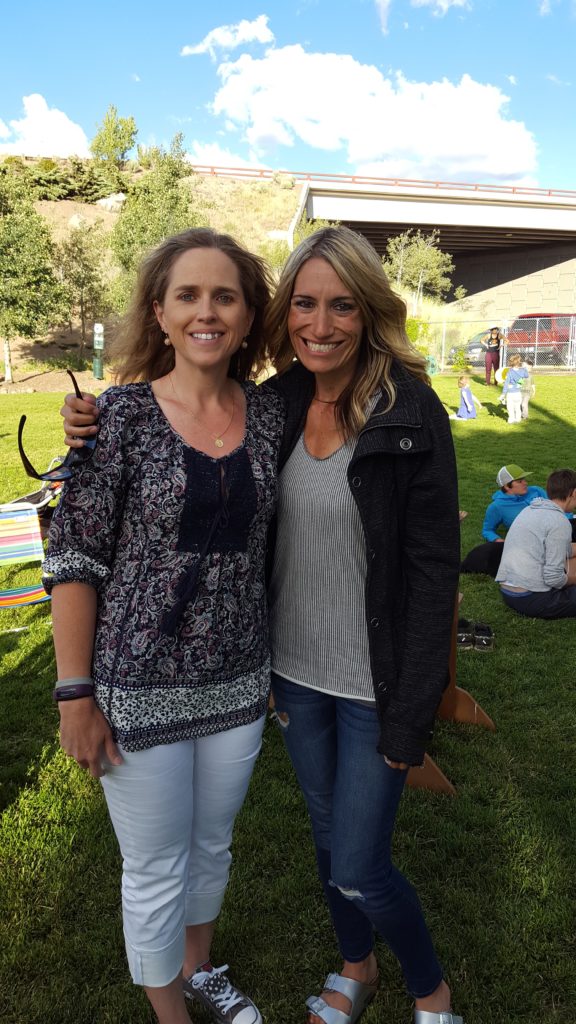 The following day was another fun day of exploration.  After a morning run (we were just loving the morning temperatures in Oregon) and a quick breakfast, we did lots of driving around, stopping at points here and there and continued to be in awe of this beautiful part of the country!
One of the highlights involved Green Lake…we didn't have the chance to do the hike here, but these views that can be seen from the side of the road, were awesome!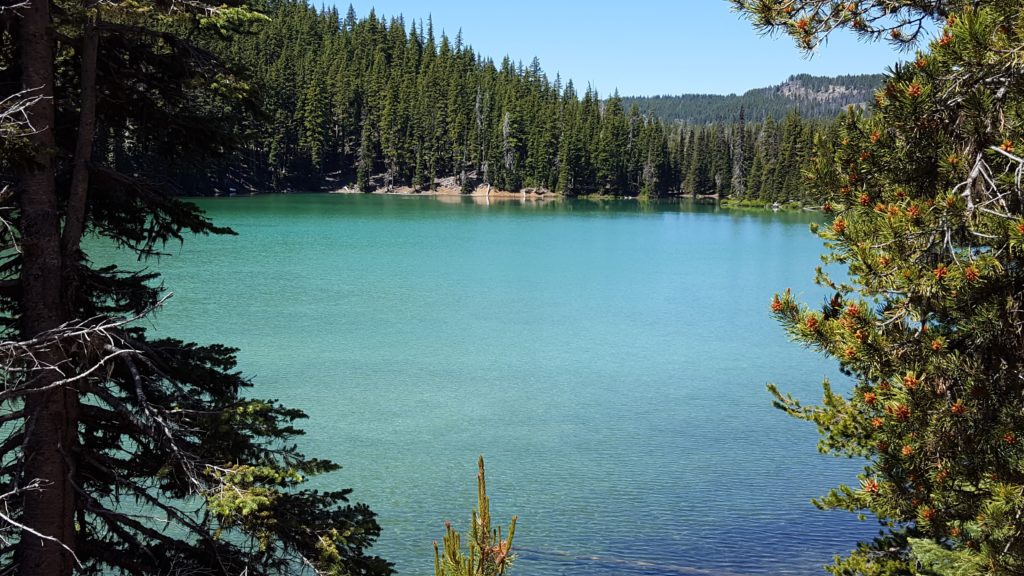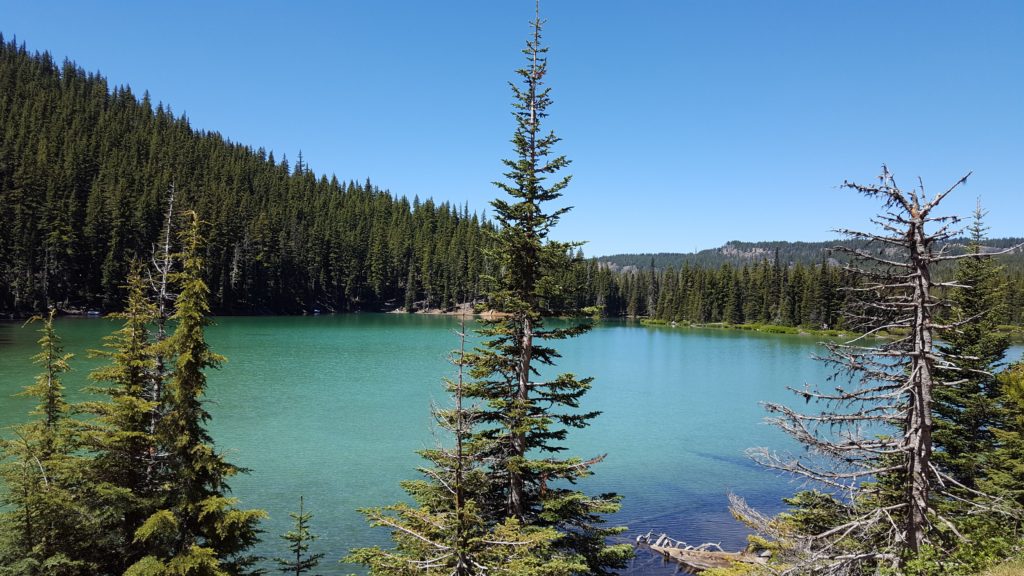 Another highlight was a short hike around Sparks Lake.  The pictures say more than I can in words….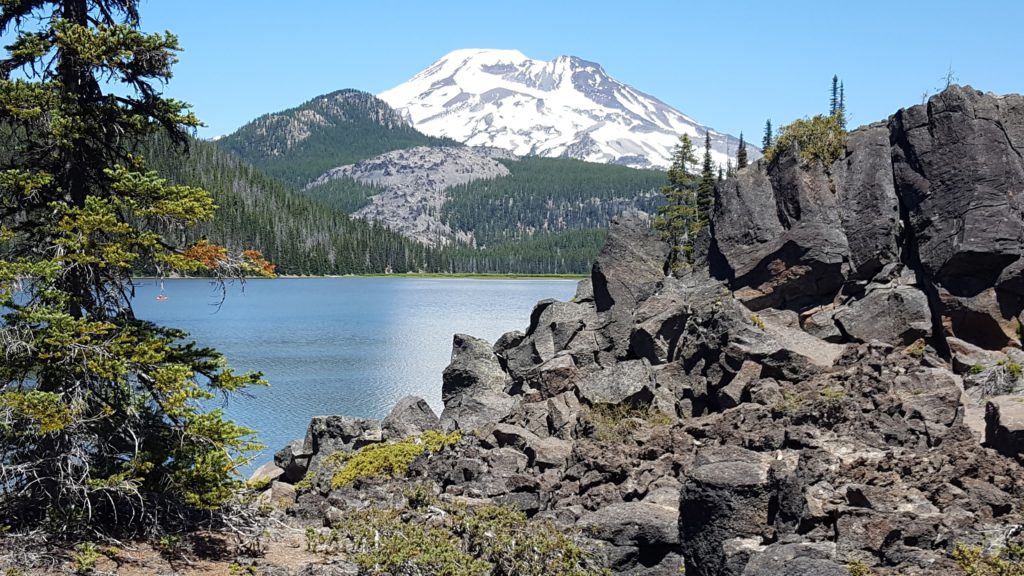 I could spend all day on a paddle board or in a kayak floating around this lake.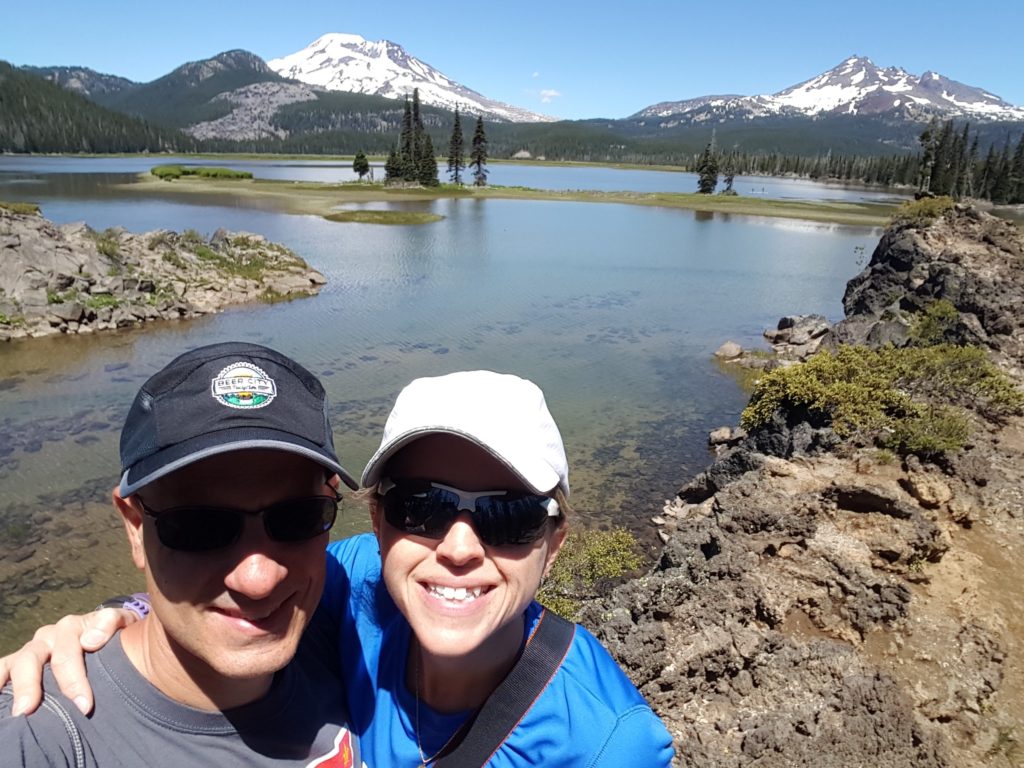 I just could not get enough of these views!!!
Later in the day, we headed back to the house and decided to take the cruiser bikes out around Bend.  The bikes were provided with the house rental.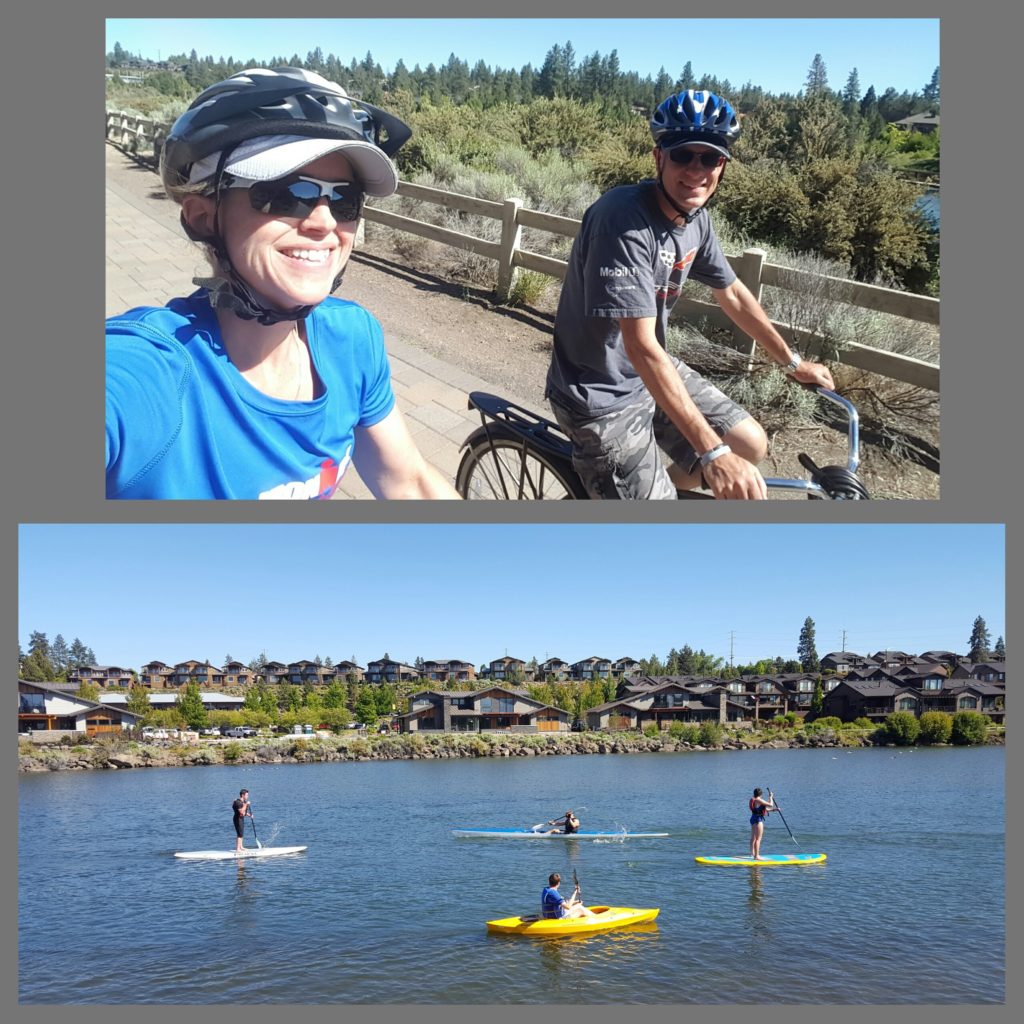 We did a lot of cruising up and down the Deschutes River trail around the Old Mill District.  You can quickly see that this river is a way of life here.  People were everywhere enjoying the trail (running, biking, walking, etc) and floating on the river.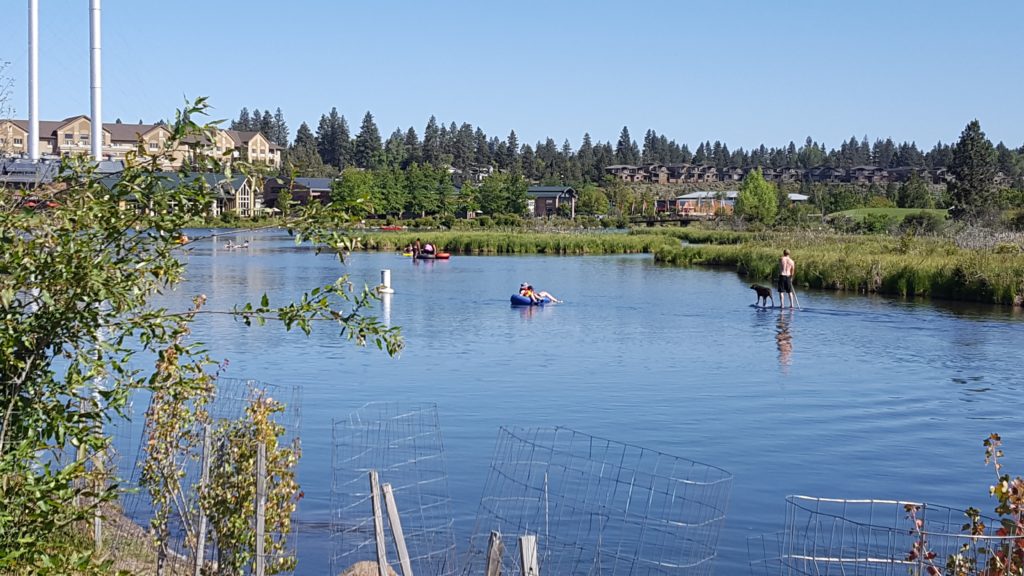 We were here on a late weekday afternoon and so I can't imagine what it would be like on a beautiful weekend!  This was really a nice treat and having the bikes available at our rental and being able to cruise around town was a blast!
After our ride, we were ready for a cold beverage, and stopped at the Atlas Cider Company.  Wow!  This blackberry cider was amazing!!!  Sadly, I can't find it in NC and hope one day that I can!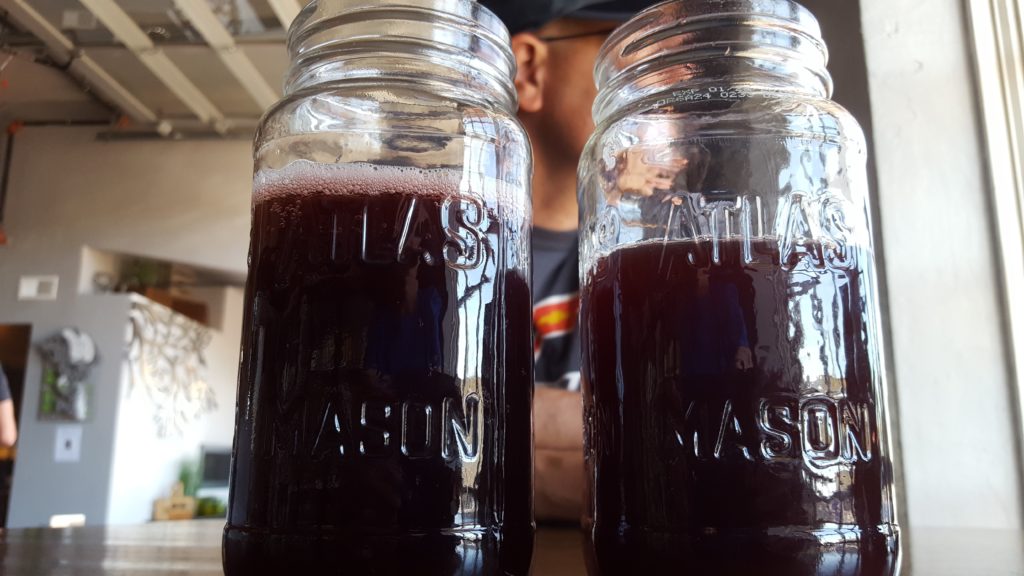 This was our last day in Bend and I was sad to leave to next day.  I would have loved to have been able to have more time for hiking and exploring as I think we just skimmed the surface of the best Bend has to offer!
On a side note, I have to mention this little coffee house that we found and visited twice during our stay.  It is owned by a local lady that is super friendly and makes the BEST frozen blended coffee drinks!  If you visit Bend, check out this local hidden gem for a treat!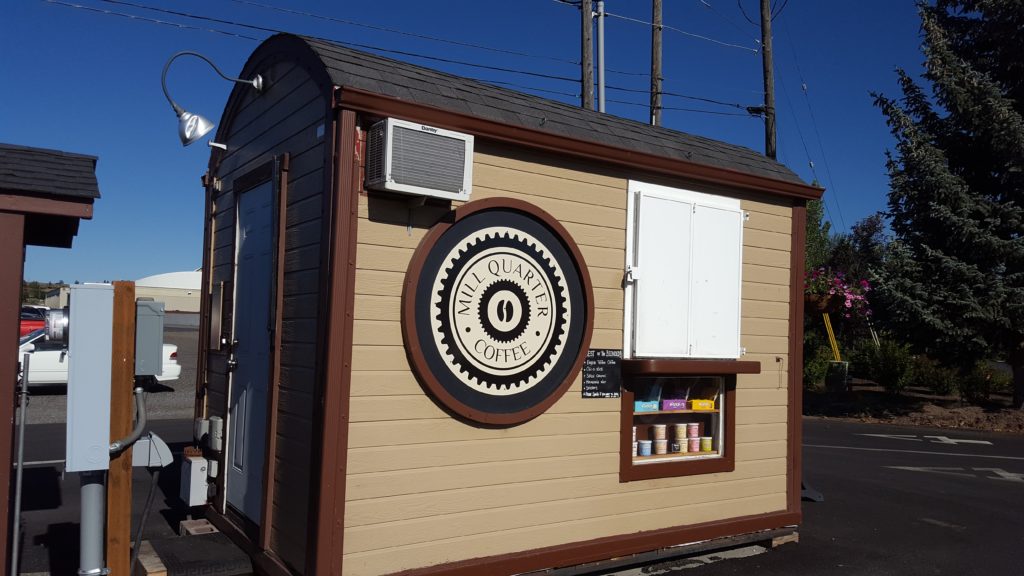 The next morning was a flight from Redmond, Oregon to Seattle, Washington…the last stop in our adventure!  Upon arriving in Seattle, we checked into the Hotel Vintage, which ended up being a great hotel!  We headed out to the waterfront and grabbed lunch at Elliott's Oyster House…we both had Dungeness Crab & Shrimp Melts…yummy!
Our first afternoon in Seattle included an outing Tony had in mind from the beginning when we decided to visit Seattle.  We were not sure if it would happen, but in the end it did….he flew a sea plane and we enjoyed sightseeing from the sky!
Lots of preparation takes place before the plane is ready to go up.  Of course the normal pre-flight inspections and safety checks, but the plane has to be moved into the water…since it has no wheels, a very interesting truck is involved in towing the aircraft.  As the picture shows, it is essentially a chopped off pick-up truck that does the towing!
I will say that this was the highlight of our entire stay in Seattle and I am so glad that all the logistics worked out and we were able to take advantage of this rare opportunity!
Our first full day in Seattle started with a chilly morning and a run around town.  I will mention that Seattle has some serious HILLS!!!!!  Who knew?!?!?!?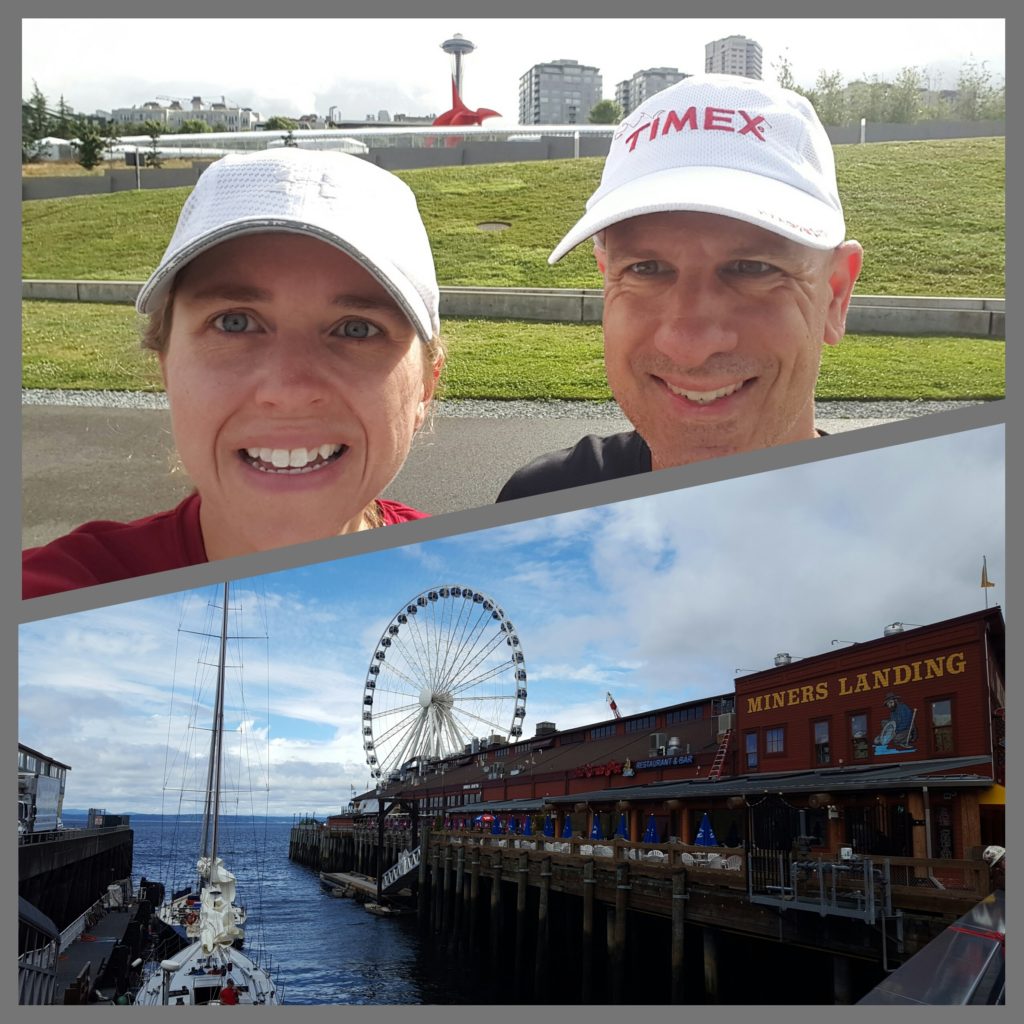 After breakfast at Biscuit Bitch, which was recommended by a friend at home,
we started exploring the city on foot.  I especially loved walking around and through Pikes Place market.  You can't go to Seattle without checking out the fish mongers and the flying fish.  It was a lot of fun!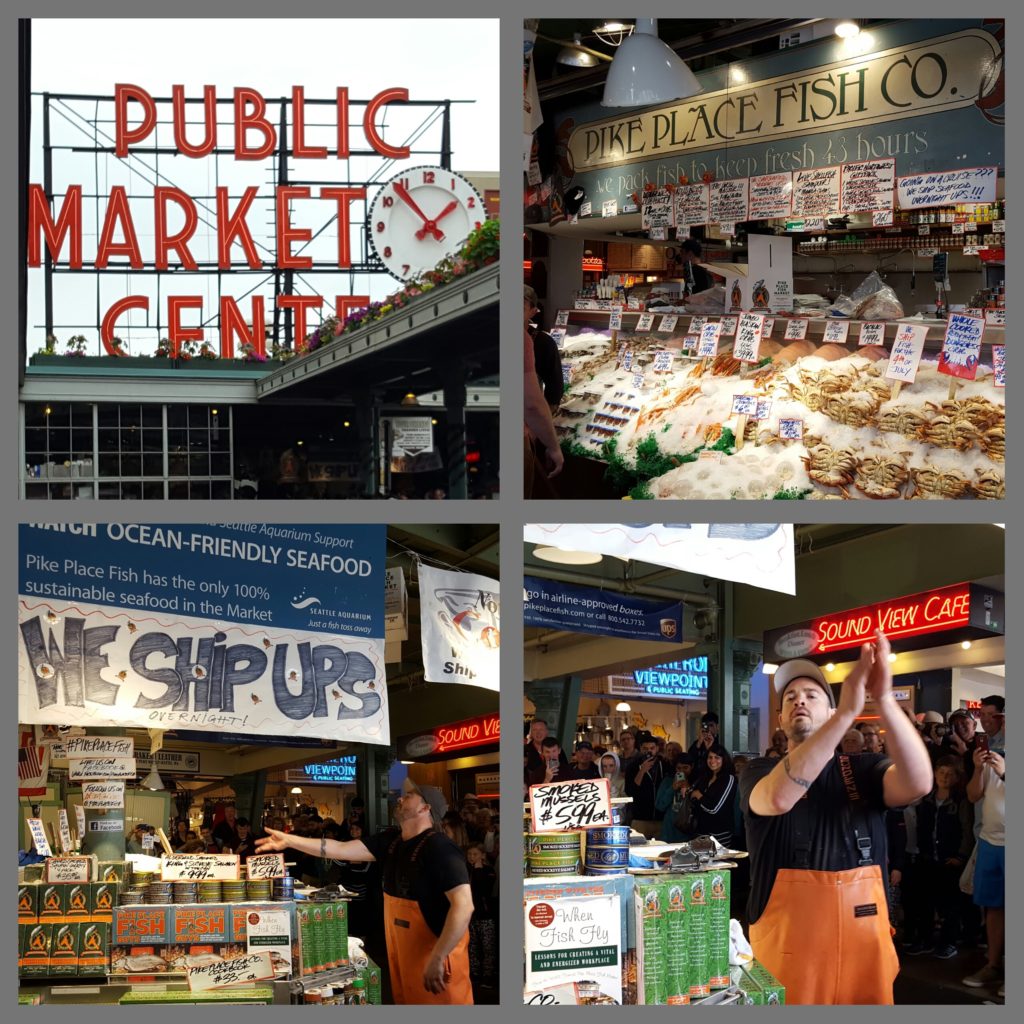 Pikes Place market was full of not only fresh seafood, but lots of fresh produce and flowers.  If I lived here, I believe I would have to make frequent visits!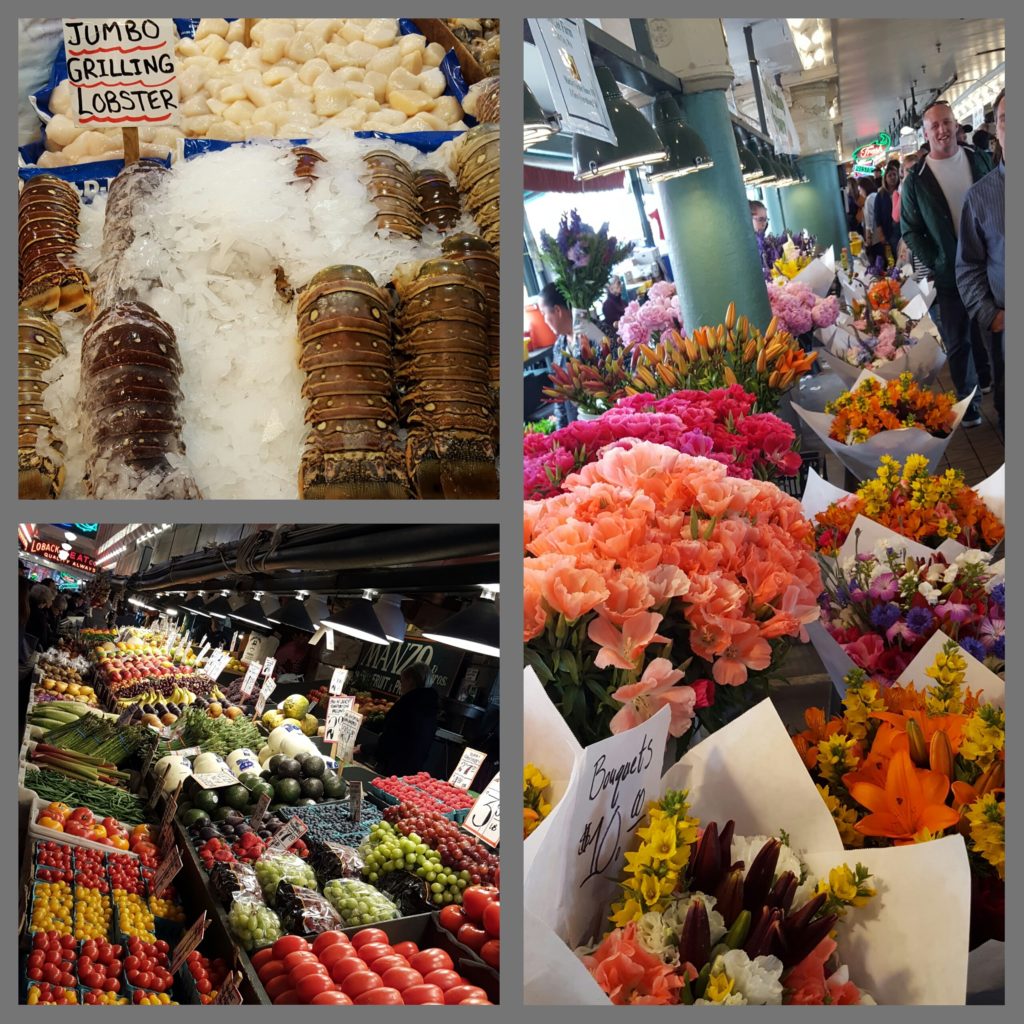 We all know that Seattle is home of the first Starbucks.  What I didn't know is that there is a speciality Starbucks Roastery and Tasting Room in Seattle.  Since the afternoon brought some drizzle, we thought it was the perfect time to check it out!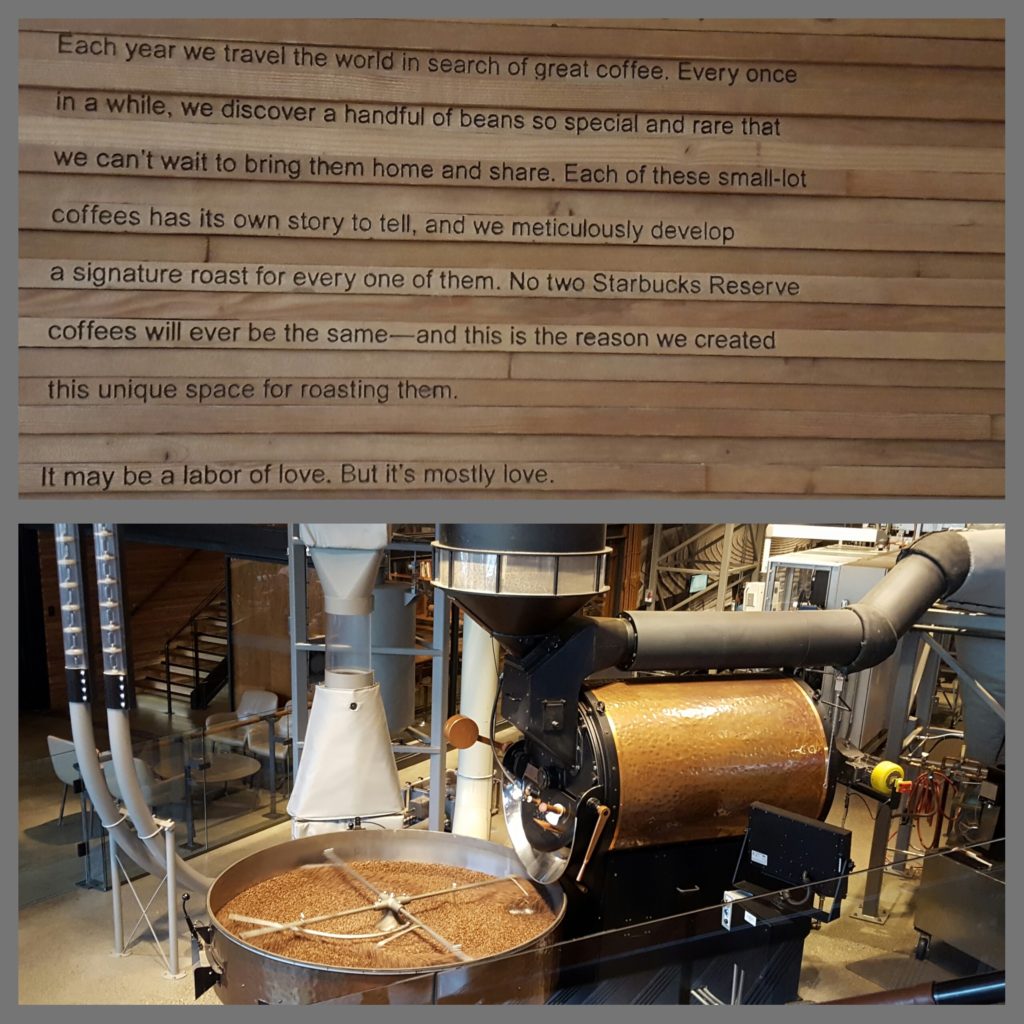 As you can see there were big batches of beans being roasted before our eyes.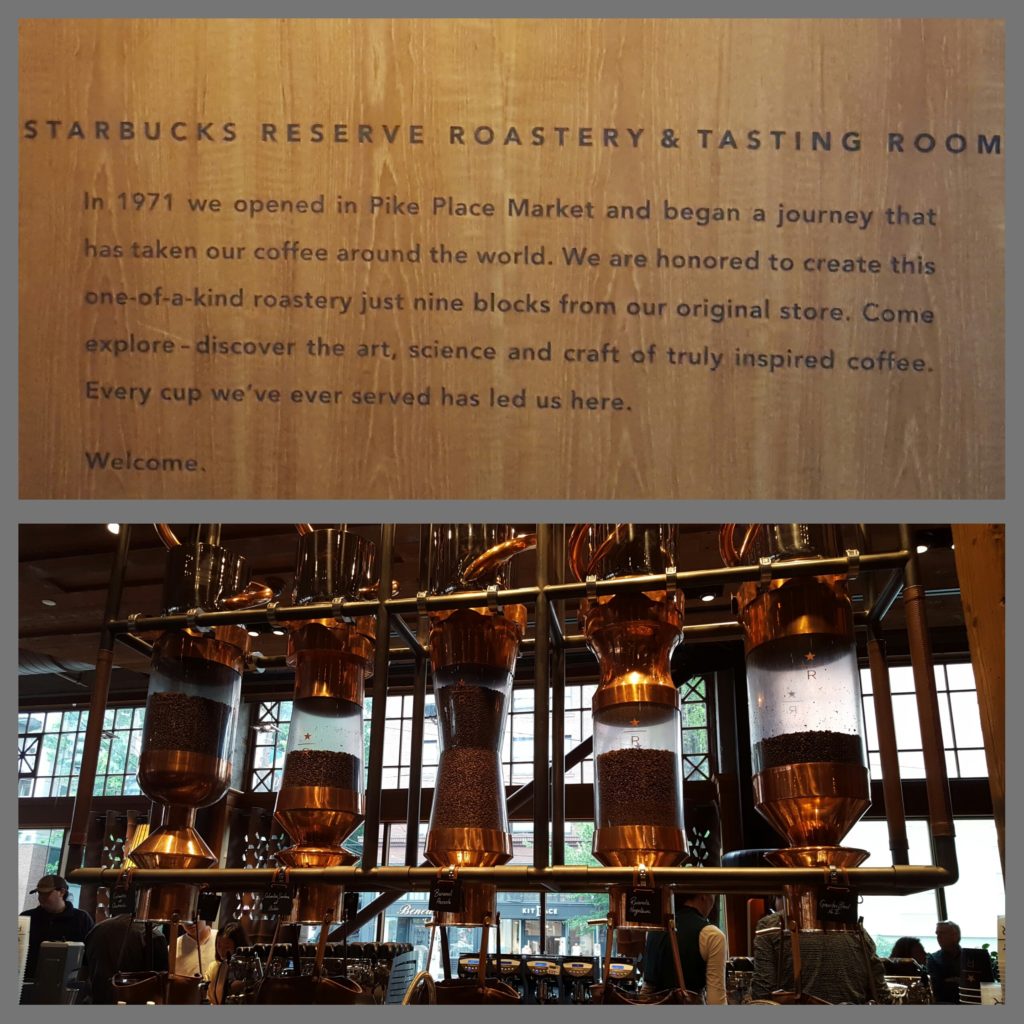 At the Roastery and Tasting Room, you can experience blends that are unique to that location.  We sampled with a flight of coffee and cold brews!  YUM!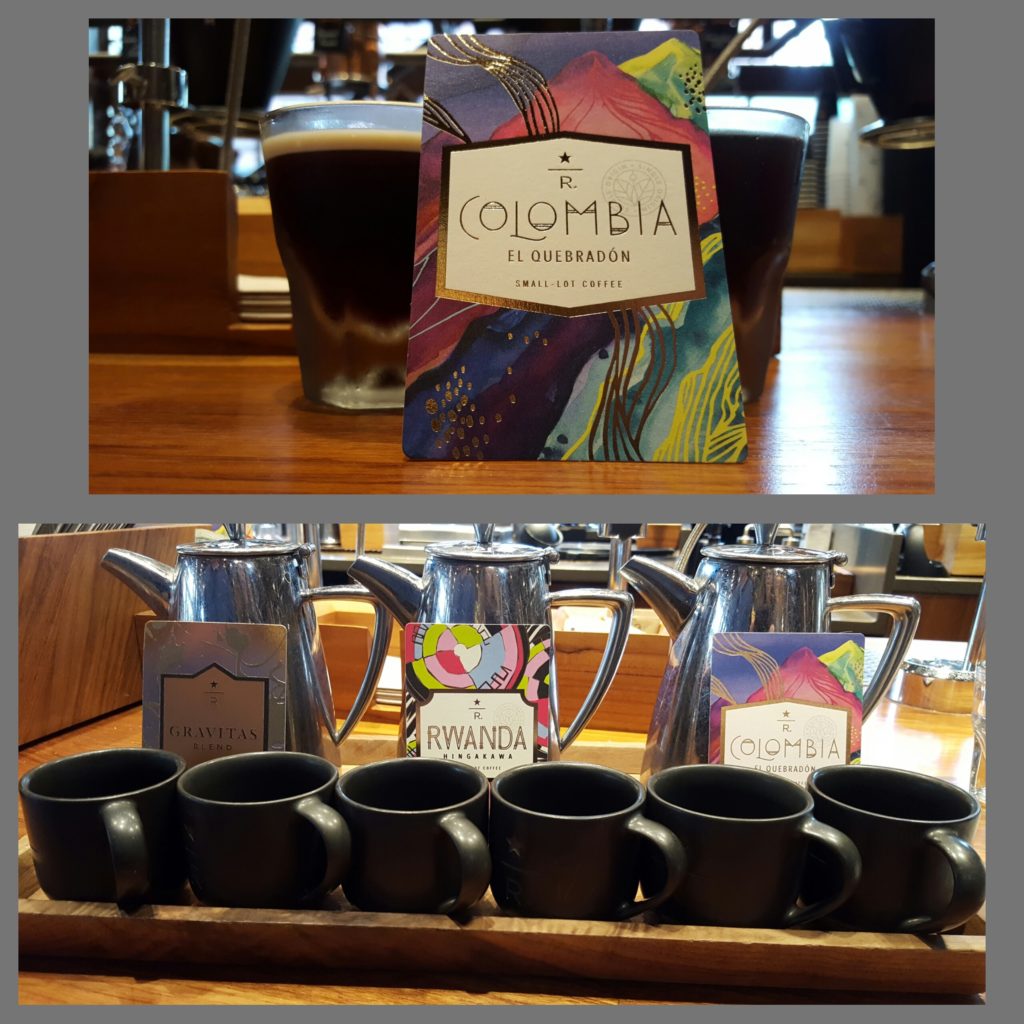 Of course we had to make a purchase to bring home some of these special blends!  This afternoon stop at the Starbucks Tasting Room was really enjoyable and something I would recommend for any coffee lover!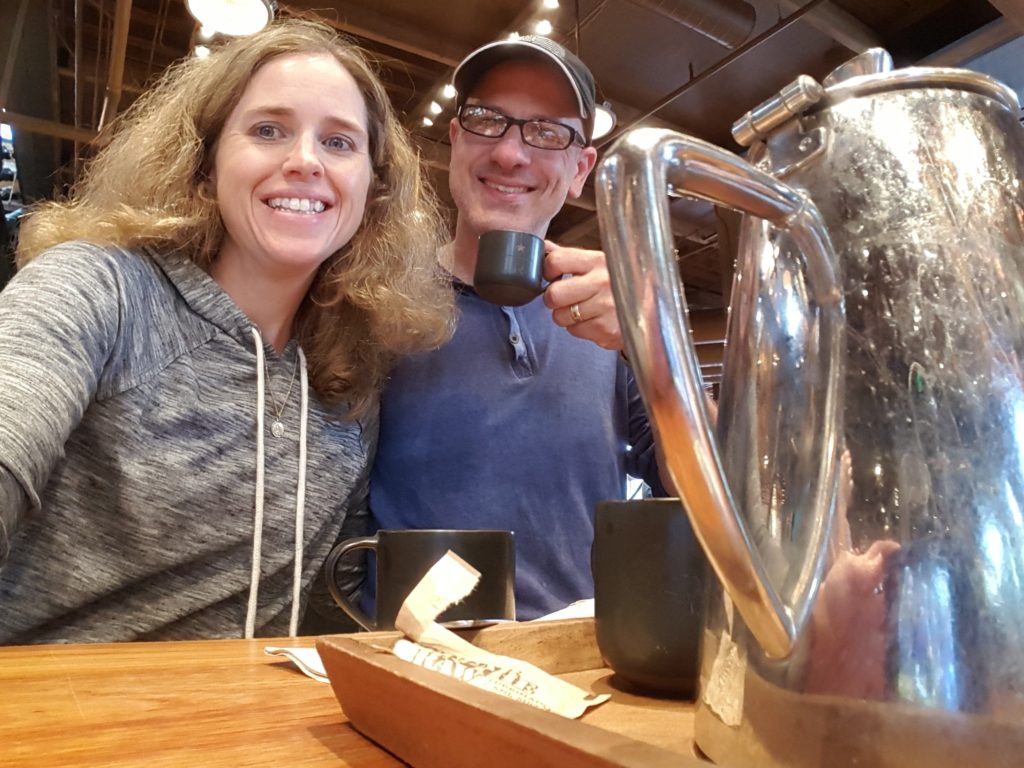 Dinner that evening included pizza at Serious Pie, which also came recommended from a friend of ours at home.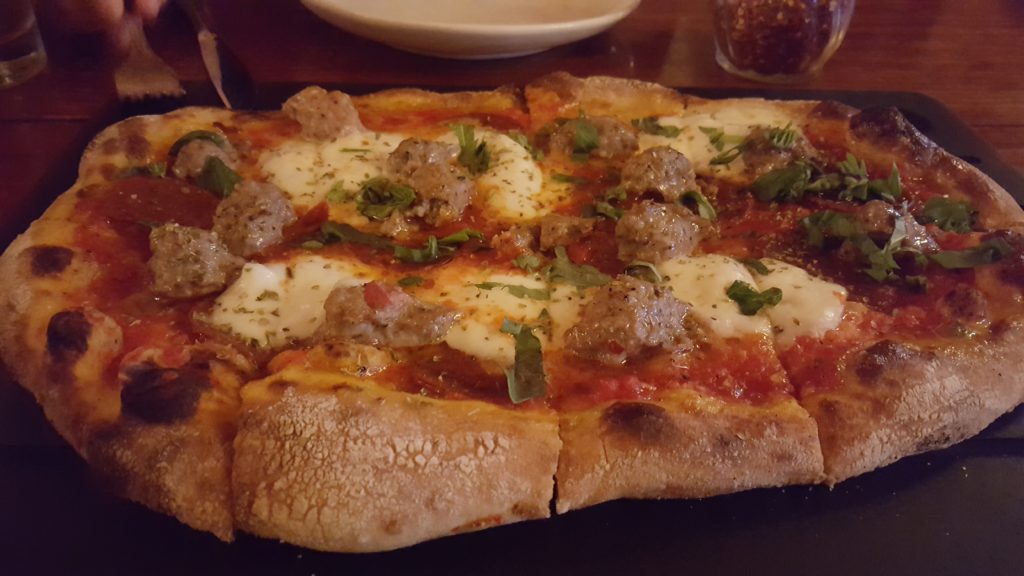 After dinner, we decided find a place to enjoy a glass of wine and dessert.  We tried Purple Cafe & Wine Bar and it hit the spot.  The decor and vibe are very upscale and modern and there was also a good crowd.  We sat at the bar and enjoyed something sweet and a nice glass of wine.
We awoke to kick off our last day of vacation.  We had a full day planned.  We started out with another morning run.  It was a dreary and gray morning, but this would be the last run in a very long time that we would be able to enjoy cool temperatures!
We planned our morning run to end at Pikes Place.  We had to do the "Seattle thing" and visit the Original Starbucks.  We knew there would be a line and we (mainly Tony) are not ones to wait in long lines, but we figured this was a novelty thing to do on vacation.
During the previous morning when we were down at Pikes Place, there were decadent smells coming from a bakery a few doors down from Starbucks.  We knew we had to check it out.  Our breakfast that morning came from Piroshky Piroshky which is a Russian bakery selling Piroshkies, hand pies filled with a variety of fillings.  Tony and I shared one sweet and one savory…they were tasty!
After our breakfast and getting ready for the day, we headed over the Pioneer Square neighborhood (which we had checked out the day before and really liked) to participate in Bill Speidel's Underground Tour.  Before the tour began we were able to check out a few of the shops and stores in the area.  This is a very neat area!
The Tour came highly recommended and I liked it pretty good.  Tony was not a huge fan, but was a good sport.
After the tour, we had a bite of lunch and then grabbed an Uber to visit the Museum of Flight.  Since Tony is a private pilot, this was definitely on the list of "must-dos"!
There was tons to see and some very cool history to enjoy.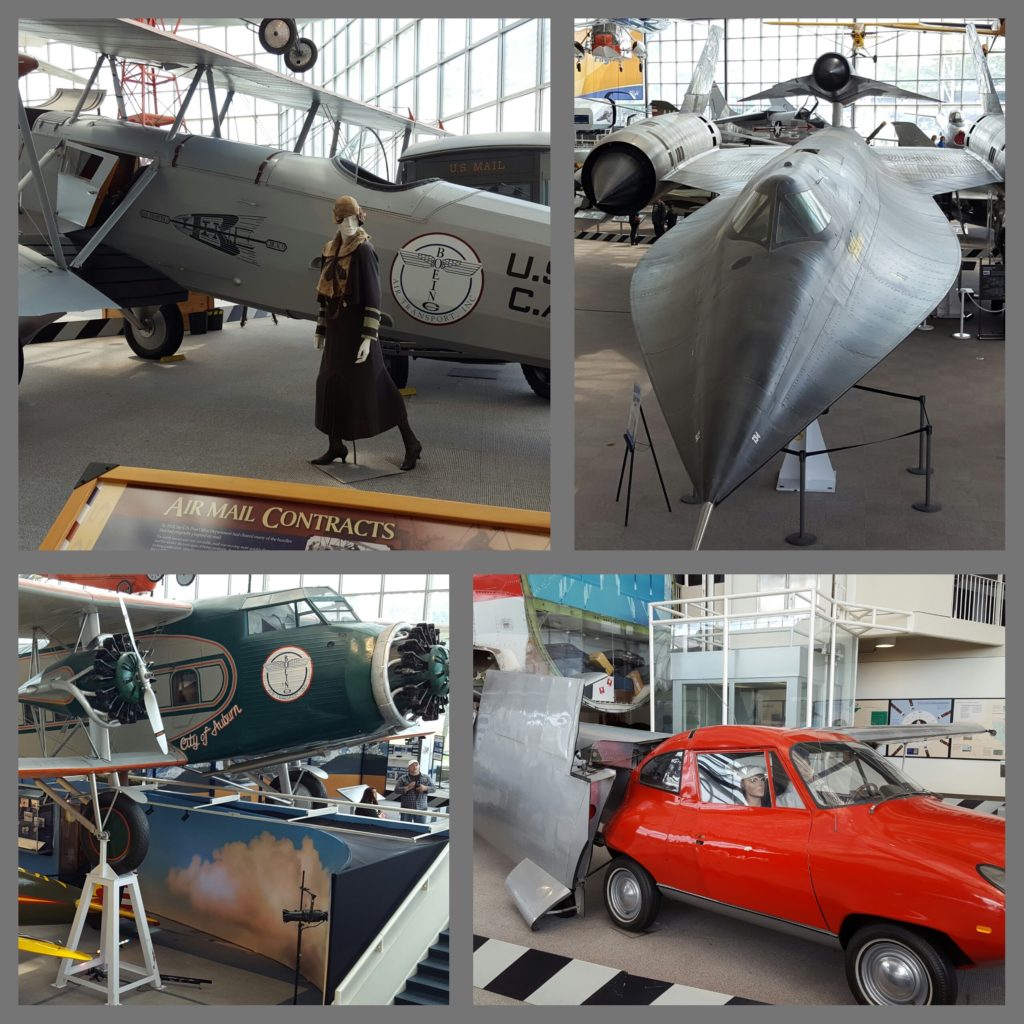 After yet another full day, we enjoyed a great Italian dinner at the Tulio Restaurant, which was conveniently located in our hotel.  It was delicious and I can't recommend the sweet potato gnocchi appetizer and the linguine and clams dinner enough!  We found a corner spot called Gelatiamo and shared a scoop of gelato for dessert.  Knowing we had an early morning to catch our flight, we called it a night.
We were fortunate enough to have a direct fight home from Seattle.  One of our final views was this beautiful sight…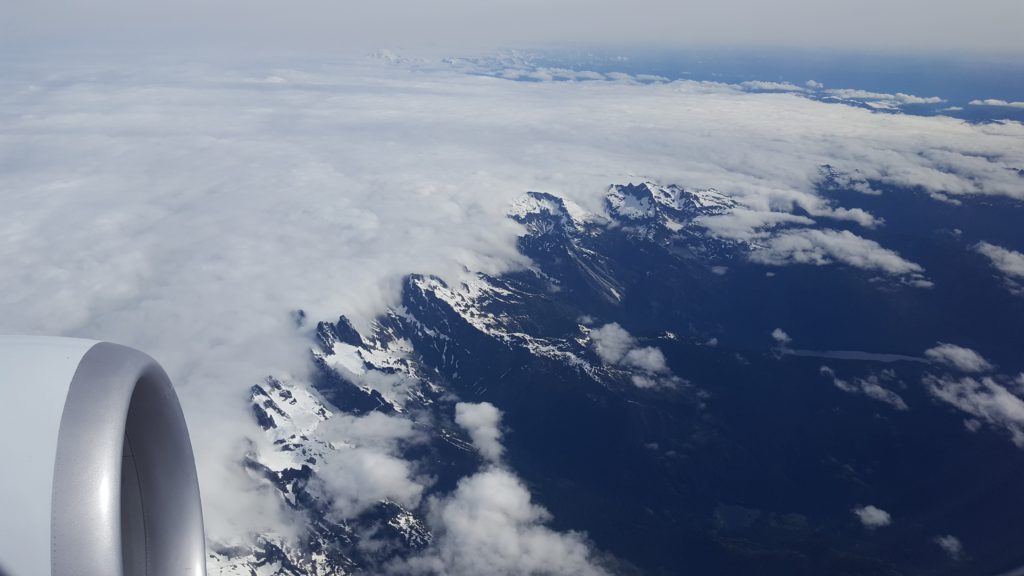 This vacation was full of adventure and Tony and I had a blast visiting a part of the country that we had never seen before.  I love to travel and explore new places and this trip did not disappoint!  Besides the beautiful photos that really can not due justice to some of what we saw, I was so fortunate to connect with two blogger friends that I had only previously "met" over our respective blogs and through social media.  That supports what I have known for a long time…I am lucky to be part of the triathlon community that includes some amazing people!
Until the next adventure…