Archive for April 2016 | Monthly archive page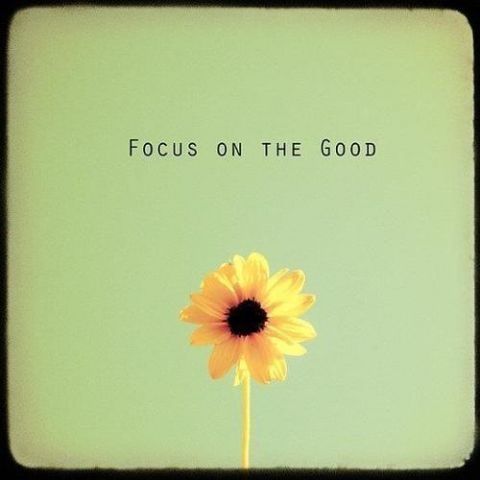 This has been my motivation for the past several weeks.
WHY?   This years' training has been similar to that of the past.  I am dedicated, work hard and give it my all.  I am serious about my training and really striving to improve; however, I am trying to not take my training too seriously.  Make sense?  Hopefully….at least it does in my mind. 
Let me explain some more.  Two of the key drivers to my mindset has been my swim and my run.  With the break I had to take from running late last year, I have mentioned numerous times how hard it has been to "get my run back".  With that, I was able to focus on my swim during the off season.  However, I wish I could report that I have seen big strides in my swim progress.
I decided that instead of obsessing about how my run pace is a bit slower that this time last year (also, when I was leading up to Raleigh 70.3), I will take a piece of good from every run.  It may be that I was able to hit a better pace at the track than the prior week, or that my heart rate was lower during the most recent tempo run than the last, or that I did not have any achiness in my leg….whatever I can pull out, I will and I take it.  This is similar to my swim.  While honestly it is super hard to not keep that last swim split time in your mind when you push off the wall for the next, I have been trying to keep my concentration on my stroke, overall technique and staying relaxed.  When I allow myself to get too caught up in 4 or 5 secs from the last lap, I tend to get uptight and that is definitely not a good thing for me and swimming.  Being relaxed brings much better results, from my experience.
This has not been easy AT ALL!  I will admit, I am competitive….after all, we race, right?  Sure, when I see someone in my age group out on the course, I am driven more to close a gap or take a pass.  However, I know that I am even more competitive with myself.  It can be hard to not have most of my focus be on the time, pace, speed, etc, but I am trying.  I think when I have been successful in not allowing myself to get so uptight over the numbers these past several weeks, it allows me to enjoy my training more.  Don't get me wrong…I still review my data in Garmin Connect and structure each workout and my plan to become stronger and fitter.  I am committed to working toward my goals.  I am hoping that bringing more positivity to the big picture will give me the little something extra to get there.
Highlights from my recent weeks:
1.       This past week I felt my training really "click".  This was the third week of the 3-week build and the last before my current recovery week, so despite the natural fatigue, it seemed my body was responding well to the training and I was feeling good during most of my workouts. 
2.      Long bike ride = 54 miles and I think I felt just about as good as I have on the bike all year (and this was my longest ride so far this year).  4 mile run off the bike was a challenge, but I was able to improve my pace on each mile.  During the run my sole focus was on good breathing and staying strong. 
3.      Last long run of 11 miles = Nailed my hydration and nutrition and felt pretty good throughout AND after!  It was awesome to have T run with me for part and ride the last few miles alongside to keep me company!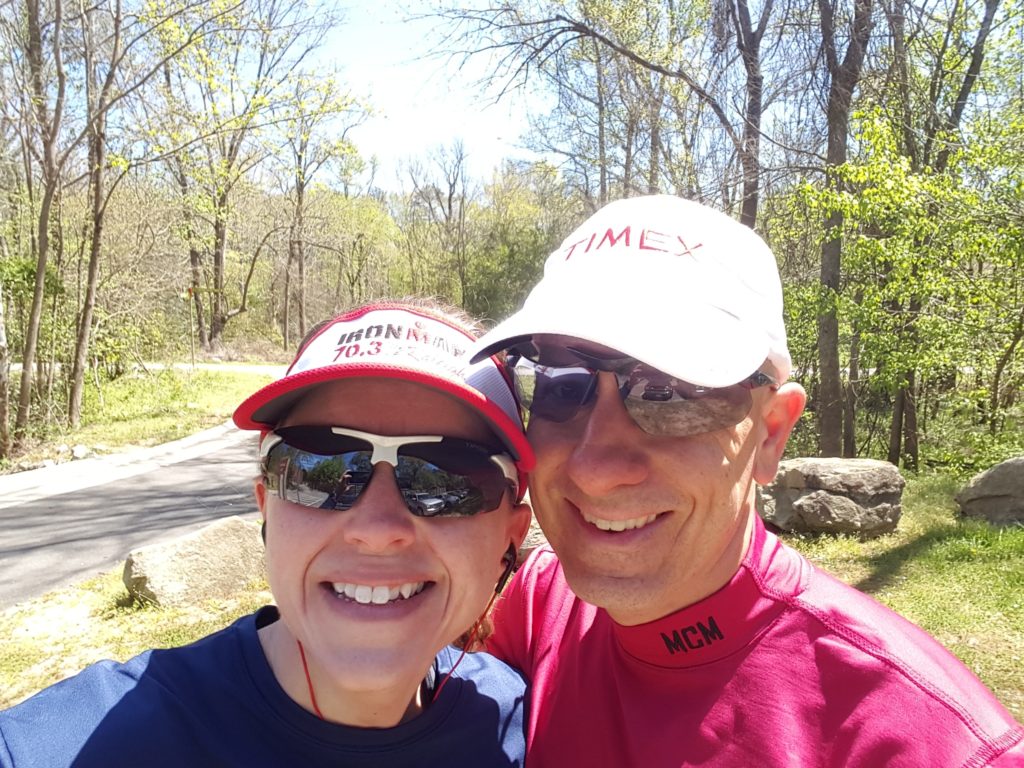 Challenges:
One crazy ride I will share was a couple of weeks ago when a few of us ventured out on a late Saturday morning and we knew that it would be fairly cold and windy (we DID have sun).  This ride ended up being brutal!  I can't remember having the strong, constant wind we endured for that 44 miles ever on a ride before.  There were crazy gusts plus headwinds where you felt like you were on your bike trainer (not moving!!!).  We ended the day with 44 miles on the bike and we earned every single mile! 
Random fun stuff:
We got out of town a few Sundays ago for a day at Busch Gardens in Williamsburg, Va.  I have not been to an amusement park or been on a roller coaster since college!  It was such a fun day and I am so glad we picked a day and planned a quick get-away.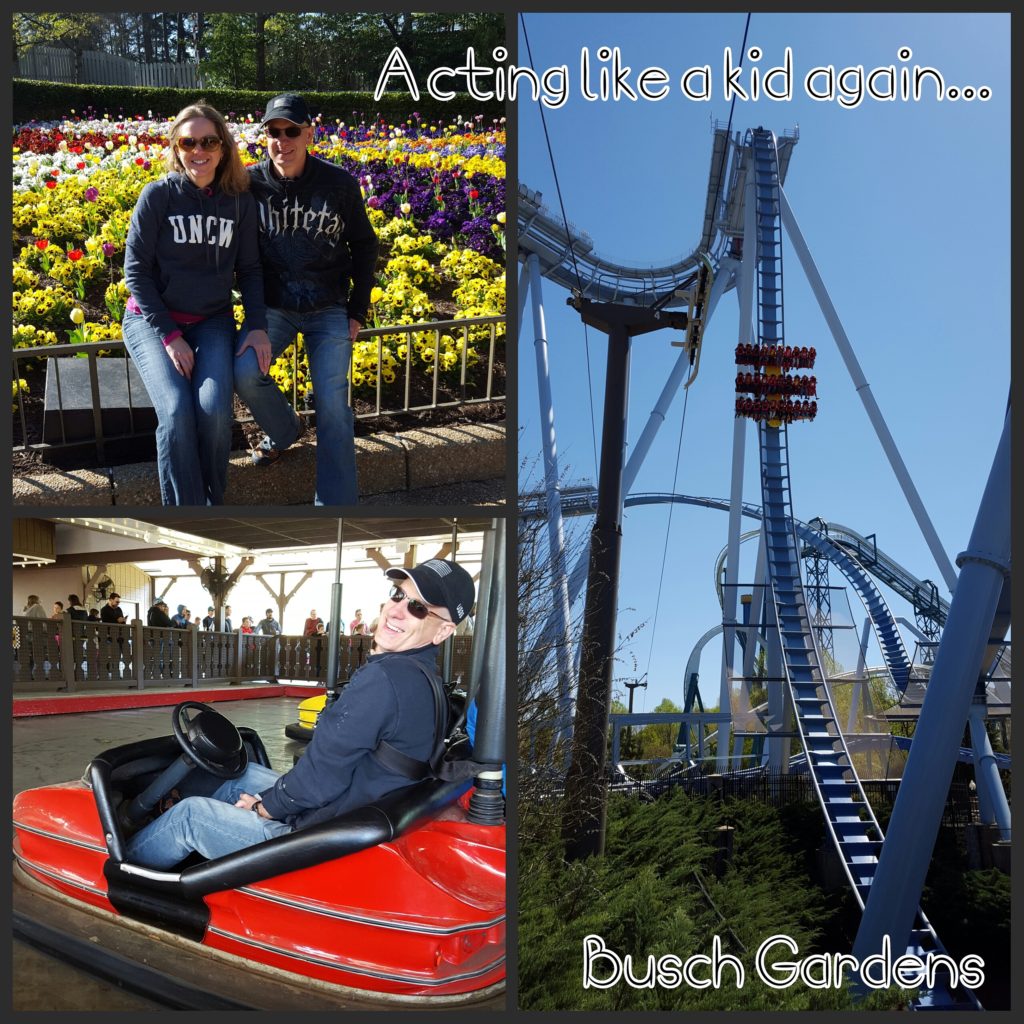 Coming up:
1. Massage!
2. Threshold test (re-test)
3. The decision regarding my first race – will it be to Beaverdam Olympic on April 30?  Water temperature has been hanging around in the low 60s and not really moving…until yesterday.  I hate swimming in cold water, so I will see how it goes the next few days!