Archive for October 2015 | Monthly archive page
Since my last triathlon of the season in September, I knew my focus would immediately turn to running.  Since the summer of 2014, I have had my eye on the Kiawah Island half marathon in December 2015.  That is quite some time ago, and is fairly atypical for me, but that is what happens when you are hanging out with other runners one beautiful day at the pool while having a few cocktails!
In all seriousness, I was totally on board for this race.  I have never raced in an open half marathon (they have all come as part of the 70.3 distance) and I had firm goals in mind.  Our friends that were part of this discussion are Tim and Nicole, who are going for races in all 50 states.  Plus, Tim had his sights set on a race that would be a Boston Qualifier course and Kiawah seemed like a great choice!  So, it was decided back in the summer of 2014, Kiawah Island would be on our calendar for December 2015.
I was looking forward to going into run focused training after the Outer Banks Oly back in September.  At that race, I had a really good run and that gave me a boost of confidence for what I might be able to race for in December.   Tony helped me select a plan and it is a program called "FIRST" (Furman Institute of Running and Scientific Training), which is three runs a week and cross training on other days,  This seemed like an obvious choice in training plans, as I always want to get bike trainer time and need swims as often as I can get them.  The three runs a week include the three biggies…speed work/intervals, tempo and a long run.  I opted for a lighter training week after Outer Banks Oly and then the following week started up with the new training plan. 
Running has been going well.  Unfortunately, at the end of September/beginning of October, we had a TON of rain (something like 14 days in a row), so there was plenty of this:
However, the last two weeks have been more typical fall weather, so running outside has been a treat with pleasant temperatures and just the desire to be outside (I LOVE FALL!)  I have also been hitting the track, which is something I have not done in quite some time.  For the last couple of years, speed work for me has been on the treadmill, which really is a challenge, but there is just something about those track workouts!!!
Since my training is going well, I have begun to adjust my goals, which I will share soon.  I was bummed, as this last weekend's long run was not good, but I was able to get my mileage of 13 total and add to the pool of mental toughness.  I have not run 13+ miles since Raleigh 70.3 at the end of May, so it was still good to get the mileage tucked away. 
So, other than 13.1 training, a couple of weekends ago, we also participated in the last Tri Throwdown of the season.  If you have not read my prior Throwdown recaps, check them out here (from September and August), since it is a unique race set up.  As I have previously described, there are only three rules, (1). Be Safe (2). Have Fun and (3). Go to the after party.  However, with the rain and cool temperatures that we had been experiencing, wet suit legal was a must for me!  The weather on race day was looking really dismal.  We had finally crept out of the continuous rain period, but it was planned to make a re-appearance for pretty much the entire weekend.  For me and Tony, it would be a race morning decision (a cold and rainy race day would zap a lot of the fun out of the event). I had planned my run training accordingly during the week and moved my long run from Saturday to previous Wednesday and would use my run at Throwdown as my tempo run for the week.
Saturday morning, we woke and checked the weather.  It looked clear up until late-morning!  It was a go for us!  The extra fun thing about Throwdown this go-around was that Tony was racing and the handicap system had me starting 10 minutes before him.  Automatically, that makes me his "rabbit"….essentially his mission was to chase me down and make the pass!  This would be interesting!
The swim was cool…temperature wise.  It was around 68 degrees, which is not to my liking (I am a wuss with cold swims!).  Despite this, I had an okay swim (750 meters), but felt chilly most of the time.  I was looking forward to the bike, because I had a new toy to try!  For my birthday, Tony REALLY spoiled me and surprised me with the Garmin Vector 2S (power meter in the pedals).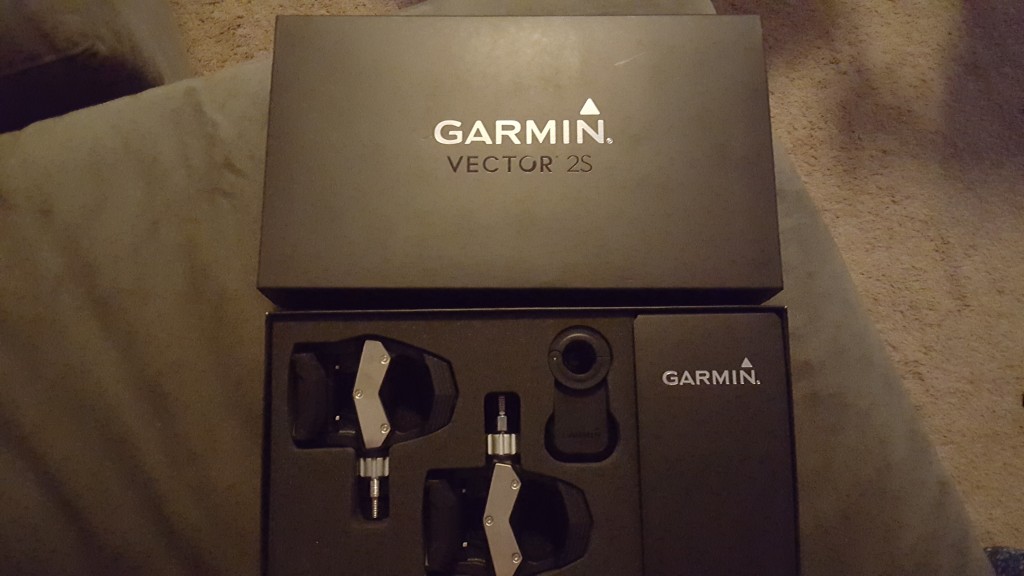 This was the first ride where I would be using them.  The out and back format allows you to keep an eye on how people are progressing behind you.  So, when I passed Tony on my way back into the T2, I knew that he was making up the time gap.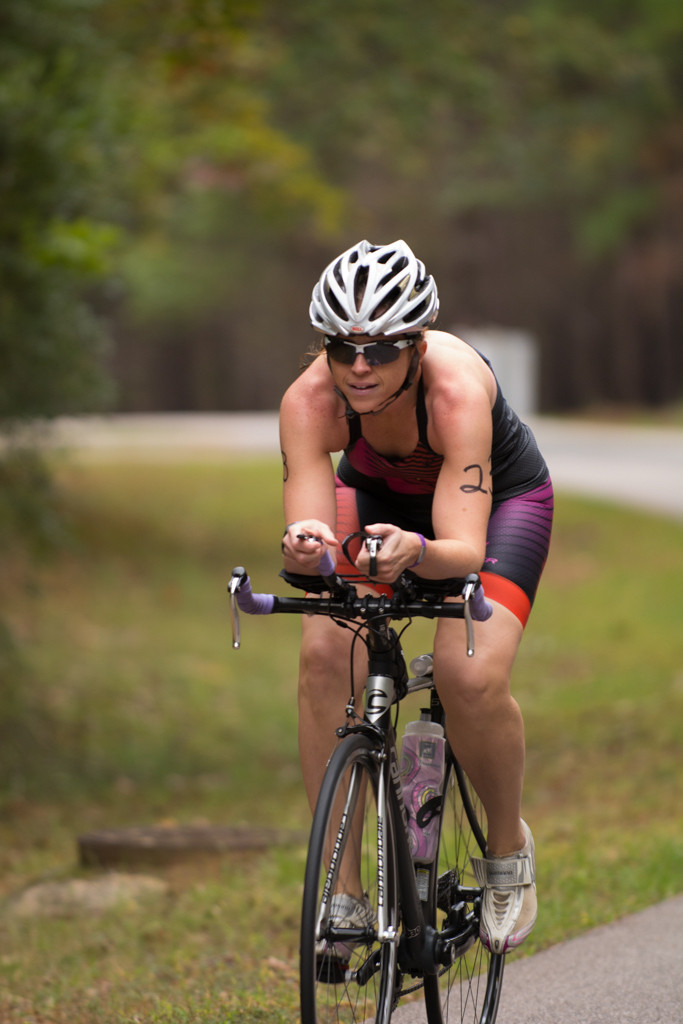 The run is also an out and back and is fun to see everyone else during the 5K.  I also knew where Tony was in his mission to catch me and the last time I saw him, I told him to SLOW DOWN!  I had this strong feeling that I would see him again and it would be as he made the pass! 
I was nearing the finish line and as I passed one of my buddies that was volunteering, I asked him if Tony was behind me within sight.  He said "YES"!!!  Our friends that were out racing or volunteering knew of the fun challenge Tony and I had going on, so everyone was cheering for me to run faster because he was really gaining on me!  I was determined to cross the finish line first and I turned it up a notch for the last bit!  I did it and crossed just a few seconds before him!  It was a lot of fun and the friendly challenge between me and my hubbie made it even more fun. 
After the race, we headed over to the restaurant for the after party and rain started to fall literally as we pulled into the parking lot.  We really got lucky with the weather for the race!  It ended up raining for the rest of the day.  While at the after party, we all ate, drank and started watching the live coverage from Kona of the Ironman World Championships.  Afterwards, we headed home, cleaned up and continued to watch the coverage for the rest of the afternoon.  What a fun day!