Battle at Buckhorn Sprint Tri Race Report
07
Saturday August 29…Race day started like all others.  The alarm went off before anyone really wants to think about getting up on a Saturday, but no delay to get out of bed, as I did not account for that when I set my alarm.  Normal breakfast of oatmeal with bananas and walnuts.  This is a staple in my diet and it just works.  We pulled out of the driveway right around the goal time of 5:45am (and I had accounted for a slight delay in departure, as that is norm).  The race venue was located about 40 minutes from home, so just an easy drive to be there around 6:30.  The morning was beautiful with temperatures in the low 60s.  I allowed more time than typical for arrival at the venue as I knew there was more that needed to be done than I prefer (packet pick-up, picking up my new race kit, and (NOT PLANNED) a flat front tire). 
Parking, packet pick up and body marking were a breeze.  The store that sponsors the group rides that I frequent, coordinated getting race kits made for the team. Unfortunately, there were some delays in the kits being completed, so we were not able to actually pick them up until race morning at the site.  I know this goes against the cardinal rule of racing of "don't try anything new on race day", but since it was a sprint distance, I figured things could not be too bad.  I picked up my kit and got it on without issue.  (Overall, there were no major problems in racing with the new kit…just a few minor things to address in the future.)
As I was getting transition set up, Tony pumped my tires and realized that the front wheel was not holding air.  Luckily, there was PLENTY of time and he and another friend of ours, got the tube changed and had me squared away in no time!  Thanks goodness for my awesome support…I was not worried in the least.
There were 161 participants (55 of those women) and for whatever reason the race directors decided to start the men and women together.  Personally, I would have preferred the women go a couple of minutes after the men, but it was what it was.  The company that produced the race is one of the two largest in the area and I have not raced any of their events where it was a mass start.  Not sure if this is a new thing for them or not. 
Anyway, the 750 meter swim was very congested at the beginning.  It was probably about 50 yards or so past the first buoy that I finally felt like I had space.  Overall, I was pleased with my swim.  My main goal was to focus on consistent strong pulls and really staying aware of my effort level and if I was pushing like I could.  I swam all the way in and lapped my Garmin as soon as I stood up and had a strong run into T1.  I heard a few friends cheering as that always puts a smile on my face.  Somehow, Tony had walked down the dock "looking for me" and totally missed me coming out of the water.  It was not until about 5 minutes later and someone told him I was long gone!        
T1 was solid.  I was trying to be quick and efficient and I think I did just that.
Onto the bike and I knew what to expect of the 17-mile course.  I raced this event a few years ago and Tony had even before then, so I knew there were a few rollers and a hill that was a bit of work.  I felt good early on and saw several guys from Trilife.  With the new kits, everyone was easy to spot!  It was fun to see folks during the race that I knew and could share words of encouragement.  I did not really concentrate on my Garmin.  I had a goal of over 20mph, but I really just focused on how I felt…pushed when I could and backed off if I needed.  All in all…good ride!      
Into T2 and the same goal to be quick and efficient.  I was on point.
The 5k run was generally flat (only a slight incline coming out of the transition area) and I wanted to start off strong and just build or maintain through the run.  I missed my first mile lap "alert" from my Garmin, but I knew I started well.  The course was a two loop and once again I saw lots of people I knew.
There were even a few guys that I saw when I really should not have, because they had finished the race and were running for cool down.  I saw my mile 2 lap and was at a pace of 8:00 on the nose.  My goal was to hit an average pace of sub-8:20.  Even though I was not certain of my first lap's pace, I was confident I was well on track.  I remember at the 2.5 mile mark that I became super focused on maintaining…I did not want to lose momentum.  I told myself that I could do it for .5 mile!!  I was feeling it for sure, but with the slight decline down into the park and to the finish line, I had a super strong finish.
I was glad to be done but I felt like I had the race that I wanted…and this was before looking at all my times/paces.  What a great feeling it was to know that I pushed when I could and really delivered the race that I had in me.   Tony was there to greet me at the finish and the first thing I grabbed were orange slices immediately…so good!  I gathered with the group and the general buzz was that everyone had raced well and had fun.  I started reviewing my Garmin data and was even more pleased when I saw the numbers.    
As preliminary results started to come in a few of the guys had placed in their respective age groups and one had taken the overall win.  We took photos and I changed clothes.  Some of us had planned to stay after the race and cookout there at the park.  It was a beautiful day, so the plan really ended up being ideal.  Tony played chef and while he got the grill going, the awards began.  We huddled around to grab some snapshots.  When they started to announce the winners in the women's 40-44 age group, I was shocked to hear my name announced as third!  WHAT?  I was thrilled that my solid race ended up with a spot on the "podium"…it was just the icing on the cake.  Nonetheless, I would not have changed anything, but third place age group was an added "bonus"!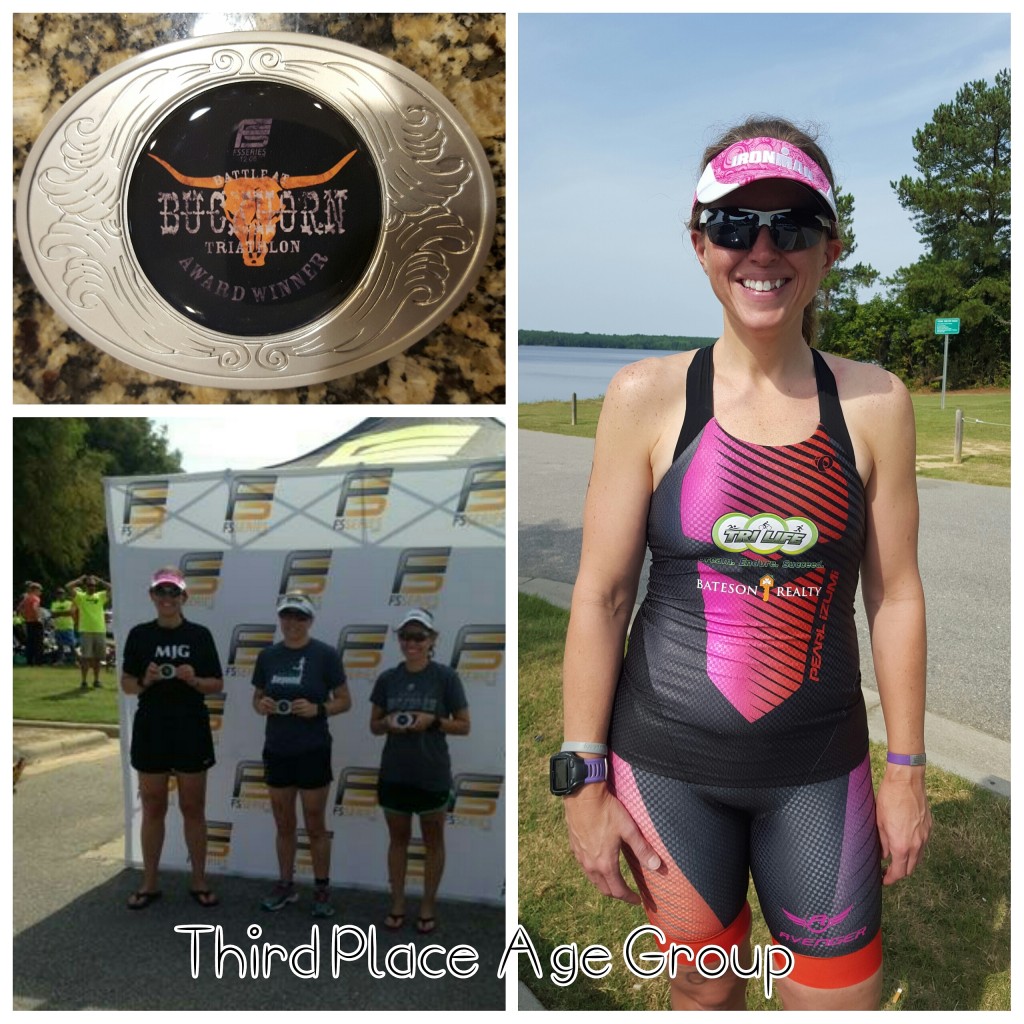 The "official" race results looked like this: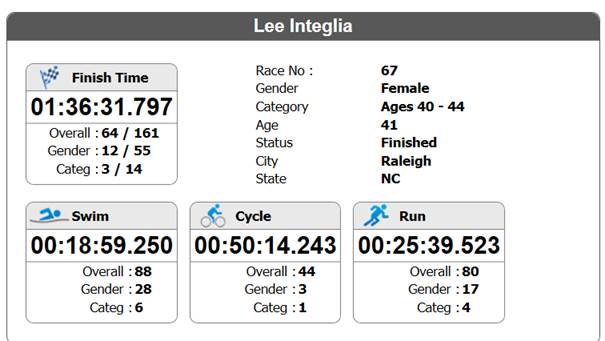 The Garmin results, which include the actual distance raced, looked like this: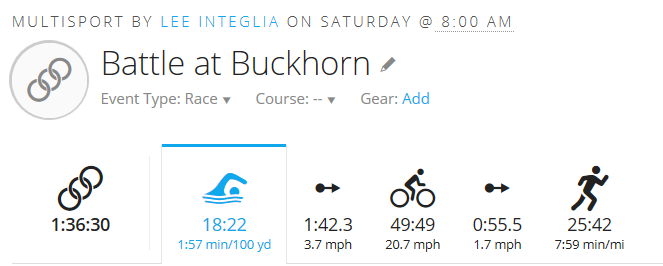 The cookout was a blast.  This is not something that I typically see at races, but the park venue was really perfect for a post-race event like we had.  I failed to take any photos, but we had lots of food and beverages to celebrate a great day by all!