Archive for September 2015 | Monthly archive page
This Olympic distance triathlon, held Saturday September 12, was located in the Outer Banks (OBX) of NC, so we planned a bit of a weekend get-away associated with the race.  I took ½ day vacation from work on Friday and Tony and I hit the road around 1:00 on Friday afternoon.  The drive was a little over three hours, so not bad.  It was a pretty day.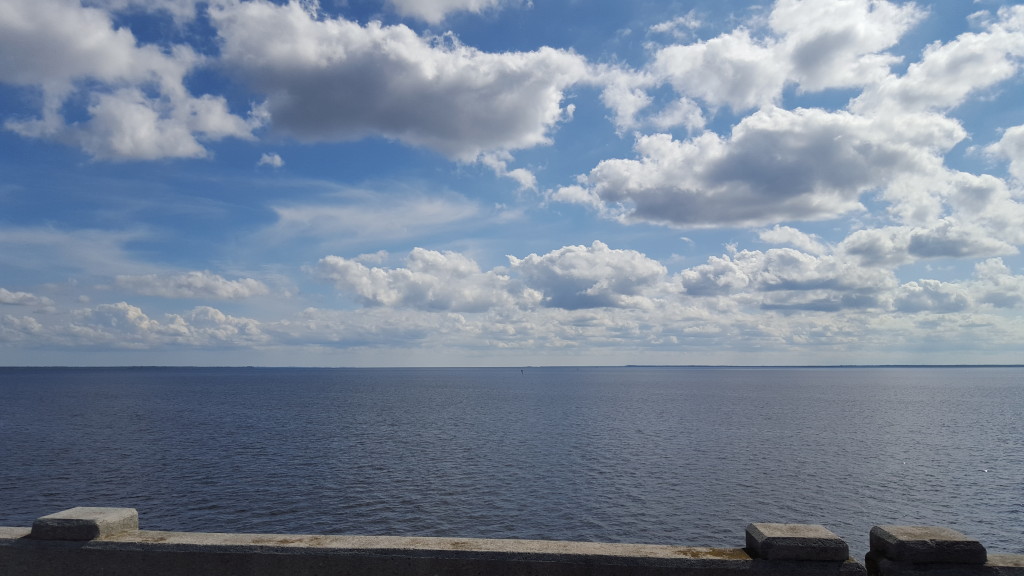 We arrived  a bit after 4:00, which was good timing, considering the draw bridge delay. We drove to packet pick-up and walked around some to get my bearings.  Tony nor I had ever raced this event, so the logistics were unfamiliar.  One of the cool things about the venue is that it is located beside the local airport, which Tony really got a kick out of, since he is a private pilot. 
From my experience, most race directors will post/announce a preliminary water temperature a couple of days before the event.  There was one post on Facebook stating that the race was typically wetsuit legal, but they did not have plans to announce water temperature until race morning.  I thought it would be nearly impossible for it to be wetsuit legal, but I brought mine just in case.  At packet pick-up, I put my feet in the water and I thought it felt nice and warm (and I don't like cold water).  Before we left, I asked what the water temperature was and the word was 74 degrees (which would be wetsuit legal).  I could not believe it!
After checking into the hotel we paired up with one of my training buds, Bill and his wife Paige who was at the same hotel.  We decided to grab dinner and three of the four of us got fish tacos which were delicious.  We did not stay up late knowing there was an early alarm on the horizon.
The drive to the race venue was about 30 minutes.  That should have given me enough time to get woken up and in race mode, but still being that early in the morning, it took even more time…which is normal.  We arrived with plenty of time to get transition set up and everything taken care of.  Once we arrived, we heard announcements that the water temperature was over 78 degrees and therefore not wetsuit legal.  I found the "change" in temperature from the day before to be quite interesting!  
Transition closed at 6:45.  There was also a half Iron distance race, which started at 7:00.  The first swim wave for the Olympic did not go off until 7:45, so we had lots of waiting.  Once again, there was several people racing from the Trilife store team, so most of us congregated and passed the time.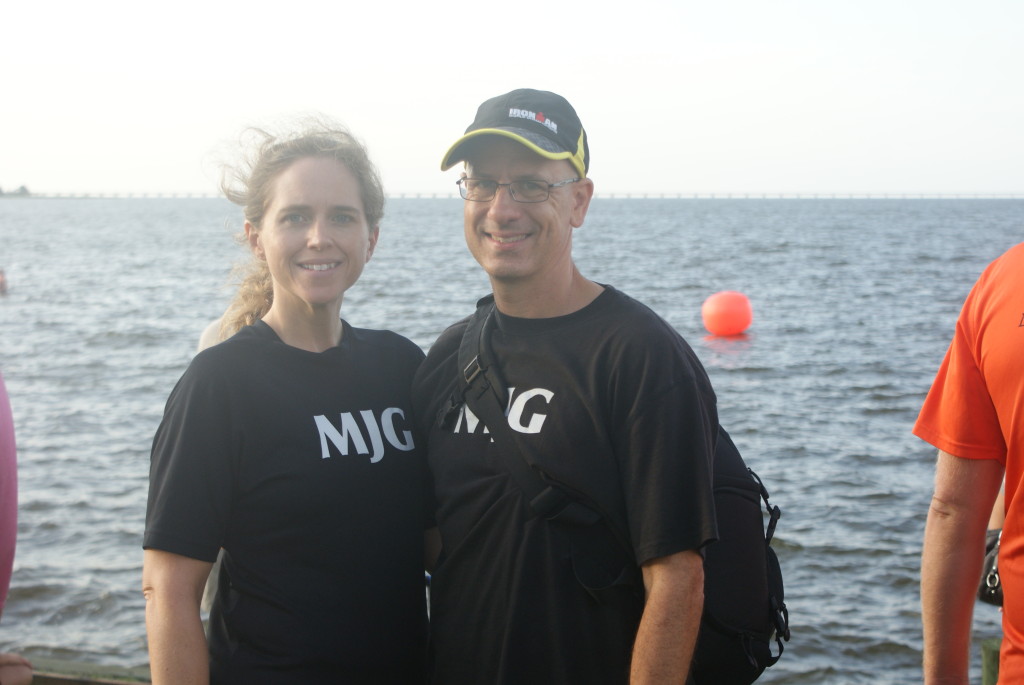 As we were waiting around, one of the things that was on my mind was the choppiness of the water.  It looked as if I had a challenging swim ahead of me.  I tried not to focus on this, but it was hard not to. 
One thing I had realized about this swim is that I was going to experience something that was so very unusual and unlike anything I had ever experienced before.  From watching several swim waves start before me, what we were seeing from the shore is that the water was very shallow up until about the first sight buoy.  Because of these, the swimmers were walking!  WHAT?!?!  YEP!        
 Before I knew it, I was lining up as my swim start time was approaching.  I knew these conditions were not to my favor and even though I am not a quick swimmer, I can hold my own in the water and I could handle this!  This is what I told myself and all of this is true.
As we started, my wave of white caps (pretty ironic given the choppiness of the water) did what most that had proceeded us had done.  We began by walking and I figured I would do just that until it made sense to start swimming.  The group all pretty much stayed together.  It then occurred to me to check my Gamin so I would know (for fun) how long we actually walked.  So, just before I started swimming, I glanced down and it was just shy of 150 yards.  Craziness! 
As I tried to begin swimming, the conditions of the water were quickly realized.  Swimming out was a real challenge.  Swimming freestyle included salt water splashing into my face as I took a breath (both sides) and as I tried to sight, I could not see over the wave that was coming toward me.  I started doing the breast stroke (or my version of this) and I felt like I was in better shape to take this approach for a bit,  I was not swallowing water and since I could see the waves with my head up, I could navigate the choppiness better and make progress instead of the waves pushing me back.  I would resort back to freestyle now and again and truly felt like I was fighting a losing battle.  There was a girl in front of me trying her best to maintain freestyle but she certainly did not gain any distance on me.  I noticed a boat (after first smelling the fumes) approaching closer to the swimmers and it appeared to me that they were pulling a swimmer out of the water.     
 As I made it to the first turn buoy, I was feeling ok.  Progress was being made and I was not feeling defeated.  As I made the turn, I started back to freestyle.  At this point, it was better since we were swimming in a different direction.  I was not fighting the waves as bad, even though sighting was still hit or miss (sometimes I could spot the buoy and sometimes my glance would not allow me to see over the wave).  I would feel some relief for a bit and then the churn would hit again.  Head down and just swim…this is what I did.  As I hit the last sight buoy, I was getting excited that I was making my way to shore.  The turn at the buoy was a very sharp one to get in line and in the right direction.  It took me several glances to find my direction.  I continued on and even though the swim to shore felt like it was taking forever, I was feeling ok.  As I took some breaths to the right I saw at least one person stop to take a break with a kayak.  As I neared the shore, the shallowness was not as far out as with the start.  I swam fairly close to shore, before finding my feet and the slippery ground.  I was glad to be heading to T1.  This swim was certainly one that I will remember!
The run to T1 was not too bad.  It was rather long, but mostly on grass, so no complaints there.  A lady had taped a large silk flower on her bike rack, which was the one beside mine, so it was super easy to find!  I had the spot on the end as well, so all good in T1. 
The road going out was covered with pot holes.  I knew this from driving in the day before.  Orange paint had been used to mark them and they did a thorough job, so the road was pretty much covered in orange markings!   I was anxious to make the left hand turn off this road…when this happened, I thought I would have relief.  Well, the road was rutted, so there were regular cadence of bumping for a while.  Not fun.  This section came up to the bridge that was a few miles long that crossed the water.  This had the only real hill on the course.  I felt the wind on the bridge for sure.  I tried to keep my MPH up, but I was definitely affected by the wind.  A short bit after coming off the bridge there was a right hand turn and that is where I felt some relief in the form of a tailwind.  YAY!  It helped me cruise a bit before a right bend in the road made it disappear.  It was an out and back course, and I was fortunate to see others that I knew…the half course covered the Olympic (plus some), so there were plenty of people to see.   Coming in was much of the same, but I did feel some favorability on the bridge this time which allowed me to enjoy the views more.  Very pretty!
Into T2 and got ready for the run. 
I did not really know what to expect of the route/course, but I had read there was a good amount of shade.  As it started, the run went on a path that was a combination of grass, sand and gravel.  UGH!  I did not like this.  It seemed to go on and on…I wanted pavement!  It was about a mile of that uneven terrain.  I was relieved when we finally hit the road.  I could fall into a more regular pace and not worry as much about my footing.  Had not yet found the shade that was advertised and was starting to feel hot quickly.  The aide stations were very regular and I took advantage of drinking Gatorade and pouring the (cool) water over my head.  Walked just a bit at every station to grab cups and drink/pour.  As we approached the latter half of the out and back course, there was finally some shade therefore, some relief.  After the turn around, the run back in was pretty much the same…trying to hold pace and being smart at the aide stations.  There were times where I wanted to walk, but I only allowed myself to do this for a few seconds at the aide stations.  I began looking forward to the grassy section in some respect, because I knew that meant I was getting close, but dreaded the terrain all at the same time. 
As I was within the last mile, I saw three folks that I knew, Colin, Derek and Heather, that were just starting the run course for the half distance.  That gave me a boost as I knew they had a more difficult test in front of them and I was close to completing mine.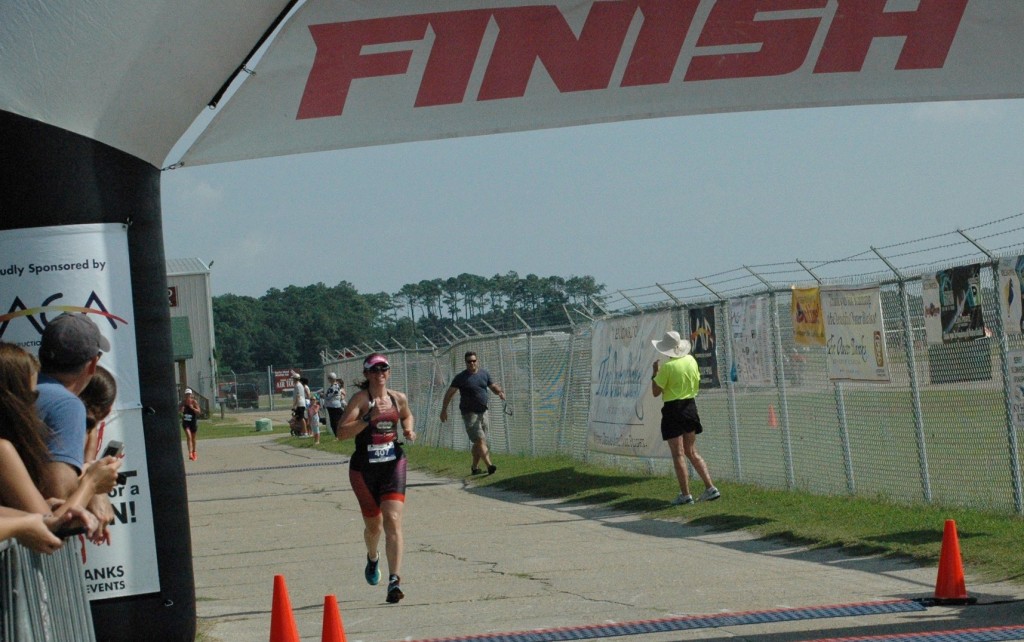 As I ran down the finish chute I spotted Tony and Paige, both of which were behind their camera.  Yes!  I was done.  Tony quickly found me and a cold drink was first on the agenda.  Within a couple of minutes I located a few of the guys that had already finished and learned that we could check for our times on laptops provided.  Tony and I did just that and I learned (and was SHOCKED) to see that I was the first finisher in my age group of 40-44.   WOOHOO!!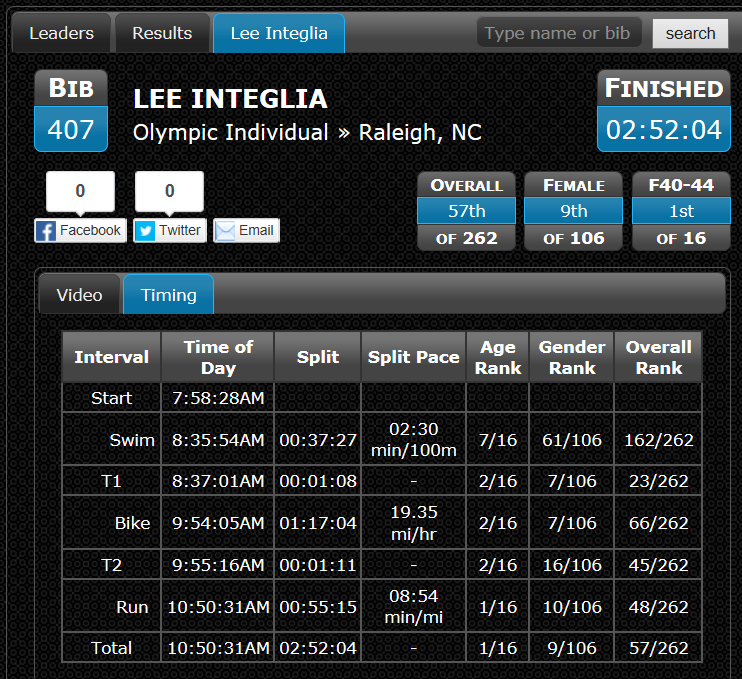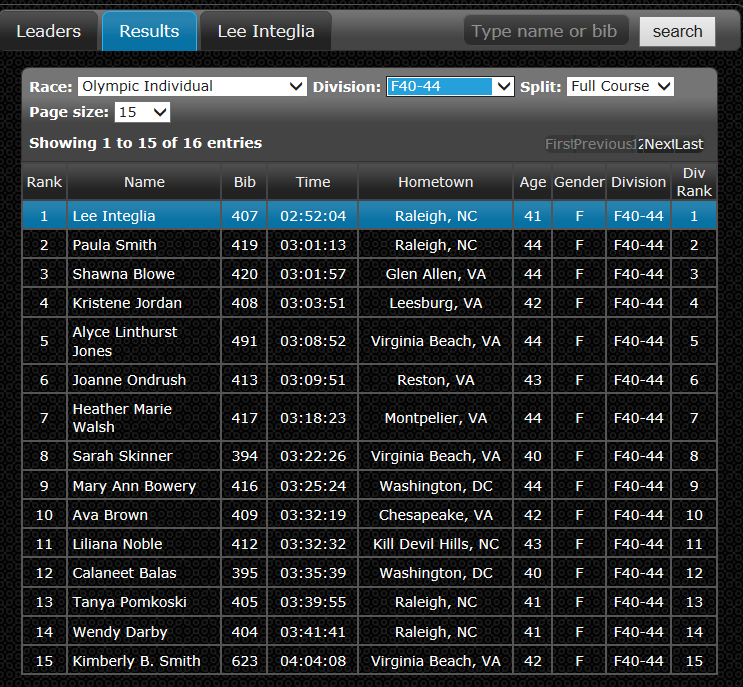 After everyone had finished we took a few pics of the Olympic finishers and then waited around for awards. 
I could not pass up the chance to enjoy a "podium finish"! 
Post-race, a group of us grabbed lunch which included my traditional celebratory milkshake. 
Early afternoon was not as nice as we had some rain move through, which interfered with plans for some beach time.  Later in the day we headed out to a beach house where much of our group was congregating for some indoor fun.  We had some celebratory beverages and some good laughs.  The evening ended with the four of us grabbing a nice seafood dinner.   
Sunday morning started with a nice stroll on the beach.  I just could not pass up the opportunity to begin the day with my feet in the sand and the smell of the salt air.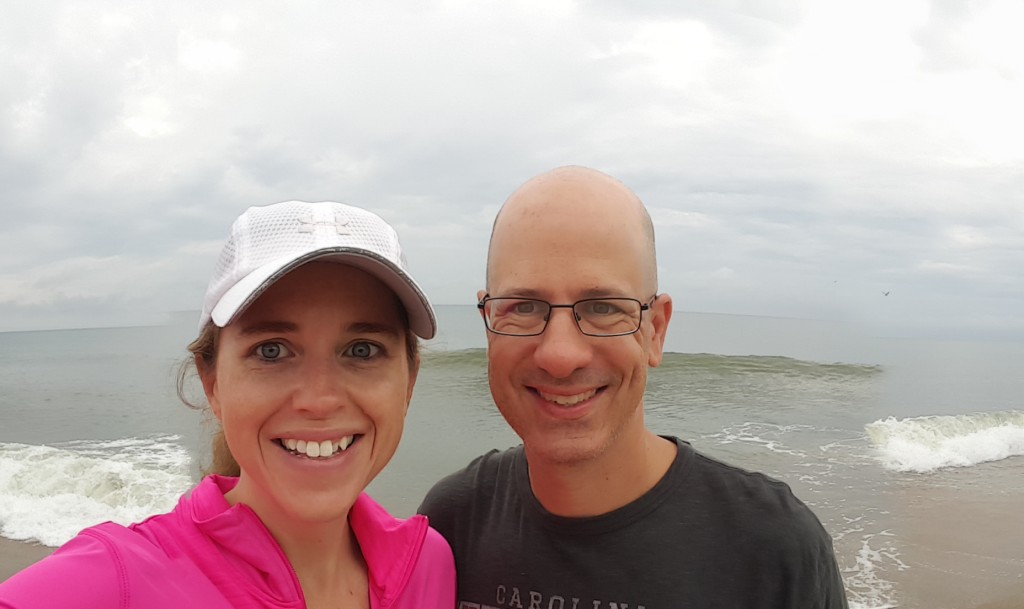 Breakfast followed complete with eggs and pancakes and then Tony and I hit to road to return to Raleigh.  It was a great weekend and I am very pleased overall with my race.  Even though there are times when I look back and think I could have done something different…maybe pushed a bit harder on the bike or the swim, I know that I put my whole heart into the race and I more than met my goal of going sub-3 hours with my 2:52:04 time.  Even though I didn't prefer this course and probably would not race it again, I was successful and had a super fun weekend!         
The Sunday of Labor Day weekend was the September edition of "Throwdown".  If you missed my previous report of Throwdown, I will quickly re-summarize.  Throwdown is an event, open to all, that is produced by the owner of my local Tri Shop, Trilife.  It is a "mock race" that is a sprint distance triathlon.  This month's event grew to 20 participants from 16 in August.  If it had not been a long holiday weekend, I know there would have been an even greater participation increase.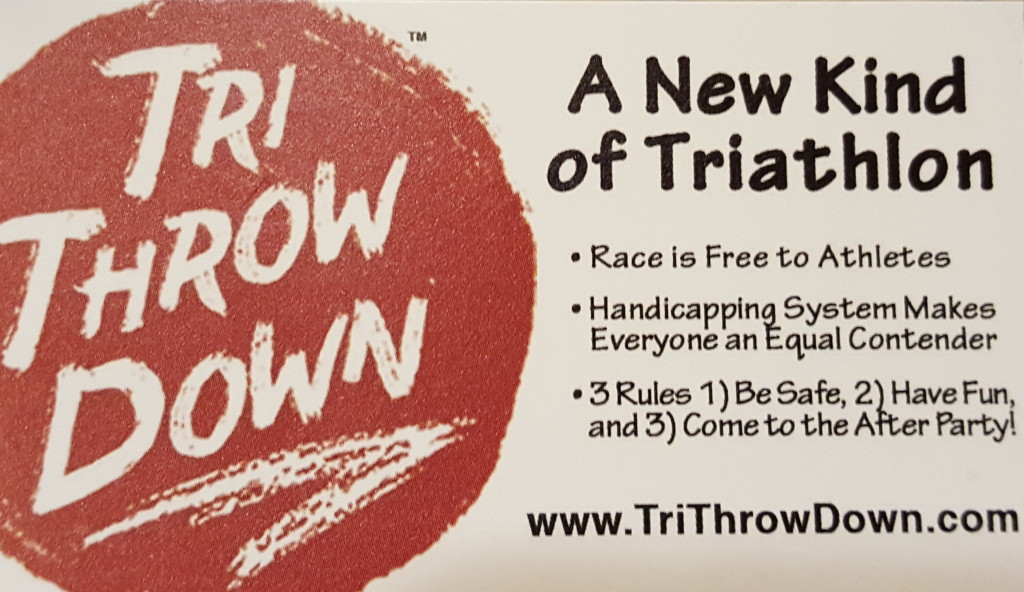 Last month when the event was held, we all started the swim together.  The idea for a while, has been that they would develop a handicap system whereas past race results dictate your start time and hypothetically anyone can cross the finish line first (not necessarily the fastest of the day, but cross first).  So, with this system, the fastest racer actually started last.  In this case, we are fortunate to have the Men's Age Group 30-34 National Sprint Champion in Raleigh and he has a large presence at Trilife.  It was a given that he would have the fastest time of the day, so most of us were racing to try to cross the finish before he did.  Given the prior weekend was my last race (and I pushed hard) and the coming up weekend was my next race, I decided not to go all out and push too hard.  I still wanted to have a good effort, but keep everything at an appropriate level. 
 This swim course had improved as they added a site buoy and a turnaround buoy.  There were also THREE kayakers on the lake and at some points, this meant more serving as safety patrol than actual swimmers!  I started around 39 minutes after the first swimmer (don't remember exactly).  Tony decided to not participate this month due to how he was feeling after his long run the day before, so he was monitoring the time in order to get each swimmer started correctly.  The sighting was decent and I felt good during the swim.  The swim was on a different section of the lake than the prior month and the run into T1 was a bit unfavorable to the feet.  Most of us ended up leaving our flip flops out to put on after coming out of the water.  I really didn't want to get something stuck in my foot.     
I felt good on the bike.  I stayed with the plan and did not push too hard and found a good pace to maintain throughout.  I was lucky that I did not miss one of the turnarounds, like one of my training buds did.  The cone that had been placed was gone, but I did see the pavement markings.  T2 was weird.  I say this because I was the only person in transition and the "crowd" watched.  I don't love T2, because putting on socks is always a struggle, but I definitely felt all eyes on me.  Everyone was cool and supportive, but I did feel a little pressure (from myself) for a fast transition.
The run out of transition is the least enjoyable part.   There is a hill that definitely puts you in check and I just took it smooth and steady.  I found my legs and as with the bike, I stuck to my plan on the run…to settle in a good pace.  The fastest guys on the bike came flying in as I was just under a mile in.  They were smokin'!!  I knew it was a matter of (a little bit of) time before I saw them again!  After the turn around, I saw our "speedy Gonzales" and even though I was still hanging on to hope that I would not get passed, it was inevitable.  The one thing about super quick runners, is that they (somehow) make it look so effortless…so smooth and confident.  He passed me at mile 2.75 of the 5K run, but somehow I did not mind because it is cool to watch someone like him run. 
Back down the hill for a strong finish and another fun Throwdown was in the books.  It was cool to have folks waiting to cheer me on and then we all cheered on all the other finishers. 
Luckily I wore my Gamin and was diligent in starting at exactly the right time and stopping at exactly the right time (even though I did not get all my other splits lapped correctly).  There were issues with the time for three of us (still working out a few kinks) and since they were just reporting total time, they used my Gamin as official finish time (1:26:53).  The after party was pizza and beer at a local brewery.  Already looking forward to the October date!           
Saturday August 29…Race day started like all others.  The alarm went off before anyone really wants to think about getting up on a Saturday, but no delay to get out of bed, as I did not account for that when I set my alarm.  Normal breakfast of oatmeal with bananas and walnuts.  This is a staple in my diet and it just works.  We pulled out of the driveway right around the goal time of 5:45am (and I had accounted for a slight delay in departure, as that is norm).  The race venue was located about 40 minutes from home, so just an easy drive to be there around 6:30.  The morning was beautiful with temperatures in the low 60s.  I allowed more time than typical for arrival at the venue as I knew there was more that needed to be done than I prefer (packet pick-up, picking up my new race kit, and (NOT PLANNED) a flat front tire). 
Parking, packet pick up and body marking were a breeze.  The store that sponsors the group rides that I frequent, coordinated getting race kits made for the team. Unfortunately, there were some delays in the kits being completed, so we were not able to actually pick them up until race morning at the site.  I know this goes against the cardinal rule of racing of "don't try anything new on race day", but since it was a sprint distance, I figured things could not be too bad.  I picked up my kit and got it on without issue.  (Overall, there were no major problems in racing with the new kit…just a few minor things to address in the future.)
As I was getting transition set up, Tony pumped my tires and realized that the front wheel was not holding air.  Luckily, there was PLENTY of time and he and another friend of ours, got the tube changed and had me squared away in no time!  Thanks goodness for my awesome support…I was not worried in the least.
There were 161 participants (55 of those women) and for whatever reason the race directors decided to start the men and women together.  Personally, I would have preferred the women go a couple of minutes after the men, but it was what it was.  The company that produced the race is one of the two largest in the area and I have not raced any of their events where it was a mass start.  Not sure if this is a new thing for them or not. 
Anyway, the 750 meter swim was very congested at the beginning.  It was probably about 50 yards or so past the first buoy that I finally felt like I had space.  Overall, I was pleased with my swim.  My main goal was to focus on consistent strong pulls and really staying aware of my effort level and if I was pushing like I could.  I swam all the way in and lapped my Garmin as soon as I stood up and had a strong run into T1.  I heard a few friends cheering as that always puts a smile on my face.  Somehow, Tony had walked down the dock "looking for me" and totally missed me coming out of the water.  It was not until about 5 minutes later and someone told him I was long gone!        
T1 was solid.  I was trying to be quick and efficient and I think I did just that.
Onto the bike and I knew what to expect of the 17-mile course.  I raced this event a few years ago and Tony had even before then, so I knew there were a few rollers and a hill that was a bit of work.  I felt good early on and saw several guys from Trilife.  With the new kits, everyone was easy to spot!  It was fun to see folks during the race that I knew and could share words of encouragement.  I did not really concentrate on my Garmin.  I had a goal of over 20mph, but I really just focused on how I felt…pushed when I could and backed off if I needed.  All in all…good ride!      
Into T2 and the same goal to be quick and efficient.  I was on point.
The 5k run was generally flat (only a slight incline coming out of the transition area) and I wanted to start off strong and just build or maintain through the run.  I missed my first mile lap "alert" from my Garmin, but I knew I started well.  The course was a two loop and once again I saw lots of people I knew.
There were even a few guys that I saw when I really should not have, because they had finished the race and were running for cool down.  I saw my mile 2 lap and was at a pace of 8:00 on the nose.  My goal was to hit an average pace of sub-8:20.  Even though I was not certain of my first lap's pace, I was confident I was well on track.  I remember at the 2.5 mile mark that I became super focused on maintaining…I did not want to lose momentum.  I told myself that I could do it for .5 mile!!  I was feeling it for sure, but with the slight decline down into the park and to the finish line, I had a super strong finish.
I was glad to be done but I felt like I had the race that I wanted…and this was before looking at all my times/paces.  What a great feeling it was to know that I pushed when I could and really delivered the race that I had in me.   Tony was there to greet me at the finish and the first thing I grabbed were orange slices immediately…so good!  I gathered with the group and the general buzz was that everyone had raced well and had fun.  I started reviewing my Garmin data and was even more pleased when I saw the numbers.    
As preliminary results started to come in a few of the guys had placed in their respective age groups and one had taken the overall win.  We took photos and I changed clothes.  Some of us had planned to stay after the race and cookout there at the park.  It was a beautiful day, so the plan really ended up being ideal.  Tony played chef and while he got the grill going, the awards began.  We huddled around to grab some snapshots.  When they started to announce the winners in the women's 40-44 age group, I was shocked to hear my name announced as third!  WHAT?  I was thrilled that my solid race ended up with a spot on the "podium"…it was just the icing on the cake.  Nonetheless, I would not have changed anything, but third place age group was an added "bonus"!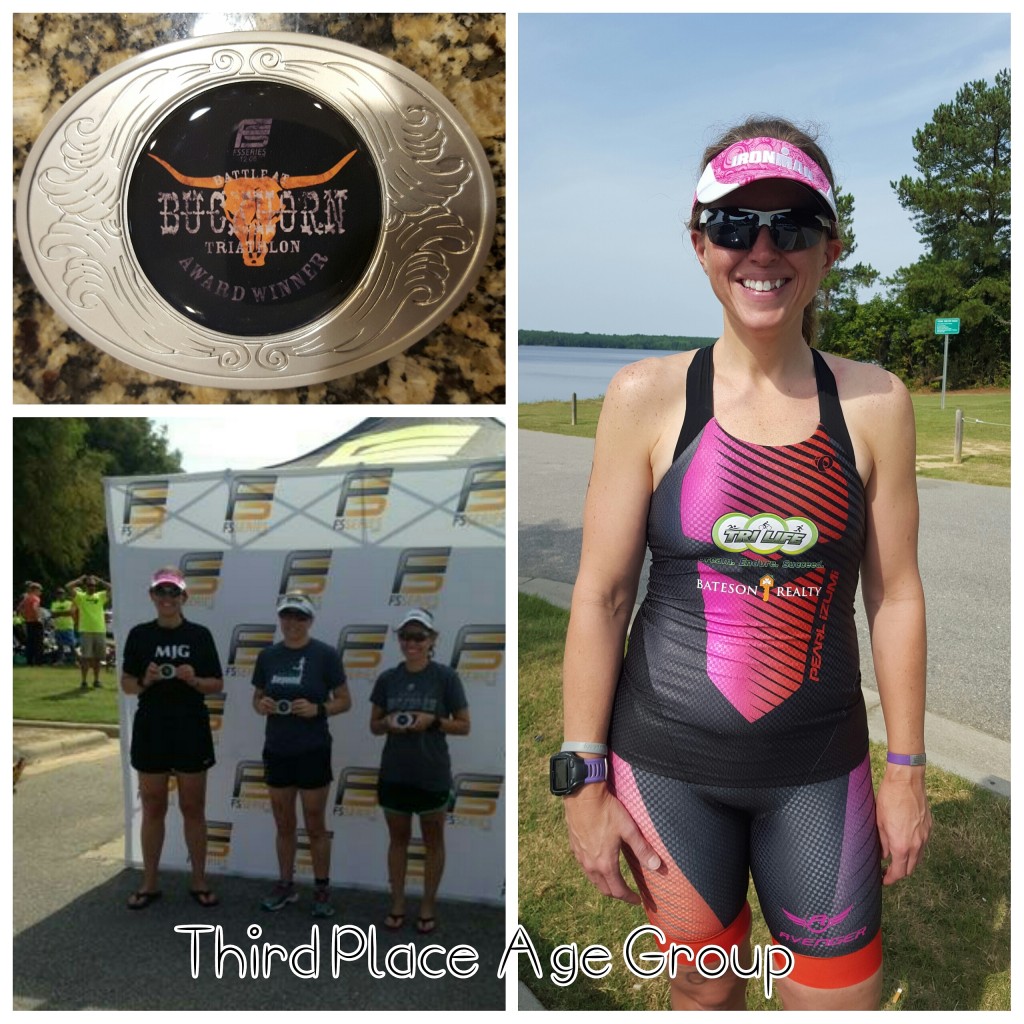 The "official" race results looked like this: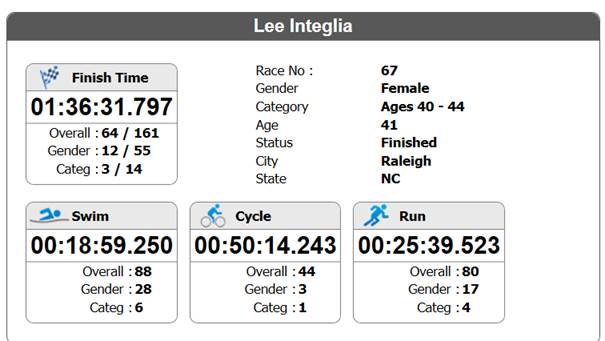 The Garmin results, which include the actual distance raced, looked like this: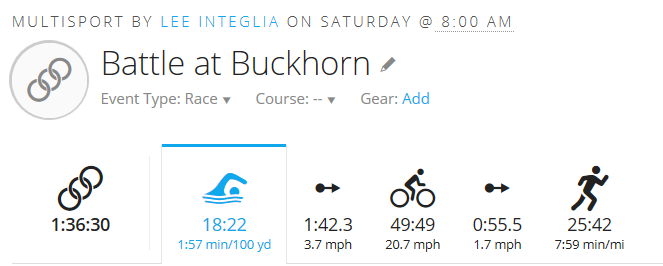 The cookout was a blast.  This is not something that I typically see at races, but the park venue was really perfect for a post-race event like we had.  I failed to take any photos, but we had lots of food and beverages to celebrate a great day by all!