Cary Long Course Duathlon Race Report
19
Pre-Race
Race day looked to be great weather wise. It would be gradually warming up Saturday and would be one of the warmer days so far, but the race started at 7:00am, and the morning temperatures looked to be beautiful! Friday evening, Tony and I got my bike ready…a little clean up, put on the race wheels and a good overall check. No issues and she was in good shape for racing!
I laid out my gear and I admit is was nice to only have to think about gear for two different legs of the race. Plus I would already be wearing everything that I needed for my run when I left the house, so the layout of the gear I needed was easy. We had dinner and a bit of down time before jumping in bed at a decent hour to get a good night's sleep.
Race Day:
4:20am alarm…that part is always brutal.  I wanted to be out of the house by 5:15am and I usually don't move too quickly that early, so I allowed plenty of time. Breakfast was typical…oatmeal cooked on the stove top with brown sugar, bananas, walnuts and a small glass of milk. This is my everyday of the work week breakfast as well as that for training mornings. It just works for me.
We stayed on schedule pretty well and arrived to the race site around the time I wanted. I was not sure of what to expect regarding parking, since I have never raced or spectated this event. We quickly realized that as far as those logistics go, it COULD NOT have been ANY easier. We parked and we were literally steps away from transition. The locally produced, smaller races can sometime end up having terrific advantages like this!
I picked up my packet, got the bike racked and everything in place. The race was held in the USA Baseball facility in Cary, NC (about 35 minutes from home), and it is a very nice facility. To clarify, the transition was located in the parking lot of the facility and the racing took place on the surrounding roads and greenways. Luckily, the rest room facilities were available for the participants…"real" rest rooms are always an added benefit.
Tony suggested (and I agreed) that a little warm-up was probably a good idea. Other than getting in a warm-up swim, I typically don't warm-up too much before I race. However, this time I figured since we would be starting with a run, a bit of a warm-up run would be a good idea.
As start time approached, the racers gathered around for a couple of announcements. One of the race directors proceeded to inform us that due to some paving, the course had to be modified sightly (I think at this point he also mentioned that the changes resulted in a few added miles, but I did not hear this part). He then verbally walked us through the route…not sure why he did this because it just caused confusion to everyone. I looked over to another one of organizers and questioned if the course was marked and volunteers were out on course. (I will also say that this production company is one of the largest in our area. They produce lots of local races and have been doing so for a number of years and I have raced numerous events they have produced.) He said that there were SOME volunteers out on course. So…with all the confusion at this point, I was pretty certain that this would be the first race that I have ever participated in where I would be getting lost out on course!!!
The run began and my goal was to run my race. I was not concerned with the runners that were running past me. Everyone certainly has their own thing…some like to start out with a fast pace (while some can actually maintain and others gradually slow), but I like to try to hold a consistent pace as much as possible.
The event included both a short course and a long course.  The short course was just half the distance of the long.   The course included an aide station at mile 1.25 (this is also the turn around point for the short course racers that started a few minutes after the long course racers) and then again at mile 2.5 (the turn around for long course). To get to that first aide station, there were a couple of slight hills, but nothing hardly worth mentioning.
We started around the parking lot and exited the park and made our way to sidewalks around the surrounding neighborhoods.
Approximately .5 miles after the first aide station, the course moves onto the greenway (paved). This weaved through/behind residential areas. There were lots of rollers…plenty of ups and downs to provide a good challenge. On this first run leg of 5 miles, I felt good. My pace range was what I expected, with my first mile being my fastest (not typical), but within the parameters of what I have been running lately.
So into T1 and hoping for a super quick transition. Tony was right there encouraging me to keep it quick (he is a STRONG proponent of quick transitions).
Off with the running shoes and visor and on with bike shoes and helmet and GO! Now I needed to get in some good hydration right away and have some Honey Stinger Waffle. My goal was to be done with my first bottle within 45 minutes and eat accordingly (I had two waffles in my Bento box on my bike).  #hshive
The course was two loops to easily incorporate both the short course and long course. Many of the roads were familiar in that I have ridden them from time to time. It is not my typical area for riding, but it is in an area that many cyclists frequent, so I have ridden various routes in the area over the years. The course was fairly typical for this area. Some rollers, but not too much to get the heart rate going. I finished my first bottle around the 41 minute mark, so I was spot on with my hydration.
I had a time range in mind as to what my total bike time should be. When I was completing the first loop, I knew my average was close to what I was hoping, but the ride time to that point seemed long. I did not think too much of it since I was almost comfortable with my average speed…wanted to be be a bit faster, so I focused on that on the second loop.
During the second loop, I just really stayed focused and tried to ride smart. There was stuff going on to keep it interesting, such as people that don't clearly understand/care/follow the bike rules to racing. One problem I encountered was when a guy passed me and he continued to stay on the far left side of the lane.   After a bit, I wanted to pass him back and doing so would require me to almost ride on the yellow line, so I mentioned that he needed to ride on the right.   I said something because this was a safety issue.  I certainly did not want to pass on the right and he was not leaving me much room to pass safely on the left.  There was one other instance were I passed a girl and after passing she was blocking me from getting back onto the right side of the road and therefore taking advantage of the draft.  I think it would just be easier if everyone made themselves aware of the rules and tried to respect them, but then again, I am a rule follower!
As I pulled into T2 to get off my bike, Tony was there again cheering me to keep moving.  When my feet hit the ground off the bike, based on how my legs felt immediately, I knew that I had pushed hard on the bike.  I got my bike racked as quickly as possible (after initially turning down the wrong bike aisle) and off with my helmet and bike shoes and on with my running shoes and visor.  I typically never bike with socks on (unless it is cold weather), but I did for this race for ease of transition, since I have to run with socks.
For the first few steps of the run, this picture sums it up…!!!
I have been training plenty of bricks so I was surprised at how my legs felt.
As I passed Tony heading out of the park, he was reminding me that my legs would loosen up soon!  And they did.  The second run was pretty good.  At this point I liked knowing what to expect and the mental game of "just get to the 2.5 mile mark and then I got to go back", definitely worked.  I was doing my thing and trying to stay consistent with my pace.  The hills were challenging, but I also knew that the hills I would be running at Raleigh 70.3 were not as steep, so this was solid training.
As I came off the greenway section and then onto the sidewalks and then onto the side of the road, I was noticing it was getting pretty warm.  I knew I was in the home stretch though!  Come to find out, my last mile was my second fastest at 8:43/avg pace (Garmin) with my first mile of Run 1 being my fastest at 8:40/avg pace.
I was happy to FINISH STRONG!
As soon as I finished, I was chatting with Tony and not until then did I find out that the bike was around 36 miles total (32 miles was originally planned).  Since I did not have total distance on the main bike screen on the Garmin, I did not know the distance, it was just feeling long due to the ride time.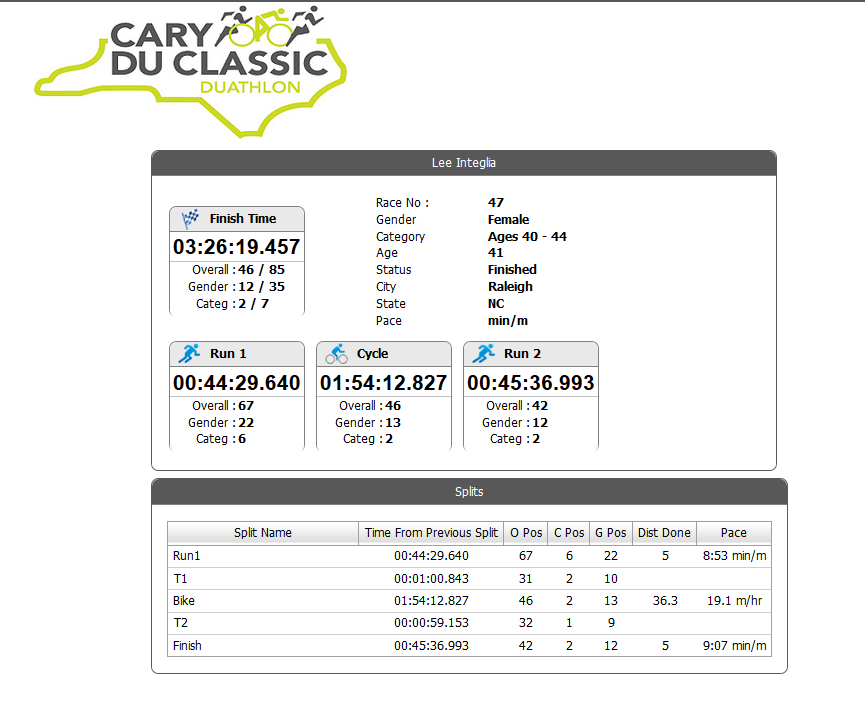 I was excited to find that my placement was 2nd in my age group and even happier to see that my relative consistency seemed to pay off and I bettered my positions with each leg of the race!  Overall, I thoroughly enjoyed this race and the format.  I am not sure why it took me so long to try a duathlon, but I am certain I will be back!
After the race we headed home.  I got cleaned up and we cooked up some brunch.  The afternoon consisted of some relaxing and doing a few low key things around the house.  One tradition of mine is that I like to enjoy a post-race milkshake!  Since we had all the necessary ingredients, I made us a cookies n' cream shake to have once we started getting hungry again during the day.  YUM!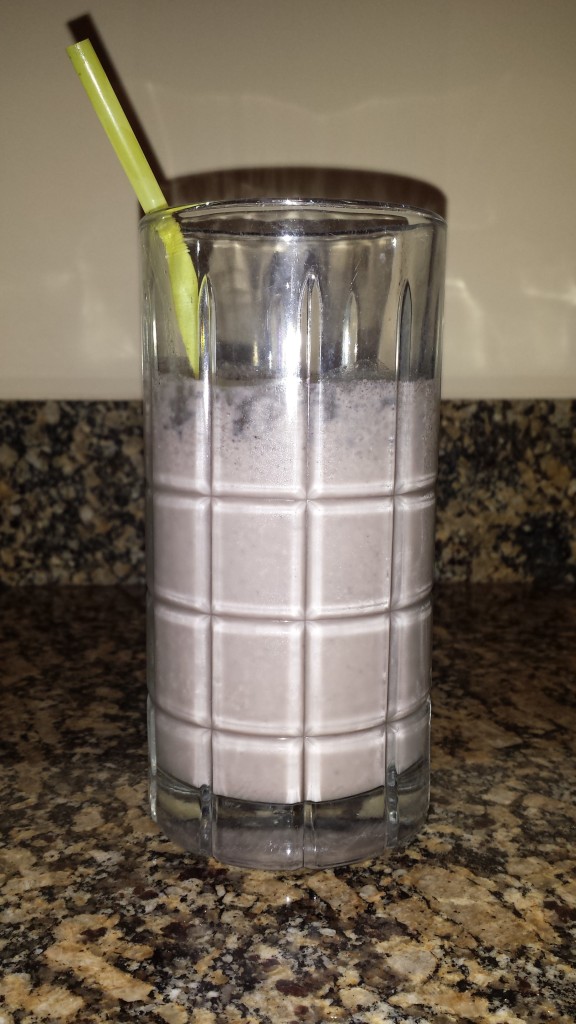 The evening consisted of a dinner out.  There were multiple things that appealed to me food wise, so I chose Cowfish, which is a restaurant that serves both sushi and burgers.  Tony and I enjoyed it as we split a great bison burger and two sushi rolls.  It hit the spot and was a nice ending to a great day!