Archive for March 2015 | Monthly archive page
Monday PM:
Started out a new week with an evening swim. This was a 1800-yard session with the focus on speed. I last swam this same workout two weeks ago. I am happy to report that I was able to better my average speed of the main set by a couple of seconds. This is certainly not monumental, but this represents progress and that makes me happy!
Tuesday AM:
5:30am start on the treadmill for a tempo run. My goal was the run for 50 minutes at the new pace I set for 30 minutes last week. After a solid warm-up, I feel into my pace. I could feel fairly quickly that my body was fighting it a bit. I felt like my heart rate started off a bit higher than normal. The plan remained the same as with all my tempo runs…as long as my heart rate was within the desired zone, I would push on. Well, at the 30 minute mark, it had crept up to the top of the zone. I backed off my pace a bit for the next 10 minutes and then again for the last 10 minutes. I followed up with a cool down. This was definitely a tougher run, but I followed the plan even though I was not able to meet the initial goal. Hopefully, my next tempo run I will be able to do just that.
Wednesday AM:
55 minutes on the bike trainer doing my regular session with short, high intensity intervals. This workout has been repeated weekly during this 3-week training block.  It does not disappoint!
Wednesday PM:
2800-yard endurance swim:
W/U: 500 easy mix with swim/drills/pull/kick incorporated throughout
Main set (2100):
100/200/300/400/500 easy to moderate with :15 sec rest between intervals
2×300 easy/moderate/fast, :30 sec rest between intervals
C/D: 200 easy
Could not hold tight to the rest intervals prescribed in the workout, but I did my best. This ended up being only an "ok" workout, but got the time and yardage in and that is always a good thing!
Thursday PM:
37-minute bike trainer workout with the focus on hill repeats followed by a 30-minute treadmill run. Both these workouts were good…since I was working in a high gear/low cadence to finish up the main set on the bike, I did a 2-minute high cadence spin to flush out my legs before getting off the bike.
I then transitioned well to start my run on the mill. I felt pretty good…the more I do these bricks the better prepared I will be come race day!
Friday: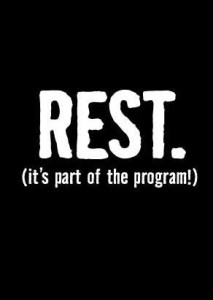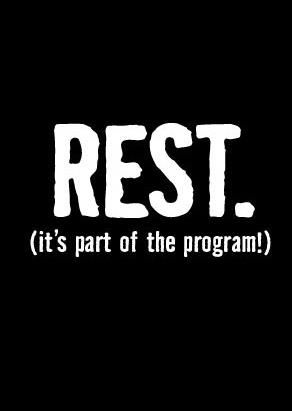 Saturday:
I still like being able to type this…another outdoor ride! Tony and I were joined by a fellow triathlete that had posted on Facebook to one of local tri group pages that was looking for company on her ride. I think it is fun to meet new people that share the same interests, so we invited her to ride with us. We did a 40 miler and the weather was nice. The wind was not as bad as the fast few weekends. I felt great on the ride and ready to jump on another brick afterward.
I had 2 miles to run off the bike and I was feeling good, so I opted for the flat loops, just to see what I could do if I pushed my pace. My first mile was 8:31 which I was satisfied with. However, I continued hard and was surprised when I finished mile 2 with a 7:45 pace. YIKES! I did not know I had that in me. I finished the run with an 8:08 average…I will take it!! All those tempo runs I have been doing are paying off I guess!
Sunday:
1900-yard swim with focus on speed:
W/U: 500 easy mix with swim/drills/pull/kick incorporated throughout
Main set (1200):  8x(100 moderate/:15sec rest/50 FAST), :30sec rest between intervals
C/D: 200 easy
I have shared this swim workout before, but I decided to post it again, only because I was reminded what a solid session it is. If you are looking for a good workout that focuses on speed, give it a try. This was from my IM plan and it is a good one and I am sure you will agree if you give it a go!
This ended up being a great swim for me. One of my best since last summer. I have continued to focus on my hip position but also this session, I focused on my pull position. I think that focus was extremely helpful. I was able to swim at paces that we regular for me last summer during IM training. It makes me happy. I last swam this workout on March 8 and in comparing my times, it makes me even happier that I shaved some solid time off my average speed for the main working set. Progress…..woo hoo!
Total training time: 8 hours 20 minutes
Swim: 6,500 yards
Bike: 60.12 miles
Run: 12.73 miles
Other: 0 (oops!)
I also incorporate twice daily PT exercises that are meant to strengthen/stretch my glutes, hamstrings and re-align my hips. This probably averages about 25 minutes a day and I have not included that in the above totals. However, this is probably one of the smartest things I am doing daily!