Running for Doughnuts!!
16
If you have ever read Runner's World list of their favorite crazy races, then you might have heard of the Krispy Kreme Challenge. It has also been included as #85 on the "102 More Things You Gotta Do Before You Graduate" by Sports Illustrated. So, what is the Krispy Kreme Challenge?
(The following race description is from the event website). Participants begin the Challenge at the Memorial Belltower on the campus of North Carolina State University in Raleigh, NC. Runners then travel 2.5 miles through historic downtown Raleigh to the Krispy Kreme located at the intersection of Peace and Person Streets, where they attempt to consume one dozen original glazed doughnuts. The hardest part of the Challenge awaits them as they run 2.5 miles back to the Memorial Belltower. This is the Krispy Kreme Challenge.
The Krispy Kreme Challenge started in December 2004 as a dare between a few NC State undergraduate students. Organizers decided to publicize the Krispy Kreme Challenge and turn it into something that would not only be an event to bring together people from all over the country but also to benefit an important cause along the way. This event is held annually, with 2015 marking the 11th running of the event.
With this craziness being held in our city, Tony and I have always talked about participating one year. We decided that this year would be the year. With it falling on Valentine's Day, we figured it would be a fun way to start the day:) This year they included a new "race" category, called the Dynamic Doughnut Duo. This is in addition to the challenger category (the category for runners who are truly taking the challenge and can claim victory by eating all twelve doughnuts and completing the race in under one hour) and the casual category (for runners who are taking a less serious approach to the event and eat as many or as few doughnuts as they wish). The Dynamic Doughnut Duo is for a couple to register together and share one dozen. We never intended to eat a full dozen, we just wanted to go out a have fun and support a great cause, the NC Children's Hospital.
It was a cold, but sunny morning, so we layered up for the 8:30 am start.  As always, there was a great turn out for the event.  I was not as cold as I anticipated having to wait around for the start.  It was definitely brisk, with temperatures in the low 20s, but we stood in the sun as much as possible.
Tony and I ran together, with him matching my pace. I wanted the first half to be at a decent tempo pace for me, since I was not sure what to expect post-doughnuts. We made it to the Krispy Kreme around 8:53 (I know this due to the time stamp from the first photo I took there). There were people everywhere with their doughnuts…some eating leisurely and some tackling the dozen.
We knew that we would never try to eat the dozen…I love KK doughnuts too much to never want to eat them again. I had decided I would eat two.  I wanted to eat some, to take part in the fun nature of the event, and thought anything more than that would make for a hugely miserable 2.5 miles to the finish line.
It has been ages since I have had a KK doughnut, so they really tasted great! (For anyone that knows KK doughnuts…they are absolutely perfect when the "hot now" sign is on…nothing like that today, but always good to me).
While Tony's picture shows a very strong start, he ate about 1.5 total.
We started back and quickly passed a spectator offering bacon to the runners (something "salty to cut the sweet"). Since bacon is one of Tony's favorite foods, he sampled and really enjoyed it!
I started to feel my sweet treats about 1/2 mile later. My stomach was definitely wondering what the heck was I doing…this was not typical run nutrition that I had taken! There was one particular hill that really did not support the combo of doughnuts and running, but it seemed that after I got passed that, the worst was over. After we crossed the finish line we quickly saw evidence of what happens to some with this brutal combination (hint: watch where you step!!). Luckily, Tony and I were feeling ok.
Our official race time was 48:28 which includes us stopping to have the doughnuts and photo fun. My Garmin showed a total of 43:56 and 4.86 miles. My mile paces were as follows: 8:44 / 8:41 / 9:23 / 9:07 / 9:22.  We actually finished in the Dynamic Doughnut Duo category in 44 and 45th places out of 1134 finishers in the category!  There were 2256 finishers in the challenger category and 2597 in the casual category.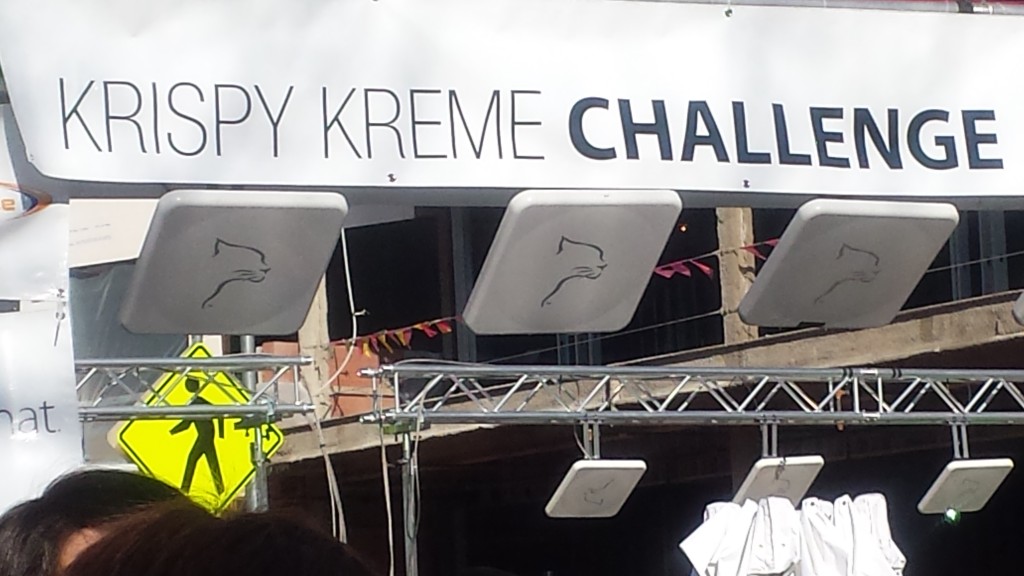 My scientific conclusion is that there is definitely an impact to one's running pace after the consumption of doughnuts!!!
This was one race that I don't plan to repeat, but I am glad that we participated once and got to experience a bit of the craziness that is the Krispy Kreme Challenge! More importantly, this year's event resulted in a donation of $195,000 to the NC Children's Hospital bringing the eleven year total to $953,000. Having fun a supporting a great cause! Good job NC State!!