Last weekend we spectated at Beach 2 Battleship (B2B) in Wilmington, NC as a friend of ours participated in her first iron distance triathlon. It was an absolutely beautiful day for a race and being in Wilmington (one of my favorite cities) is always a treat! Tony and I went to college in Wilmington (where we met), I raced my first half iron at B2B in 2012, plus Wilmington was just voted as America's Best Riverfront in the 10Best Readers' Choice travel award contest sponsored by USA TODAY.   I have known what a special place Wilmington is for a long time, but now it has been published for the rest of the country to see!  It was a great weekend and we had a blast cheering on our friend and the other triathletes.  We were thrilled to watch her cross the finish line as we knew how much work she put into her training.
When two friends and training partners completed their Ironman goal (Louisville and Chattanooga) since I raced at IMLP, I was able to re-live my epic day in my mind and many of the emotions were revisited as I tracked them on race day. However being at B2B, to cheer on our friend as she went for her goal, really allowed me to reflect on my day and what I was able to accomplish after so much training and hard work. You can't help be reminded of all the hours of preparation that is required to reach that IM goal.
As I train, I become a bit of a data junkie. My Garmin 910XT works in full force when I swim, bike and run. After workouts, I enjoy analyzing the training data and assessing gains I am making or face the reality of a less than stellar workout. As I posted weekly training updates on the blog, I was able to track training volumes over the course of time. One thing I had not done, until just recently, was review the totals for my Lake Placid training plan. I thought it would be fun to total all my weekly volumes to remind myself of the hours and miles I spent preparing for my first Ironman. This data could also be helpful to someone that is considering signing up for their first Ironman. It is easy to get caught up in thinking about race day and crossing the finish line to hear Mike Reilly call your name, but one must fully consider all the miles and hours that are required leading up to race day!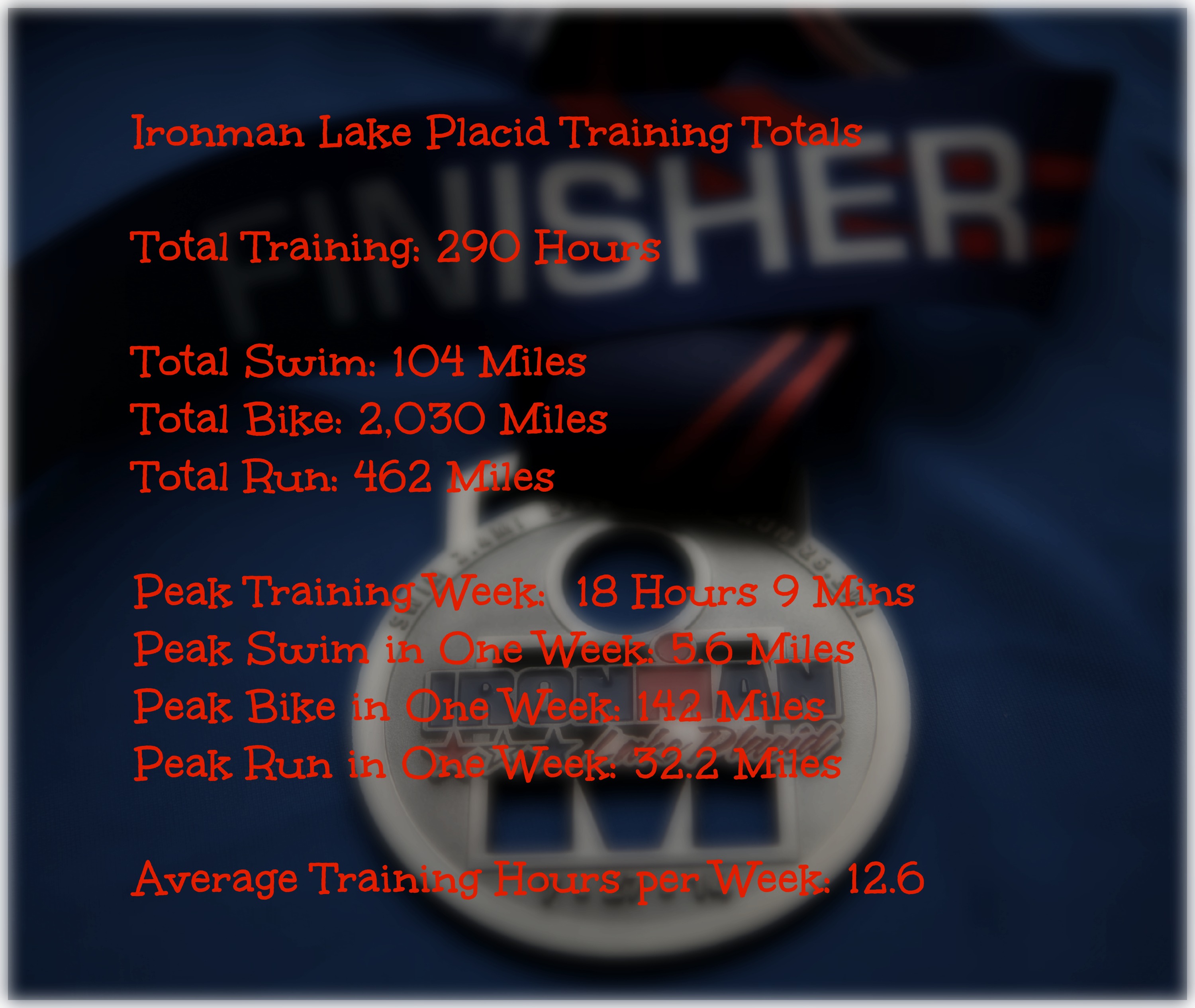 Obviously, all training plans are different and are geared toward one's individual goals and total miles and hours will vary. However, this will give an idea of my experience.
Since this weekend is Ironman Florida, I can't resist to include this picture of my hubbie since Florida was his very first Ironman in 2008. I was so very proud of him on that day and had NO IDEA the spark that would ignite for me several years later.