I Mustache You Some Questions
15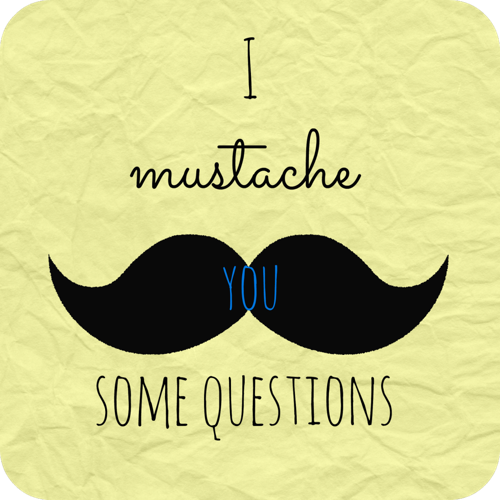 Today I am playing along with a questionnaire that is going around on several different blogs.  I was tagged by Sweat Courage's Kristin and am happy to participate!
Four names that people call me, other than my real name:
1.  Lee-Lee:  This has been used over the years by lots of different people.
2.  Darlin':  Tony's nickname for me.
3.  Auntie Lee:  This is always sweet to hear because it is said by special people!
4.  That's all
Four jobs I have had:
1.  Sales Associate in a department store (first job as a teenager)
2.  Waitress (College)
3.  Office Assistant (College)
4.  Finance Professional
Four movies I've watched more than once:
1.  Top Gun
2.  A Few Good Men
3.  Forrest Gump
4.  Dirty Dancing
Four things I'm always saying:
1.  I'm cold!  (And it is only November)
2.  I'll have a glass of Chardonnay…
3.  I'm gonna get my workout in…
4.  I want a taste of something sweet…
Four books I'd recommend:
1. To Kill A Mockingbird by Harper Lee
2.  The Notebook by Nicolas Sparks
3.  A Life Without Limits by Chrissie Wellington
4.  The Help by Kathryn Stockett
Four places I have lived:
1.  Apex, NC (where I grew up)
2.  Wilmington, NC (college)
3.  Raleigh, NC (where I live now)
4.  Only lived three places
Four places I have been:
1.  Hawaii (twice)
2.  Italy
3.  Various Caribbean Islands
4.  Mexico (twice)
Four places I'd rather be right now:
1.  Somewhere tropical enjoying warm weather
2.  In front of a roaring fire (first real cold night of the season and I am really feeling it!)
3.  Wilmington, NC – One of my very favorite places and I never tire of visiting
4. Australia – This is a bucket list item and dream vacation
Four things I don't eat:
1.  Red onions
2.  Olives
3.  Tofu
4.  Liver
Four of my favorite foods:
1.  Fried Chicken (rarely indulge, but the southern girl in me loves it!)
2.  Breakfast (I know this is a food category, but I love breakfast foods)
3.  Homemade Lasagna
4.  Sushi
Four TV shows that I watch:
1.  Scandal
2.  Modern Family
3.  The Biggest Loser
4.  Carolina Hurricanes hockey
Four things I am looking forward to this year:
1.  A tropical vacation that is being planned for January.
2.  Working toward new goals in racing with the hopes of setting some new PRs.
3.  Fun times with friends and family.
4.  Continuing to live life by trying new things and going new places.
Four People I Tag:
1.  Gabi
2.  Jamie
3.  Courtney
4.  Cynthia
Feel free to play along and answer any of the questions you pick in the comments below!