Ironman Lake Placid – The Swim
07
As most athletes do prior to a big race, I had been checking (or stalking) the Lake Placid weather forecast as soon as July 27 was included in the 10-day outlook. No surprises, but it changed daily. The chance of rain fluctuated from 20% to 60% over the course of the days leading up to the race. I felt confident that there would be rain at some point during the race. I signed up for this race knowing that rain was a frequent occurrence. Even still, I remained hopeful and positive about the weather. I was keeping my fingers crossed that it would at least stay dry until I was off the bike.
Race morning came very early. 3:45am was the alarm. I woke and immediately had breakfast. I was happy that I did have an appetite and I was not really feeling too many butterflies at that point. I had my typical breakfast of plain, stove top cooked oatmeal, sweetened with a bit of brown sugar and topped with 1/2 banana and walnuts. I also had a homemade muffin which I brought along with us for the road trip. I finished my preparation and we headed out on schedule…I wanted to be in transition by 5am.
We made our way down towards the Olympic Oval and quickly heard that body marking was required before being allowed into the transition area. Body marking went quickly and I was in transition.
I needed to put bottles on the bike (I had two double concentrated Osmo bottles and one throw away water bottle). My plan was to get all water from the aide stations, but I wanted to start with one water on my bike. I also took off the plastic bags that I had put on my bike the day before, in an attempt to keep my saddle and bars dry. (I have to laugh at this part now knowing what a lost cause all that was…!!). I checked my tire pressure and was satisfied about the firmness of the wheels, so I did not add additional air. I also had to put my two (frozen) double concentrated Osmo bottles in my run gear bag. My plan was to run with two bottles in my hydration belt. All other hydration (water) would come from aide stations.
We then made our way to the vicinity of the swim start. I dropped off my bike and run special needs bags as well. I hit the restroom one last time and then had about ten minutes before I had to put on my wetsuit to have enough time for a short warm-up swim.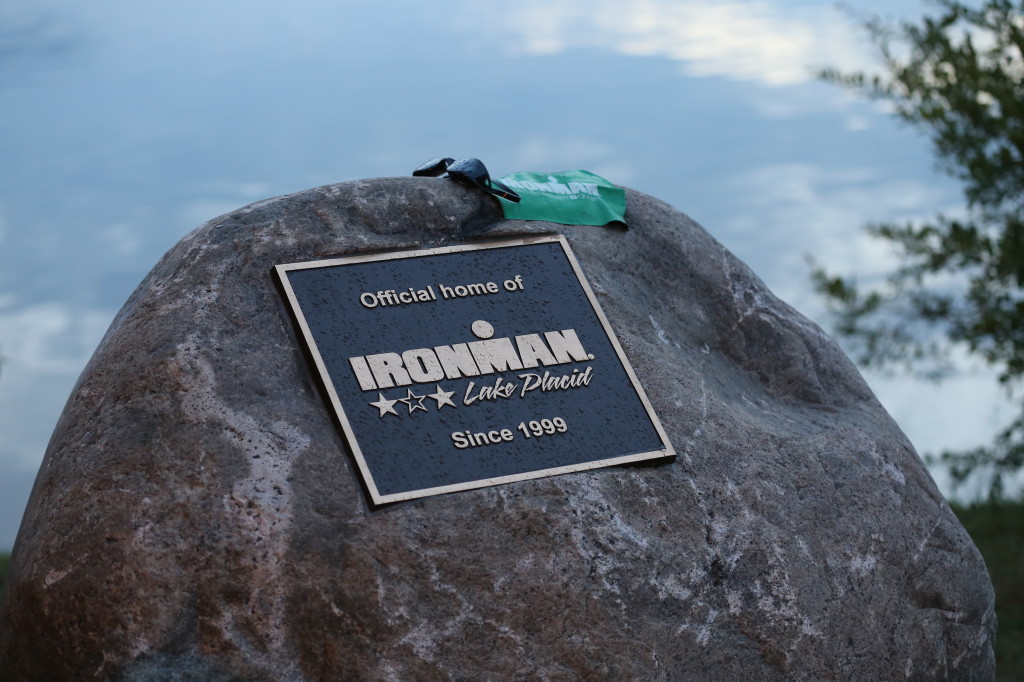 Nicole was keeping me company as Tim had staked out some spots along the fencing by the swim start and Tony was kind of back and forth. I was glad Nicole was with me as it was about this time that the butterflies started. After pulling on my wetsuit I ate half of a honey Stinger waffle, one of my favorite nutrition options.
My goal was just to take a quick swim to feel the temperature and warm-up my arms a bit. Pretty much as soon as I was done with warm-up it was time to get lined up. I hurried back over for final words and hugs from my support crew before I lined up. I tried to eat the other half of the Stinger waffle, but the butterflies were in full force! The anthem was sung and the pros started. I rushed back over to the swim start corral.
I should have started the line up process a little earlier. It took a while for me to make my way up to my desired group…1:21-1:30 swim time. There were other athletes that seemed unable to make it to their desired group (toward the front with the fastest swimmers) since there were so many people in such a confined space. For anyone interested in racing LP, make note to be early when it comes to swim start line up! The age group cannon fired and IT WAS TIME!!
For those that may be unfamiliar, Ironman Lake Placid features a rolling swim start. Historically, the majority of Ironman swims have been a mass start (all 2000-2500 + athletes start the swim at the exact same time). However, in 2013, there were some changes made to a number of Ironman races to make the swim start a bit safer. Similiar to that of a road race, LP athletes self-seed into groupings of their anticipated total swim time with the idea being that the other athletes surrounding you will be swimming a similar pace. Your official time begins as you pass under the swim start inflatable arch. I passed under around 6:45-ish, give or take. I walked into the water and started swimming almost immediately. I was starting my Ironman. Here I go!!
My goal was to start the swim and just focus on getting into my rhythm as quickly as possible. Then after I was comfortable, I wanted to remain aware of my effort level and if I was pushing myself appropriately. There were lots of people around me. Nothing too brutal, but plenty of contact. I found the underwater cable a few times, but there was more contact on the buoy line. (To explain, Mirror Lake has an underwater cable that marks the local canoe and kayak course that doubles as the IMLP swim course. The straightest line is swimming right over the line (or just to the side of it if you don't want to bang head first into buoys every 50 yards). Hypothetically, you could swim on the buoy line and follow the swim course perfectly, without having to site to the swim buoys at all. However, you must take into account that there is more traffic there and even if you are on the line, there always seems to be random people that will just stop during the swim and if you don't want to crash into them, you need to keep an eye out!
I was feeling good on the first loop. After the first turn around buoy, I was focused on the straight away and getting out of the water for a few seconds to start the second loop. I thought I felt some rain (I was wearing a sleeveless wetsuit), but I was not certain if it was actually rain or just splashing from other swimmers. Mentally, I was in the game. No feelings of being anxious to get out of the water. There were two loops to swim and that was what I had to do. I was actually looking forward to a quick change in body position (going from swimming to being on land) for a short time. Just to break it up, if only for a handful of seconds. I passed underneath the arch to start the time for lap two and after glancing at my Garmin, I was RIGHT on point for my goal of a 90-minute total swim. I was a few seconds shy of 45 minutes for loop one. Sweet!
Loop two progressed in much the same way. I found the buoy line a few times, but still there was more traffic that I would prefer. I really shy away from the contact as much as possible. I made the turn around and knew I was in for the home stretch. I do remember thinking that my arms were cold. I thought this was a little odd, because I had been swimming for a long time, but I really did not think too much of it. I did not have too much time left in the water. I also remember thinking that it may be raining again. Oh well, not ideal, but what do you do? After a bit more time, I suddenly heard odd-sounding honking horns. I stopped and the drivers of the safety boats in the water were honking to get our attention. They were shouting at us to get out of the water. "Swim to shore" is what they were saying. The shore they were referring to was NOT the shore to exit. It was basically to turn left 90 degrees to swim to the shore that we HAD been swimming parallel to. It was then that I heard thunder. WHAT???????? YOU HAVE GOT TO BE KIDDING ME!!!!!!!
There was mass exodus to the shore.  I, along with tons of other people, swam straight up to a dock. The dock was attached to someone's house! There was a lady on the dock (wearing a bathrobe), along with her husband, helping the swimmers get out of the water as fast as possible. Just as I was getting out of the water, I saw lightning.  It was raining…hard.  All of this craziness is kind of a blur.   I looked at my Garmin and realized that I had only been .3-.4 of a mile from the official swim finish, before swimming to the dock.  So close!!!
We stood on the dock for a short amount of time and we then (somehow) heard instructions to make our way to transition. There were so many people standing on the dock that had to make it out to the road, that the man told people to walk through the house. (Remember me saying in my pre-race report how people in LP were nice? Point proven…who encourages tons of wet strangers to walk through their home??) Well, I had not been out of the water very long before I became VERY cold. My teeth were even chattering (not one BIT of exaggeration either)! We all began walking, barefoot of course, on the road. I don't know how far we walked. It seemed like forever. There was total confusion. I just kept thinking how cold I was. This was terrible! I wished we could have finished the swim.  It would have been so much easier than all this craziness.  (I do understand the safety aspect and why we were pulled from the water.  I am not disagreeing with that…I was just really bummed at the time!)  How was I going to get on a bike for 112 miles in the cold, cold rain?!?!?
We eventually passed the wetsuit strippers, and there was NO way I was taking my wet suit off yet! I passed Tony and he had no idea what had happened. (He later told me that he knew something was odd since he saw these huge groups of people walking together into transition. Usually people will at least jog to transition.) As I passed, I told him that they had pulled us out of the water and I made a sad face to him. He read me like a book. He immediately told me to get my head back in the game. He was so right, but I was not sure how I was going to accomplish that.
I grabbed my bike gear bag and walked into the changing tent. Oh man, it felt so warm in there!! I changed into my bike shorts, put on my tri top, bike shoes and helmet. THANKFULLY, I had my arm warmers. They were tough to put on wet arms, but the volunteer helping me was amazing! I did put sunscreen on my face (I thought it was a waste of time) and laughed at the volunteer when she asked me if I wanted my sunglasses. I took them and was glad I did, but at the time, it was a bit comical. I walked to the tent exit and remember pausing for a few seconds as my mind continued to wonder how I would gut this out. A volunteer was ready to pass me my bike with kind words to be safe out there! I knew this was going to be a tougher ride than I had ever imagined it would be.