Archive for August 2014 | Monthly archive page
My plan on the run was to start smart. The first three miles or so includes downhills. I did like that about the course, but could not let my legs get too excited on the early downhills. I planned to use that time to shift my legs into run mode after being on the bike for 112 miles. Early on, I felt ok. I had trained lots of bricks, so the bike to run transition on the legs was familiar to me. I had a very simple hydration/nutrition plan for the run. I was carrying concentrated Osmo on the hydration belt and I would supplement that with water at the aid stations and take one Gu Chomp (I would pick up a pack from the aid station as needed) every 15 minutes. I also had planned to grab orange slices and grapes, as they appealed to me. I wanted to get into a steady pace (not aiming for fast, just steady) that I would try to maintain between each of the aid stations. I had planned to walk each aid station so I could totally concentrate on eating and drinking at each of these points. I also had some other food options in my special needs bag, in case I wanted something different than what my options were on the course.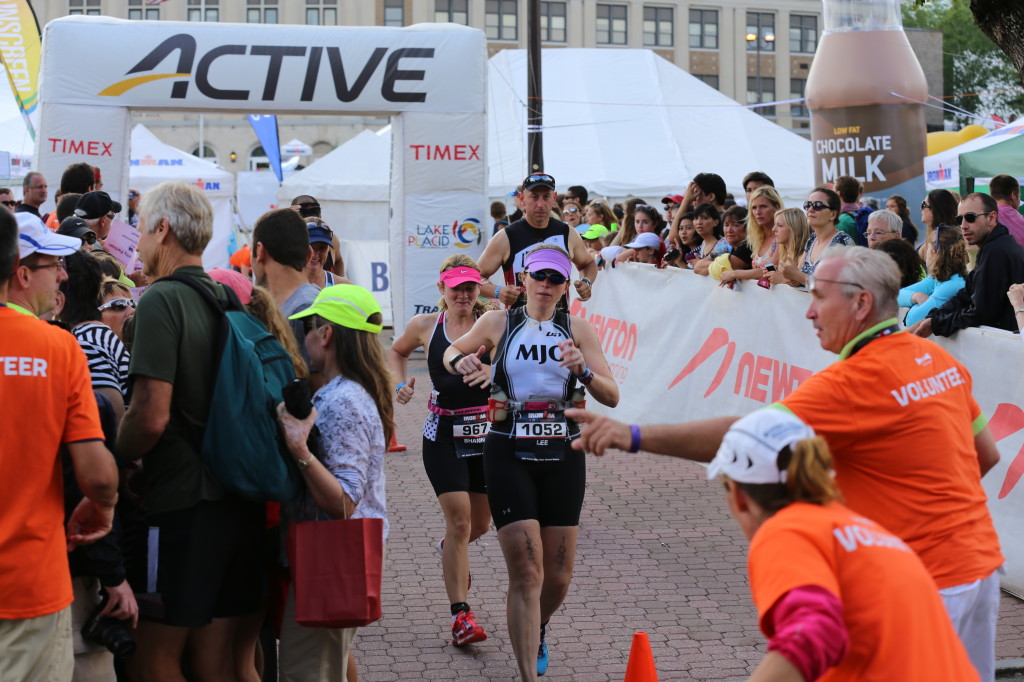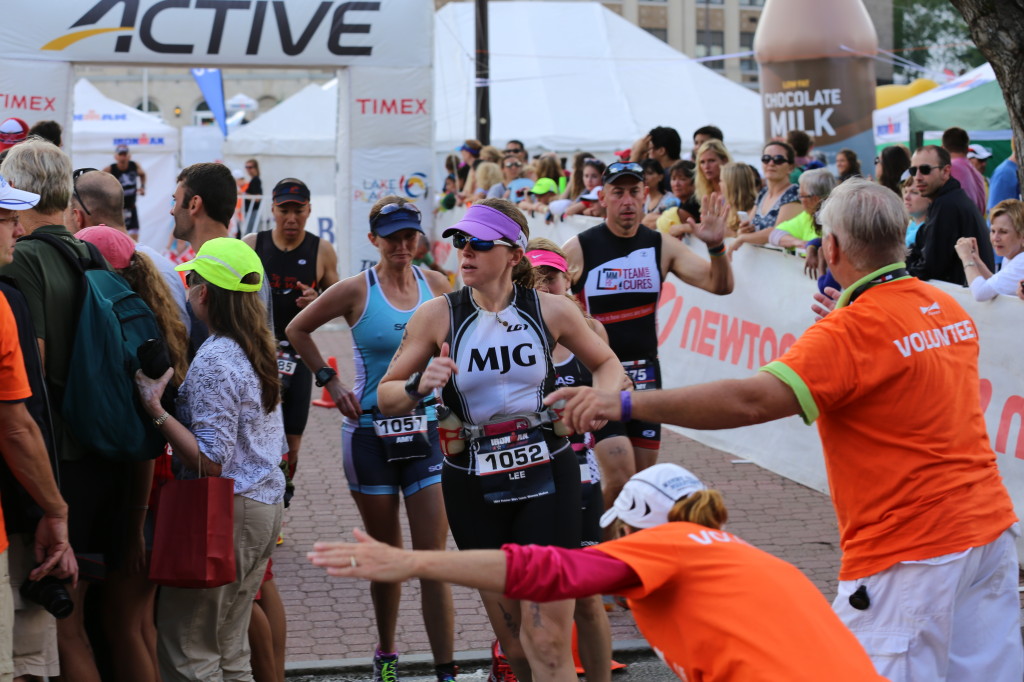 My crew was in full force on the course. I did not always spot (or hear) Nicole, but she was was in paparazzi mode around the start of run course (she would spot me several times since it was a two-loop course).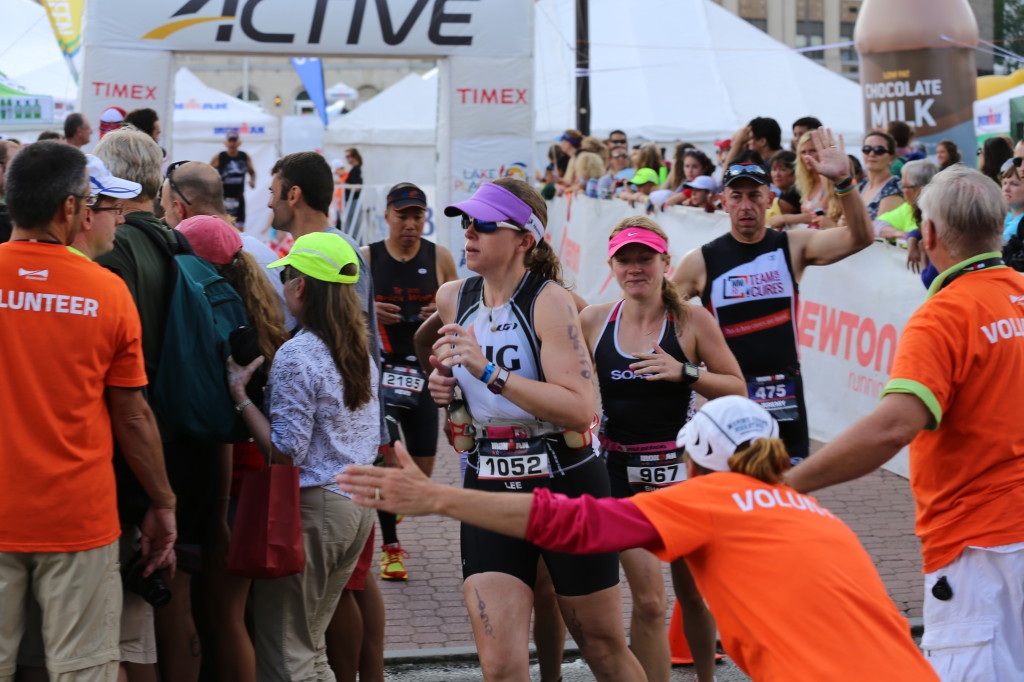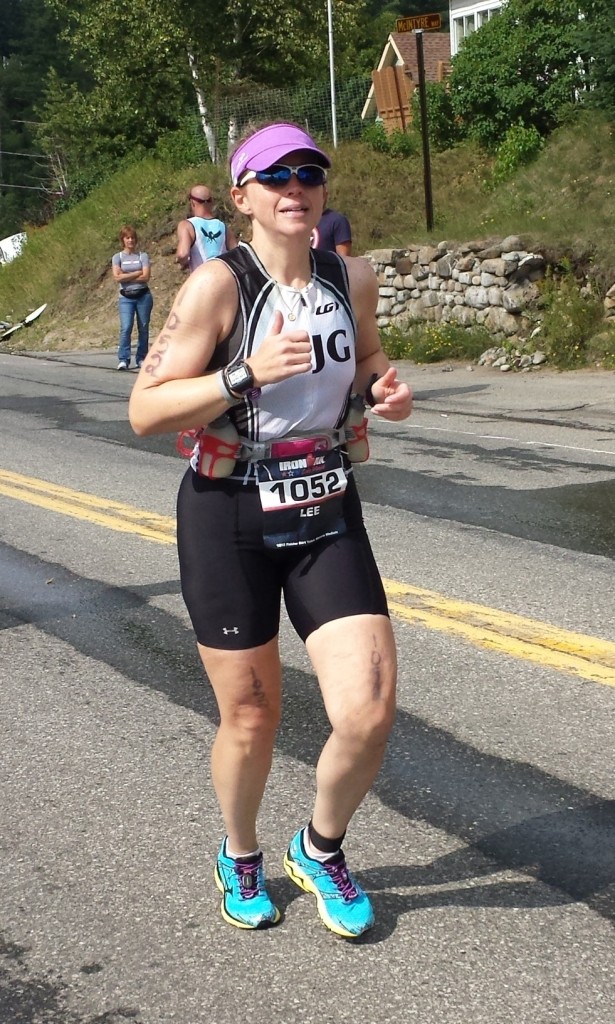 I spotted Tony a little bit into my run. Whenever I am racing, he always asks how I am feeling and I always try to answer him honestly. If I were to be experiencing problems, he could provide me ideas on how to address them. Luckily, I was able to answer him with "feeling pretty good".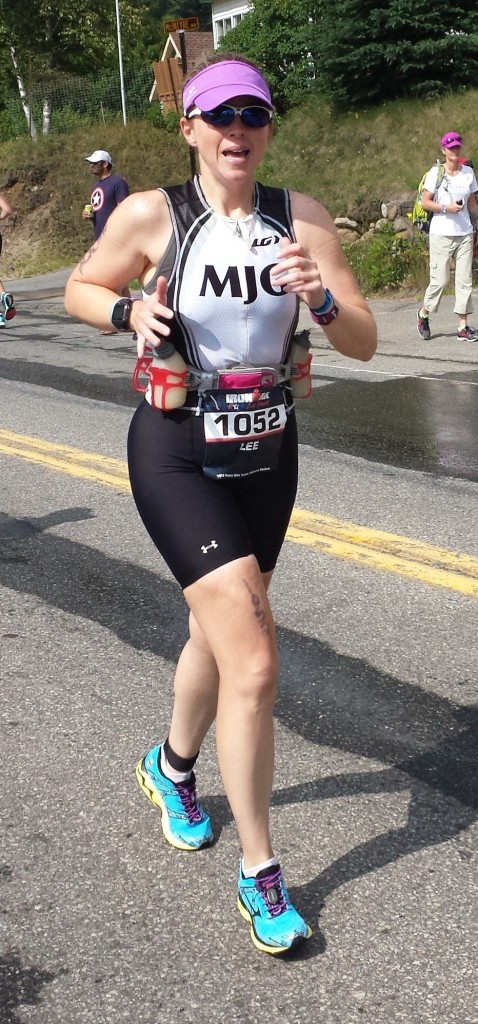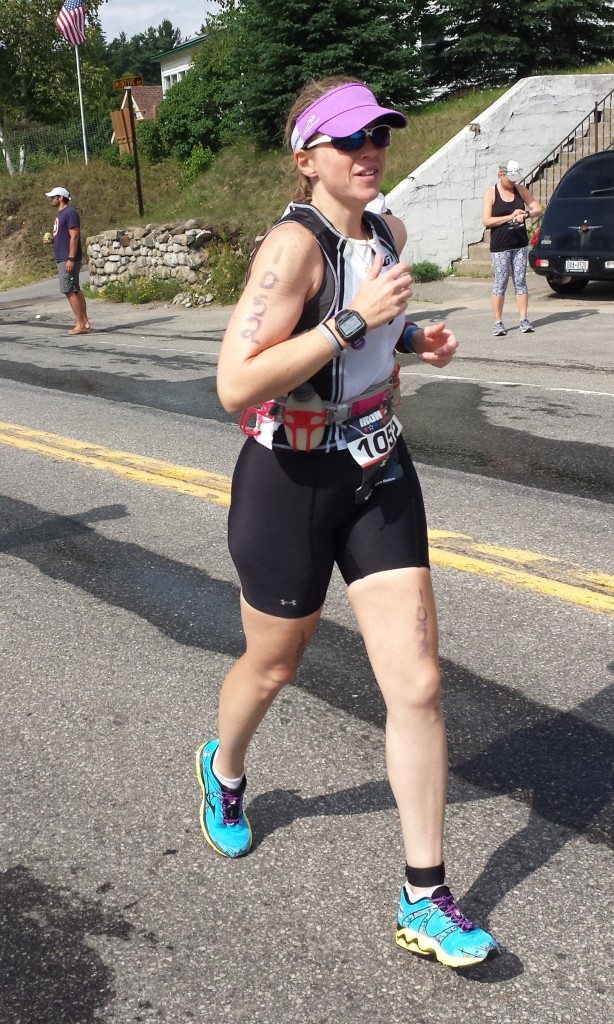 Also fairly early in to the run, another athlete recognized the MJG initials on my tri top. It was obvious that we had a mutual friend, so every time he passed me on the course, he would say something supportive. That was cool and yet another reminder to stay strong and what I was racing for!
On the River Road out and back stretch that seems to extend forever, I saw Tim. This road is closed to traffic and in one write-up I read, was described as no-(Iron)man's land, since there are very few spectators. However, Tim incorporated a training run into the day (he and Nicole have a marathon approaching), so that he could be out on this quiet area of the course. It was so incredibly awesome to see him twice through this section. I felt special having a personal cheerleader out there! He passed along some encouraging words and since he was the one that helped me so very much when I was having issues with my hydration on the run, it seemed appropriate that he was out there encouraging me to stick to my plan. I did see one more familiar face which was another athlete I knew from Raleigh. He was on his second loop of the run but we were able to spot each other twice to lend a few words of support.
As I progressed on the first loop of the run, I did a good job executing the plan. One aid station at a time. As I approached the station (they all had water as the first option), I took a big swig of my concentrated Osmo and followed it with water. I would also take water again as it was the last option as I made my way through the station. I would take a Gu Chomp approximately every 15 minutes…I grabbed a pack early on and would take it at the aid station with water if the timing was close to the 15-minute mark. I remember taking a few orange slices throughout the first loop and a handful of grapes. I thought the fruit was a nice break!
The run course includes some rollers/hills throughout. Generally, I felt that the hills were short enough to run up, but there were a few where I chose to walk…not a causal walk, but a power walk.  (There was one fellow athlete that remarked to me as I was walking one short section that I was the fastest walker he had ever seen. Ha Ha!)
The late miles on the loop contained the largest hill on the course. There were lots of people lining the street on this climb. When I approached it, I was going to try to run it, but quickly decided to shift down to the power walk. I felt this was a smart decision.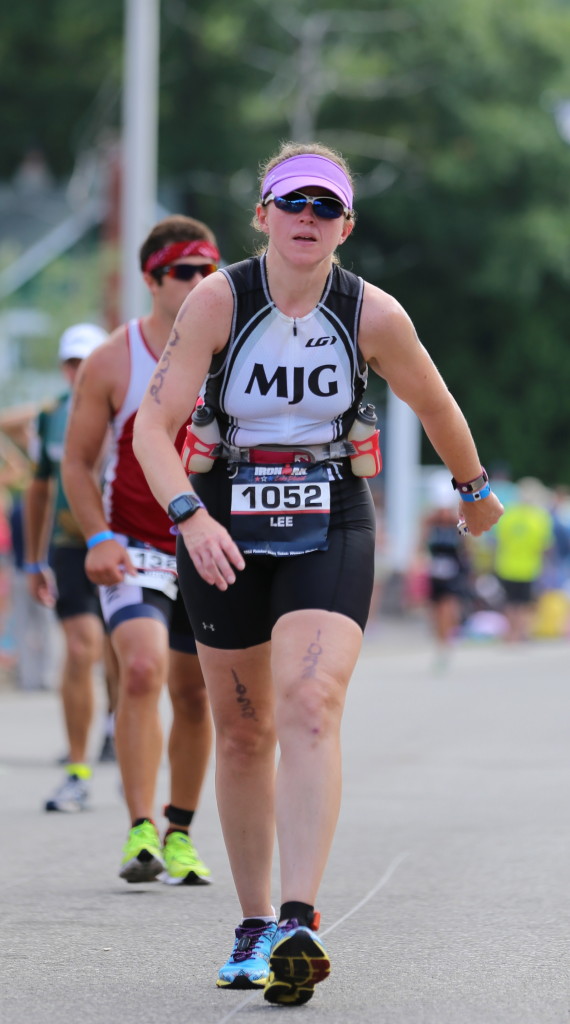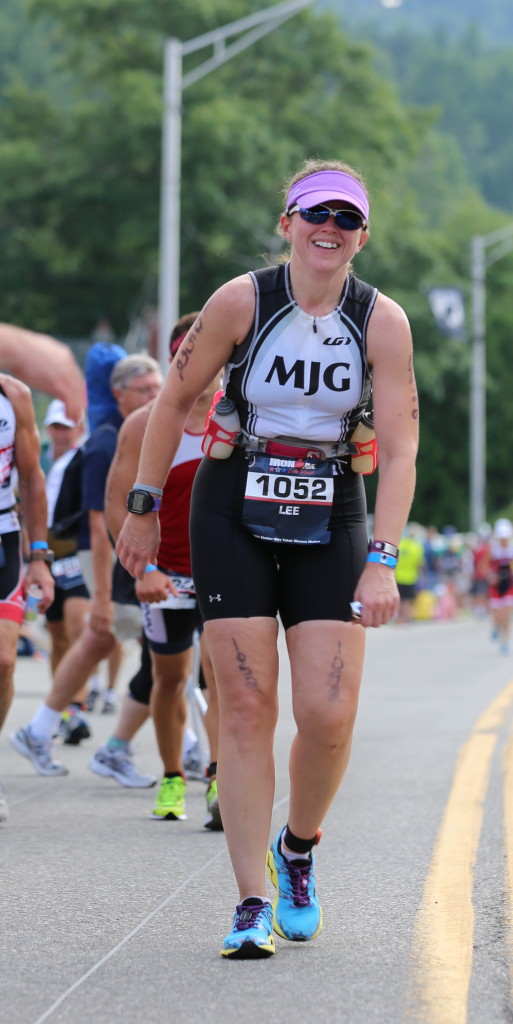 As I approached the crest of this hill. there was a lady standing pretty far out onto the street and she talked to me, encouraging me to "go chick that guy in front me" (direct quote)!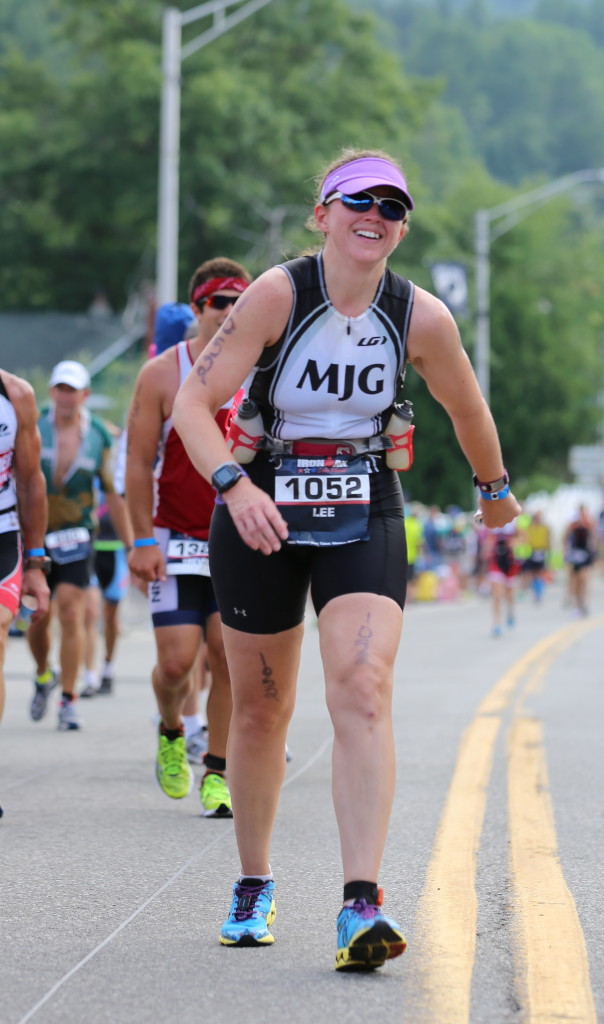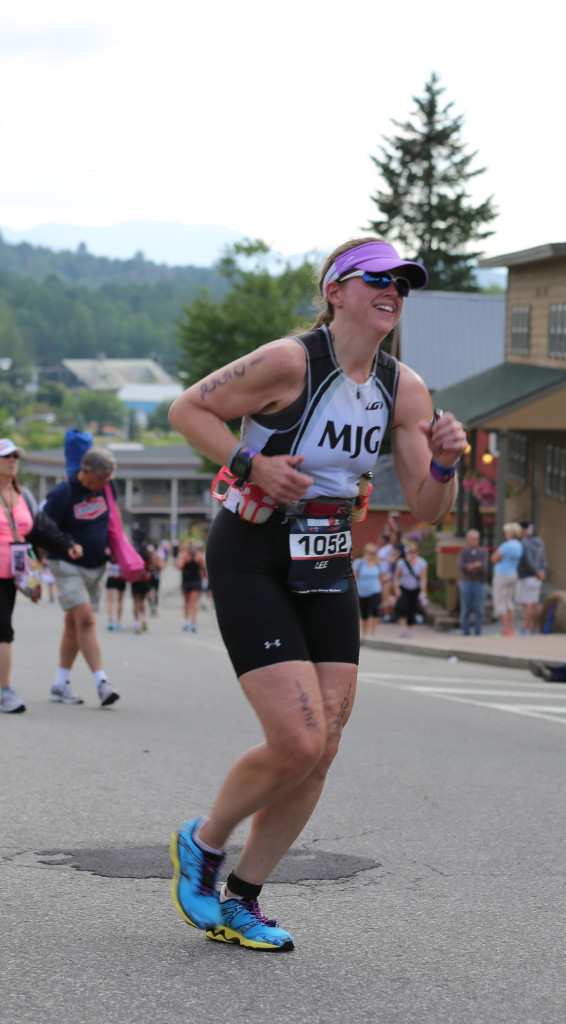 I laughed and as soon as I hit the top of the hill, I started running again, truly motivated by her enthusiasm!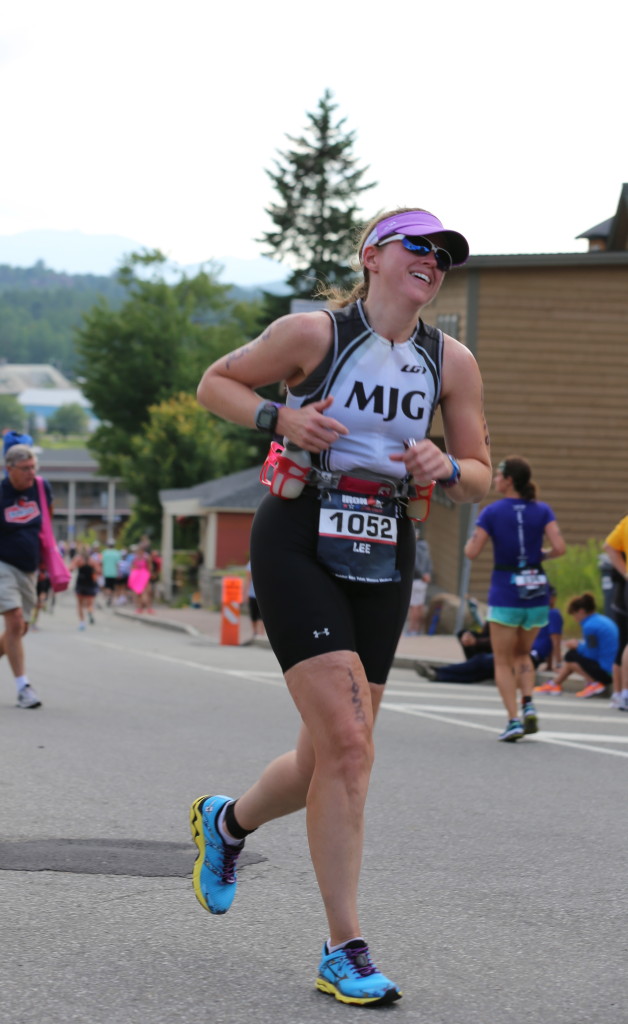 Near the end of the run loop, you get so close to the finish line that you can hear the finisher's names being announced. Nearing the end of the loop, there is another out and back section (Mirror Lake Drive) that you have to run, so you actually come close to the finish line twice (once as you start the out and back and then again as you start the second loop) even before the mid-way point of the run! The out and back also contains the area where you can access your special needs bag.  I bypassed the one on the bike, but chose to grab a couple things out for the second part of the run.  I took a snack pack of mini-Oreos (my favorite store bought cookie) and a snack size Ziploc of Goldfish. I immediately ate three or four of the Oreos and quickly decided that those were not what I wanted. I threw the rest away. The Goldfish, however, were a different story.  They tasted great! (Thanks to Nicole for suggesting these from her marathon trail race experience!)
As I started the second loop, I was thrilled to be starting the final part of this long day. However, I would be headed into absolutely new territory as soon as I hit mile 19. I had never run a marathon and 19 miles was the longest run my plan had me complete in training. I was definitely feeling some aches in my legs. Specifically, I was feeling some achiness in my left quad (not something I have felt before) and my right glute (something I feel routinely). I started feeling my right glute on the bike (having it start on the bike was unusual) and I continued to feel it on the run. It is always just a dull ache that I have been experiencing on and off for a while. It is not painful, just achy. I had taken two ibuprofen around mile 12.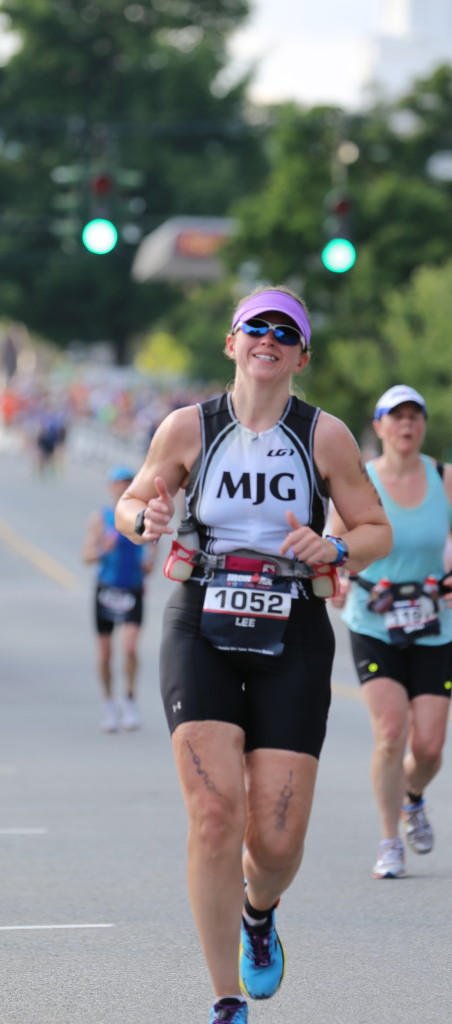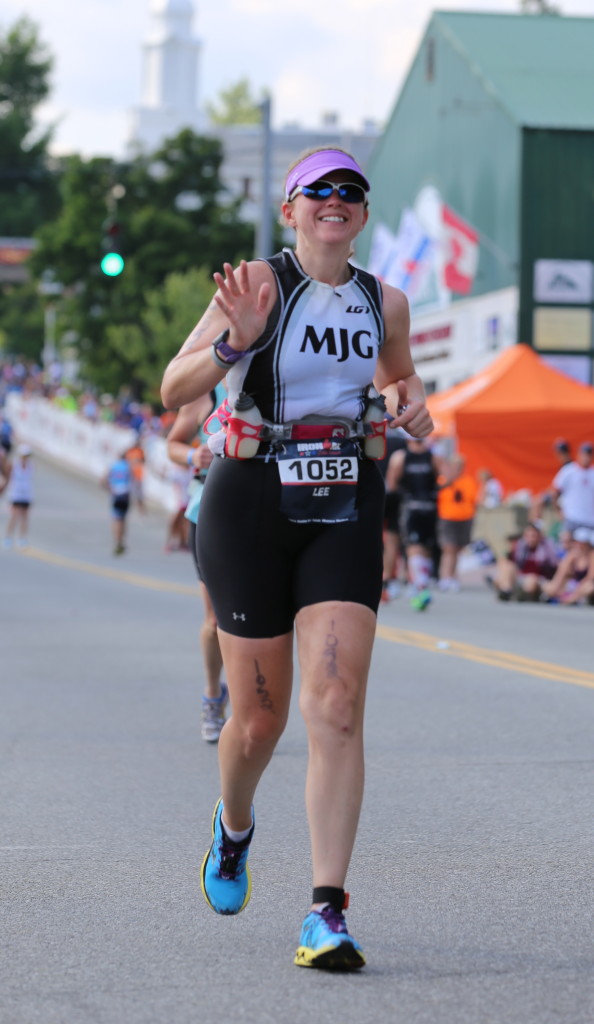 I passed Nicole again as I began the nice downhill section early in loop two. Seeing her gave me a good boost.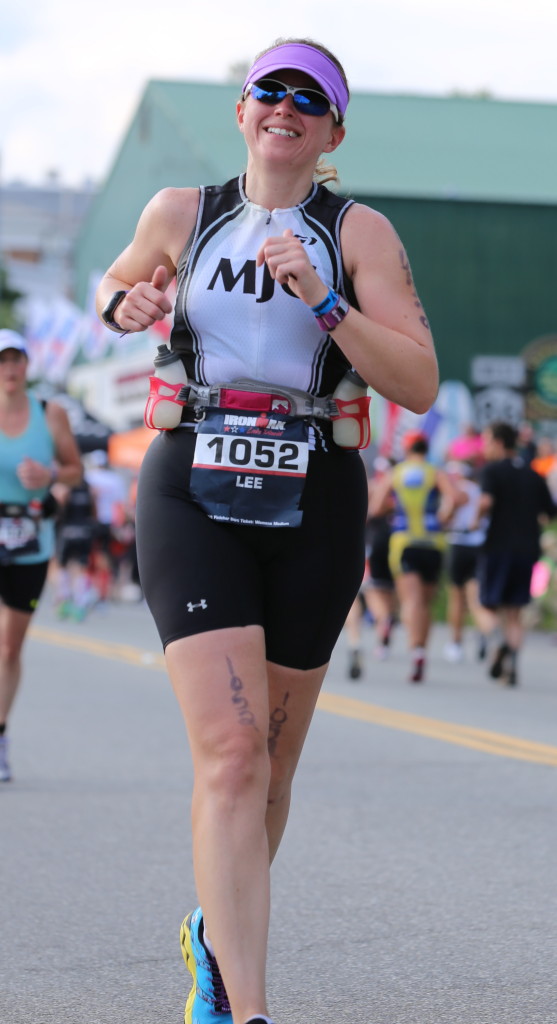 At mile 16, I saw Tony and Tim. More smiles as I saw them, but I knew it was the last I would see my support crew. As I passed them, after they gave me their final supporting words, Tony said they would see me at the finish line.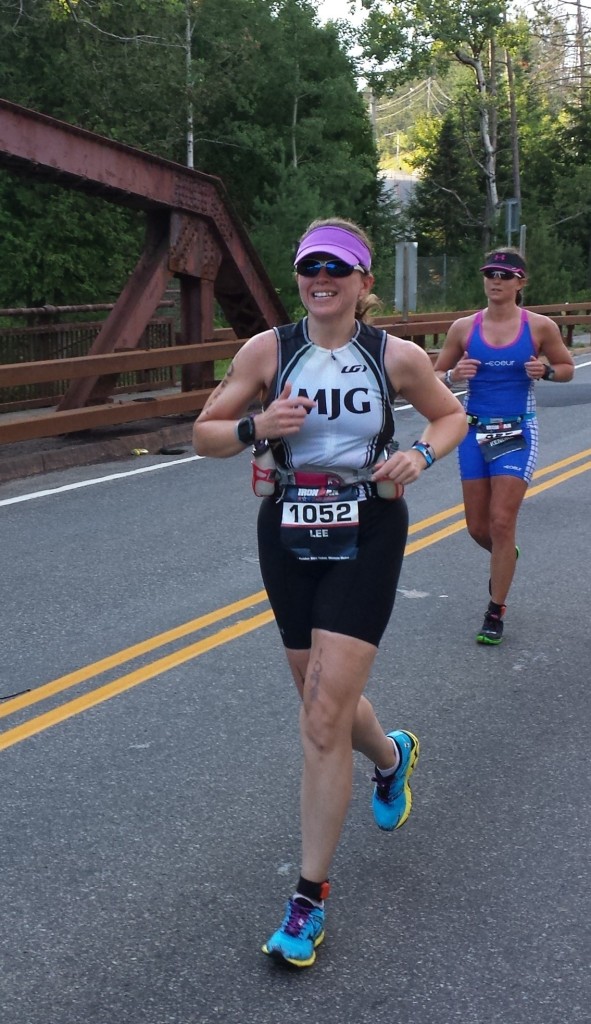 While those are very sweet words, I knew I had the most challenging physical part of the day still ahead. I basically continued the same approach that I had done for the first loop. I had decided to try some Coke at the aid station and/or possibly chicken broth. I had tried Coke once during my first half (to help a queasy stomach), but I had heard that Coke and broth can really help you get through the final stages of the IM marathon.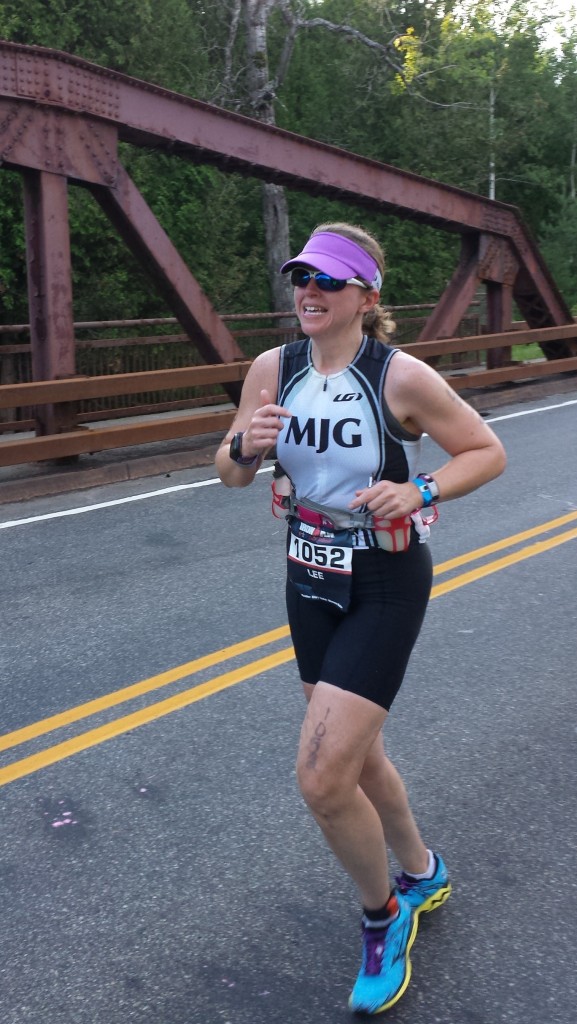 Even though my stomach was feeling fine (which was a TREMENDOUS victory in of itself), I wanted to keep it that way! I had my trusty Goldfish that I was enjoying at every aid station and still would take water as the first thing at the station. I took Coke numerous times and broth once.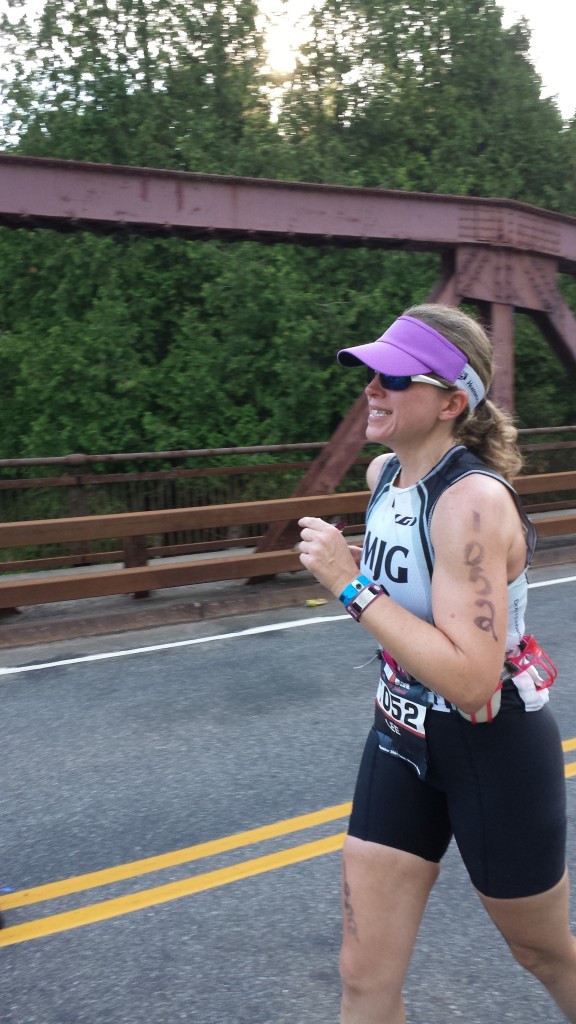 As I hit the 19 mile mark, I thought to myself…."here we go. This is new ground, but I can do this!!". As soon as I hit 20 miles, I started counting backward. I told myself that I had 6.2 miles left and surely I can run 6.2 miles! That continued for every remaining mile…whatever works to keep your mental game in play, right?? For these later miles, now that I think back, it is hard to describe, but I was definitely in a deep zone. Even more so than what I had experienced during training…thinking back to it, it is almost a blur. At least on that long section on River Road. Mentally, I think I really went somewhere deep to push through.
As I approached that nasty hill for the last time, I was so ready to go down the finish chute. However, I had that brutal out and back section on Mirror Lake Drive to do once again. I call it brutal, not because it is hilly or difficult, but because you are so close to the finish line and you have to keep running! I was plugging along and I remember stopping and walking. It was not a conscious decision at all. It was as if my mind and legs were not communicating. I literally had a five second conversation with myself and said "what are you doing? There is no walking at this point! You are so close to being done! Get a move on!" So, that five or six seconds was what I needed to push through the final mile.
As I was completeing the back section (of the out and back), it all became real. Then I had the final right turn (marked by the arrow for "finish") to start down the chute. At that moment I felt all kinds of emotions running through my body.
I remember someone telling me to take my time down the finish chute and enjoy the moment. I did just that. It was almost surreal.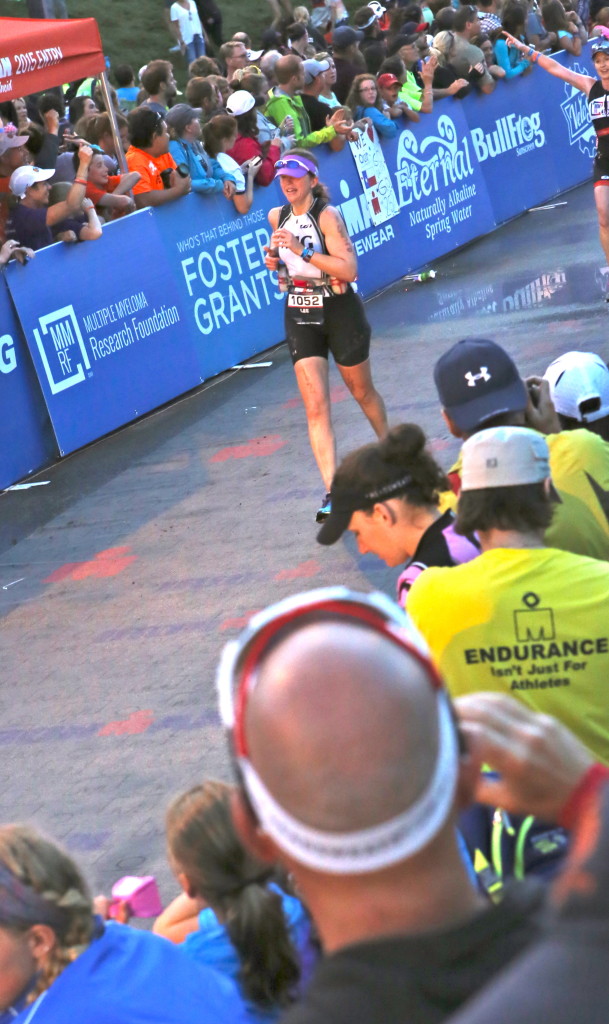 I raised my raised my arms in celebration and I spotted Tony just near the finish arch at the end of the chute. I don't remember my name being announced by Mike Reilly (although it was, but mispronounced) and even though that was something I was so excited to hear (I frequently thought about it during training), seeing Tony as I was taking the last few steps to reach my goal was so much sweeter. He has ALWAYS been my biggest supporter and having him right there was the only thing I needed.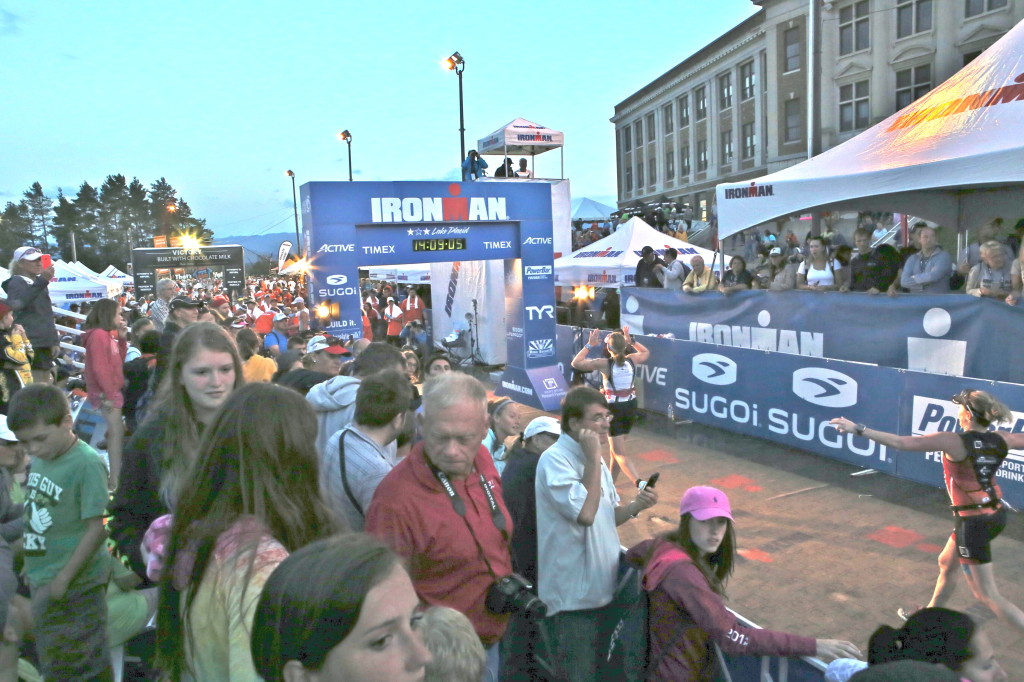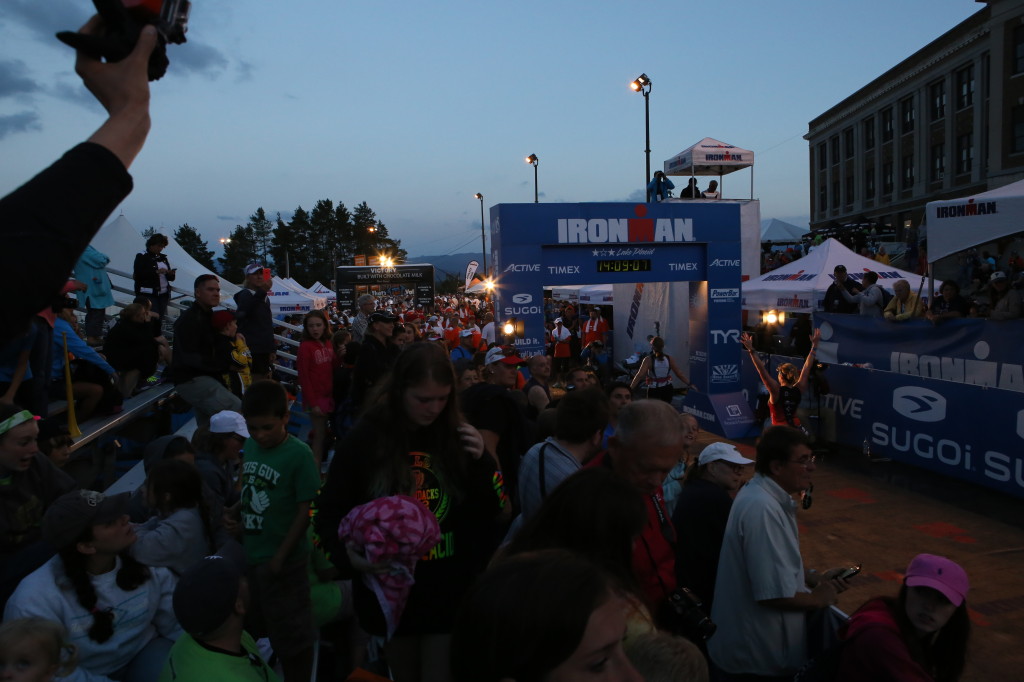 Immediately after I finished, a volunteer put the medal around my neck and there were two ladies there to help me with whatever I needed…one on each arm. I stood still for a bit as I was taking in what I had just completed. The volunteers were awesome giving me a wrap, my finisher's t-shirt, hat and water and asking me if I was okay (since I continued to stand still). I was totally okay!!! I had done it! They asked me if I wanted food and really all I wanted was to see Tony, Tim & Nicole. One of the ladies gave me a chocolate milk and led me to the food table anyway. The first choices I saw were orange slices, grapes, pretzels…the same food from the course. NO! I definitely did not want that. Then I saw pizza and thought I might try that. Well. I looked even further down and changed my mind when I saw French fries. Yes please! Warm, salty fries! They encouraged me to sit down, but I told them I was fine and just wanted to find my crew. I wondered out (with my arms and hands full of my race bling and treats) and was looking for the gang. I decided to stay close to athlete's exit of the finish chute with the thought that they would come to me. After just a few minutes (I had enjoyed four of five fries at that point), I saw Tim. He came up to me with big smiles and hugs. Just what I needed! He called Nicole and Tony and within a couple of minutes they found us. As soon as I saw Tony, he grabbed me and gave me a huge hug and the tray of French fries I had in my hand went flying everywhere! Then all the emotions got the best of me and I did not want to let him go. It was one of the best hugs ever!! I finally let him go and then got another great hug from Nicole. These guys were the best! I loved everything they did out on the course and it meant so very much to have them there.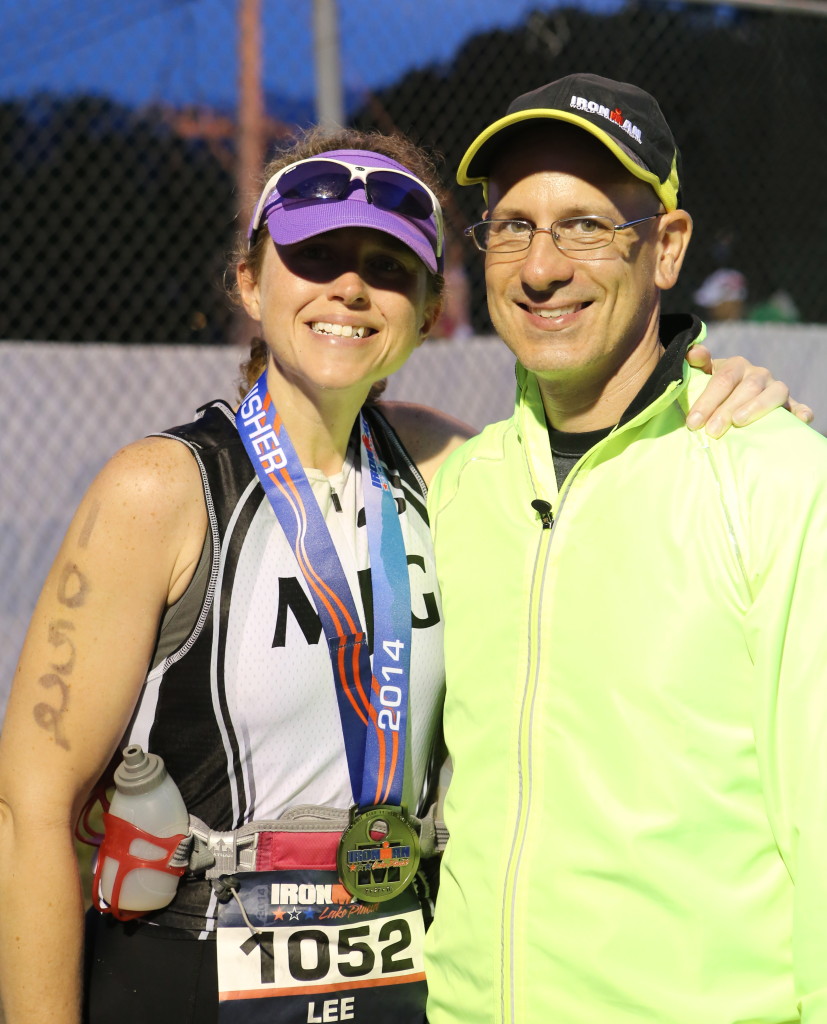 I was on cloud nine and was so happy to be reunited with them all. I had so much to talk about and share.
This day was the cherry on top of the sundae that I spent six months building (really…it took me several years to build it as I worked hard to be in the physical and mental position to start a 6-month training plan to become an Ironman). I knew this day would be full of challenges like I had never experienced. I honestly did not think the challenges would start before ever exiting the water, but this really proves that you never know what will happen in an Ironman. You can train and prepare to the best of your ability, but you must be mentally prepared to overcome whatever comes your way. I am proud of myself. I proved alot to myself on this day and it will be a day that I will never forget.
To Tony, Tim and Nicole…thank you is not enough. Since I have spectated four Ironmans, I know it is a long day. They have all been fun days, but tiring, nonetheless. Having their support out of the course was tremendous. All the words said during the day kept me motivated and made me smile (especially the reminders about pancakes and milk shakes from Nicole). The photos I have are so special as they will always be reminders of a terrific day! Thanks to them for enduring the "normal" elements of Ironman spectating (getting up early and lots of standing around), but the harsher ones that this day brought (very cold rain).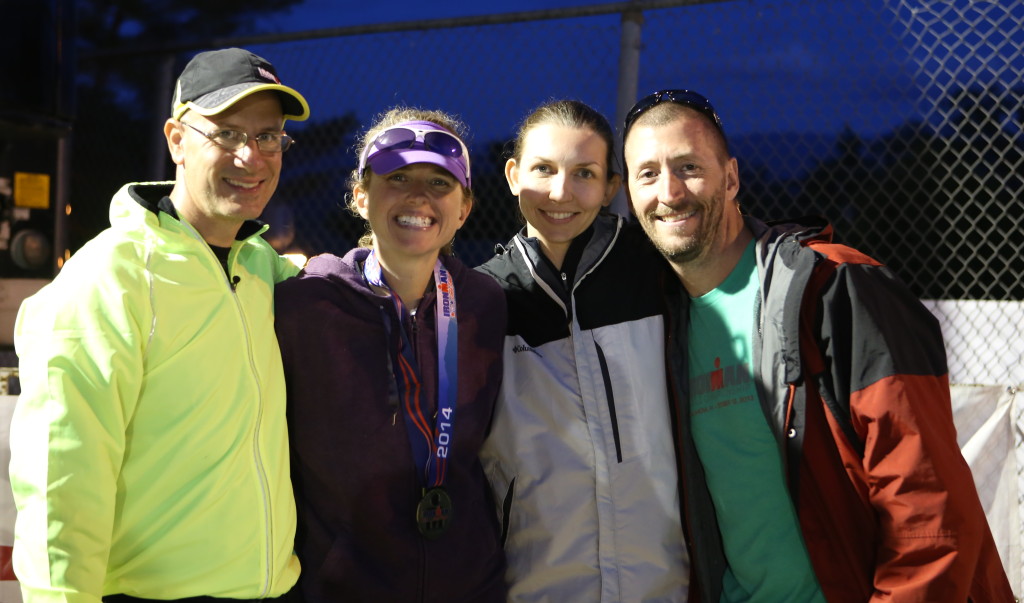 Total Run Time = 4:36:11 (Division Rank: 57/172   Gender Rank: 206/702)
As a result of the crazy weather during the swim, WTC decided to not include the second loop of the swim and T1 in the official results for age groupers. Even if an athlete was not pulled early from the swim, everyone's time was treated this way. According to Ironman, my official finish time was 12:41:42. However, in my mind, this is not my time. I feel I was completely on pace to match the same time in my second swim loop and if I estimate my T1 time to be approximately the same as T2, my finish time is 13:35. This, of course, does not include the time we swam to the docks, waited around and then had to walk a very long way to T1. The 13:35 would be my race time. It is a little frustrating to have an "official time" that really is not official, but I feel the 13:35 more accurately reflects my race. Even though I never shared it before the race, my goal time was 13 to 14 hours. Needless to say, I am happy!!
As several weeks have passed since I completed Ironman Lake Placid, I have frequently reflected back on that day. What should I have done differently? What could I have done better? During these reflections, I remember that decision making is also a huge part to an Ironman. The decisions made to push harder, ease up, drink more, eat now, stop for the bathroom, etc. are part of the day. I made the best decisions I could at the time. I don't have any regrets with anything I did or the decisions I made. I learned so very much about myself and I like these lessons. I am more full of determination, grit, focus and strength than I thought. The time in my life from February 10, 2014 (the day I started the 24-week training plan) to when I crossed that finish line, changed me in so many great ways!