Ironman Lake Placid Training Week #23
22

This was the first week of taper. It was nice to have a week with some reduced volume.  Plus the count down is TOTALLY ON!!!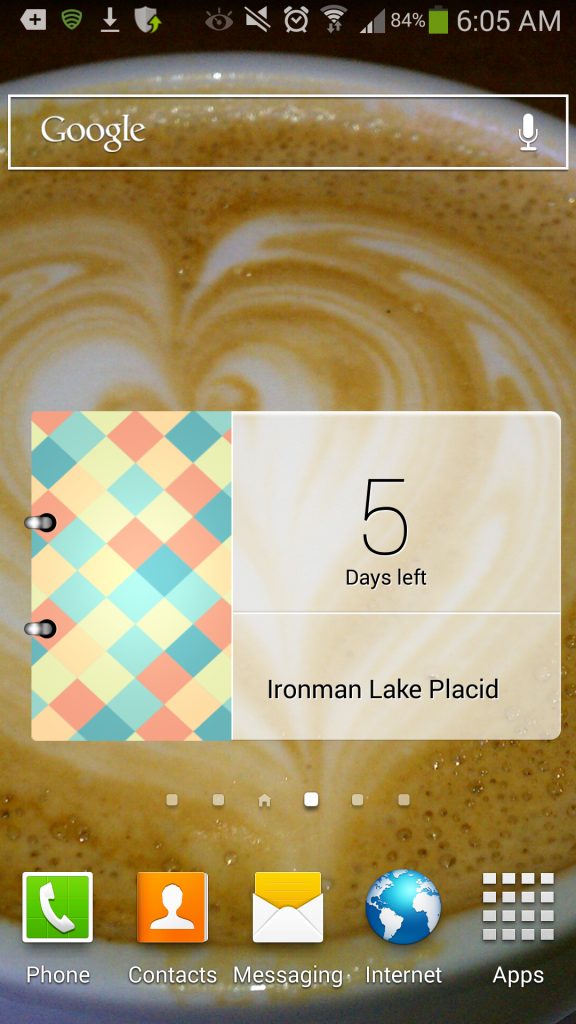 Monday 7/14
PM – 2000-yard swim with the main set focused on speed. I felt good in the pool and I averaged 1:50/100 yards for the 1300-yard main set. It was a nice change to be in and out of the pool relatively quickly (thank you taper!!).
Tuesday 7/15
AM – 60-minute steady run – I felt pretty good on this 7.25 mile run. Another early morning, but not too many of these left (smile)!
PM – Bike was at the mechanic, so I spent a lot of time stretching and foam rolling, which was very much needed.
Wednesday 7/16
AM – 30-minute recovery run – Morning training, but I did not have to get up at a crazy time…still early, but not crazy early!! Nice easy effort run with low heart rate.
PM – 45-minute open water swim – The lake was smooth and it was a beautiful night for a swim. I really spent time thinking during my swim to ensure I was appropriately pushing my effort to challenge myself. I felt like I did a good job the entire 1.22-mile swim. However, I was not pleased with my pace that I saw on my Garmin when I finished. I was a little frustrated (as Tony can attest to) but after I talked to him about it and he urged me to put it out of my mind, I tried my best to do just that.
After the swim, I spent a good amount of time talking to a guy in the swim group about Lake Placid. He raced it a few years ago, and he provided me some insight from his experience. It was really nice chatting with him and hearing more details about what to expect on race day!
Thursday 7/17
AM – 75 minutes on the bike trainer with the main set focused on lactate threshold efforts. This was an early alarm, but I am counting down the days to move past these regular, super early training sessions. My legs felt pretty good and I was happy with my effort.
PM – 75-minute steady run – With the exception of an achiness that I sometimes experience in my right glute/hammie, I felt great on this 9.12-mile run. I felt strong and had a big smile on my face when I finished, because I knew that was my last "hard work" run. I have two short recovery/taper runs next week, but those will be easy efforts.
Friday 7/18
REST DAY! WOO HOO!!!
Saturday 7/19
2.5 hour bike ride – This was my last outdoor ride on the training plan. The plan was 30-minute warm-up/30-minute tempo/30-minute recovery/30-minute tempo/30-minute cool down. I have done this session on the trainer because it has typically fallen on a week that also has a longer ride planned that was done on the weekend. It was nice to take this one out on the road to add a little variety. Tony was planning to ride with me and my tried and true riding friend Susanne joined, as well as, another friend Neil. We rode one of our regular out and back courses so everyone could ride at their desired pace for the tempos and catch back up as necessary on the easy effort intervals. The warm-up, recovery and cool down intervals were all indeed very easy effort. The tempo intervals were at a pace/effort that was a solid challenge, but one in which I could maintain for the entire 30 minutes. I was pleased with both these intervals. My average pace for tempo session one was 19.8 mph and 19.5 mph for the second.
As we were headed back in, about 5 miles from home, I commented to Susanne how nice it was to finish early in the day (it was still around 10:30am). The long rides that have been part of training, really take up a huge chunk of your Saturday. I also had to comment, as we safely passed by a mound of sand in the shoulder of the road, how terrible it would be to crash at this point!! I just wanted to make it home safely!
After hundreds of miles and hours and hours on the bike over the past several months, 8 days from race day, I decided that I really needed to take a tumble on my bike! Well, I did not really decide that, I guess my bike juju did…about 1.5 miles from home, I stopped at a stop sign, unclipped my right foot and it was too late to notice that my weight was shifting left which only left one option…I fell over. I had a bit of a bloody knee and a sore spot on my left hand…I tried to be dramatic and call it a crash, but Tony insisted that Paul and Phil, the commentators from the Tour de France coverage, would call it (in their British accents)…"a little spot of bother".  It was that topple that all cyclists have done at point or another. It has probably been over a year since I took my last spill, but the timing of this one was just uncanny. Bottom line, I was fine (maybe not my pride) and my bike was fine! [All of this was in jest, and I am very happy to say that I have been fortunate to never experience a crash on my bike. Tony has gone down very hard on two separate occasions and luckily he was ok with basic first aid (and a new helmet after one).]
We finally rolled into the driveway and I was happy to be home safely (once again). We have said week and week how fortunate we have been with the weather for our Saturday rides. The last one was no different. It looked like rain on the radar, but we all stayed dry. Last outdoor ride completed at 41.5 miles!!!
Sunday 7/20
AM – 60 minutes on the bike trainer with the main set focused on lactate threshold efforts. I felt so great on the bike! I was pushing great watts with the same level of effort that I typically maintain for this type workout.
PM – 60-minute open water swim. This was the last long OWS planned before race day. Tony was once again my safety support in the kayak. The water was pleasant as some rain storms had just moved out of the area. As I had done Wednesday, I really concentrated on my effort to ensure I was appropriately challenging myself. I knocked out 63 minutes at 1.71 miles. I completed this workout at a pace that would put me under my swim goal time and that is without a wetsuit. Most likely, race day will be wet suit legal. I was happy with my last long swim on the plan.
Totals:
Time:   10 hours 44 minutes
Swim: 7,121 yards
Bike: 70 miles
Run: 21.6 miles
Stretching/foam rolling: Did well!