Ironman Lake Placid Training Week #20
06

Week #4 in my 4-week blocks are generally "recovery weeks". Volume is decreased which is always a nice break. My massages are also this week, which are essential to surviving this training! This week #4 was different. No big decrease in volume as in typical week fours. When I realized that, it was a little tough to digest mentally, but I am getting so stinkin' close…I certainly can't let up now!!
Monday 6/23
AM – 85-minutes on the bike trainer with focus on lactate threshold efforts. This was more of a challenge than typical. I felt like I had very little power in my legs (as evidenced by watts reading). I pushed through ok, but thought…"this may be a long week…".
PM – 4000-yard swim – I felt surprisingly pretty good on this swim. There were a lot of different intervals to knock out, but I did. My plan specified easy to moderate efforts and I definitely went with the moderate pace and did not push too much past that.
Tuesday 6/24
AM – 90-minute steady run – This was another very early start. At the beginning, I honestly was not sure how it would go. I just focused on getting in the first few miles, which can seem to change the way I feel, often times. I did fall into the grove, which I so frequently speak of. I just took one mile at a time and kept my focus on drinking. I was proud that I was able to maintain the desired pace for the full 90 minutes and get in 10.74 miles for the main set…that just always seems so much harder for me to grasp when I start my run at 5:00am. I was pumped and happy to "check another one off the list"!!
PM – 1 hour 45 minutes on the bike. This session consisted of 15 minute warm-up/30 minute steady pace at race pace ++ effort/15 minute recovery/30 minute steady pace at race pace ++ effort/15 minute cool down. The 30 minute efforts were not fun…at all. I pushed to try to hold the watts, which I did. At my recovery interval, I was starving though! I had some peanut butter filled pretzels (one of my normal bike snacks). Tony then brought me a "fun size" Snickers bar that was buried in the pantry. Man, that was good! (That gives me more motivation to put a really tasty snack in my special needs bag on race day!) I had just enough left in the tank to make it through the second working interval. For my one-hour steady pace sessions, I was able to average 170 watts. I was happy with that…especially given the "state" of my legs!
Wednesday 6/25
PM – 42-minute open water swim – I was not certain that the weather would cooperate for an OWS…when I arrived at Falls Lake to meet the swim group, there was a brief storm. Everything moved out in about 15 minutes and what remained was a nice evening for an outdoor swim. The group did a smaller course to try to stay closer to shore, JUST IN CASE, the weather turned again. The distance was a bit shorter. However, once the group made it back to shore, a couple of us did two additional legs of across and back to the closest shore to give us a little over 15 additional minutes. I felt good in the water and was pleased with my 1.23 mile swim.
Thursday 6/26
AM – 70-minute run on the treadmill with 6×10-minute speed intervals – This was another one of those early morning runs where I got up at the crack of dawn to get done. That is always a questionable start to the day…would my legs wake up enough to have a good run? The thing that was pushing me a bit more was that this was the only workout of the day. I had a massage scheduled for the evening!
It was a bit of a slow start. I decided the best way to get through this run was to ONLY focus on ONE interval at a time. There was no thinking during interval #2 that there was no way I could keep this up for six total…I just tried to not go there! I stuck to my plan of one at a time. I pushed hard at holding a solid pace. It was a bit slower than some of my prior speed sessions, but I was happy with it overall. I conquered the mental game of the morning and was successful with my last session before my weekend training. My main set run distance totaled 8.87 miles.
PM – 90-minute massage! This was my first 90-minute massage in several years. I knew that I would need the extra attention that an additional 30 minutes would provide. I was so right. She spent extra time on a lot of areas that really needed it!
Friday 6/27
REST DAY! WOO HOO!!!
Saturday 6/28
Tony and I decided to embark on another road trip for more adventures in hill climbing!! We went up to the same area as a few weeks prior…around Pilot Mountain/King, NC. We had a good game plan and we kept our fingers crossed that the weather would cooperate! As we drove the approximate 2-hours (well, Tony drove while I slept for at least an hour), I was fairly certain we were going to have a rain soaked day.
When we arrived, there was no rain; it was just overcast and humid. Fingers were crossed those conditions would stay! Our game plan did not include a climb up Pilot Mountain as we did before. I was more interested in climbs that I will most likely be tackling come race day. With the exception of bypassing that first climb, the first part of our route was the same as before. We had planned to do the Sauratown climb that we did previously, as long as the weather allowed it.
We had a slight delay as we had to ask permission to pass through on a road that was closed.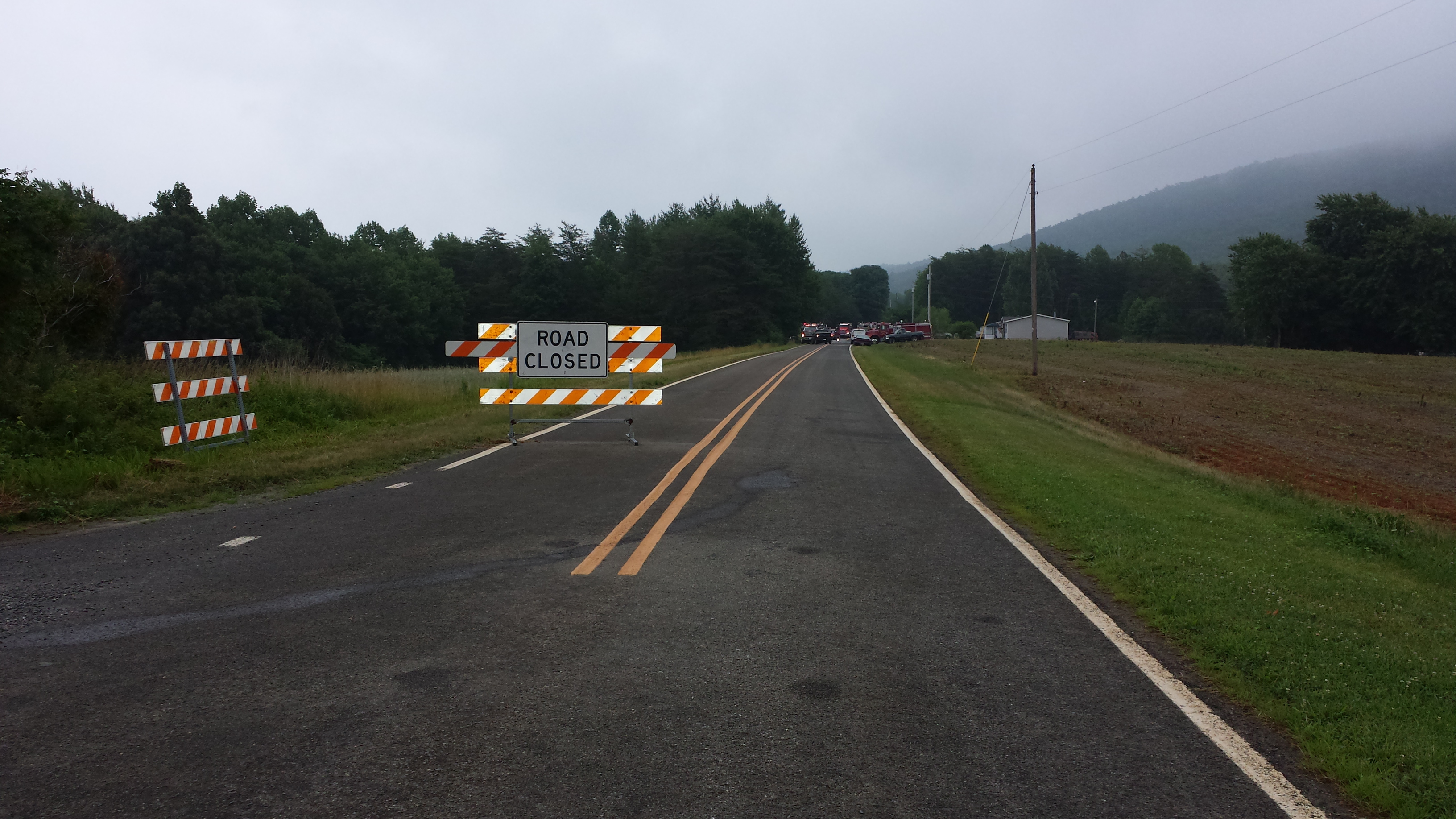 We learned that they were burning down a house. We were allowed to pass through as we agreed to walk our bikes around the fire trucks and other crew. We were on our way to Sauratown, once again.
When we arrived at the base, the weather conditions were still overcast and humid. We had been sprinkled on a couple of times on our way, but nothing bad, so it was good to climb!
It was as challenging as before, but I think mentally I was stronger on this day. I took it nice and steady and made it without stopping for a rest break. I was excited to make it to the top for a second time!
We continued along the planned route. The majority of this part was new to us. It continued to challenge us as we climbed more and more. Some of the climbs seemed to continue on for what seemed to be never ending. We kept at it and finished up the ride at 3 hours 8 minutes. We had 4,695 feet of climbing over the 45 miles. Our average speed was 14.5mph which emphasizes the tough, SLOW course! Tony was a real trooper since he was there for me to get me the climb training I needed!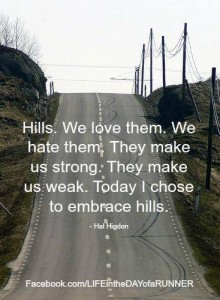 After the ride, I did a one-hour run. Since we are out in a very rural area there were no good options for running. We were too concerned about loose dogs to pick a random route on the road. So, the best option was to run on the track at the school where we had parked. This was not an exciting option, but it was safe and Tony could run with me as much or as little as he chose. One hour on the track was not fun, but I got the run done! I felt fair during the run….not great, not bad. The sun actually came out right before I started running, so it become much warmer (and was already very humid). I was able to get in 6.79 miles. Despite having heavy legs, Tony even ran a few miles with me. I HAD to run, but he didn't! (SMILE!!)
This was a successful road trip and I was glad to get in very solid training. After a full day, we arrived home around 5pm. A nice shower and nap was the course of action when we got home. Just as we started discussing dinner and how neither of us felt like cooking, we received a last minute invite for a casual dinner out with Tim and Nicole. We jumped on that since the Salt & Lime restaurant sounded really good (margarita please!!)!
Sunday 6/29
AM – This may sound crazy (at least it was to me), but mid-morning, I did a 1 hour 45 minute bike trainer session with hill repeats! One can never have too many hills…right??? I felt better than I thought I would and did well with my 6×10-minute hill repeats.
PM – Open water swim – Tony escorted me via kayak, while I went out for a 75-minute OWS. Early on, I was feeling really heavy arms and shoulders (probably from being upright on the bike more than normal with all the hills…). I just tried to push it out of my mind and keep at it. It was probably at over the half-way point, but eventually, I was feeling better and my arms less tired. I was pleased to complete the 75-minutes with 2.11 miles. I am so close to hitting the full IM distance of 2.4 miles!
Totals:
Time:   15 hours 36 minutes
Swim: 9,877 yards (a bit over 5 miles…new PR for distance swim volume)
Bike: 106 miles
Run:  28.4 miles
Stretching/foam rolling: Need to do more!