Ironman Lake Placid Training Week #17
13

Week seventeen began the next four week training block which will be the toughest four week block of the plan. I am down to two 4-week blocks before the big day!! I know this month will bring immense challenges, but all I can say is…BRING IT ON!!
Monday 6/2
PM – 3500-yard swim – I felt decent during this swim, but my times were not what I am capable of doing at this point. I got it done. That's all.
Tuesday 6/3
PM – 2.5 hour long run – No surprise that long runs are a real challenge for me. After my last two runs, I have felt pretty trashed at the end. I was hoping for a better outcome with this run. I tried to plan my nutrition better. Also, since this day was the warmest I had so far for a long run, I decided that it would be smart to take the beginning miles on the easy (effort) side…I did not want my heart rate to jump early. I was executing my plan well. First 4.5 miles, I really kept my heart rate in check and I was feeling fine. I was eating as planned and drinking well. Tony met me once again around this point on his mountain bike to support me on my run. I decided for the next few miles to just run based on feel. It got interesting, fast! Around mile 7ish…it started drizzling…then it started raining…then it started pouring!! Tony asked me if I wanted to finish my run on the treadmill at home…I declined. I felt bad for him since he was getting drenched too, but I did not want to stop and re-start…plus it is good training because you never know what conditions will be like on race day!
The rain continued for a while. It actually distracted my mind a bit as I was watching the puddles on the ground while hoping that my soaking wet socks did not result in big blisters on my feet! After the rain let up, I was starting to struggle a bit. I don't remember precisely, but maybe around mile 10-11. I was feeling a bit nauseous and I was starting to feel some aching in my muscles. I just kept telling myself that I could do this. I stopped for a few seconds a couple of times to stretch.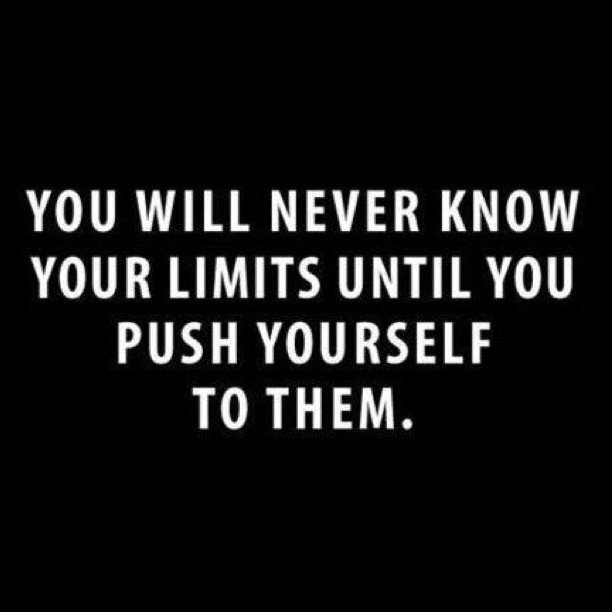 I made it for the 2.5 hours. I totaled 15.25 miles. LONGEST.RUN.EVER!!! My calves were cramping badly after I stopped. The walk to the car was slow and painful!! Fast forward…I called my friend Tim that has done three Ironmans and has tons of running experience.   I explained to him my symptoms and what I had planned/done with my eating and drinking. He immediately said that I was dehydrated…my described symptoms fit it perfectly. Long story short…I am not drinking enough and not of the right thing.   He is confident that this is something we can figure out and address easily. It is awesome to have such strong resources! MORE TO COME ON THIS….
Wednesday 6/4
AM – 80 minutes on the bike trainer– I have done a bike trainer workout several times after long runs. However, despite my efforts of stretching and foam rolling from the previous night, my legs were feeling rough this morning. The main focus was on big gears and low cadence while keeping the heart rate relatively low. I made it through the bike session, but it was not pleasant!
PM – 3100-yard swim. I have done this similar workout numerous times…100 moderate/:15 sec rest/50 Fast/:30 sec rest. This time, I had to do this 16 times!!! I felt better than I thought I would, since my body was pretty sore and achy from the long run. I did not push the moderate pace like I usually try to do, but held fairly consistent throughout the 16 intervals. I swam the 2400-yard main set at an average pace of 1:51/100 yards.
Thursday 6/5
AM – 75 minutes on the bike trainer – In the reference to working on my hydration, this morning I weighed first thing before my workout. I also weighed immediately following. I logged these two numbers, and the 20 ounces of Gatorade I drank, and I lost one pound! This is going to be an interesting experiment. My bike session was a lactate threshold effort of 3×15 minutes with alternating cadences between 85 and 95 every 5 minutes. I felt ok…
PM – 70-minutes on the treadmill with the main set including speed work – I was concerned about this run. It was3x15-minutes at speed work pace (with 2-minute recovery between intervals). These are always challenging and with the increase interval time plus number of intervals, I knew I had my work cut out for me! I was very proud of my effort. I stayed strong, got through all the intervals and held my speed work average pace of 7:30! I wanted to yell "woo hoo" when I finished, but I was too tired!! Total distance (which includes warm up and cool down) was 7.55 miles. I lost 1.4 pounds on this workout (which is after considering the 20 ounces of Gatorade I drank)! The trend that I am quickly seeing is that my hydration IS low. I plan to work on this immediately!!!
Friday 6/6 REST DAY! WOO HOO!!!
Saturday 6/7
5.5 hour ride – I was definitely nervous about this ride. I was anxious mainly because I pretty much trashed my legs on Tuesday's long run and I had a lot of residual soreness that I had not felt in any of these weeks of Ironman training. Had I recovered enough to have to good long ride on Saturday? Also, the last time I rode (3 hour ride from the previous week), I didn't have a great ride. These two elements were contributing to my nervousness. Also, I knew that this ride was a very important ride for gauging my hydration and nutrition. What is really working for me and what (may) need to be adjusted? My plan needs to be locked in sooner than later.
I had planned another two course route to comprise the 5.5 hour ride. There was one other that was riding the full 5.5 hours with me (YAY for Daryl!…he is training for IM Louisville). For the first route, we had six folks riding. I was excited to have this size group. The morning was overcast and temperatures were mild. I had planned to really keep my effort easy on the first section of the ride. Also, really focus on hydration and nutrition.
After the first route when we swung back by the house, I was feeling good. We were about 3 hours 15 minutes into the ride. I had really practiced what my plan was for level of effort, eating and drinking. My legs were not fatigued and my stomach was feeling normal. I was excited at this point.
The second route had five of us starting out (one was planning about 10 more miles). As with several previous rides, this route contained more rollers. I felt I upped my level of effort a bit, but still felt like I was riding smart. Nearing the end when we approached the neighborhood, I realized that time wise I had underestimated and would be a few minutes short of the 5.5 hours. I was still feeling good, so I, along with one other, tacked on a few more minutes. I ended the ride with 5 hours 36 minutes, 96 miles (new record for me!) at an average speed of 17.2. When I got off my bike, I was super excited. My stomach was feeling fine, I felt like my legs were in decent shape and that I still had something left had I needed to run. I finished the ride and met all my goals. I could not have been happier at the point!! On this ride I consumed 154 ounces of fluid (combination of water and Osmo sports drink) and lost a total of 1.6 pounds. I ate a lot of calories as well. We consider the 1.6 pounds lost a low amount (a minor victory for this ride), considering the length of the ride!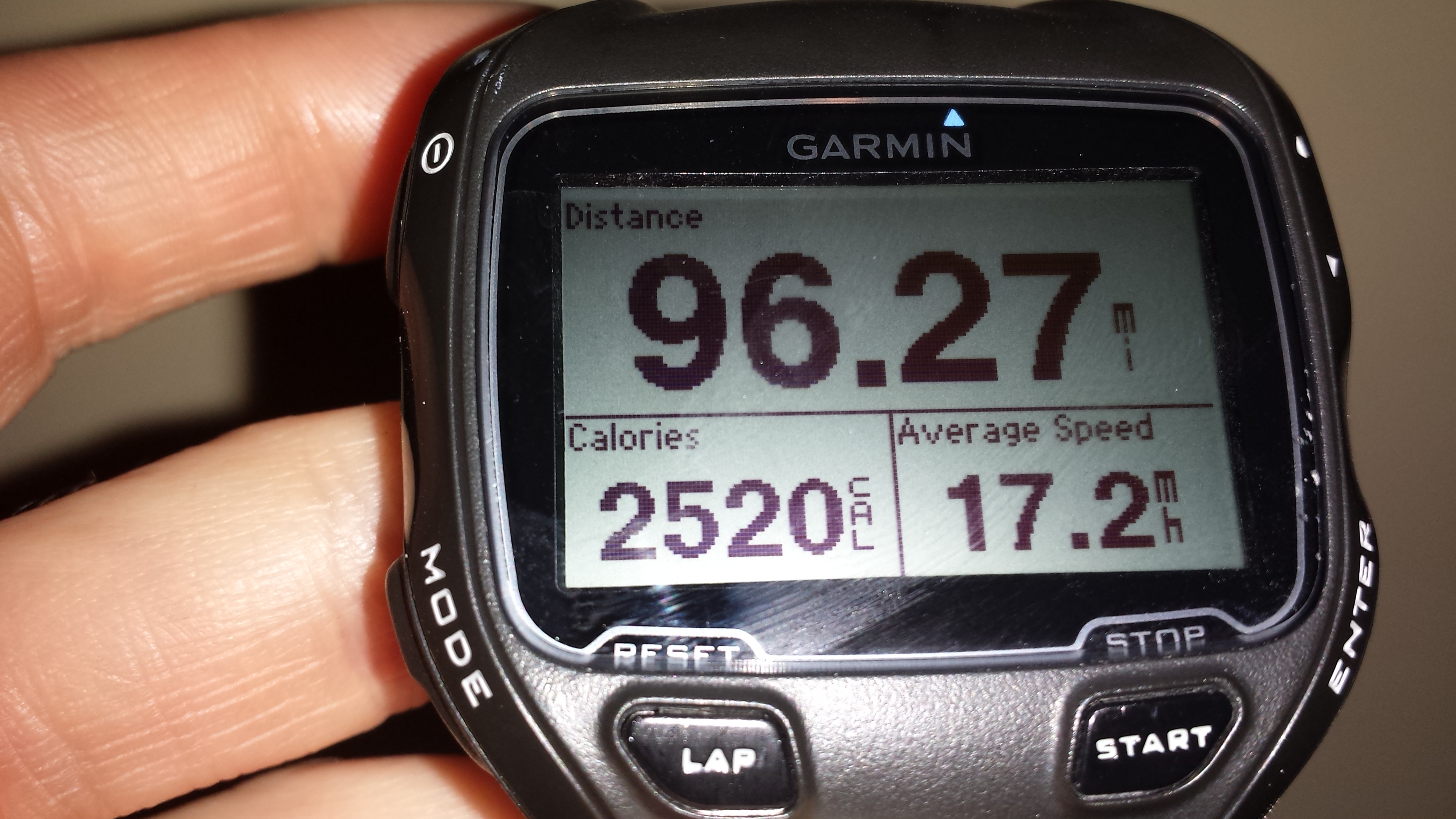 Sunday 6/8
Open Water Swim – I was going out for another open water swim at Falls Lake and one of my goals was to work on siting. Tony and our buddy Tim that has the paddle boards (and is my new hydration consultant), were going out with me and they were going to position themselves as my "site buoys". The conditions were terrible! The water was incredibly choppy and I was really getting beat up in the water. I tried my best, but I felt like I was fighting the water the entire time. I had hoped for an hour, but ended up 50 minutes. I gave all my effort and that is all I can ask (besides smooth waters on race day!!).
After the swim, we headed home and I had a snack, showered and then a nap. I had a run to do and even though I would prefer to just go ahead and get it knocked out before I got cleaned up, I really felt that if I took a nap, my run would be MUCH BETTER! Good call on my part…
Run – 54 minutes on the treadmill with hill repeats for the main set – I planned to run the hill repeats on the hill I have done so previously in my neighborhood. It looked like rain and the radar showed rain, so I jumped on the treadmill. I see the benefits in running the hill repeats outside and well as on the treadmill. Setting the incline to a specific number on the treadmill is nice and challenging whereas being outside and trudging up the same hill over and over is just good training physically and mentally. I had nine 2-minute hills with 2 minutes (flat) recovery. I opted for varying inclines…4%, 5%, 6%, 7%, 8%, 7%, 6%, 5%, 4% and selected speed based on feel (good challenge but enough to sustain a decent pace for the hill). I was pleased with my run and felt that the nap gave me a second wind to have a good workout. I ended with 4.67 miles.
I am very deep in to training at this point. However, this week has started some lessons in what will be a major part of leading me to success on race day. I am going to keep working on the hydration and nutrition and hopefully when I get to my next long run, I will see improvement. The long ride was a personal victory in that I am still overcoming so many things and still learning so much about myself and abilities. Another week done and another week closer to IMLP!!!
Totals: 16 hours 16 minutes
Swim: 8,800 yards (5 miles)
Bike: 126.1 miles
Run: 27.5 miles
Stretching: Did an ok job of regular stretching in the evenings