Ironman 70.3 Comes to Raleigh for a Second Year
03
This past Sunday was the second running of Raleigh Ironman 70.3. With the inaugural year being in 2013, there was tremendous excitement and hype amongst our local triathlon community that first year. Both Tony and I participated then and it was a great event. I was proud of the support the community showed the inaugural year and the volunteers were excellent!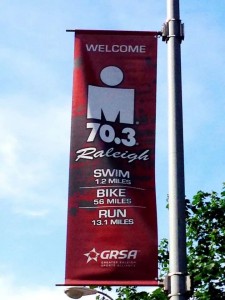 This year, of course all my focus is on IM Lake Placid, and I did not sign up early on for Raleigh. At some point after I had selected my training plan, we decided that with the timing of Raleigh versus the timing of Lake Placid, Raleigh would be a good event for my training. However, my actual signing up came too late, as it sold out before I could register! So, we decided to volunteer…we selected two different volunteer options. One was an aide station on the run course and the second was a homestay.
Our aide station experience was crazy! We had volunteered at a local sprint tri before, but never a race this large! After spending the first hour helping get the station set up (moving boxes, cutting up oranges, pouring drinks, etc), Tony and I were on "cold sponge" duty during the race. We passed out sponges soaked in iced water to any athlete that wanted one. These were super popular. It was not as hot as the prior year, but with full sun on the run course, they were welcomed refreshment to the athletes. Our shift ran from 8:30 to 1:00 and this time really flew by. It was great supporting the race, our friends racing and seeing it all from a different perspective.
The homestay program is something we stumbled upon on the volunteer website. Essentially, we would be hosting a pro triathlete in our home as they visited Raleigh to participate in the race. We thought this would be an interesting experience, so we signed up. After communication with a volunteer coordinator and an Ironman representative, we were initially paired up with a pro. We were then asked if we could accommodate two athletes as this particular pro was traveling from California with a friend that was an elite age grouper. We agreed and were excited about meeting two great female triathletes.
One of our visitors came in Thursday evening and the second Friday evening. Of course, they were busy preparing for and coordinating the logistics of race day.  However, we were very fortunate to spend time with them over meals and during some down time to  get to know them. They are both dedicated and experienced athletes and it was a treat to have them in our home. They both had great races and we were happy to cheer for them as they passed our aide station. They each achieved personal goals during this race and I was super impressed with their athletic ability. They seemed to both enjoy their experience here in Raleigh!
I am happy that Raleigh has hosted two successful Ironman 70.3 events. It is great for so many people that travel from around the world to this event to see the city that I love and experience some southern hospitality. If anyone is looking for a new race to experience, I urge you to give Raleigh Ironman 70.3 a go!