Archive for April 2014 | Monthly archive page

Considering I am in currently in week #11, I guess I could say that I am finally caught up with posting my recaps.  Woo hoo!  Glad to be back on track and in the "now"!
Monday:
PM – 3100-yard swim – The main set focused on various distances from a 600 yard moderate effort interval to finishing up with several 100 yard intervals building speed during the 100 yards.  This was an unusual workout for me.  I felt good and it was like I gliding through the water and getting strong pulls; however, my times were not reflective of how I felt.  The paces were below the times I have been routinely averaging and I could not really understand why.  Even up until the end, I was a bit tired, but still felt pretty good and strong. I just did my best and tried to not let the slower times bother me.
Tuesday:
AM – 1 hour on the bike trainer with the main set consisting of hill repeats!  I performed three hill repeats of 10 minutes each with 5 minutes of recovery between sets.  The first & third hill repeats were around 60-65 cadence.  For the second hill repeat, I alternated between standing/sitting every 30-seconds and averaged around 55 cadence while seated. RPMs naturally increase when standing and I added one additional gear for the standing portion.  I felt pretty good during the workout.
PM – 60-minute "steady" run on the treadmill.  The target pace was 30 seconds faster than race pace.  This was a great run for me.  I maintained a pace that was a bit quicker than the plan outlined, but I felt strong.  I ran 7.17 miles at 8:23 pace. I was very pleased with this session.
Wednesday:
AM – 55 minutes on the bike trainer.  This is the intense session that is a plan repeat.  The focus is on multiple sets of "max effort" for varying periods of time.  This still continues to be a tough workout and I try to push each interval.  As always, I was a drippy, drippy mess after this!
PM – 2800-yard swim with the main set including a ladder.  This is a gradual increase in yardage with each set – 100/200/300/400/500 with (only) 15 seconds rest between intervals.  The main set finished off with 2×300 where I swam the first 100 at a slower pace, the next 100 at a moderate pace and the last 100 at a faster pace.  I liked the way those last sets came together.  Overall, this was a mediocre swim. I felt good, but my times (for about half of the workout) were not what I should be swimming.  This was better than Monday's swim, but not where I should be.
Thursday:
AM – Tempo run (speed work) on the treadmill. After a good warm-up, I ran 4×5 minute speed sets. The targeted pace for these workouts in my plan have been 1 minute faster than targeted race pace.  For this session, I pushed the pace more than I have with these workouts in the past using this plan.  I pushed it about 30sec/mile faster.  The decision was made based on the progress I have made on my steady runs. I want to keep progressing and speed work has always helped me with that in the past!  I felt good on the run!!  The 5 minute speed intervals ranged from 7:31 – 7:36 pace.
PM – 3200-yard swim with the main set including 5×500 yards with 1 minute rest between intervals. Before heading to the pool, I was feeling very tired.  On my drive to the pool, I was feeling even MORE tired.  After two swims earlier in the week that were not great, the motivation for me to swim was completely non-existent.  I just wanted to go home and crash.  Well, I drove to the pool and after I parked I grabbed my phone and pulled up my "inspiration" board on Pinterest.  I remember a quote I had pinned and I needed to see it. Those words rang so true to me.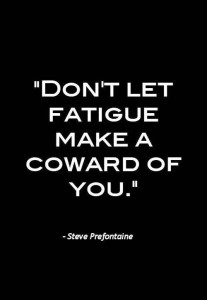 Well, I got going and had no expectations.  I just wanted to get the swim over with.  I have regularly experienced times when I don't feel like training and because I had no harsh expectations for myself (other than just getting through it), I ended up having a good session.  I was skeptical that this day would be one of the days.  Well, I could not have been more wrong!  I had a fantastic swim!!  I have no clue where in my body it came from, but I really did it!  After finishing the warm-up I swam my first 500.  I touched the wall for my one minute rest and could not believe me eyes when I saw my time.  Second interval, same thing…I was totally shocked this time though. Well, I believed that I could not possibly have enough left in the tack to finish three more sets at this pace. Well, I did myself so, so, so proud!  I just kept at it, and SOMEHOW pulled out one of my best swims!
Interval
Time
Distance
Avg Pace
1
9:38.2
500
1:55
2
9:38.9
500
1:55
3
9:39.4
500
1:56
4
9:40.9
500
1:56
5
9:39.9
500
1:56
Summary
53:06.7
2,500
1:56
I last swam this workout in week #7 and my times for the 500s ranged from 9:47-10:02.  I could not wait to tell Tony about my progress!  He truly understands the struggles and frustrations I have felt over the years with my swimming.  I know I will never be the first swimmer out of my group, but all I have ever really wanted is to see progress after all my hours of training.  That has been the true source of frustrations.  While I have made such big strides with my bike and run, progression on the swim has been slower and much harder to grasp.   Progress makes me happy!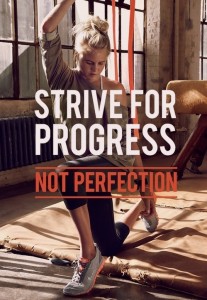 Friday:
REST DAY!!!
Saturday:
Saturday plans were all over the place. I had decided to deviate from my written training plan a bit and go for a longer ride with a tri friend that is training for IM Louisville.  The planned mileage was longer than I had worked up to, but decided to take advantage of someone wanting to ride long!  Well, the weather on Saturday was crummy.  It was rainy and cold, so we decided to scrap the plan.  I did not want to "waste" a training day in hopes that the weather would be decent enough on Sunday to get in the ride.  So, I went with my written plan for a trainer ride/run brick.  I did the Spinervals DVD entitled "Have Mercy".  The online description for this trainer workout DVD is:
What word describes this DVD? Tortuous!! "Have Mercy" is a 2 hour compilation of the hardest intervals sets from other Spinervals DVD workouts! Remember the brutal acceleration sets?! The race simulation? The sprint sets? Well… do them one after the other and you have one of the toughest two hours you can spend on an indoor trainer!! You'll be begging Coach Troy to "Have Mercy".
Well, I have done this workout numerous times over the past couple of years and it always proves to give you the best bang for your buck!  This day was no different!  After the two hours on the bike, I quickly changed into my run gear and jumped on the treadmill for a 1 hour and 20 minutes.  I was able to put in 9 miles at an 8:58 pace. This pace was a bit better than what was targeted in my plan, so I felt great to get in a good run after a solid bike!!
Sunday:
The original plan was a 2.5 hour session on the bike trainer.  I heard from my tri friend that I was supposed to ride with on Saturday, that he had been contacted about a ride of 60 miles leaving from a school about 5 minutes from our house.  So, Tony and I decided to jump on.  I was a little concerned that I would have enough juice in my legs for 60 miles after solid training sessions on Saturday, but I went for it.  There was a group of six and we had a good ride.  I ended up feeling stronger than I anticipated.  It was BRUTALLY windy on the majority of the first part of the ride.  It did get a little better as we progressed.
—————
Weather conditions from Garmin Connect:
Weather 61°
Feels like 61°
16 mph NE wind
Humidity 36%
—————
The ride totaled 62.1 miles in 3 hours 38minutes with an average speed of 17.1 mph.
Some things that made me smile about my week:
*My third swim of the week!  I rocked it and felt so tired going in.  That goes to show that you never know what will happen when you just go for it!
*Good solid weekend sessions despite crappy weather.  I am a type A person and when my plans get changed, sometimes I don't roll with the punches so well.  Saturday proved to be a challenge, but I ended up with great training sessions both Saturday and Sunday even though neither of them was what I originally planned!
Totals:
Time: 14 hours 43 minutes
Swim: 9,100 yards
Bike: 108.5 miles
Run: 22 miles
Stretching/foam rolling: Some, but not enough!