This was a tough week for fitting everything in.  I can't complain as one of the drivers was two Carolina Hurricanes games during the week, and this is something we really enjoy.  The games were on Tuesday and Thursday evenings, so I had to plan accordingly.  The biggest impact was that I moved my rest day from Friday to Thursday.  I was able to make alterations in the week otherwise.
Monday:
AM – 35-minute run with the main set incorporating hill repeats.  Performed 7×2 minute hill repeats with 1 minute recovery between intervals.  Incline settings on the treadmill were 4%, 5%, 6%, 7%, 7.5%, 8%, 8% (adjusted for each of the hill repeats and dropped down to 1% for the recovery interval).  My pace ranged from high 9s to low 10s…adjusted pace as needed as incline got steeper.  I felt good on this run!
PM – 1800 yard swim – The main set included a couple of 200 sets, several 100 sets (which involved building up to a fast pace for last 25 yards of the 100), followed by a bunch of 25s with evens being easy effort and odds being fast effort.  All included short rest breaks between intervals, which I adhered to.  I felt good about the workout and I pushed my pace, but tired out at the end of the 25s as evidenced by the declining times.
Tuesday:
AM – 78 minutes on the bike trainer.  The main set included three 10-minute sets starting at low cadence and shifting every minute to end with high cadence.  No rest between the 10-minute sets…ugh!!  After the 30 minute effort, I had four 5-minute sets with odd intervals having low cadence and even intervals having high cadence.   (I had 2 minutes rest between these intervals…woo hoo!!)
PM – Training not planned since scheduled hockey game.
Wednesday:
AM – 50 minutes on the bike trainer with high gearing (so low cadence).  Another focus on the main set was to not let the heart rate jump too high.  I kept an eye on my Garmin and adjusted my effort as needed to keep the heart rate within range.
PM – 1900 yard swim –The main set included 8×100 at moderate tempo/15 seconds rest/50 fast/30 second rest between intervals. While I was swimming and monitored my times, I was not particularly pleased with the times for the 100 moderate intervals.  After I completed the entire workout, I reviewed the results and considered how I was consistent for all eight sets.  I was happy that the average pace was 1:50 for the 1200 yard main set.  Looking at the workout from the big picture, I felt better about the results.
Thursday:  REST DAY!  I really prefer Fridays as my rest day, but had to switch up some things in order to fit in all the training this week!
Friday:
AM – 30-minute run on the treadmill with the main set including tempo efforts.  These sets were relatively short being 2x5minutes with pace being 1 minute per mile faster than target race pace.  This included 2 minutes easy jogging between intervals.  Generally speaking, I do tempo runs fairly often.  Even in the off season, these are workouts I would incorporate regularly.  However, this was the first tempo set from the plan, so I had not run tempo sets in a long time.  I thought it would be tough to get this workout going in the early morning, but in reality, it felt really good to push the pace.  The pace that I ran was a bit faster than what I had planned at 1 minute faster than target race pace.  I averaged 8:03 and 7:58 for the two sets, which is slower that the tempo sets I had worked up to in the past. However, I tried to follow the plan and not push the pace too much. This was a pretty short set and my legs felt a bit fatigued, but otherwise not overly challenging.
PM – 2700 yard swim – The main set focused on 4×10 minute steady swim with 1-minute rest between intervals.  This set was identical to one recently where I had a great swim.  WELL, this swim was a tough one to get through.  After I saw the time for the first set, I felt a little deflated.  I was also feeling very tired and mentally I did not want to be swimming.  The second set was a "feel sorry for myself" set and then the third and fourth I pulled it back together and tried to get through with what I knew I could do.  My last lap was the fastest, and that made me happy that I turned things around a bit mentally.  Overall I did finish was an average pace of less than 2:00 for the 2000 yards.  I saw this as a little mental victory after a very rocky start.  I was pretty wiped after I finished!
My sets timed out at 9:59, 10:01, 9:58, 9:54 in comparison to 9:50, 9:50, 9:54, and 9:55 for the 500 yard sets the previous week.
Saturday:  Outside ride!  The plan called for 3 hours 15 minutes and we pulled into the driveway after completing 3 hours 14 minutes.  We covered 55 miles with an average pace of 17 mph.  Tony and I rode with a friend who is also IM training.  It was a good ride, except the wind was BRUTAL!  We had winds from every direction, so it made things more challenging.  We rode a very familiar, rolling route.  I tried a new product for hydration called Osmo.  They have a line that is formulated for women only.  It is Mango flavored and the taste was pretty mild.  I carried one bottle of Osmo and the rest water.  The Osmo seemed fine, so next long ride I will try two bottles.
Sunday: Long run of 80 minutes at target race pace.  I had an adventure on the greenway!!  This was indeed a run and NOT a swim, despite all the water in this view!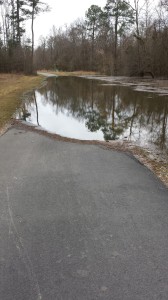 I felt lots of fatigue in my legs early on. After the first few miles, the legs seemed to loosen a bit. I was not really pushing the pace…just let the legs dictate the pace and not my head.
| | | | |
| --- | --- | --- | --- |
| Split | Time | Distance | Avg Pace |
| | | | |
| 1 | 10:08.2 | 1.00 | 10:08 |
| 2 | 9:44.4 | 1.00 | 9:44 |
| 3 | 9:21.1 | 1.00 | 9:21 |
| 4 | 9:13.5 | 1.00 | 9:13 |
| 5 | 9:04.2 | 1.00 | 9:04 |
| 6 | 9:01.4 | 1.00 | 9:01 |
| 7 | 9:19.2 | 1.00 | 9:19 |
| 8 | 9:01.5 | 1.00 | 9:02 |
| 9 | 5:12.6 | 0.55 | 9:30 |
| Summary |  1:20:06.0 |     8.55 | 9:22 |
| | | | |
Overall, I felt the pace was not bad…a bit slower than plan directed, but felt this is what my legs had and so I was happy with that.  I did the run alone; however, I knew that a friend of mine was going to be biking the greenway over the weekend.  So, we planned to meet and leave at the same time.  Even though we did not train together, it was nice knowing she was out there and we did get to chat a bit before!
A couple of things that make me smile about this week:
1 – This was ANOTHER week where I successfully woke up early on four mornings and trained before work.  For this girl (I am not a morning person), I am proud that I was able to conquer the early morning yet again!
2 – I fit everything in, despite a crazy week!
Totals:
Time: 10 hours 52 minutes
Swim: 6,400 yards
Bike: 80.33 miles
Run: 13.28 miles
Stretching/foam rolling:  Some, but not enough!