Considering the amount of time I have spent swimming these past five days, I should have really wrinkled fingers…or look like this: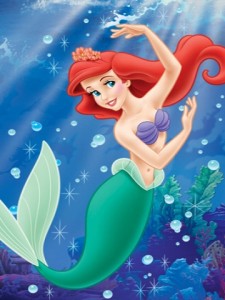 Well, maybe Ariel is a bit extreme, but wrinkled fingers could have happened!!
It is no secret that I don't love to swim.  I recognize the benefits and am very glad that I do swim.  Not just so I can compete in triathlons, but it is such a great exercise, and I am glad I have it in my repertoire.  Running can be hard on the body and swimming offers such great benefits, the main one being that it is non-impact.
Over the fast five days, I have been in the pool four times (yikes!!).  For me, that is extreme.  After my swim tonight, I started thinking about my volume.  I have swum 9300 yards (double yikes!!), over the past five days.  Technically, I am overlapping my training weeks a bit.  Sunday was the last day of my first training week and was a swim day.  Then for my second week, I swam Monday, Tuesday and Thursday.  The good news is that I have completed my swims for training week #2 with a total of 6800 yards.
These last four swims have been endurance swims.  The focus has been on slow to moderate effort sets with very short rest breaks in between sets, with the longest of the sets being 500 yards.  I have tried my best to continue to hold true to the short rest sets.  I believe this is where the true benefit is gained in these type sets.
There are several take aways from these sessions that I am pleased with.  I have been able to maintain good breathing (not shallow) and despite feeling fatigue later on in the sessions, I was able to maintain consistency and keep my times relatively flat.
Over the past several years that I have been swimming, I have had so many workouts that I have not been happy with.  To be honest, probably more that I was not happy with than those I have been happy with.  So, I try to find positives to take away from my swims.  Currently, I feel I have several, and that is exciting.   I have two tough training sessions this weekend, but hopefully those will go well and I will end training week #2 on a high note!