Off Season Comes to an End
09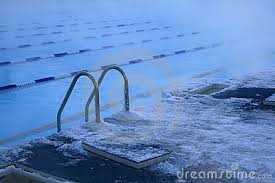 "Off season" to triathletes can mean as many different things as the number of people you ask. For some, off season means a larger focus on strength training, other activities such as mountain biking or really no true routine at all.
I have to guess for a large majority, off season includes time away from the pool.  For me, that has been the case in years past.  Even though I KNEW that I should be spending more time in the pool during the winter, I just could not make it a regular occurrence in the colder months.  I would hit the pool now and again, but that does not foster improvement.
Over the past few years, my off season has included a focus on strength training with a run or session on the bike trainer typically thrown in during the week.  Leading up to the year of the Ironman, I knew that this off season needed to be a bit different.  First and foremost, I HAD to spend time in the pool.  No excuses any longer.  So, the general plan for the off season included:
At least 2 swims a week
Time off from running (6 week break from mid-October to late November) and then gradually work it back into rotation
Stretching and flexibility
Focus on core strength
Bike sessions to maintain a good base
I did a pretty good job sticking to my plan, with a few exceptions.  On average, I hit the pool twice a week.  I have spent time with a friend that graciously agreed to help me improve my swim, so my focus over the past few months has been on technique, form and drills.  My stroke is the best it has been and I am hopeful that my improved technique will translate to increased speed when I start my IM training plan.
I took time off from running which really seemed weird while I was doing it.  I wanted to try to heal a few aches and pains and when I started running again after Thanksgiving, I thought my plan had worked.  The one thing that I had not committed to, though, was stretching and flexibility…
Stretching and flexibility is an area that I slacked in.  Once I started running again with some frequency, I did feel some of those aforementioned aches and pains.  SOOOO, stretching quickly entered my regiment.  I knew this was something I truly needed to be serious with, so for the past 5-6 weeks, I have been doing yoga and regular stretching and it is amazing how much better I have felt on the run!!
While I took time off from running, I did regular core workouts.  I found some new workouts to try on the Nike Training Center app and it was nice to mix things up a bit.  The core workouts started to trickle off when the running picked up again.  However at the start of January, I committed to myself that I would incorporate an ab workout, at a minimum twice/week, until my IM training starts.
Time on the bike is always easy for me to accomplish.  The bike is my favorite of the triathlon legs, so I was able to incorporate regular training sessions.  Since mid-December or so, I have made the conscious effort to work on climbing, since the Lake Placid course is hilly.  Every other workout would involve hill simulation.  I have started to notice an increase in my average watts on several of my workouts, so I am hopeful that my off season bike time will pay off!
I have enjoyed mixing things up during the offseason and am pleased that I was able to stick to my "general" plan pretty well.  It was nice to have the flexibility to incorporate whatever workouts I chose.  However, my personality type likes structure, so following and sticking to a training plan typically suits me.  In a short time, I will be venturing into new territory, so we will see what the future holds!